Unless you've been living under a cave, chances are you've at least heard of the keto diet–thanks to a slew of celebrities who swear by its results.
From weight loss to improved cognition to lowered inflammation, following a high fat, low carb diet like keto advocates, there's little wonder so many are heralding it as a new way of living. But one thing you won't find on a keto diet plan? The best nut butters for keto diet would be great for you.
Peanuts are legumes, which are technically a no-no for anyone following keto. The reason is that legumes tend to be higher in carbohydrates. Even more so, some have linked peanuts to inflammation associated with other moderate carbohydrate foods.
The good news? Not all kinds of best nut butters for keto diet are off the table. In fact, nut butters can be a healthy source of bodybuilding protein, healthy fats, and even fiber. What it comes down to is less about the type of nut butter itself, and making sure you're selecting the best brands for your body.
Checkout the Best Nut butters for Keto Diet are:
Here, we break down the best nut butter brands that will keep you on track with your keto lifestyle, and taste delicious to boot.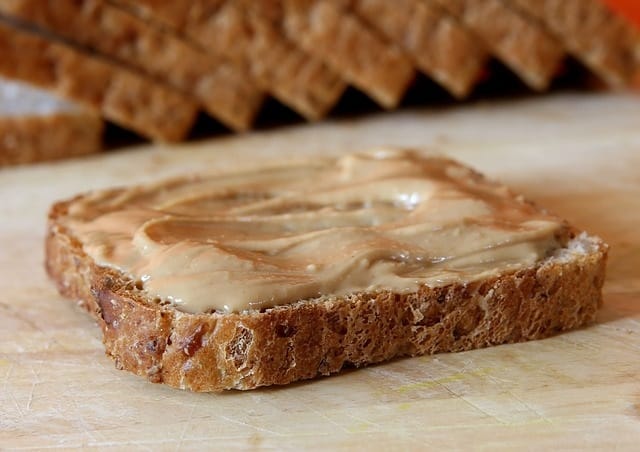 A note about our criteria: All of our picks for best nutter butter brands adhere to the basic principles of following a keto diet, namely:
Not a significant amount of calories come from carbohydrates
Do not contain added sugars, including cane sugar, honey, molasses, corn syrup, or any form of fructose or corn syrup
Have simple, and as few ingredients as possible
Are not reduced or 'low fat'.
All of these principles are crucial to selecting the best nut butters for keto for you. The main source of carbohydrates in nut butter aside from those naturally occurring tends to be added sugars. Flavored nut butters, unfortunately, are a red flag for added sugars, but countless nut butter brands add sweeteners to their 'natural' or 'plain' varieties as well.
Low fat or reduced fat is also not your friend. For one, low-fat options go against the very tenements of keto; for another, low-fat brands tend to replace fat with additives or sweeteners to make the flavoring more appealing to consumers.
Simple is best, and that's how these brands landed on our best nut butter list for keto followers.
Almond Butters
Almond butter is popular and widely available nut butter. Almonds, in general, are sources of calcium, copper, Vitamin E, Magnesium, and fiber. With a distinct nutty and smooth but mild flavor, it's easy to see why it's one of the most popular options for nut butter.
1. MaraNatha's No Sugar or Salt Added Creamy Almond Butter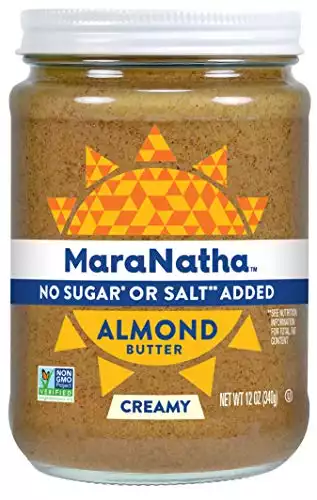 It may not have an exciting name, but MaraNatha's creamy almond butter makes our list. With no salt, sweeteners, or additives, you're getting more of what you're paying for and less of what you don't want.
Almond butter is the best nut butters for keto diet which is a really smart choice if you're looking for a peanut butter substitution. It has a similarly high protein count, and in this case, is also a source of iron and potassium. The one downside is that they do add palm oil.
Also a word of caution: this is not a green light on all of MaraNatha nut butters. Many of them do add sweeteners, so be sure to get this specific variety. Check out the latest prices on Amazon.
Flavor Notes: Lightly toasted, creamy, smooth, mild
Ingredients: Almonds, Palm Oil
Allergen Information: May contain peanuts, or be cross-contaminated
Nutrition: 190 calories per serving; 3g net carbs; 7 g protein; a source of iron and potassium
2. Barney Butter's Bare Smooth Almond Butter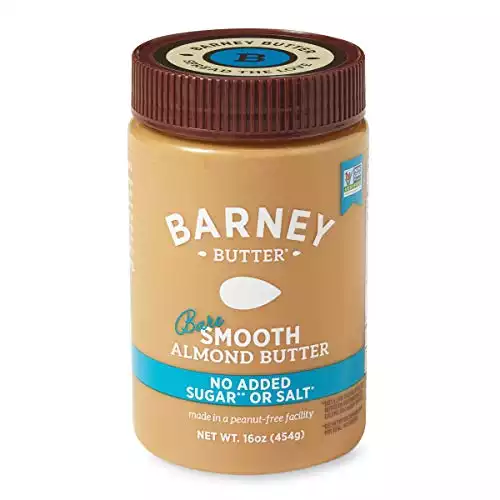 If you're sold on almond butter, you should also consider Barney Butter for your go-to-brand. It may not be as well known as MaraNatha, but this option deserves attention. In fact, unlike MaraNatha, this almond butter is guaranteed peanut free and GMO-free.
If you're looking for a source of iron, you won't find it here, but you will find an impressive source of Vitamin E and Magnesium. And another bonus? It won't separate. Be sure to get Bare Smooth, and not simply smooth, to avoid added sweeteners. Check out the latest prices on Amazon.
Flavor Notes: Subtle, blanched, silky
Ingredients: Blanched Roasted Almonds, Palm Fruit Oil
Allergens: Processed in a Peanut Free Facility; Dairy free and Kosher
Nutrition: 180 calories per serving; 3g net carbs; 7 g protein; source of Vitamin E and Magnesium
3. Artisana Organics Raw Almond Butter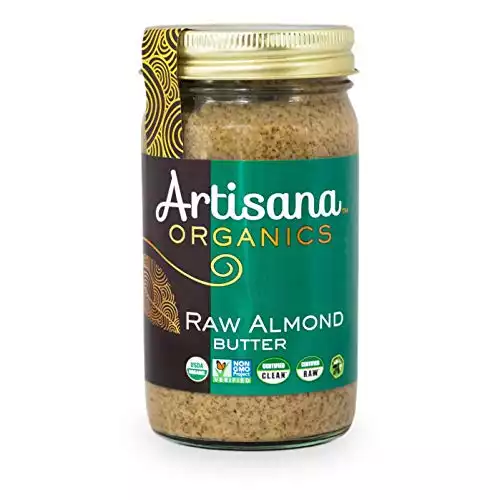 Organic and minimally processed, Artisana offers almond butter with a different taste texture and aesthetic but with the benefits of no added sweeteners and no added salt.
It comes with one of the hefty price tags, but for someone who is not only following keto but also concerned with ingredients, you can't get much better: the single ingredient is pureed organic almonds from California. No roasting also makes it suitable for anyone adopting raw ingredients. Check out the latest prices on Amazon.
Plus there are no added oils, and the nuts are pesticide free.
Flavor Notes: Fresh, bright notes
Ingredients: Pureed organic almonds
Allergens: Free of all common allergens ([peanut, soy, dairy, gluten); pesticide free
Nutrition: 180 calories per serving; 3g net carbs; 7g protein; source of Calcium and Iron
Cashew Butters
Cashew butters tend to be lower in protein than almond butter, but they are prized for their rich, lighter, and creamy taste. They also have natural sweet notes, making cashew butters versatile for a variety of uses. Nutritionally, they are sources of iron, selenium, and magnesium.
Cashew butter tends to have a slightly higher net carb count because it is lower in fiber, but it's a good idea to rotate nut butter for keto.
1. Once Again Organic Cashew Butter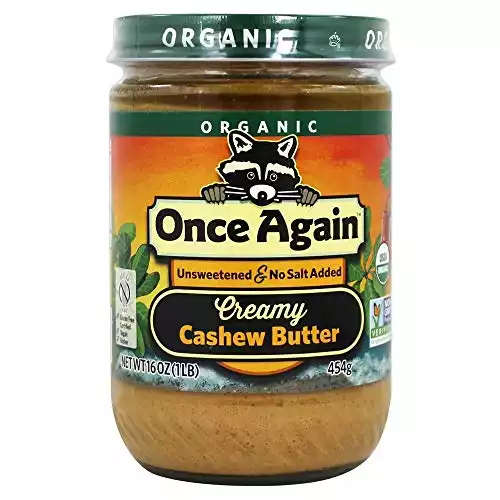 Once Again is one of the most distinguishable nut butter brands with a cheeky raccoon and a pine tree green lid. It also speaks to the nature of their commitment to natural products.
All Once Again products are made through milling and add sunflower oil. If you are looking for a cheaper option, you can opt for the natural cashew butter, which also has no added sweeteners or salt but does not come with the organic certification. Check out the latest prices on Amazon.
Flavor Notes: Sweet, Creamy
Ingredients: Organic Cashews, Organic Sunflower Oil
Allergens: Since Once Again also produces peanut butter, cross contamination is possible.
Nutrition: 190 calories per serving; 7 g net carbs; 5g protein; source of Iron and Potassium
2. Woodstock Farms Smooth Cashew Butter
If you want a single go-to-brand for all your healthy nut butters, few brands have as many options as Woodstock Farms. From organic to unsalted to creamy to crunchy, Woodstock farms offers varieties in nearly any nut or seed butter you could want.
Regarding their cashew butter, they offer both conventional and organic varieties, and both are unsalted. Their smooth cashew butter is rich and very spreadable. While it's a bit higher on our end for carbohydrate count, the taste, as well as it is a source of folate, makes this an option for anyone following keto. Check out the latest prices on Amazon.
Flavor Notes: Rich and sweet
Ingredients: Dry Roasted Cashews, Organic Sunflower or Safflower Oil
Allergens: This company also produces peanuts; may need to inquire directly for information about cross contamination.
Nutrition: 180 calories per serving; 8 g net carbs; 4g protein; source of Folate, Calcium and Iron
3. Dr. Furham's Raw Cashew Butter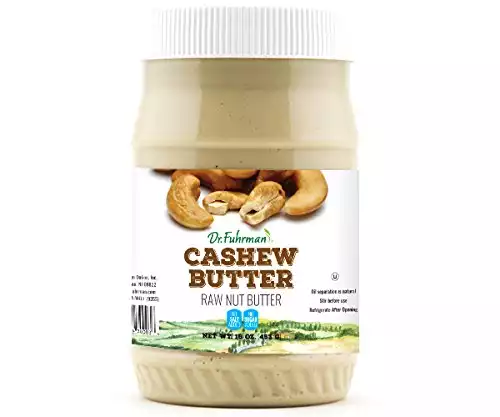 If you've had raw nuts before and enjoyed the taste and texture, the simplicity of Dr Furham's cashew butter is a great option for both clean and keto friendly eating. It is one of our pricier picks.
Eating raw nuts also means you limit your exposure to acrylamides, compounds that are released when food is baked or roasted at certain temperatures are may be mildly carcinogenic, though to what extent is still debated. For more information, see the American Cancer Society's official statement here.
That aside, you can't beat the simplicity of a single ingredient nut butter. And it also has an astonishingly low net carb count. Plus, with 8 grams of protein, this wins our best overall nutritional powerhouse for cashew butter. Check out the latest prices on Amazon.
Flavor Notes: Rich, creamy, fresh
Ingredients: Raw Cashews
Allergens:
Nutrition: 200 calories per serving; 2 g net carbs; 8 g protein; source of Iron
Seed Butters – Alternative

best nut butters for keto
Seed butters tend to get lumped in with nut butters, and for our purposes, there's no reason why they shouldn't be. They offer similar nutritional benefits, not to mention a wider variety of textures and tastes. Sunflower seed butter is a source of Vitamin E and Magnesium; Sesame Butter, also known as Tahini, contains minerals such as Copper, Magnesium, and Zinc.
While seed butters are not as popular as nut butters, they are a great way to shakes things up both flavor-wise and nutritionally. For better or for worse, they also tend to be more distinct flavor-wise.
1. Sunbutter No Sugar Added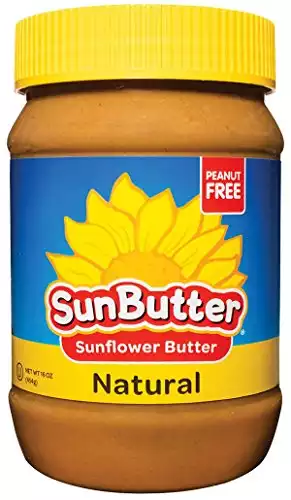 The bad news: if you don't like the taste of sunflower seeds, this isn't the best brand for you. But if you do like Sunbutter seeds, then Sunbutter might be the best option.
The company's entire production is focused on sunflower spreads. That makes it easy for the company to commit to allergen-free products. That said, you do need to check the label–only the no sugar added variety is completely compliant with keto.
A bonus is that this brand, unlike most no sugar nut or seed butters, adds a touch of salt. Sometimes, especially if you are used to salting products, it can be jarring to go for a no salt product.
On a nutritional standpoint, this is your best bet of all seed butters, and even nut butters: not only does a serving pack 7 grams of protein, but it is also rich in Vitamin E, Niacin, Phosphorus, Magnesium, Zinc, Copper, and Manganese. Check out the latest prices on Amazon.
Flavor Notes: Mildly sweet and salty
Ingredients: Roasted Sunflower Seeds, Salt
Allergens: free of all 8 common allergens
Nutrition: 210 calories per serving; 2g net carbs; 7 g protein; source of Vitamin E, Niacin, Phosphorus, Magnesium, Zinc, Copper, Manganese
2. Soom Tahini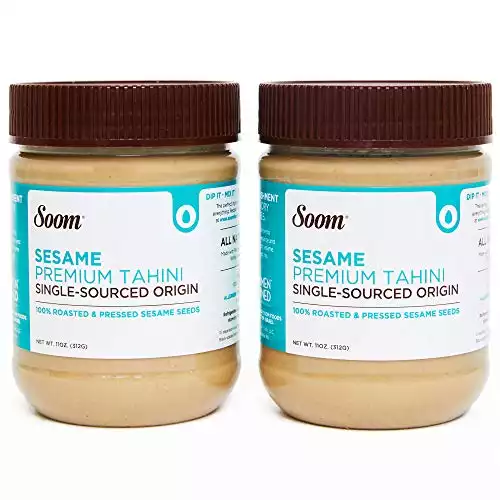 If you've never tasted tahini before, you'll want to try a sample before you decide if tahini is right for you. The Soom Tahini has a distinctly nutty flavor with bitter nuts. It's most popularly used in dishes like baba ganoush, with falafel, and as a vegetable dip.
Soom is a slightly more mild option than some tahinis and made with roasted single source Ethiopian White Humera sesame seeds. The rich and smooth flavor makes subdues bitter notes and brings out the natural flavor of the sesame seeds.
In addition to protein, iron, and calcium, it's also a source of Omega 3 and 6 fatty acids, making this a 'superfood'. Check out the latest prices on Amazon.
Flavor Notes: Rich, smooth, mild bitterness
Ingredients: Ground Sesame Seeds
Allergens: Sesame Seeds
Nutrition: 190 calories per serving; 2g net carbs; 7 g protein; Source of Iron, Calcium.
About Peanut Butter and Hazelnut Butters
Hazelnut butter is easily one of the most popular nut butters out on the market. You may be wondering why it isn't on our list for keto finds. The problem is not so much with the brands as with how hazelnut butters are sold.
In general, hazelnut butters tend to be flavored (normally chocolate or other varieties) and thus, high in added sugars and extra ingredients, resulting of course, in also a high count of simple carbohydrates. If you love the taste of hazelnuts, you're better off finding a store that lets you grind your own, or buying your own processor.
Frequently Asked Questions: FAQs
What Is The Healthiest Nut Butter?
Almond butter easily wins! It is the nut butter with a higher level of healthy fats, good for the heart and for ketosis, and it just has 0,1 less protein per serving compared to peanut butter. Also, it provides a lot of nutrients and vitamins.
What Nut Butter Has The Most Protein?
Almost tied with Almond Butter, Peanut Butter has the highest amount of protein grams per serving (7.1 grams), making it not only KetoFriendly but great a great source of protein to build body mass. Another great thing about peanut butter is the price. It is cheap, and you can find it anywhere.
Is Nut Butter Good For Weight Loss?
Even though nut butter is very high in fats, it also provides a good amount of protein, and most importantly, the fats that it has, are great for your health. Even tho it might not be the reason you lose weight, surely it won't interfere in your goal when consuming the correct amount.
As Far as Peanut Butter? The Verdict Might be Out
For strict followers of keto, peanut butter isn't keto-approved, but if you look at it from a nutritional basis, it certainly isn't the worse you can do. In fact, some suggest that, if you're sticking to keto faithfully, some peanut butter can be a decent addition. Just make sure you limit your consumption and search for brands without added sugars, sweeteners, additives, or hydrogenated oils.
Final Words About the B

est Nut Butters for keto Diet
Final Word: No matter what nut butter brand you try, any of the above nut butters are the best nut butters for keto diet without added sugars may have a place, with moderation. Switch nut butters often for the best variety in nutrition and to ensure you don't get bored with your options.
Recommended Reads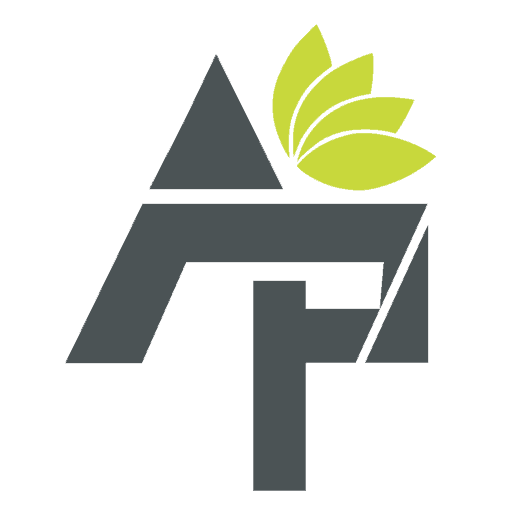 Alt Protein Team is a team of professionals and enthusiasts committed to bringing you the most up-to-date information on alternative protein, health and wellness, workouts, and all things health-related. We've reviewed a lot of products and services so you don't have to guess when you spend your hard-earned money on them. Whether you want to shed some pounds, build lean muscle or bulk, we can help you figure out what you need to do and what you need to have to achieve your goals.