Nowadays, step counting or pedometry is a hot topic that all people are talking about. Smartphones' movement sensors and their GPS systems have improved a lot lately and so have the step-tracking applications that motivate you to develop a healthier and more physically active lifestyle.
Below, I have listed and presented some of the best and most effective apps that track your daily, weekly or monthly walking progress. They were listed in no particular order and I have chosen them due to their popularity, functions, and positive user reviews.
1. Accupedo Pedometer
Accupedo is an excellent step tracking app that offers a wide range of features such as an exercise diary, music playback, access to an online portal, and more. It measures your pace while walking or running. Also, this app tracks your distance and provides you with your personal records in the form of graphs and reports.
The Accupedo tracker has received a lot of positive reviews from users which made it achieve a higher rating compared to other similar applications. You can establish your fitness goals and the app will show you how many steps per day you must walk in order to reach those objectives. One great competitive advantage is given by the fact that Accupedo supports a large range of languages which makes this tool suitable for users all over the globe.
Availability and Price
2. Runtastic Pedometer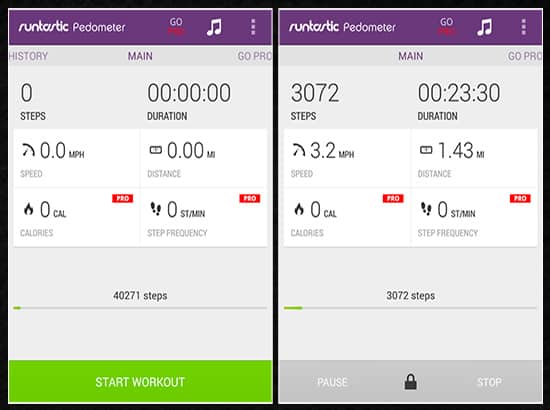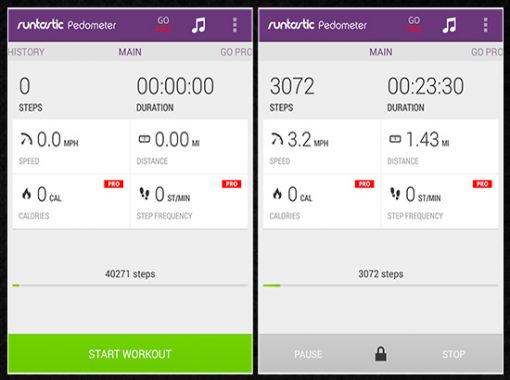 If you ask me, the Runtastic pedometer could be your ideal fitness and health application because you don't need to set it up. All you have to do is download it, take your mobile device, and start counting your daily steps. This tool will amaze you with its level of accuracy and it stands out due to its user-friendly interface.
When using Runtastic, it is easy to share your physical activity results with all your social media friends because this app connects to both your Facebook and Google accounts. Competing with other people will offer you a lot of motivation. Runtastic lets you calculate several aspects such as distance, speed, burnt calories, step frequency, and time.
Remember to turn this app on when you start walking or running and make sure to turn it off at the end of a run or walk. On your mobile phone, you will be able to see your last three activities while on the Runtastic official website, you will discover all your physical activity history. One possible drawback is a large number of ads that come with the free version of this app.
Availability and Price
You can download the Runtastic pedometer on Google Play as well as iTunes Store;
This is a free app but it comes with in-app purchases.
3. Noom Walk
I, personally, love this pedometer. Noom Walk has practically made me get out of the bed each morning. During the entire period, I have used this step tracking tool, I felt enthusiastic and excited to see how much I was going to achieve on a daily basis. This app is fairly simple to use because it has no complex or complicated features. Just turn it on and start measuring the number of steps you walk each day.
The overall user experience offered by this app is a high-quality one. Another great advantage is given by the fact that Noom Walk only consumes 2-3% of your phone's battery even when you leave it on for a couple of days at a time. The application runs quietly in the background. In fact, you will not even notice it working unless you actively search it.
Noom Walk doesn't have any additional features which can be perceived as a disadvantage. If you want something more than just an accurate yet simple pedometer, then this might not be the perfect app for your needs. All in all, this is a decent tracker that will do a great job counting your steps.
Availability and Price
Both iOS and Android smartphones are compatible with Noom Walk;
You can download this app for free.
4. Argus by Azumio
Argus is not just a simple step tracker. It also works as a calorie counter. It has a great design and a well-structured interface. Moreover, it comes with plenty of useful options and features that help you track your entire physical activity. On the other hand, if you're thinking about doing intense workouts or sports, Argus is not the ideal choice because it requires you to carry your mobile phone wherever you go.
According to many users, this application is an all-in-one fitness and health tracker. So, if you want to change your lifestyle and live healthier, Argus can help you reach those goals. You can insert your daily water and food intake, workouts, weight, and many other factors that describe your typical day.
What might not be so good about the app is the fact that it connects to your phone's GPS system which can quickly consume your battery. On the bright side, Argus integrates well with many other Azumio applications such as Sleep Time and Instant Heart Rate.
Availability and Price
5. FitBit Pedometer App
FitBit is an amazing choice as a tool that counts your steps due to its many perks and advantages. According to most of its users, this app deserves high scores in many areas. For example, it is easily portable; it can be downloaded mobile devices that all people have and carry around with them the entire day. Furthermore, it provides an accurate number of steps on a daily basis.
You don't have to worry about receiving irrelevant results. I want to raise awareness in this regard because certain pedometers tend to accidentally count steps when you're driving or during a train ride.
The FitBit application will count your steps while also measuring the distance, the number of calories you burn, etc. So, what exactly makes this step-tracking app so good and effective? Well, it has one of the best-looking and user-friendly interfaces out there. Also, it comes with a large number of options and useful features that will incentivize your walking sessions.
You can participate in several different weekly challenges organized by the app's developers, insert your meals and workouts, and a lot of other fun stuff that you can try with the help of this app. On the other hand, don't expect FitBit to track all aspects that are included in a walk. For instance, you won't be able to measure your speed.
Availability and Price
The FitBit step-tracking app can be found on Google Play and iTunes Store;
It is a free health and fitness application.
6. Breeze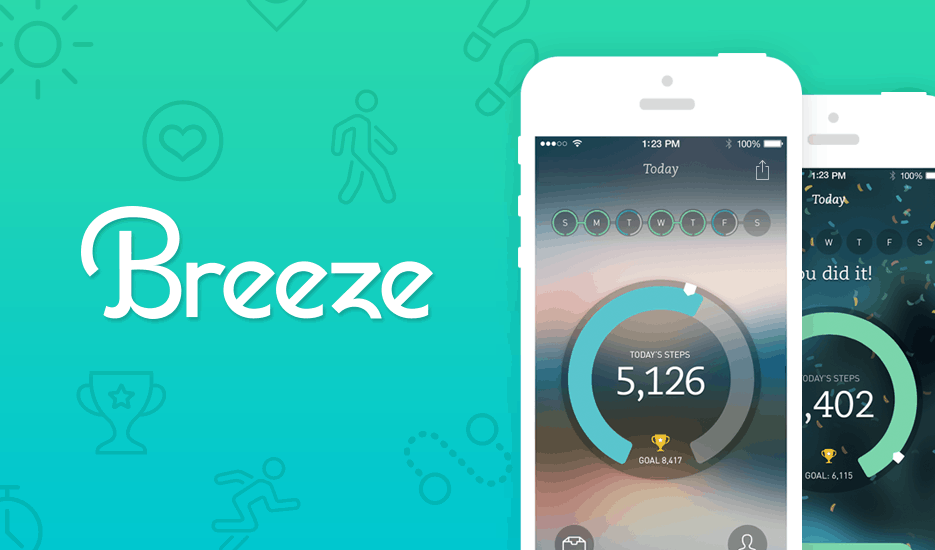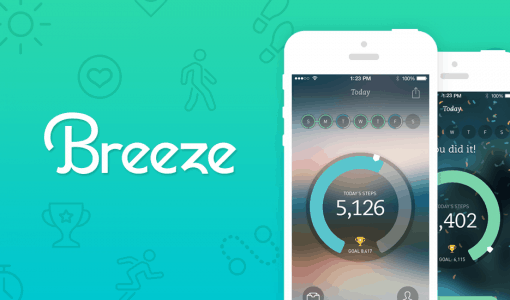 If you need an app that will send you regular reminders to help you reach your fitness goals, the Breeze pedometer is what you should opt for. This smart tech companion plays the role of a highly motivational step-tracking app. It collects data from your phone without consuming the battery's power. Breeze was developed by Runkeeper and it measures all your walking and jogging sessions and synchronizes well with your phone's GPS system to provide you with a detailed route every time you complete a walking routine.
With Breeze, it is easy to keep a history of all your daily routines which helps you make better and more informed decisions and lifestyle choices. The app's main screen features the number of steps you have taken in a day and it also shows your daily progress. If you access some of this tool's features, you will see extended walks and detailed maps for each one of the routes you have taken.
Breeze is an interactive application due to the fact that it sends frequent reminders throughout the day. This will help you become more motivated and form new healthier habits. On the other hand, receiving a lot of messages might become annoying for some people. All in all, Breeze is the perfect app if you want to become more active.
Availability and Price
Unfortunately, Breeze is available for download only on the iTunes Store and it can be installed on iPhone 5s;
Breeze is a free application.
7. Quped Step Tracker
With Quped, you can count your daily steps, view your entire walking history, and share or compare your progress with other users in order to keep yourself motivated. The app sends you a weekly personalized goal specially created to encourage you to increase the duration of your physical activity. Due to the Apple Motion Coprocessor that this pedometer uses to collect data and count your steps, Quped doesn't consume your mobile device's battery life.
The Quped Step Tracker was developed for iPhone smartphones only but not for all of them. You can download it if you have the 5s model or above. One interesting fact about the app is that it was developed at the University of Glasgow.
*Update! Starting in the summer of 2017, the Quped application no longer collects data from its users. As a result, comparing your results with those of others might not be possible anymore. Go ahead and read the company's updated privacy policy on the Softwarepopulations.com website if you want to find out further details regarding this issue.
Availability and Price
As I mentioned in the app's description, Quped Step Tracker is available for download only on the iTunes Store;
This app can be installed on your iPhone for free.
8. Walker M7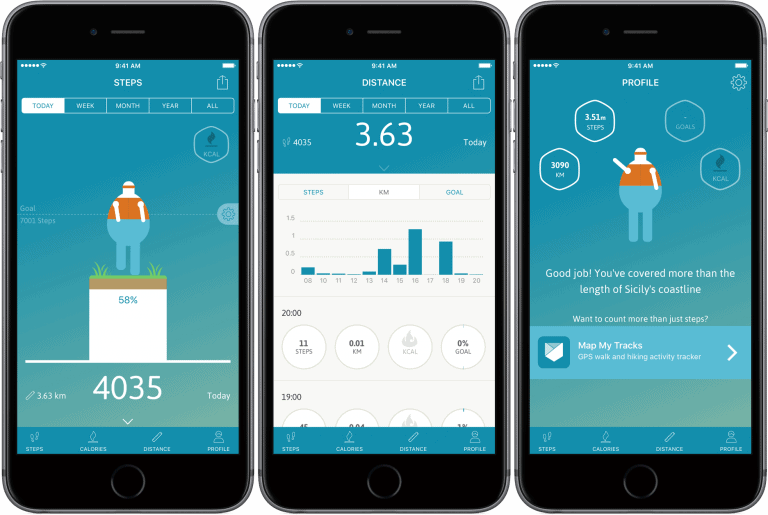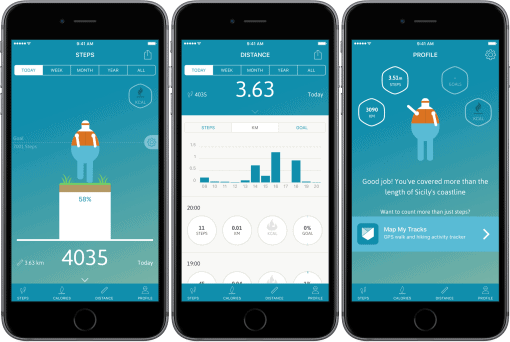 Not only is this application able to count your steps but it can also recognize the difference between a simple walk and a running workout. Walker M7 is very easy to use and I can say it is a power-saving pedometer because it uses the M11 motion coprocessor to track your movements. Besides the number of steps you take on a daily basis, this application will also configure your routes, distances, calories burned and more. It even records your blood pressure, weight, and body fat.
Its developers have recently updated Walker M7 with some minor improvements. They have also optimized it for iPhone X. Most users think this app is an excellent step tracker tool. The pedometer requires you to own at least the iOS 10.3 system in order to function without any problems.
Availability and Price
The Walker M7 step-tracking app is compatible with the following devices: iPhone, iPod Touch, and iPad and you can download it from the Apple store;
This is a free application but it comes with in-app purchases.
9. Stepz Pedometer
Stepz Pedometer is a convenient app that uses the smart Apple Motion coprocessor to collect your movements' data. It does that in an automatic manner, quietly in the background, while also saving your phone's battery energy. This simple yet effective step counter works amazingly on both iPhone and Apple Watch. All you have to do is download it, install the app, set your daily walking goals, and start losing weight and getting fit by achieving those goals.
Stepz is a very accurate app that records your steps without the need for a GPS system. It also calculates distances and calories burned. You can either set daily goals using the app's manual functions or you can let Stepz set those objectives for you. You will gain free access to step charts that consist of your daily, weekly, monthly, or even yearly progress. With Stepz, you can download a CSV file with your walking history.
One of the best aspects of this app is represented by its vibrant dashboard which is full of color-coded boxes. The app's motivational design will support you in your quest of walking a minimum of 10,000 steps per day.
Availability and Price
Stepz can be downloaded only from the iTunes App Store;
This is a free app but it offers in-app purchases.
Let's Recap
So, there you have it! These nine Android and iPhone pedometers can motivate you to get up from your bed or chair and start moving more. It doesn't matter if you walk to your office every day, go grocery shopping without taking the car or simply wander around your neighborhood each day. The key is being more active and each and every one of the apps listed in this article can help you accomplish that goal!
Check these step-tracking apps out and tell us which one is your favorite!
Recommended Reads: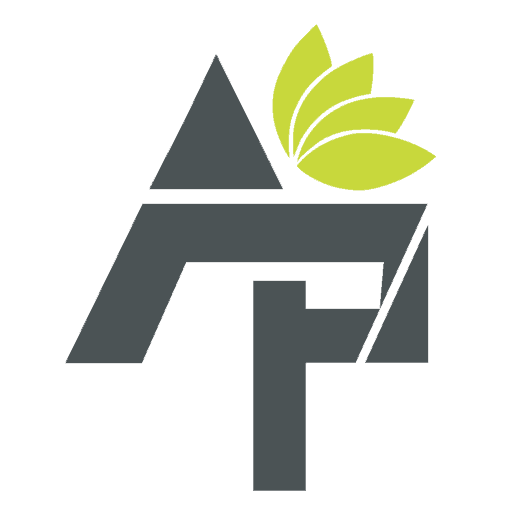 Alt Protein Team is a team of professionals and enthusiasts committed to bringing you the most up-to-date information on alternative protein, health and wellness, workouts, and all things health-related. We've reviewed a lot of products and services so you don't have to guess when you spend your hard-earned money on them. Whether you want to shed some pounds, build lean muscle or bulk, we can help you figure out what you need to do and what you need to have to achieve your goals.