There certainly isn't a shortage of protein bars on the market, but it can be tough to find all natural options that taste great. If you are on a specialized diet or just wanting to find a bar that isn't laden with sugars and unhealthy ingredients, here are 3 excellent (and delicious) bars to try.
CORE Meal Complete Meal Bars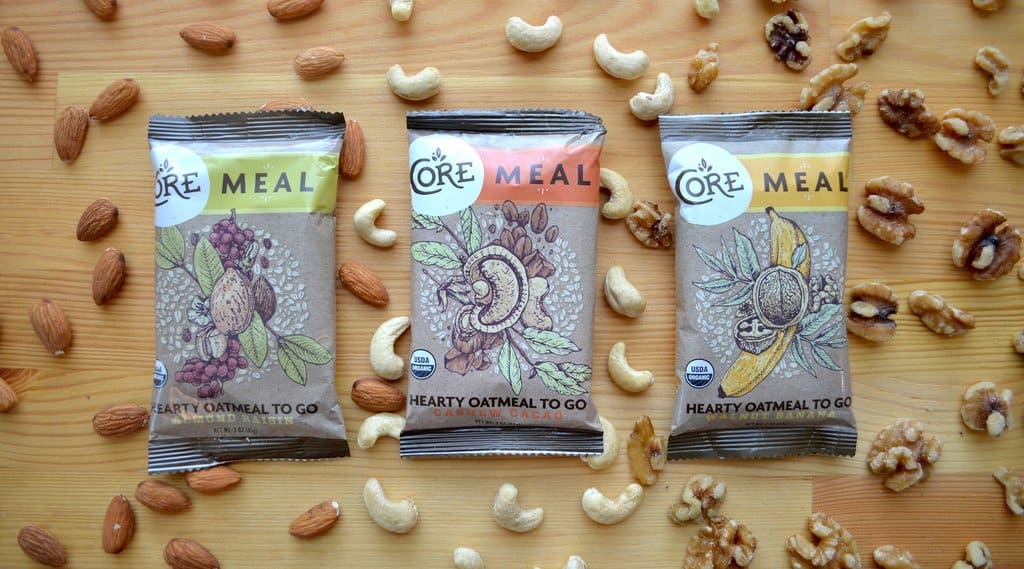 When you need more than just protein alone but rather a protein-packed full meal replacement, CORE meal bars are a perfect choice. CORE has two types of protein meal bars: the original CORE Meal and CORE Meal with Whey Protein. These bars come in the following flavors (including ingredients):
The first three are available in both the original and whey protein bars with the four flavor being available only in their original recipe. Naturally, the whey protein varieties have milk whey protein concentrate added as the third or fourth ingredient and therefore aren't vegan like the original CORE meal bars. Additionally, all ingredients are 100% organic, and the oats used are gluten-free.
The major advantages of these bars are the protein levels (and general nutrition) and the use of raw ingredients. As far as protein goes, the original bars vary between 10 and 12 grams depending on flavor. The whey protein bars naturally have much more protein with 16 to 19 grams. On average these bars are about 350 or so calories each. They are quite filling, and most people will feel satiated with a single bar.
As for the ingredients used, most will agree that eating raw when possible is superior to relying on cooked or otherwise processed foods. The use of raw ingredients isn't specific to just this company's protein bars, but they have some of the best, freshest tasting flavors.
Aside from individual taste preferences, there is only one downside to CORE meal bars- their shelf life. The use of raw ingredients is a wonderful idea, but it does mean that these bars can't be stored in your pantry for a long length of time like you can with processed protein bars. Longevity varies between the flavors and storage method but shelf life in a pantry or otherwise room temperature setting is only 1 week.
In the refrigerator you can extend the life up to about 1 or 2 months, depending on the flavor. If you want to stock up, you can keep the bars in your freezer up to 9-12 months. Also, since these bars are a bit sensitive to temperature extremes, it is best to keep them in a dark, dry area. It wouldn't be the best idea to throw them in your car on a hot day.
Overall the CORE meal bars are ideal for someone that needs a meal replacement as well as a boost of protein. These are high-quality food bars that taste delicious. If you've been struggling to find a natural, raw bar that tastes like the real ingredients, try out the sample pack from CORE's website. CORE original and CORE whey are available in cases of 10 for $39.99 (For the latest prices and discounts, check here). They also have a subscription option.
Squarebar Organic Protein Bars
If you are a chocolate lover caught between choosing a bar that will satisfy your sweet-tooth or one that has the protein you need, look no further. SquareBar Organic bars are all about the chocolate but also have the protein and other nutrition you need after a workout or as a light meal replacement.
SquareBar offers 6 flavors:
All ingredients used are organic and non-GMO as well as gluten-, dairy- and soy-free. These protein bars contain no protein isolates, sugar alcohols or questionable "natural flavors" so commonly found in similar products. The major sweetener, organic coconut nectar, has the same glycemic index as an apple. There are no nasty sugars in these bars, but they do give a nice sweet kick. Finally, all flavors are 100% vegan.
Most people find that these bars are delicious and despite being a protein bar, most of the flavors don't taste anything like that low-quality, heavily processed chocolate protein bars that are so popular. Another thing many people love about these bars is that the chocolate shell is like a shell, similar to a chocolate shell on an ice cream bar.
The slight crunch when you bite down is satisfying, and the density of the inside is going to keep you satiated for a quite a while.
These bars are a bit lighter in terms of calories so are best used on their own as a snack after a workout or eaten with something like greek yogurt as a total meal replacement. While the website doesn't have a shelf life guide like CORE meals has for their bars, it is safe to assume that the SquareOrganics bars should be kept chilled or eaten within a week or so to ensure maximum freshness.
SquareOrganics bars come in a box of 12 for $34.49 but are often on sale for $29.99 (For the latest prices and discounts, check here). These chocolate protein delights are great for all types of people and will impress those who are struggling to live healthier without a bit of healthy chocolate on the side.
SimplyProtein Bars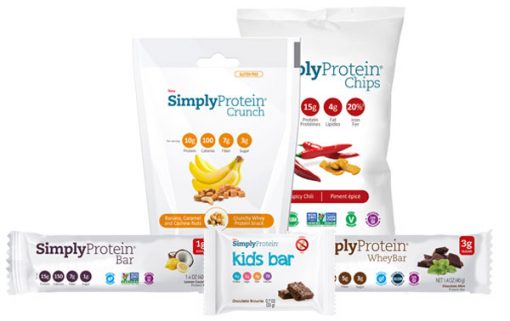 Regardless of what type of diet you may be on, one common issue across the board is reducing the amount of sugar consumed. There are many protein bars or other bars being portrayed as "healthy" options when they have as much sugar as a candy bar. SimplyProtein offers bars that have all the protein you expect but with only 1 gram of sugar.
SimplyProtein bars come in 7 flavors:
All SimplyProtein bars are vegan, low carb, low glycemic, gluten-free and non-GMO. Despite some difference in protein, all flavors are 150 calories and contain 7 grams of fiber.
SimplyProtein bars are less expensive than the other two options. This is reflected in the ingredients and lack of raw or otherwise heavily unprocessed foods added to the bars. While these bars may not be 100% organic, they are still much healthier than typical protein bars, however, and are a great choice for someone that wants a natural option but is on a budget.
The Maple Pecan and Cinnamon Pecan flavors come in a box of 12 for $24 while all other varieties come in a box of 15 for $30 (For the latest prices and discounts, check here) [15g protein].
Protein bars are a great addition to a healthy daily diet. They are perfect for an after workout pick-me-up but even if you aren't super athletic, they are still great as a between meal snack or part of a meal replacement. Busy office workers, students, and parents who find themselves always on the go can benefit from having some of these bars on hand.
Q&A
What's the benefit of protein bars?
Supplying your body with necessary nutrients can help you get the most from your workout. A protein bar consumed before exercising supplies you with steady energy during your activity. It also offers benefits after your workout. The amino acids found in protein bars help provide the building blocks your body needs to generate new muscle tissue, repairing the microscopic muscle tears that occur over the course of your workout.
Other Alternatives
Looking for a good meal replacement bar? You should consider the GNC Total Lean Bar. With only 4 grams of sugar, it's a great option! Check out any of the 8 flavors: Chocolate Peanut Butter, Blueberry Yogurt, Chocolate Chip, Strawberry Yogurt, Vanilla Birthday Cake, Lemon Meringue, Salted Toffee and Dutch Apple Pie.
The FitMiss Delight Bar is another great meal replacement bar. It's gluten-free, soy-free, sucralose-free, non-GMO and free of artificial colors. A box of 12 bars costs $23.50 on Amazon. Check out the lemon, salted caramel or chocolate peppermint flavors!
Orgain Organic Protein Bars
An awesome option for vegans because Orgain Organic Protein bars are plant-based! It's a delicious and convenient on-the-go option for plant-based protein. There are 4 flavors: Peanut Butter, Chocolate Chip Cookie Dough, Peanut Butter Chocolate Chunk and S'mores!
Comparison Table
Recommended Reads:
(Visited 30 times, 1 visits today)
Health enthusiast, runner, protein nut. Owen likes to write about protein, particularly alternatve supplementation and supplement comparisons.