When it comes to fitness there are two types of people – those that prefer to create their own custom workout regimens and those that enjoy following a proven workout plan. Having a regimen already made for you is definitely the easiest way to go, especially for those that are new to fitness and unsure of where
to begin.
There are literally hundreds of different workout regimens to choose from, with some that focus on total body exercise while others focus on specific areas of the body, such as flattening the stomach or thinning the legs. Everyone has some part of their body they'd like to improve but these tempting "trouble spot" workouts aren't as effective as they seem.
It is important to really workout your entire body as studies have proven that it really isn't possible to just blast fat or tone one part of the body.
Two very popular workout regimens today are the 21 Day Fix and Focus T25, both of which have been created by Beachbody. Beachbody is one of the leading at-home workout and nutrition companies at
the moment.
They were founded in 1998 and it didn't take long for them to become a household name. This company is reputable and their workout programs check out as the real deal. For the most part, they all have glowing reviews and will work when followed.
Bottom Line Up Front: For most people who have trouble controller their diet, the 21 Day Fix available here is the better option. However, if exercising alone is your core struggle (and diet is under control), T25 is better.
Of course, you can continue reading for the full comparison…

Beachbody's 21 Day Fix is easily their most popular workout regimen. Though it is marketed heavily towards women looking to get back into shape it can also be used by men. The trainer/nutritionist for this program is Autumn Calabrese, a popular celebrity trainer, and author that is a best-known for her work with Beachbody.
The 21 Day Fix is unique compared to other programs because it combines diet as well as fitness. Other plans seem to either focus on one or the other, but 21 Day Fix will get you on the right eating plan as well as guide you through workouts for the best results. This alone is one reason why so many love the 21 Day Fix.
The exercise part of this regimen is based on effective 30-minute workouts done 7 days a week. There are 6 different workouts in total, including:
Total Body Cardio Fix – Designed to boost heart rate and metabolism
Upper Fix – Focuses on chest, arms, back, abs, and shoulders
Lower Fix – Focuses on legs, glutes, and the rest of the lower body
Pilates Fix – Strengthens core, helps to develop long, lean muscles and reduce jiggle
Cardio Fix – All over workout to get heart rate up and speed up fat loss
Yoga Fix – Relaxes muscles while improving balance, all over body strength and flexibility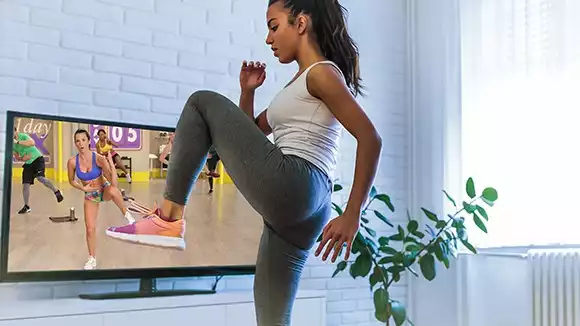 Beachbody 21 Day Fix Streaming Online
Your personal trainer Autumn Calabrese has helped millions of people lose weight and get in shape for over a decade. Her approach is so simple (see the 6 steps below), she'll prove it can work for you in only 21 days. Start for FREE
Check Price
We earn a commission if you click this link and make a purchase at no additional cost to you.
If you are new to fitness and have led a fairly sedentary life then these workouts may seem like a bit too much at first, but over the three weeks, you'll find that they become easier. There are multiple people in each training video, plus an easily visible person that does modified exercises.
You can either follow Autumn if you are fairly fit already or follow the modifier person (visible in blue shirt) for an easier workout. With that being said, even if you're already a fairly fit person you will still get sweating and feel a burn these programs.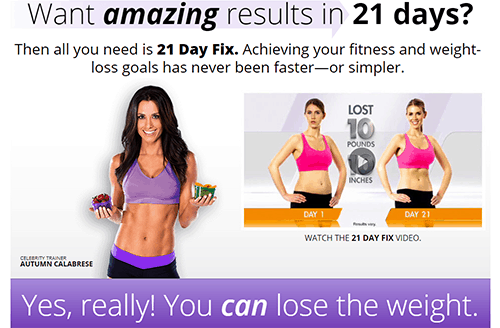 As for nutrition, the 21 Day Fix uses a container system. These containers are all different sizes and color-coded based on nutritional needs for the average adult. There are 7 containers in total, which include:
Green for vegetables
Purple for fruits
Red for lean proteins
Yellow for carbohydrates
Blue for healthy fats
Orange for seeds, nuts or dressings (comes with 2 of these)
Shakeology shaker cup for drinks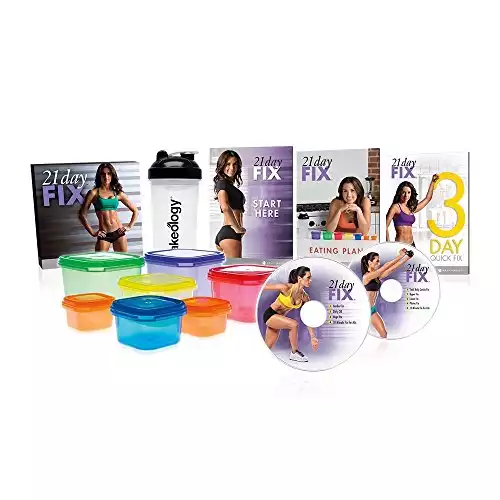 The 21 Day Fix diet focuses on healthy, fresh food choices that you can make yourself. There are plenty of recipes out there and you can experiment a bit with your own recipes by following container guidelines. This diet is high in fresh veggies and protein, though it isn't considered a low-carb diet. If you have dietary restrictions you may need to alter recipes or otherwise tweak recommendations to suit your needs.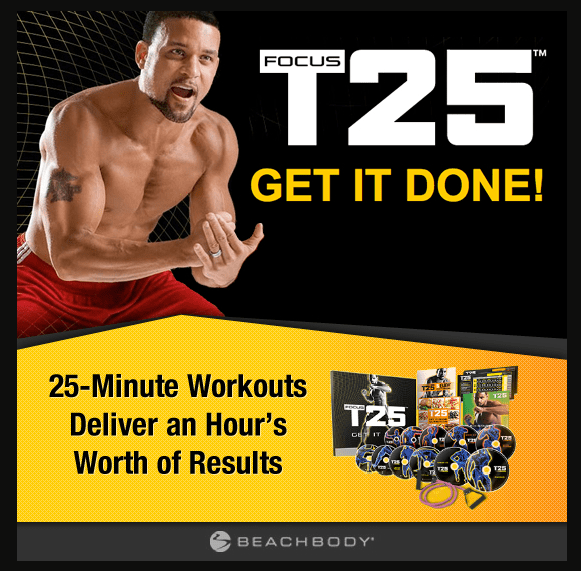 Focus T25 is fairly different than the 21 Day Fix as it focuses on workouts only. This program runs a whole 10 weeks and is made up of two cycles, Alpha and Beta.
The Alpha Cycle workout is done for the first 5 weeks, with 5 workouts per week, which includes:
Cardio – Intense calorie-burning workout
Lower Focus – Focuses on the lower body only
Total Body Circuit – Bodyweight-only workout that builds strength
Stretch – Relaxes and stretches muscles
Speed 1.0 – Very fast-paced workout to burn fat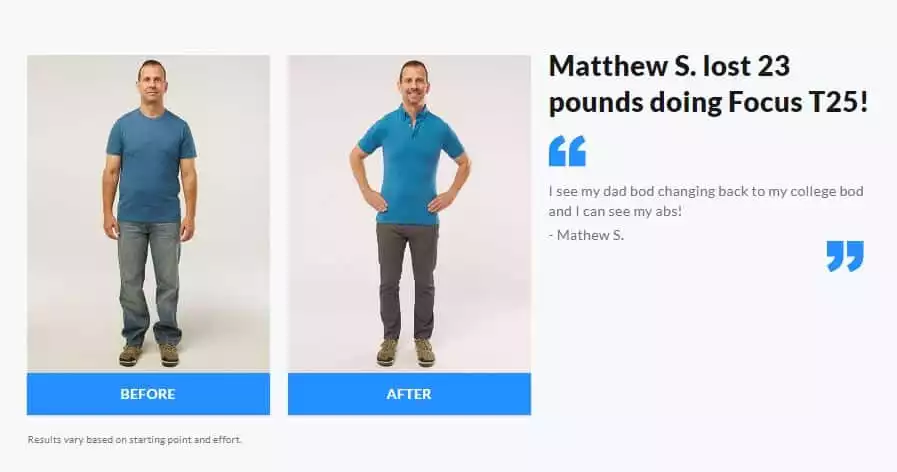 Focus T25 | Beachbody
With FOCUS T25, Shaun T brings you short, intense workouts that give you ridiculous results. 25 minutes is all it takes for you to get those ripped abs, lose the baby fat, and get your six-pack.
Sign Up Now
We earn a commission if you click this link and make a purchase at no additional cost to you.
After you've completed the Alpha Cycle for 5 weeks you move to the Beta Cycle, which is also 5 workouts per week for 5 weeks. The workouts in this cycle are more intense and include:
Core Cardio – Super intense cardio that will help shred muscle
Rip't Circuit – Circuit training that repeats cardio, upper body, lower body, abs and more
Dynamic Core – Unique core strengthening routine that includes vertical and horizontal movement
Upper Focus – Focuses on defining and strengthening the upper body
Speed 2.0 – Faster workout than the 1.0 and will push you to your limits
Even though the Focus T25 regimen is for working out a bonus that is included is a Get It Done Nutrition Plan. These include easy to make 5-minute recipes to help you get started, but that is about all that is covered. There is no dedicated diet plan like the 21 Day Fix.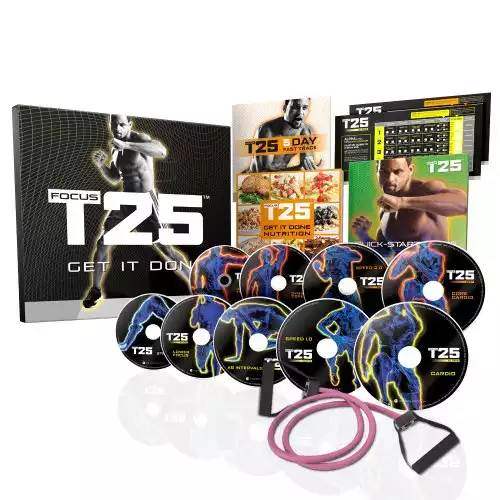 The trainer for this program is Shaun T, a Beachbody trainer than many love for his intensity and motivational workouts. These workouts are designed for those that are already close to the end of their weight loss goals and are now focusing on building muscle while getting rid of the last bit of stubborn fat.
This program seems to be a bit more popular amongst men when compared to 21 Day Fix, but by no means is it not perfect for women. Shaun T includes women in his background group as well as includes a modifier in the event your body isn't quite ready to take on full impact movements.
Which is a Better Choice?
Comparing the 21 Day Fix to Focus T25 is like comparing apples to oranges. Both are good programs and you will see results if you stick to them, but they are quite different. The 21 Day Fix is a lifestyle change as it encompasses diet as well as fitness. Focus T25 doesn't touch on a diet, though diet is clearly an important aspect of getting in shape.
The Focus T25 workouts are 25 minutes vs 21 Day Fix 30-minute programs, but T25 offers far more intense workouts. Both workouts tackle the entire body, but T25 is slightly different because it includes interval training which studies have found is highly effective.
The 21 Day Fix is only a 3-week program which means after the 3 weeks is up there is a chance of some people falling back to old habits due to a lack of structure. Focus T25 is only a workout program but is 10 weeks long so you will be firmly into excellent training habits before you are on your own.
What it all boils down to are your individual weaknesses. If you know you really struggle with juggling diet as well as regular exercise then the 21 Day Fix is your best choice.
If you already eat fairly clean and maybe already hit the gym occasionally, then the Focus T25 is really going to impress you.
Bottom Line: for most users looking to control their diet specifically, the 21 Day Fix is a better option here.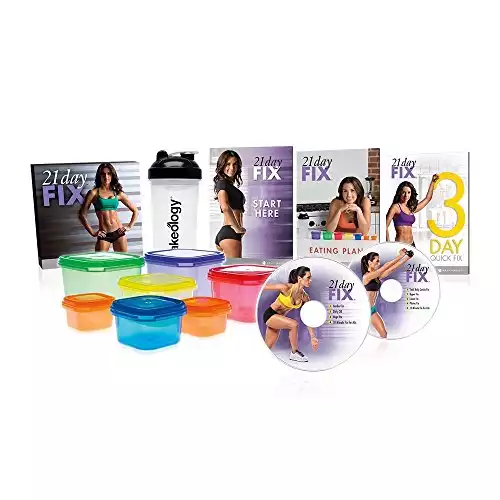 Further Reading on Fitness Programs
Disclaimer
Last updated: December 16, 2019
The information contained on www.altprotein.com website (the "Service") is for general information purposes only.
Alt Protein assumes no responsibility for errors or omissions in the contents on the Service.
In no event shall Alt Protein be liable for any special, direct, indirect, consequential, or incidental damages or any damages whatsoever, whether in an action of contract, negligence or other arising out of or in connection with the use of the Service or the contents of the Service. Alt Protein reserves the right to make additions, deletions, or modification to the contents on the Service at any time without prior notice.
Alt Protein does not warrant that the Service is free of viruses or other harmful components.
Fitness disclaimer
The Service offers health, fitness and nutritional information and is designed for educational purposes only. You should not rely on this information as a substitute for, nor does it replace, professional medical advice, diagnosis, or treatment. If you have any concerns or questions about your health, you should always consult with a physician or other healthcare professional.
Do not disregard, avoid or delay obtaining medical or health-related advice from your health-care professional because of something you may have read on the Service. The use of any information provided on the Service is solely at your own risk.
You can also review our Editorial Integrity Policy.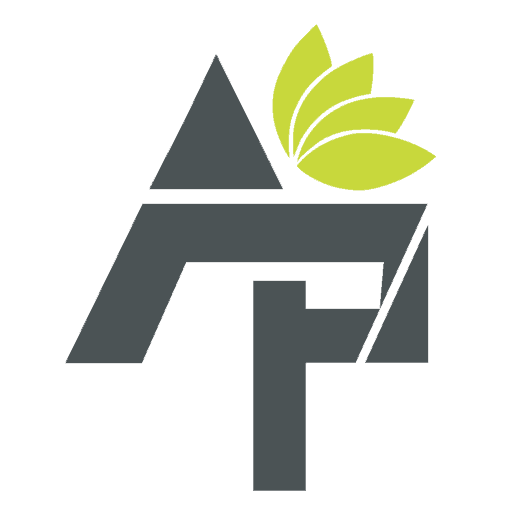 Alt Protein Team is a team of professionals and enthusiasts committed to bringing you the most up-to-date information on alternative protein, health and wellness, workouts, and all things health-related. We've reviewed a lot of products and services so you don't have to guess when you spend your hard-earned money on them. Whether you want to shed some pounds, build lean muscle or bulk, we can help you figure out what you need to do and what you need to have to achieve your goals.