Coconut oil is great for cooking healthy meals but also for skin and hair care purposes. Not only is it safer and more natural than regular beauty creams but it is also a lot more affordable. Below, you will find a detailed list of some of the best coconut oil brands on the market.
*The following products are listed in no particular order. I have chosen them based on their level of effectiveness, popularity, and customer review.
1. Kelapo Extra Virgin Coconut Oil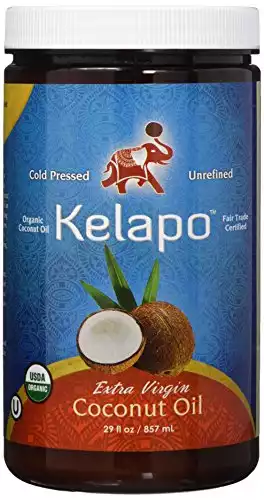 This is my first pick when it comes to great coconut oil brands on the market because it simply melts away on your skin or in a frying pan without leaving any chunks. It serves multiple purposes and you can use it for your bathroom routine of to prepare your favorite recipes.
What's even more important is the fact that this coconut oil is manufactured by a reliable and transparent company that has received the highest standard certification in fair trade.
This coconut oil is easy to use for cooking because it comes in a convenient jar which is easy to open and store. It has a pleasant taste without being too overpowering. On the other hand, you could use it for your skin and hair routine as well.
It won't leave any residues on your skin or under your fingernails. Another important advantage that caught my eye is the fact that this oil melts quickly and fits on my kitchen counter.
Price
You can purchase this product which is fairly affordable, on Amazon, for the price of approximately $20 (Check out the latest price here!). You will get a container of 29 ounces.
2. Dr. Bronner's Whole Kernel Organic Virgin Coconut Oil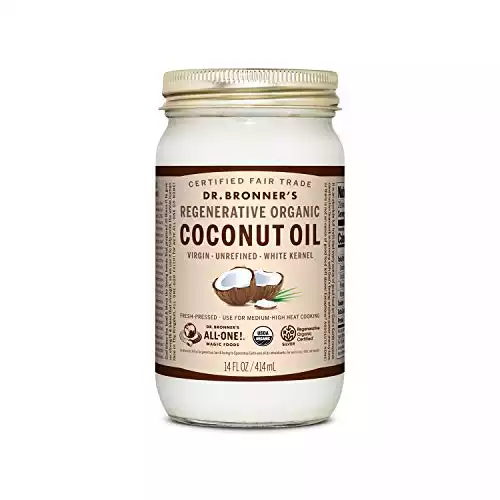 This is another option I enjoy using. It is a cold-pressed coconut oil made from dried coconut kernels and it provides a more aromatic effect. You could even say this is a nutty-tasting coconut oil. Its main advantages are the fresh scent, high level of versatility, and amazing aroma.
You can easily use this oil to bake or stir-fry your favorite foods but I strongly recommend you to try it on your body as well. It will work excellently, especially if you have a dry skin.
Dr. Bronner's coconut oil is an organic certified product, approved by the USDA and it has received a wide range of positive reviews from most of its consumers.
The manufacturer markets two different types of coconut oil: the first one has a stronger flavor while the second one offers a milder scent. Like the Kelapo oil, this one will also melt right away. It comes in three available jar sizes.
Price
As I mentioned previously, Dr. Bronner's Organic Virgin Coconut Oil is sold in two varieties:
White kernel;
Whole kernel.
Whole kernel:
A 14-ounce jar costs $17;
A 30-ounce container goes for the price of $32.
White kernel:
A jar of 14 ounces is sold at the price of $17.
It is certified by the USDA;
It is made from non-GMO ingredients;
This oil is cold-pressed as well as non-hydrogenated;
It doesn't contain cholesterol;
You won't have to store it in the fridge;
It comes in a convenient and easy-to-use glass jar.
3. Nutiva Organic Virgin Coconut Oil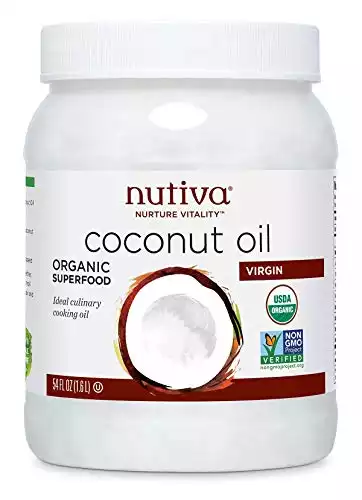 Coconut oil is one of the most nourishing superfoods out there and Nutiva is well-aware of that which is why they focus on selling a healthy and natural product. This oil is cold-pressed and not refined. Moreover, it was never bleached or deodorized. Nutiva's coconut oil works great for baking, sautéing, and even for body care use.
Nutiva coconut oil has the following characteristics which I consider interesting perks:
No wonder it is a top-selling product of its kind in a lot of countries all over the globe. On the other hand, a potential drawback might be given by the fact that this oil doesn't seem to be as flavored as one might expect. Still, if a subtle coconut taste is what you're looking for, then the Nutiva oil could be your best choice.
Price
On Amazon, you will find the Nutiva Organic Virgin Coconut Oil at the price of almost $25, for a jar of 78 ounces. You can also opt for several other alternatives:
A tub of 8 pounds or one gallon – $67.14;
A pack of two jars of 15 ounces each – $17;
One container of 29 ounces – $14.53.
4. Viva Labs Organic Extra Virgin Coconut Oil
The coconut oil produced by Viva Labs is a high-quality premium product which has received a USDA certification that proves its organic, extra-virgin, and gluten-free properties.
The coconut fruits used to prepare this oil are sourced from the Philippines and they are handpicked. Here are some key facts regarding Viva Labs coconut oil:
It is a completely organic product;
Can be used by vegans and it is also kosher-friendly;
It has multiple uses so it is highly versatile;
Works as an amazing health supplement;
There are no artificial flavorings, preservatives, or chemicals in this product;
There are numerous available sizes to pick from.
This coconut oil is safe for the entire family. You can use it for cooking, as a skin and hair care product, or even on your pets. Its plastic container is recyclable which is a strong advantage for those of you who prefer buying environment-friendly products.
Price
This coconut oil is a bit on the pricey side, especially when you compare it to other similar items. Still, it is totally worth it! The price of a 32-ounce plastic tub is $58.42 and shipping is not included (Check out the latest prices here!).
5. Spectrum Organic Virgin Coconut Oil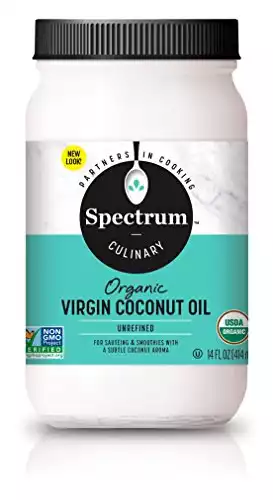 Spectrum sells three types of coconut oil:
Organic unrefined coconut oil – it is completely made from organic coconut fruits and it is a pure type of oil with a full flavor and highly nutritious;
Organic refined coconut oil – unlike the previous type of oil, this one goes through a little bit more complex manufacturing process. Being refined makes this oil to have a more neutral scent which makes it an excellent cooking oil option;
Spectrum Essentials Body and Hair coconut oil – when it comes to taking care of your skin and hair, there's nothing better than a virgin coconut oil. It improves your skin and hair's integrity and adds a protective layer against external potentially-damaging factors such as wind, sun, or cold weather.
All Spectrum oils are free of trans fats, they don't require refrigeration, and they come packed in glass jars.
Price
Spectrum coconut oil is pretty affordable and it is sold in several different sizes:
A ten-count container – $8.45;
A pack of three ten-count containers – $37;
One jar of 54 ounces – $21.63.
6. Aunt Patty's Fair Trade, Unrefined Virgin Coconut Oil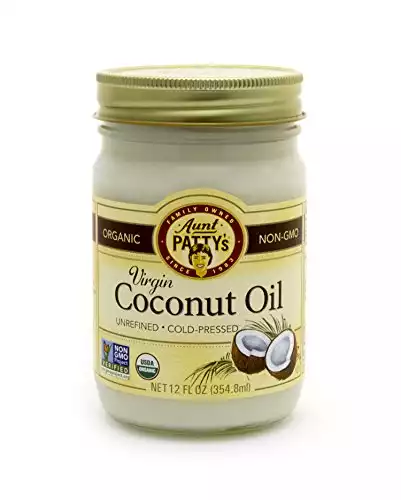 Aunt Patty's products are made by coconut farmers from small towns and villages in northern Philippines. So, if you want to support those people make a living, this oil is the way to go to support a good cause. The brand was bought by GloryBee Foods. The company's co-founder, Pat Turanski, stated that cooking with healthy and natural ingredients has been her passion for as long as he can remember.
According to the company's representatives, all their ingredients are carefully selected for the health properties they bring as well as for their amazing flavor. This particular oil is made from ground coconut meat which is first dried and then cold-pressed.
This process leads to rich and aromatic oil that can be easily added to almost any recipe. Moreover, you can use it as a hair or skin moisturizer. Aunt Patty's coconut oil has received an impressive number of positive reviews on online selling platforms.
Price
On Amazon, there are currently two available container sizes you can choose from:
A jar of 12 ounces – $11;
A tub of a little over 30 ounces – $29.05.
7. Radha Fractionated Coconut Oil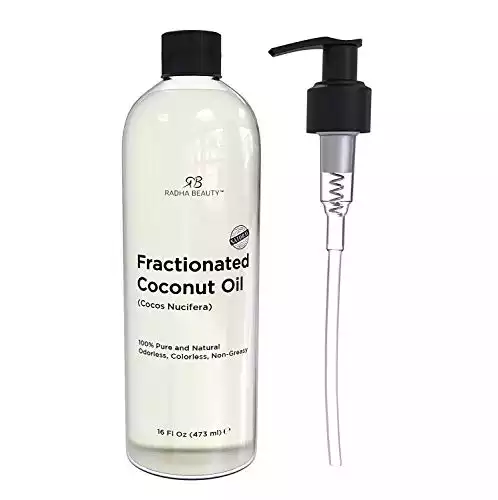 I had simply had to include the Radha fractioned coconut oil in my post because it is exquisitely manufactured and it is an amazing multipurpose product. If you haven't heard the concept of fractionated coconut oil before, I want to take a moment to explain it: this type of oil also goes by the name of liquid coconut oil and it is obtained after all the long-chain fatty acids have been removed. This process prolongs the oil's shelf life.
Although its packaging might not be very appealing, this oil's properties will simply amaze you. It hydrates your skin, improves the way your hair looks and feels, and, more importantly, works as a natural antioxidant. Radha coconut oil is indeed a premium product, not to mention it is made and sold by a top-notch manufacturing company.
What differentiates this oil from many other coconut oils is the fact that it always stays in a liquid state so works amazingly on sensitive or dry skin.
Price
Radha Fractionated Coconut Oil is incredibly affordable. On Amazon, you will be able to purchase this product for the price of almost $13, for a container of 16 fluid ounces.
8. Molivera Organics Fractionated Coconut Oil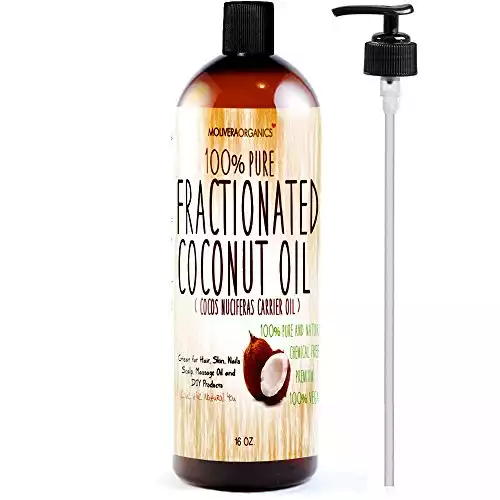 In terms of high-quality coconut oils, Molivera Organics is definitely one of the best choices on the market. Not only is this a great and effective oil but it also comes in an easy-to-use package, a bottle to which you can easily attach a dispenser pump.
The Molivera fractioned coconut oil has a high level of purity and it doesn't contain any parabens, chemicals, preservatives, and fragrances. The oil has multiple uses: you can apply it on your skin or hair as a restorative and hydrating solution or you can even use it in aromatherapy sessions or for DIY massages.
This unscented coconut oil will make your life a lot easier and you can never go wrong with it. The manufacturing company is a well-known industry leader which focuses on creating chemical-free and vegan products. Molivera oil will even speed up the healing process of superficial wounds.
One piece of advice should be to not use a lot of force when you push the pump because this might cause the oil to spurt out. According to the company, their coconut oil will help you look and feel better. One thing's for sure: this oil is much more affordable than many other similar products.
Price
On Amazon, the Molivera coconut oil is marketed for the price of $14.47. I'm talking about a bottle of 16 ounces.
Quick interesting fact: the bottle is BPA-free and it is resistant to UV rays.
9. Trader Joe's Organic Virgin Coconut Oil
This particular coconut oil stands out from all the other oils due to the fact that it is created from the pulp or meat of matured coconuts. The freshly harvested coconuts are then grated but not before their husks are removed.
Finally, the meat goes through a cold-pressing process which will preserve all the natural vitamins, minerals, and other nutrients of these fruits. This product is 100% natural and has received an organic-product certification from the USDA.
Here are some key facts about Trader Joe's coconut oil that you should take into account before making a purchasing decision:
It is an extra-virgin and unrefined oil;
Works amazingly for mild skin conditions such as eczemas;
It is versatile and can be used for multiple purposes;
This product is kosher-friendly;
It will make your skin and hair look better and healthier;
You can safely use this oil as a substitute for other unhealthy cooking fats like margarine, butter, and vegetable oils;
It is safe to use on babies and pets.
Price
Considering that a pack of two jars of Trader Joe's coconut oil is sold at the price of almost $23 on Amazon. We can consider this product to be an affordable one. By the way, one container has 16 fluid ounces.
Let's Recap
Once you see how amazingly coconut oil works, you will never go back to standard beauty products or regular cooking oils. In fact, coconut oil will definitely become an important part of your daily beauty and cooking routine as long as you give it a chance. The brands described above are some of the best ones to consider but the final choice is all yours, depending on your budget, unique needs, and personal preferences.
Recommended Reads: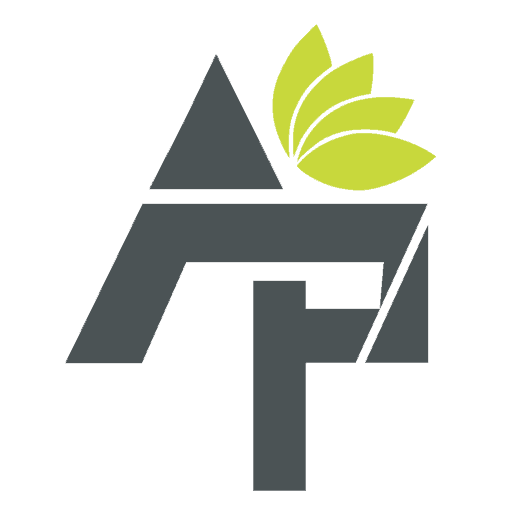 Alt Protein Team is a team of professionals and enthusiasts committed to bringing you the most up-to-date information on alternative protein, health and wellness, workouts, and all things health-related. We've reviewed a lot of products and services so you don't have to guess when you spend your hard-earned money on them. Whether you want to shed some pounds, build lean muscle or bulk, we can help you figure out what you need to do and what you need to have to achieve your goals.