Onnit and Brain Octane oils are MCT supplements. They are sourced from coconut extract and one of their main ingredients is given by MCTs or medium-chain triglycerides which are a type of fatty acids. These supplements are supposed to help you lose weight, increase mental awareness, and maintain your health at an optimal level but you'll find more about these two products, in the sections presented below.
MCT Oil Onnit vs Brain Octane – What Are They?
MCT Oil Onnit

Onnit oil is a product based on MCT elements which are medium-chain triglycerides. You might know them by the name of trans-fats. Unlike LCTs which are long-chain triglycerides and are harder for the body to digest, MCTs are easily absorbed by your organism and then transformed into energy.
Unfortunately, most people tend to consume a lot of LCTs and not enough MCTs which leads to numerous health issues like clogged arteries, a higher risk of cardiovascular diseases, and an increased bad cholesterol level.
Onnit MCT oil is sourced from coconut. Then, the oil is processed until it reaches a very high purity level. Among specialists, it is a well-known fact that coconut oil is an excellent source of Lauric Acid. This compound is an effective slow-burning fuel that increases your energy.
Brain Octane Oil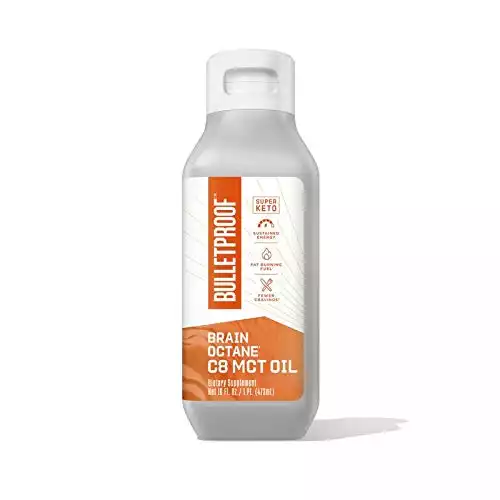 Brain Octane is an oil-based supplement that fuels your organism with energy by enabling the ketosis process which is why it is best used with a ketogenic eating plan.
The oil is both odorless and flavorless yet it is very satisfying. Brain Octane is great as an addition to a number of foods and beverages like coffee, smoothies, salads, etc. According to the manufacturing company, Brain Octane works great when it comes to keeping your belly slim while also enhancing brain performance.
Ingredient Profile
Onnit MCT Oil
This product is derived from pure coconut oil and it is free from artificial additives, fillers, colors, flavorings, and even palm oil. It contains high-quality MCTs which support a ketogenic eating plan.
Here are the ingredients included in Onnit's formula:
38% Caprylic acid
30% lauric acid (this particular compound is a source of slow-burning energy),
31% capric acid,
monolaurin.
Both capric and Caprylic acids are known for their ability to improve digestion and boost one's energy levels. Moreover, monolaurin is a nutrient found in human breast milk which is rarely found in a regular diet.
This oil, when added to your morning coffee, makes the final beverage a lot tastier and smoother. It also offers you plenty of health benefits like improved mental focus and overall performance, and an increased energy. Onnit MCT oil works even better when paired with a ketogenic diet.
Brain Octane Oil
This oil is sourced from pure coconut extract and it is free of palm oil. The entire manufacturing process relies on a special type of distillation that it is based on three major factors: water, pressure, and heat. These elements combined will create the cleanest oil possible that it is free from both harsh solvents and chemicals.
The entire formula of this oil is based on MCTs; Brain Octane uses C8 MCTs, to be more exact. This specific type of oil also goes by the name of Caprylic Acid. The product contains oxaloacetic acid as well.
You are probably wondering what all these ingredients can do for the way you look and feel. Well, they provide plenty of benefits such as the ones listed below:
Your hair and skin will look better and feel softer. Furthermore, the oils mentioned above fight aging signs;
Most people seem to think that treating acne breakouts with oil will only make the problem worse but this is not true. Caprylic acid has powerful anti-bacterial properties and it works effectively as a skincare treatment. It prevents skin infections and lowers inflammation;
Due to its amazing ingredients, Brain Octane oil has both anti-inflammatory and anti-bacterial powers. Therefore, they can alleviate the symptoms of several health issues such as inflammatory bowel syndrome, ulcerative colitis, and Crohn's Disease. Finally, our cholesterol level will be balanced if you consume the right dosage of this oil.
Other benefits that you can take advantage of from consuming this product are: regulated blood sugar, boosted metabolic rate, muscle loss prevention, and neuro-protection.
Benefits and the Way These Products Work
Onnit MCT Oil

According to the manufacturer, Onnit MCT oil is a fast source of body clean and brain fuel. It is a great way to improve your performance or prepare your organism for a new diet or nutrition program.
Depending on your body measurements and your personal goals, the recommended daily dosage is one tablespoon of this oil up to four times per day. Many people say they add the oil to their morning coffee which can replace an unhealthy breakfast that usually includes lots of fats and carbohydrates. You can also use this product as a dressing for your salads but you need to know exactly how much you must add.
So, does Onnit oil truly work? Well, the answer is definitely yes. As long as you consume this oil while also following a low-carb eating plan, you will achieve significant results because the oil lowers your appetite and speeds up the ketosis process. Not only will the oil help you lose weight but it will also improve your mental focus and clarity.
Brain Octane Oil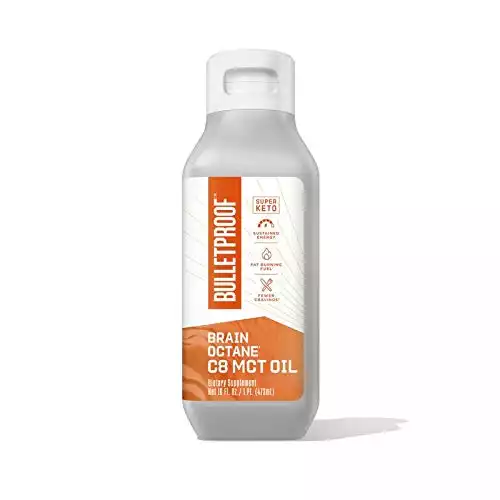 This product will help you achieve more things and engage in more activities without feeling burnout. Also, it curbs cravings and suppresses your appetite. Brain Octane oil will not spike your blood sugar and it is rapidly absorbed by the organism and then turned into fat-burning ketone energy.
Bulletproof Brain Octane oil is a versatile product that can be added to plenty of foods and beverages such as tea, coffee, salads, smoothies, sushi, etc. Moreover, you can take the oil anytime during the day. You can consume it even before going to bed because it supports both high-quality sleep and recovery.
Besides helping you lose weight and burn fat, Brain Octane will also unclutter your brain, boost your level of concentration, and lower brain fog. The company claims that their product is even good for pregnant women due to the fact that it contains only natural ingredients. Still, you might want to find out your doctor's opinion about that aspect, first.
Pros and Cons
MCT Oil Onnit Advantages
It is an effective product that offers quick results;
It is a clean fuel source that boosts your energy and mental clarity;
The oil is sourced from pure coconut;
This product can bring plenty of benefits to athletes;
Onnit oil is a vegan-friendly supplement;
It doesn't contain palm oil;
It is both odorless and flavorless so you can add it to your smoothie or coffee without messing up the beverage's taste.
MCT Oil Onnit Disadvantages
The oil cannot be used for cooking because it has a low boiling point;
The product comes with a pour spout which has been added to the container in order to help consumers adjust the quantity of oil they want to consume. However, in my humble opinion, this can be perceived as a drawback because it is hard to control how much oil you will pour through it. So, if you're not paying a lot of attention, you might add too much oil because, at first, it comes out a little hard.
Brain Octane Oil Advantages
It is a reliable source of energy that comes from fat instead of sugar;
Helps you lose weight by encouraging fat burn;
It is both flavorless and odorless which make this product a highly versatile one;
Contains quality fats that won't mess with your overall health;
It is sourced from pure coconut oil.
Brain Octane Oil Disadvantages
If you consume a too high amount of this oil in a short period, you might experience stomachaches;
A few consumers complained about the way this product tastes, saying it is a bit nasty;
Some think this supplement is a bit on the pricey side;
If you consume a higher dosage than the one recommended on the label, you might deal with several mild yet annoying side effects.
How Much Do They Cost?
MCT Oil Onnit
On Amazon, those of you who're interested in purchasing the Onnit MCT Oil can choose from the following options:
Brain Octane Oil
You will also find this product on Amazon where you can opt for the following alternatives, size-wise:
All the prices listed above are for subscribers only, who benefit from discounts between 5% and 15%.
Possible Side Effects of MCT Oils
MCT oils can lead to several side effects such as the ones presented below:
Appetite reduction – when you're on a diet, you want an appetite suppressor. Still, MCT oils might reduce your appetite way too much;
Anxiety – individuals who already have anxiety disorders or nervous tendencies might experience an increase in these symptoms when consuming large dosages of MCT oils. This happens because these supplements offer the brain a jumpstart by boosting mental energy. Still, this is not a very common side effect;
Gastrointestinal issues – a few consumers have complained about gastrointestinal irritation as an effect of MCT oil consumption. This might appear because some MCT oils can have a certain level of impurities;
Digestive problems – when you first start taking this oil, you might experience several digestive issues such as abnormal bowel movements. To avoid these unpleasantries, you should lower the dosage;
Flatulence and diarrhea – once you start consuming MCT oil, it is possible that you might start feeling gassy. Others deal with severe episodes of diarrhea. In fact, I am almost sure that diarrhea is the most common adverse effect that MCT oils can lead to. Try to take smaller dosages and always ingest them with food in order to get rid of these annoying side effects;
Headaches and dizziness – mental energy and increased mental focus can sometimes lead to headaches in some cases. There are several factors that can enable these two symptoms: oil composition, highly-processed oils, impurities, and others;
Other Potential Side Effects of MCT Oils
Hot flashes;
Nausea;
Stomach aches;
Vomiting;
Throat irritation;
Increased hunger;
Irritability;
Tiredness;
Perceptual changes;
Weight changes.
Ways to Prevent the Side Effects of MCT Oils
Luckily, there are ways to prevent these adverse effects from appearing. All you have to do is follow a few simple rules:
Take the oil with food;
Try different types or brands of MCT oil;
Wait a couple of days and let your body adjust to the supplement;
Lower the dosage;
If the side effects are too severe, you should definitely stop taking the oil.
As a measure of caution, pregnant or breastfeeding women, people with liver issues and diabetics should not take this type of supplement. At least, not until they receive the approval of their physician.
Let's Recap
Both MCT oil Onnit and Brain Octane provide plenty of health and weight-management benefits in an efficient and concentrated manner. Still, finding the best product of this type can be a bit confusing. Luckily, these MCT oils are fairly-priced and they contain high-quality ingredients. Moreover, they both have a high level of efficacy when it comes to promoting weight loss, boosting energy, and kick-starting the ketosis process.
Although Brain Octane is usually promoted as being superior to Onnit MCT oil, I can honestly say that both of them have similar properties. They offer just about the same benefits and they can lead to similar side effects as well. On the other hand, it is true, however, that Onnit MCT oil has a narrower range of health advantages. So, I guess that the final choice is all yours!
Recommended Reads: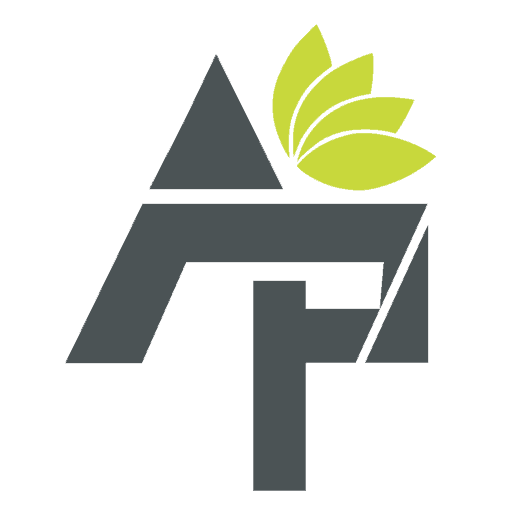 Alt Protein Team is a team of professionals and enthusiasts committed to bringing you the most up-to-date information on alternative protein, health and wellness, workouts, and all things health-related. We've reviewed a lot of products and services so you don't have to guess when you spend your hard-earned money on them. Whether you want to shed some pounds, build lean muscle or bulk, we can help you figure out what you need to do and what you need to have to achieve your goals.