Wheatgrass juicing has been around since the 1930s, but over the past 15 years it has really gained popularity in many different health groups.
You can find this potent green liquid in most any juice bar or fresh squeeze bottles juices in health food stores. Most every big box store that sells blenders will also have manual or electric juicers, ideal for making wheatgrass juice at home. But a wheatgrass juicer isn't cheap!
Unfortunately, what typically happens is someone will start a juicing regimen but after a week or so they lose momentum. Sometimes it has to do with the normal struggle of beginning a new habit but other times these people simply get caught up in daily life and become too busy.
You can still keep up your wheatgrass juicing plans with the help of a simple alternative: wheat grass powder.
Bottom Line Up Front: If you need to make a quick decision, my favorite go-to organic wheat grass supplement is Amazing Grass here.
Our Recommendation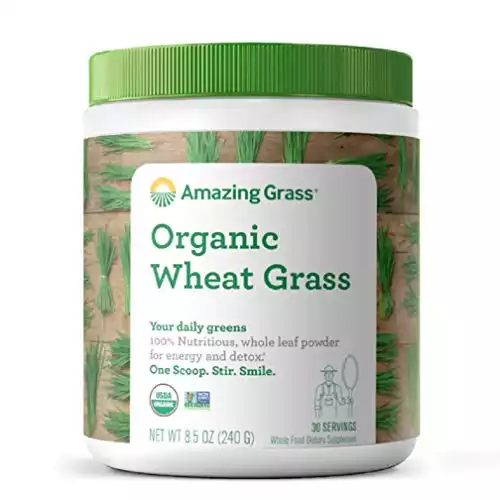 Continue reading, if you want to hear about the different options…
The Benefit of Wheatgrass as a Supplement
Wheatgrass powder has essentially been around as long as wheatgrass juicing but isn't nearly as popular. Many people assume powders aren't as healthy as the juice, and while a cup of fresh juice can't really be beat, but there are some excellent quality powders available today.
High quality powdered wheatgrass juice offers all of the same benefits and retains the same nutrition, it is simply dehydrated. You may also be surprised to know that freeze dried powdered wheatgrass juice actually has a higher level of antioxidants than fresh juice. Drinking or otherwise consuming wheatgrass juice regularly will improve your overall health, but particularly your digestive and immune system.
Many also notice improved mental function and clarity, clearer skin, and an increase in energy. On the inside your body will greatly benefit from wheatgrass juice as well. Studies have shown the nutrients and chlorophyll to help fight against cancers and improve overall organ health.
Wheatgrass juice isn't a miracle pill that fixes health concerns overnight, but many nutritionists agree that adding this to your diet will help over the long-term when consumed regularly.
Not all wheatgrass powders are the same nutritionally, so it is important to carefully shop to ensure you get the best quality product. Here are three of the best brands you can find.
Pines Wheatgrass Green Superfood Powder
Pines Wheatgrassis a very well-respected brand, and one of few that still grow their wheatgrass according to Charles Schnabel's methods. Schnabel was essentially the founder of wheatgrass agriculture back in 1931.
Schnabel, along with a group of scientists, developed one of the most efficient ways of growing and harvesting wheatgrass to make powder. Pines uses the same method almost spot-on with Schnabel, with a few advancements.
All wheatgrass used in their powders is grown by Pines themselves. The climate, location, and soil type have all been carefully chosen.
Unlike other companies, Pines grows their wheatgrass naturally outdoors and in soil, as well as in cold temperatures. They have it down to a science of when the grass is at maximum potency for harvest and then use only low-heat drying to ensure zero nutrition and mineral loss. Pines has over 75 years of experience which explains why they are so trusted.
Nutritional Data per Serving (3.5g):
Calories – 10
Potassium – 105mg
Carbs – 2g
Fiber – 1g
Protein – 1g
Vitamin A – 25%
Vitamin C – 10%
Iron – 4%
Folic Acid – 8%
Ingredients:
This wheatgrass powder comes in a few sizes, with the 24 oz (194 servings) being a popular option. Pines recommends one serving to be 3.5 grams or 1 ¼ teaspoons. The most basic way of consuming your serving is to mix it with 8 oz of cold water or an organic, sugar-free 100% juice. Pines also offers a few recipes on their website if you decide you'd like to try cooking with wheatgrass powder as well.
Pines really puts in a serious effort to make some of the best wheatgrass powder you can buy. However this quality is reflected in the price. The 24oz jar of powder retails for $62.50, which is very reasonable. If you want the best you can buy, Pines is the way to go. That being said, if you're on a budget there are still some very good options that offer excellent nutrition.
Amazing Grass Organic Wheatgrass Powder
Similarly to Pines, Amazing Grass is another brand that specializes in wheatgrass powders.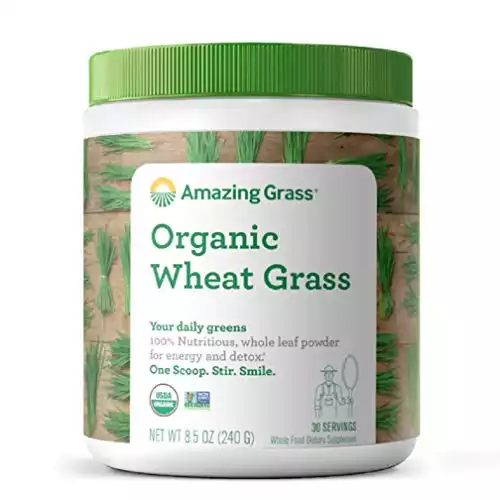 Another similarity is that Amazing Grass grows their wheatgrass through the cold months of winter to ensure a healthier, slower growing grass prior to harvest. They are dried immediately at a low temperature to ensure maximum nutrition retention.
After drying, rather than being ground into a powder right away, they dried leaves are extruded into pellets for storage in 0F temperatures. This allows better storage and prevents nutrient loss. The pellets are ground into powder as packaged as needed.
Nutritional Data per Serving (8g):
Calories – 35
Carbs – 4g
Fiber – 2g
Protein – 2g
Vitamin A – 33%/1640 IU
Vitamin C – 7%/4mg
Vitamin K – 80mcg
Calcium – 44mg
Iron – 1.6mg
Potassium – 240mg
Our Recommendation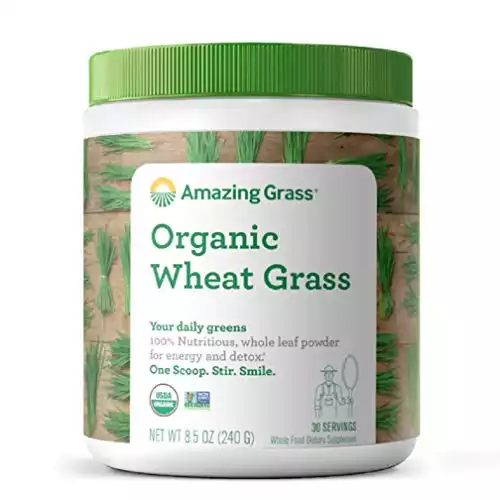 Ingredients:
100% USDA organic whole leaf wheatgrass powder
One serving of Amazing Grass powder is 8 grams which is one scoop (included in powder). Like with any other powder you simply mix a serving with water, juice or into any other beverage or food. This powder is 100% organic, GMO-free, vegan and Kosher.
Due to the larger serving size, the 100 servings is the largest size you can get and it weighs about 28oz. The larger serving size also means that one serving mixed in 8oz of water or juice is all you need to help meet the daily dietary recommendations of 5 to 9 servings of fruits and vegetables.
Amazing Grass Wheatgrass Powder is usually Amazing Grass Wheat Grass Powder for a good price.
#1 Garden Of Life Perfect Food RAW Wheat Grass Juice Powder
Nutritional Data per Serving (4g):
Calories – 15
Carbs – 2g
Fiber – 2g
Protein – 1g
Vitamin A – 1450 IU
Vitamin K – 130mcg
Niacin – .37mg
Calcium – 30mg
Iron – 1mg
Magnesium – 15mg
Ingredients:
100% RAW organic USA Farmed Wheatgrass Juice
GoL recommends to add one serving (4g or one scoop) into 8 oz of liquid. Mix well and drink quickly.
This powder is processed differently than others. As you can see in the title, this is a wheatgrass juice powder. This means that after the grass is harvested it is immediately juiced and then the juice is dehydrated at a low temperature. Some argue that this additional step of juicing can lead to a loss of nutrients but typically this loss is fairly low compared to drying leaves and grinding.
Another difference is that Garden of Life doesn't grow their wheatgrass themselves, but insteads gets their grasses from family farmers located in the United State. The wheatgrass is only grown on certified organic farms so there is no worry of impurities getting into their products.
Since GoL doesn't physically grow the wheatgrass themselves, there isn't much information as to how the grass is grown and whether it is cold grown like the other two brands featured. If this isn't a concern to you, this product is still a great one to consider.
The Final Scoop
Our Recommendation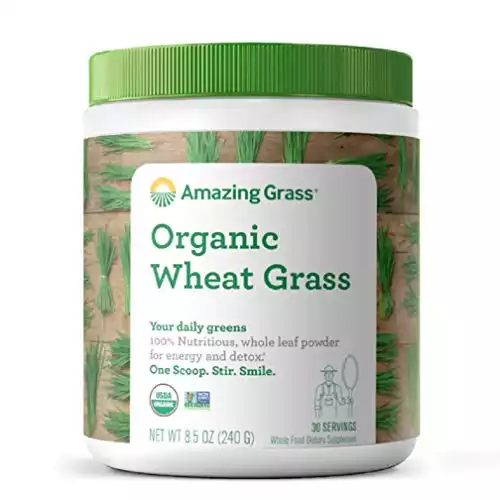 Simply put, wheatgrass powder makes getting a boost of nutrition easy. You can mix it with water, throw it in a shake or cook with it. With having a readily accessible source of wheatgrass power there is no excuses – you don't need to grow or buy the grass or invest in a juicer. If you've been putting off adding wheatgrass to your diet, this is the perfect opportunity to start.
Recommended Reads: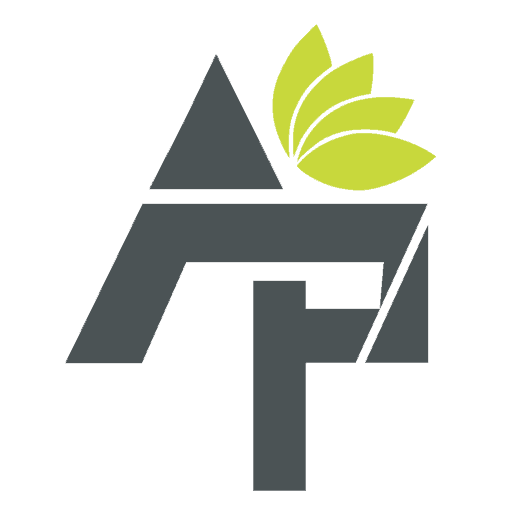 Alt Protein Team is a team of professionals and enthusiasts committed to bringing you the most up-to-date information on alternative protein, health and wellness, workouts, and all things health-related. We've reviewed a lot of products and services so you don't have to guess when you spend your hard-earned money on them. Whether you want to shed some pounds, build lean muscle or bulk, we can help you figure out what you need to do and what you need to have to achieve your goals.