If you've ever done research about healthy eating and foods that are beneficial to the body, chances are you've also heard about juicing. Most likely, you have also heard about the numerous positive effects that wheatgrass has on our bodies.
When you combine wheatgrass and juicing, you need to then add a wheatgrass juicer into the equation. Wheatgrass is a very potent plant that has been used for years by many different cultures in medicine and healing. Wheatgrass shares a very close resemblance to wheat except for its obvious green color and appearance.
Wheatgrass has been becoming very popular with athletes, sports enthusiasts, and more due to its ability to help blood flow. Wheatgrass has been proven to increase the production of hemoglobin which is the chemical that carries oxygen throughout the bloodstream. Wheatgrass has many anti-inflammatory effects on the body which is why it is also sometimes used in pain management.
The potent plant contains various sources of essential nutrients including magnesium, amino acids, calcium, iron, vitamin C, and more. If you want to experience the full benefits of this wonderful plant, you may want to consider making some fresh yourself. Wheatgrass can be readily grown with very little gardening experience or bought fresh in some stores.
Our Recommendation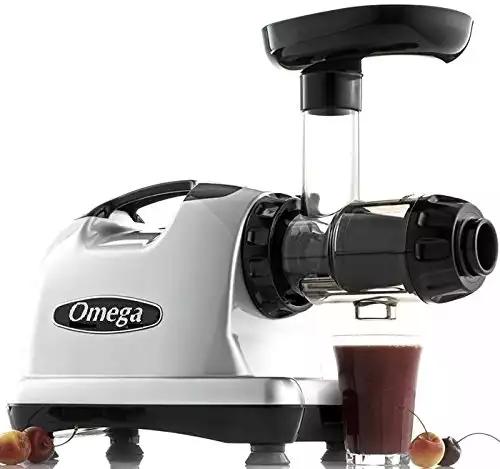 Once you have the raw wheatgrass, you need to extract the juice contents from the plant with a juicer. There are a lot of wheatgrass juicers on the market however not all of them operate the same, to experience the full benefits of fresh wheatgrass juice, make sure your juicing machine has the following features.
One of the most important factors to consider when purchasing a wheatgrass juicer is its capacity. Juicers with smaller insertion points will slow down the rate at which you're able to extract the juice from wheatgrass. By ensuring that your wheatgrass juicer has a large capacity, you can maintain an efficient rate of juicing so that you don't miss out on a drop.
You also want to make sure that your desired wheatgrass juicer has an easy cleaning mechanism. Wheatgrass juicers with difficult cleaning mechanisms tend to be prone to breaking more often. This is largely due to the fact that settled residue can interfere with blade operation and functionality leading to decreased performance over time.
One option that is yours to decide is whether or not you want an automated wheatgrass juicer or a manual one. While automatic wheatgrass juicers tend to be very fast and effective, they also can be known to malfunction or be difficult to operate.
With manual wheatgrass juicing machines, you very seldom hear about one of them malfunctioning or breaking, that's because manual juicers use fewer complex designs consisting of only hardened metal.
If you're interested in buying a wheatgrass juicer, you probably would like to know about some common issues that people face when using the machines. Keep reading below to find out about some of the most readily occurring problems when it comes to wheatgrass juicers.
Common Problems
Malfunctioning Blade
In automatic wheatgrass juicers, one of the most common problems people run into is a malfunctioning blade. Wheatgrass juicer blades can get caught on the grass itself and even become dull over time which leads to less efficient performance with constant use. Try to read the reviews about the wheatgrass juicer you're interested in purchasing before buying it to make sure that the product has a strong blade.
Dead Power Cable
If you plan on using an automated wheatgrass juicer, you need to make sure that your electrical system is wired for surge protection. Wheatgrass juicers can use a lot of power depending on the size and efficiency of the machine.
By installing surge protectors in your home and making sure that the voltage on your desired machine is compatible with your home's electrical wiring, you can void issues related to power when it comes to your wheatgrass juicer.
Cleaning Difficulty
Wheatgrass juicers have a reputation for being rather difficult to clean, this is due to the fact that the machines use various components in order to properly extract nutrients from the wheatgrass you insert. Before purchasing your wheatgrass juicer, make sure that it has the ability to come apart completely so that you can adequately clean the parts and blade.
Omega J8006 Nutrition Center Juicer
Omega is all about making delicious beverages, and from their obvious focus on juicers and blenders, it comes as no surprise they are a popular brand. They have quite a selection of models but when it comes to proven reliability, ease of use, and versatility, the J8006 Nutrition Center Juicer is a great choice.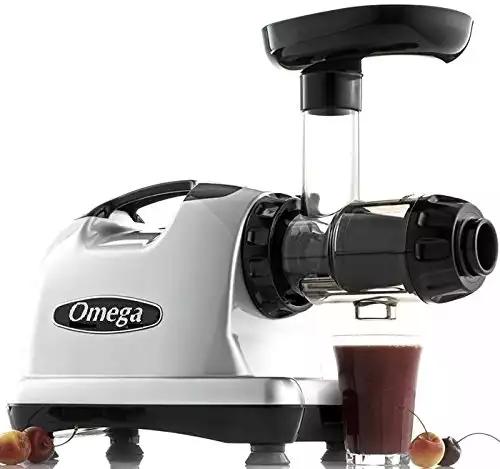 Details:
Electric masticating juicer
Low speed 80 RPM
Continuous juicing system
Automatic Pulp Ejection for best quality juice
GE Ultem Auger 8x stronger than the competition
Less foaming and no heat rise into juice
15-year warranty
Disassembles easily for fast cleaning
Ideal for juicing all fruits and vegetables
Small screen for clearest juice
If you're brand new to wheatgrass juicing you'll appreciate how easy this Omega juicer is to use. It is an electric model that masticates the juice by the use of a motor. This process literally gets all the juice out of the wheatgrass and really mashes up the leftover fiber.
Since this is continuous all you need to do is turn it on and feed the wheatgrass into it. The machine automatically separates the juice into a separate container while the pulp goes into another for easy disposal.
Our Recommendation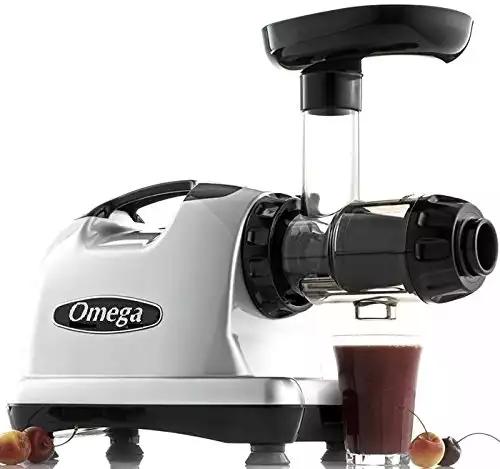 For an electric juicer, the Omega J8006 is fairly quiet, even compared to most blenders. The 80 RPM low speed ensures that your wheatgrass juice will maintain optimal freshness and color. Higher speed juicers may be faster but only lead to color loss and overall juice quality degradation.
Most Omega users find that their wheatgrass juice maintains an excellent taste and color when used with a day. This is a great advantage since you can make one big batch of wheatgrass in the morning for the day rather than make a little every time you want a shot.
Its overall versatility makes it a great choice for people that want to make other vegetable or fruit juices. Since this model is so powerful it can handle the tough skins of fruits and grind up vegetables like broccoli. You can even make nut butter with it.
Samson 6-1 Advanced Wheatgrass Juicer
Another well-known juicer brand is Samson. Similar to Omega, Samson focuses on making high-quality juicers and blenders. Their 6-1 Advanced Wheatgrass Juicer is one of the most versatile models thanks to the numerous accessories that come with it, like multiple end caps and different cones.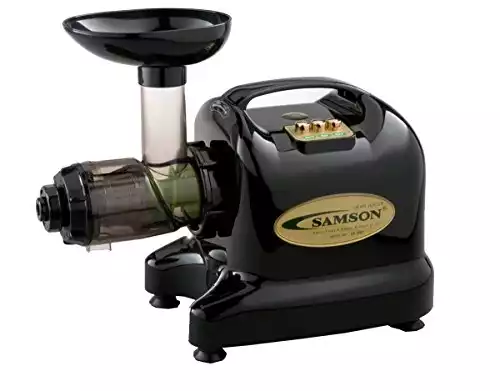 Details:
Available in two colors – ivory or black
80 RPM single gear rotation mastication juicer
All juicing parts are FDA approved
Durable stainless steel juicing screen
Ideal for wheatgrass and leafy greens
Easy to clean and dishwasher safe
Designed to juice or puree a huge range of fruits, vegetables, microgreens, and more
Adjustable pressure control so you can control how much juice you're getting
Continuous juicing with separate containers for the juice and the pulp
Buttons for On, Off, and Reverse
Since this a continuous juicer it makes juicing a large batch of wheatgrass easy – simply turn it on and add in the wheatgrass at your own pace. There is also a reverse button that comes in handy if a large chunk of fruit or vegetable gets stuck under the auger.
While the regular juicing screen is ideal for wheatgrass, there are other cones that come with dicing abilities for versatility. For example, you can add on the mincing cone around the auger to make applesauce, nut butter, or baby food.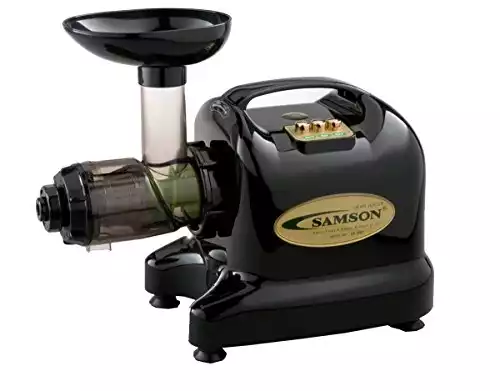 Everything that comes in physical contact with the juice is FDA approved to ensure zero contamination. It is an easy machine to take apart as the majority of the removable parts can be removed with a Quick-Lock style. Unlike other machines, you can wash these parts in the top rack of your dishwasher and then let them air dry.
If you like the versatility of the Omega juicer but really want a maximum juicing option, the Samson 6-1 is well worth the investment.
Miracle Exclusives Stainless Steel Manual Wheatgrass Juicer
Sometimes going back to basics is an advantage. With juicing becoming more common, especially as part of popular diet plans or toxin cleanses, electric juicers took over. They might be faster and can handle more but not everyone needs/wants that. Sometimes a simple but well-designed manual juicer is perfect for someone on a tight budget that wants to have a fresh cup of wheatgrass juice every morning.
The Miracle Exclusives Stainless Steel Manual Wheatgrass Juicer is one of the best of its kind. It is ready to use right out of the box and you can set it up anywhere so you won't need an electrical outlet.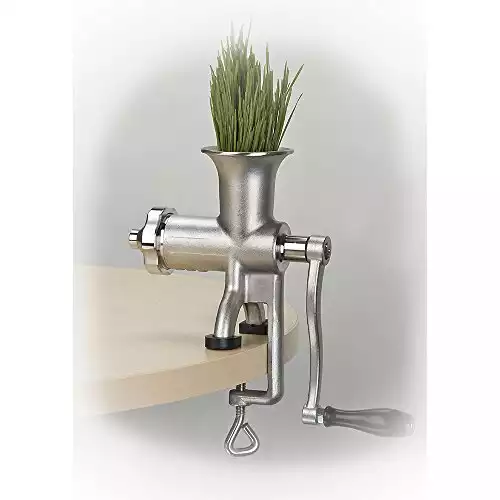 Details:
Stain- and scratch-resistant stainless steel body
Clamps securely to tabletop without damage
Auger is the same quality as an electric juicer
Produces less foam than other manual juicers
Comes completely apart for cleaning
Lack of motor or electrical components means fewer things to break
Surprisingly high yield capacity
Designed for wheatgrass but can also be used for other (leafy) greens and soft fruits
Despite being a manual juicer, the model can handle a lot of heavy use over an extended period of time. Made entirely of stainless steel, including the auger, makes this thing as tough as they come. However, it is not recommended to try and juice anything other than leafy greens or some smaller soft fruits. It simply isn't designed to handle the excessive pressure that would have to be exerted on hard fruits or dense vegetables.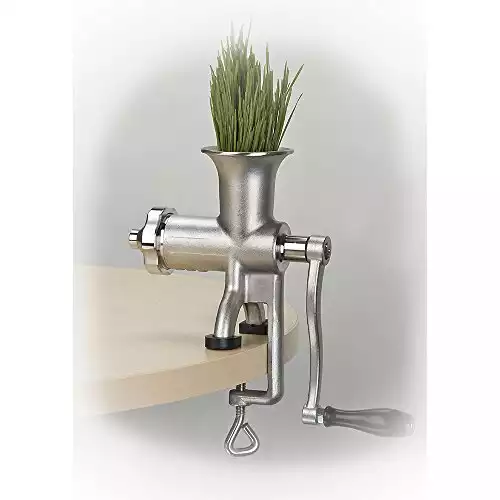 With that aside, if all you want to do is crank out some high-quality green juice, you really can't go wrong with this model. It handles commercial use easily so average home use is a breeze. The juicer comes apart for fast cleaning or rinsing between uses. Most users find that the screen works efficiently and for quite a long before needing to be replaced.
A manual juicer may not be fancy but it does it's job flawlessly. Even if you already have an electric juicer, this model is really handy for making small quantities of wheatgrass when you don't feel like hauling out a heavy, motorized model.
FAQs
Question: What types of wheatgrass can I juice in my juicer?
Answer: There are a lot of different types of wheatgrass however many juicers are able to juice all forms regardless of size or texture.
Question: How often should I juice?
Answer: The answer to this question depends on a lot of factors including your intended fitness goals and the potency of the wheatgrass that you use. Typically, juicing 2-3 times a day is sufficient for most people and their health needs.
Question: Can I put my wheatgrass juicer in the dishwasher?
Answer: The you use to clean your wheatgrass juicer will depend on the type and material build. Some wheatgrass juicers are dishwasher friendly while others are not, the best way to tell if your wheatgrass juicer is dishwasher friendly or not is by reading the instruction that comes with it.
Bottom Line
Wheatgrass juicing is an excellent addition to any diet but particularly useful if you are beginning a journey for better health. All you need to get started is fresh wheatgrass, either purchased from a health foods store or grown yourself.
With the help of one of these juicers, you can make the highest quality green juice right at home, as well as other healthy fruit and vegetable juicers.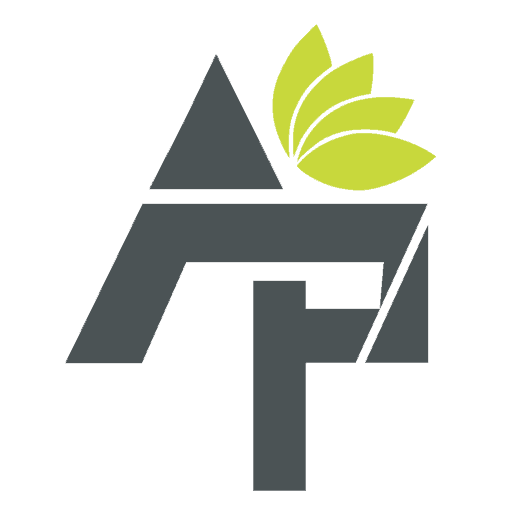 Alt Protein Team is a team of professionals and enthusiasts committed to bringing you the most up-to-date information on alternative protein, health and wellness, workouts, and all things health-related. We've reviewed a lot of products and services so you don't have to guess when you spend your hard-earned money on them. Whether you want to shed some pounds, build lean muscle or bulk, we can help you figure out what you need to do and what you need to have to achieve your goals.