If you're vegan, vegetarian, or you simply want to consume a supplement that's easy on your digestive system, rice protein powder might be the right option for you.
Most people associate protein supplements with athletes or bodybuilders but rice nutritional products can do the trick for anybody who wants to be healthy and stay fit. There are lots of top products on the market, including Naked Rice Protein Powder, Garden
So, let's take a look at some of the best rice protein powder alternatives to help you purchase the one that suits your needs.
*The following products are listed in no particular order.
1. Naked Rice Protein Powder – Organic Brown Rice
According to many reviewers, Naked Nutrition's Naked Rice protein powder is probably the best vegan product on the market due to the fact that it contains only one ingredient: organic sprouted brown rice.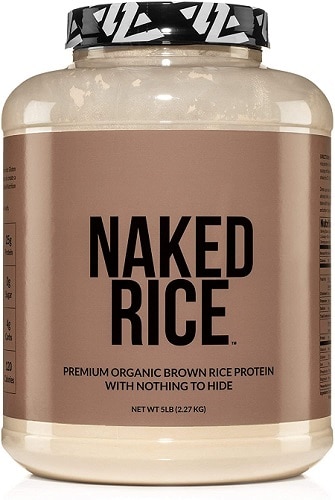 So, I'm not risking anything when I say Naked Rice Protein Powder is a simple, and clean choice. It is manufactured by Naked Nutrition which is a huge health supplement company. They are known for not using artificial ingredients in their products.
Nutritional Values
| | |
| --- | --- |
| Calories | 120 |
| Protein | 25 g |
| Carbohydrates | 4 g |
| Fiber | 1 g |
| Sugars | 0 g |
| Sodium | 0 mg |
Pros
Contains a large amount of protein per serving – 25 grams;
It provides a full amino acid profile – leucine, alanine, tyrosine, valine, etc.;
It doesn't contain soy or gluten so it is a safe product for people allergic to these two components;
Naked Rice Organic Sprouted protein contains only one ingredient and it is free of artificial additives and fillers.
Cons
It has more calories than many other vegan protein supplements;
Some people are not pleased with the fact that the company has increased this product's price lately, making it more expensive than other rice protein powders;
A few people didn't like the flavor but I guess this is a matter of personal taste.
Price
Naked Nutrition's rice protein powder is sold for the price of $21.99 here for a 1LB tub.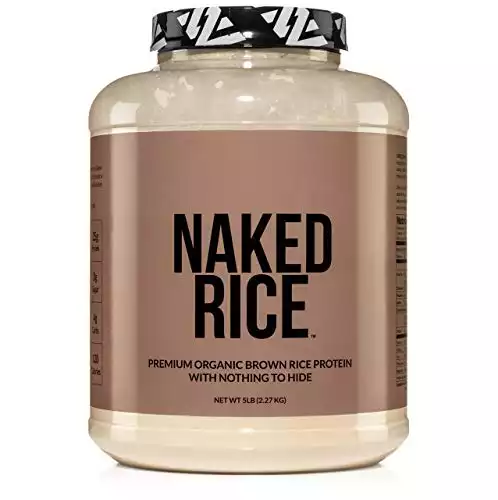 2. Sunwarrior Classic Protein
The Classic Protein marketed by Sunwarrior is a vegan supplement made from fermented brown rice (so technically a brown rice protein powder). As the name says it, this is a classic and simple yet nutritious product. It will help you significantly increase your daily protein intake.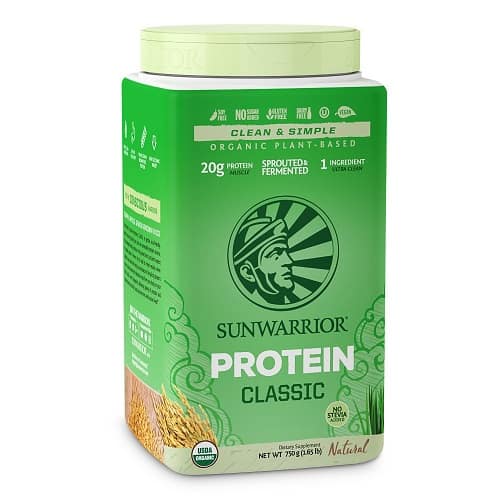 One serving has only 80 calories so it is also recommended in weight-loss diets. Also, one scoop of this powder will provide you with 15 grams of protein.
Nutritional Values – per one serving
| | |
| --- | --- |
| Calories | 80 |
| Protein | 15 g |
| Carbohydrates | 4 g |
| Fiber | 2 g |
| Sugars | 1 g |
| Sodium | 55 mg |
Sunwarrior Brown Rice Protein Powder Pros
It is useful for professional athletes and people who are searching for a vegan alternative to regular protein supplements;
Has a natural and good vanilla flavor;
It is sweetened with Stevia instead of regular sugar;
The company claims their product will improve your overall health;
You can consume it before and after intense workouts;
It is useful for people who want to lose weight.
Sunwarrior Brown Rice Protein Powder Cons
There are other similar rice protein powders out there that deliver a higher amount of protein per serving;
According to some reviewers, the company seems to have changed this product a bit and now it appears to be worse than before in terms of flavor and texture.
Sunwarrior Pricing
You can purchase the Sunwarrior Classic Protein (brown rice protein powder) on the Sunwarrior website here directly (use code ALTPROTEIN to save 20% at checkout).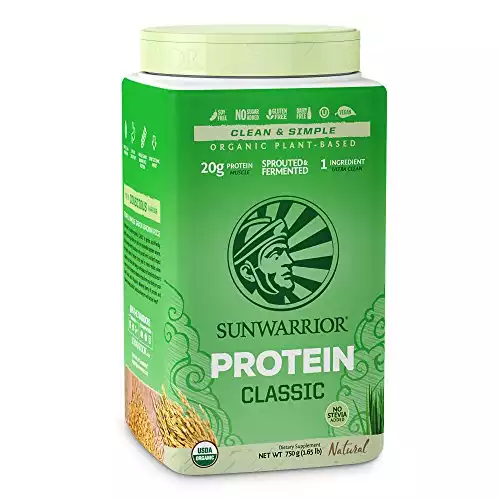 3. Brown Rice Protein Concentrate by Jarrow Formulas
This is another good option when you're searching for an organic rice protein powder. It is a product that's certified by the USDA and contains non-GMO brown rice.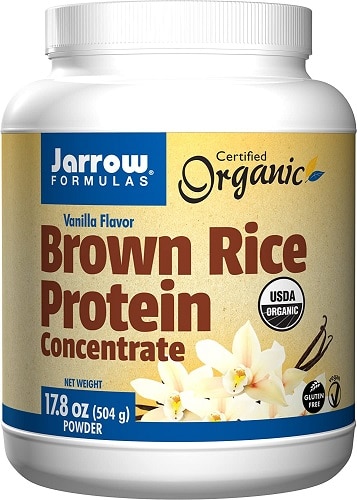 Jarrow Formulas is a company with a good reputation and their vegan protein supplement is low-calorie, affordable, and 100% organic.
Nutritional Values – per one serving
| | |
| --- | --- |
| Calories | 60 |
| Protein | 11 g |
| Carbohydrates | 3 g |
| Fiber | 1 g |
| Sugars | 0 g |
| Sodium | 10 mg |
Pros
It is a safe and organic rice-based supplement that is certified by the USDA;
Comes with a complete profile of amino acids;
It is a calorie-restricted supplement that helps you lose weight;
This particular option is very affordable and will definitely not break your bank.
Cons
A few reviewers complained about the flavor as well as the mixability of this powder, saying it is hard to dissolve it in water;
It provides a much lower amount of protein per serving compared to most other rice supplements.
Price
On Amazon, the Jarrow Formulas protein powder costs $11-$12 for a 17.8-ounce container.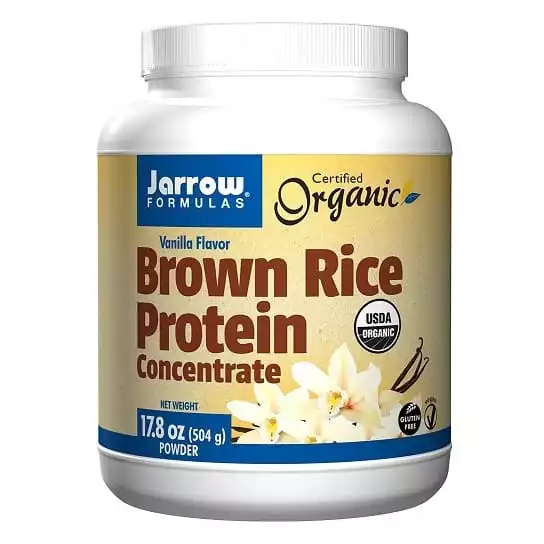 4. Nutribiotic Rice Protein
Although this is a good-quality rice supplement, it doesn't offer a lot of protein per portion. On the other hand, it is a very diet-friendly product and has a very simple and clean ingredient list.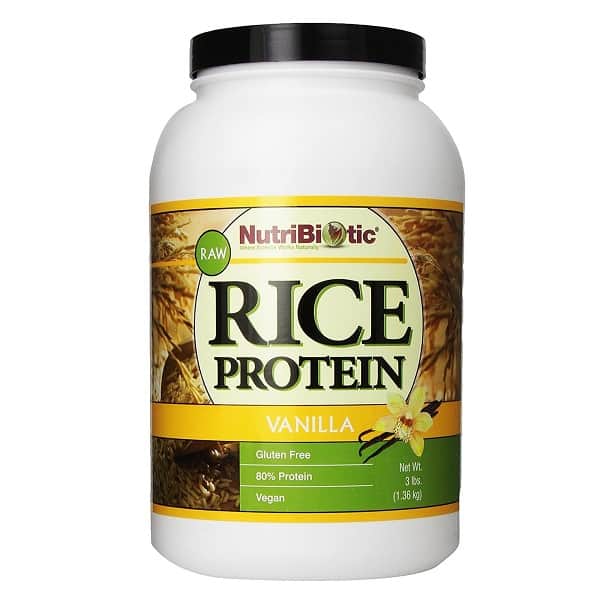 It has no chemicals in its formula and, due to its amino acid profile, Nutribiotic is an easily digestible product.
Nutritional Values
| | |
| --- | --- |
| Calories | 60 |
| Protein | 12 g |
| Carbohydrates | 2 g |
| Fiber | 1 g |
| Sugars | 1 g |
| Sodium | 10 mg |
Pros
It is a clean and safe product that doesn't contain any harmful ingredients like herbicides, artificial colorings, or pesticides;
Nutribiotic rice protein powder is very effective for people who are on a weight-loss diet, being a low-calorie supplement;
Many reviewers are satisfied with this product, saying it doesn't make them experience any side effects whatsoever;
It is manufactured by a company with a good reputation.
Cons
Unfortunately, many consumers are not pleased with the taste, saying it is bitter and unpleasant;
The texture can be a bit clumpy when you try to mix it with liquids but many other protein powders have the same issue;
It is a bit on the pricey side;
One scoop of the Nutribiotic rice powder delivers only 12 grams of protein which is less than the average amount a vegan supplement should contain but the portion size is small too.
Price
Nutribiotic Rice Protein has a higher price tag than other interchangeable alternatives. A 3-pound tub goes for the price of approximately $35.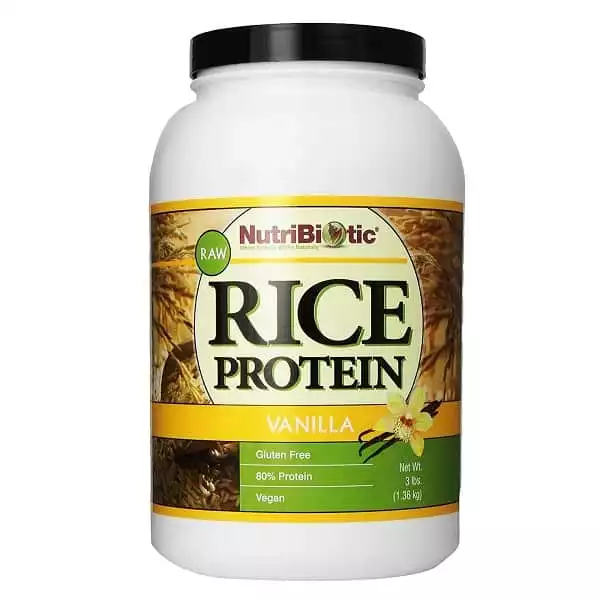 5. Organic Rice Protein Powder by Growing Naturals
Growing Naturals' rice protein powder is an excellent choice for those of you who have a sweet tooth. In fact, it is the perfect option for people who love chocolate (still, there are other two available flavors as well: vanilla and strawberry).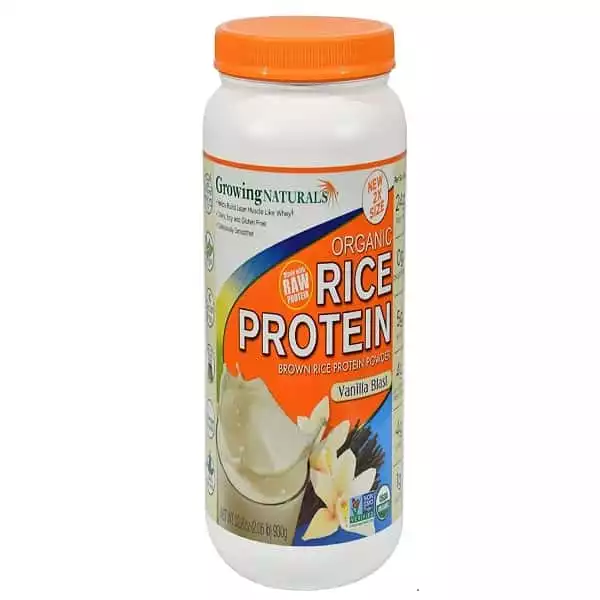 So, when it comes to flavor, this product won't disappoint you. I'm talking about a dairy-free supplement that is useful for individuals with sensitive stomachs.
Nutritional Values
| | |
| --- | --- |
| Calories | 110 |
| Protein | 24 g |
| Carbohydrates | 4 g |
| Fiber | 1 g |
| Sugars | 1 g |
| Sodium | 40 mg |
Pros
It is made from organic ingredients and the company constantly improves the product's flavor and texture;
This protein powder is great for vegans, vegetarians, and people with food allergies because it doesn't contain dairy, soy, or gluten. Moreover, it is a non-GMO certified supplement;
One scoop measures 31 grams and provides an impressive amount of protein – 24 grams;
It is a premium product that contains high-quality plant based protein powder.
Cons
Although it blends pretty well, the resulted beverage can be quite gritty;
Consumers say this is a decent yet a bit mediocre product that could work better;
Despite the fact that the Chocolate flavor tastes good, a few people said the Vanilla option tastes pretty awful.
Price
On Amazon, the cost of a 32.8-ounce container of Growing Naturals rice protein powder varies depending on the seller (Click here to see the latest rates!). It normally ranges between $37 and $47.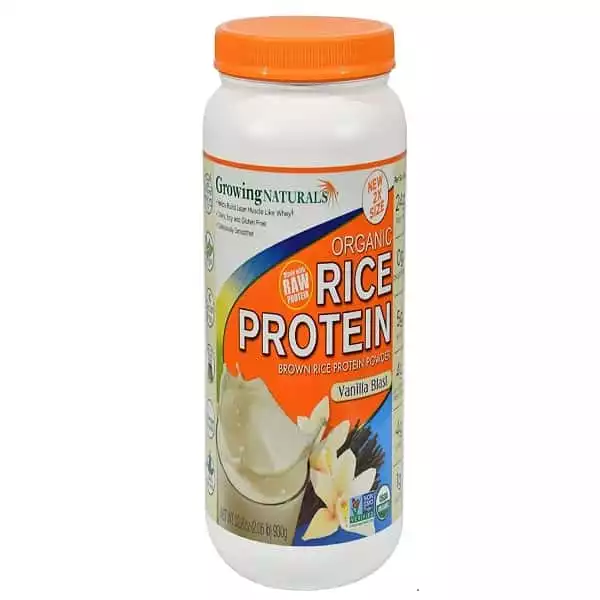 6. Sprouted Brown Rice Protein by Now Sports
Now Foods has come with this special rice protein powder that offers a much more comprehensive profile of amino acids than most other vegan supplements.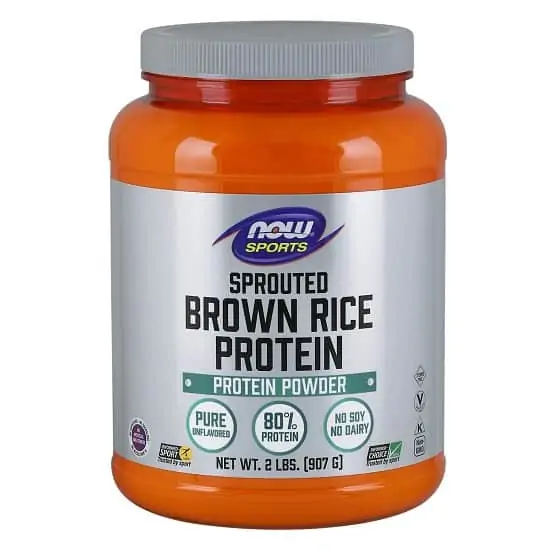 What set this rice supplement apart from your average plant-based protein (vegan protein) are the following things:
Ease of digestion;
A trustworthy brand;
Non-GMO ingredients;
A high bioavailability rate.
Nutritional Values
| | |
| --- | --- |
| Calories | 15 |
| Protein | 4 g |
| Carbohydrates | 0 g |
| Fiber | 0 g |
| Sugars | 0 g |
| Sodium | 0 mg |
Pros
As you can see from the table presented above, Now Sports' rice protein powder is super clean vegan powder and it doesn't contain any carbs or sugar;
It is marketed by one of the best health supplement manufacturers in the industry (Now Sports is a product division of the Now Foods company ;
It is a vegan-friendly protein source;
Now Sports rice protein powder is an affordable product;
The label is very transparent – it lists the entire profile of amino acids contained by one serving.
Cons
One scoop has a very small amount of protein – only 4 grams but you should consider the fact that the size of one serving is also small, measuring 5 grams. Therefore, you should probably try to take multiple servings to achieve optimum results;
It doesn't have a bad taste but it can be kind of chalky.
Price
The cost of Now Sports rice protein starts from around $20, for a tub that measures two pounds.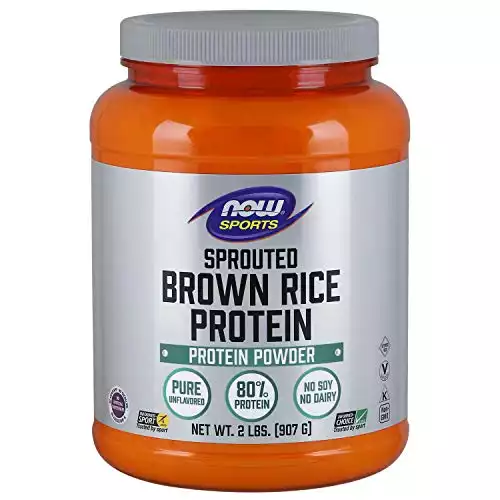 7. Organic Vegan Protein Powder by Garden of Life
Now we're talking! The Vegan Protein Powder marketed by Garden of Life is an excellent choice when we talk about high-quality plant-based supplements.
It contains a wide range of organic plant protein sources such as quinoa, rice, millet, and others. This product offers so much more than just an increased protein intake. It also provides several health benefits due to its probiotic and digestive enzyme blend.
Nutritional Values
| | |
| --- | --- |
| Calories | 110 |
| Protein | 22 g |
| Carbohydrates | 2 g |
| Fiber | 1 g |
| Sugars | 0 g |
| Sodium | 180 mg |
Pros
It delivers a high amount of protein per serving sourced from a great plant protein blend: rice, pea protein, vegetable sprouts, and hemp;
It is rich in vitamins and minerals;
This product works as a post-workout recovery solution;
According to the company, this is a fully nutritional shake;
It contains organic and non-GMO ingredients;
You can choose from four available flavors: vanilla, chocolate, vanilla chai, and the original unflavored alternative. What's even better is the fact that all these varieties have a good taste.
Cons
Garden of Life rice protein powder is more expensive than many other similar products;
One container offers only 20 servings.
Price
You will find the Organic Vegan Protein Powder by Garden of Life on Amazon. It sells for the price of approximately $33 (a container of 22 ounces).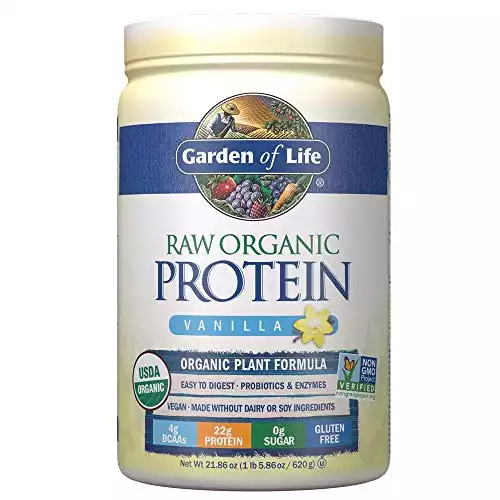 Why Should You Consume Naked Rice Protein Powder Supplements? – Main Benefits
This type of supplements are a great alternative for people who deal with food allergies to common ingredients such as wheat, dairy, or soy;
Besides protein, these products usually contain other beneficial compounds like amino acids, vitamins, fiber, minerals, and many others;
Most of these powders don't have a bad aftertaste or a very strong flavor;
Rice protein powders are good health and fitness supplements regardless of the person who takes them. Whether you're a bodybuilder or just a person who loves to work out, these products can be a nutritious addition to your diet;
Most of these powders are good for those of you who have sensitive stomachs because they are hypoallergenic. They also work if you want to avoid bowel-related issues;
Rice protein supplements are quickly absorbed by your organism and they are easily digestible.
Putting It All Together
Even if don't follow a vegan or vegetarian lifestyle, any of the rice protein supplements presented above will offer plenty of benefits if you consume them properly. Many of them contain excellent plant extract blends that will help you lose weight and lower your sugar blood levels.
It doesn't really matter which product you choose to buy. In the end, you must make sure you opt for the right supplement that serves your nutritional needs. When included in a well-balanced diet, rice protein will bring you all kinds of gains.
Recommended Reads: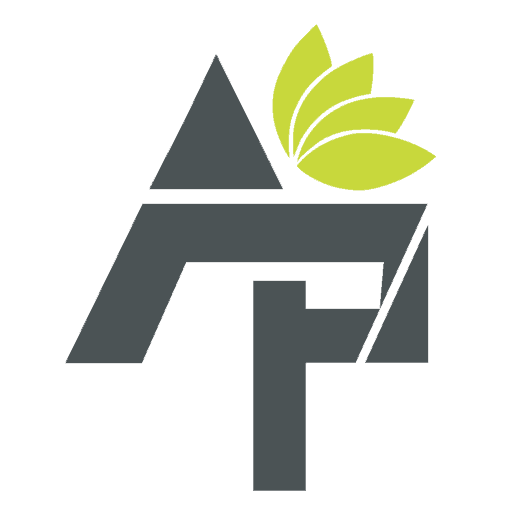 Alt Protein Team is a team of professionals and enthusiasts committed to bringing you the most up-to-date information on alternative protein, health and wellness, workouts, and all things health-related. We've reviewed a lot of products and services so you don't have to guess when you spend your hard-earned money on them. Whether you want to shed some pounds, build lean muscle or bulk, we can help you figure out what you need to do and what you need to have to achieve your goals.