Mayo is one of those things–you either love it or hate it. And this fall, there's a debate about a, particularly interesting combination.
Peanut butter and mayo on a sandwich is a Southern specialty, one that actually- may have originated during the Great Depression when jelly wasn't affordable for everyone. While it was ingenuity at the time the sandwich continues to be both loved and hated to this day.
Controversial taste aside, both peanut butter (peanuts are technically legumes,) and mayo are two of the best condiment options for anyone following Keto.
But when it comes to mayo, there's a lot of confusion on what's healthy, what's not, and why it matters for staying on track with Keto.
Is Mayo Actually Healthy For You?
In terms of condiments, mayo has perhaps the worst reputation. In the 90's, at the height of the low-fat diet, mayo was something to be avoided, as it was seen as an added source of calories and fat. Even recently, it's been vilified as one of the worst condiments, mostly for the very same reason.
There are signs that mayo's reputation, despite the increased awareness of the need for fats in our diet, has not fared better in recent years. From 2014 to 2015 fell by about four million unit sales. And there's been headlines about how 'millennials are killing' mayo–though it's impossible to say for certain the two are causally related.
While it's true that some mayo is not healthy for anyone–keto or conventional eaters–if you select the right brands, there are actually a few reasons to use mayo in moderation:
Adds Flavor (to Make Healthy Food more Appealing)
Adds Polyunsaturated Fats
Is Specifically Recommended for Keto
Mayo is also made in part from eggs, which in of themselves have health benefits, such as essential vitamins, omega-3 fatty acids, and protein. Contrary to prior belief, eggs also have been linked with reducing the risk of heart disease and strokes.
While of course the concentration of eggs, and thus benefits, are diluted in mayo, it's still yet another reason to consider using this condiment in moderation.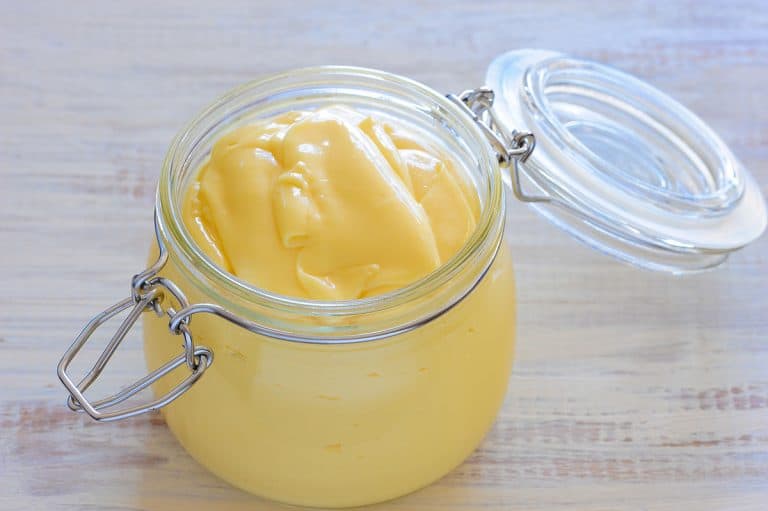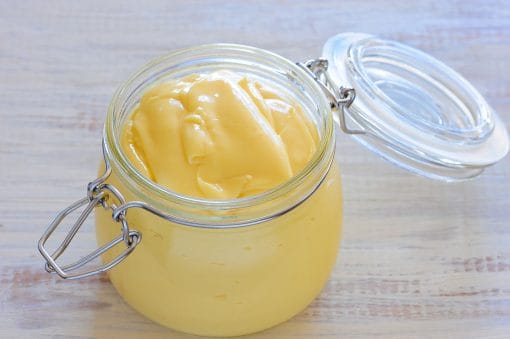 Are Some Mayo Options Better Than Others for Keto?
Mayo can be used in a variety of ways, from lettuce wraps to deviled eggs, but even for Keto dieters, it's not a free pass. Not only should it be used strategically and in moderation, but picking the right mayo is critical
And picking the right mayo comes to finding the best ingredients, as well as following a few simple rules:
Look at the ingredients list. Even if it's touted as 'healthy' or natural, mayo can still contain questionable additives, and preservatives with can impact your body. Emulsifiers, in particular, have been linked to inflammation.
Avoid reduced or low fat. Of course, when you're on Keto, you have no reason to look for low-fat options, but this goes beyond that. Reduced fat products tend to add ingredients to make up for the flavor–most commonly extra sugar.
Oils: Oils are a main component of mayo, and while oil shouldn't be off your list of things you can consume, some oils are better than others. Most of the oils you'll find in mayo are polyunsaturated, but the type does matter. Oils like avocado and olive oil and even coconut oil (this is also a source of saturated fats) have many health benefits, including reduced symptoms of depression and inflammatory and cardiovascular diseases. Overly processed oils, however, such as common vegetable and palm oils, can actually lead to increased inflammation and associated problems. And be sure to avoid anything with hydrogenated oils, which are a form of manufactured trans fats.
Eggs: Eggs should make at very least the top ingredients list.
Using this same criterion, we've broken down some of the best mayo options for Keto currently available.
Mayo Options with Olive Oil
Olive oil is a natural, and one of the most popular alternatives for vegetable oils. It has a richer, more accented flavor, though, in terms of mayo, the flavor tends to be a little more subdued. Regular olive oil will be a closer replacement flavor wise. Extra virgin olive oil has a richer flavor, so you'll notice it more.
Olive oil is also a great source of healthy fats. The oil contains antioxidants, anti-inflammatory components, and is associated with reduced rates of heart disease, diabetes, Alzheimer's and obesity.
It's such a healthy fat, with multiple benefits, that moderate consumption of olive oil is recommended for everyone. A word of caution: finding a mayo with olive oil is easy, but finding one that uses only olive oil is not. Most of the brands you'll find in your local grocery store contain additional (processed oils) as well as olive oil. So while there are many brands of mayo that use olive oil, by no means does it mean that you won't find processed oils as well.
If it does contain other oils, see how far they appear up the list, and try to go for less processed oils.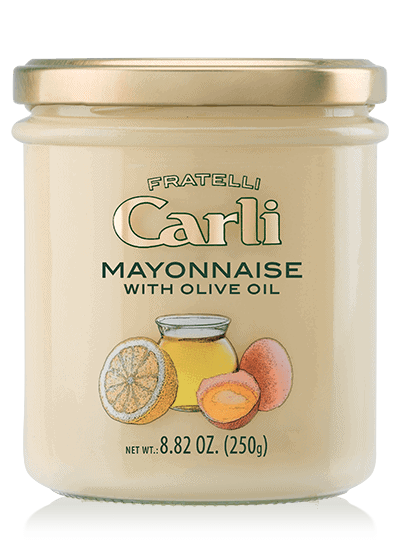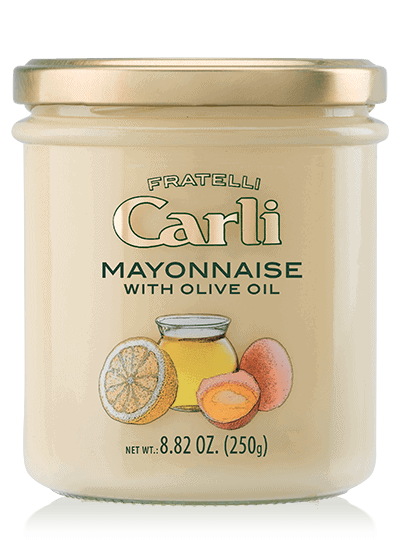 Unlike most of the mayo with olive oil options out there, Fratelli Carli using only olive oil, in what they tout as a "homemade recipe." The pure, not extra virgin olive oil, makes for a taste with light, subtle richness and a multi-purpose spread.
Another plus: it's even made with free range eggs. Lemon juice and wine vinegar add a fresh taste. The flavor is described as 'delicate, cool and creamy.' Don't be alarmed by the color: because it uses egg yolks, this is a pale yellow as opposed to the off-white you might be used to seeing.
The ingredients list is incredibly simple, too–the only thing aside from eggs, olive oil and the vinegar and citrus is just a tiny bit of salt and sugar.
As for the downsides? It's certainly not the cheapest on the market, and it appears the easiest way to purchase is from their website. They do offer occasional promotions and discounts.
Per Serving: 110 calories; 12g total fat; 0g carbs
Gluten Free
Allergens: May be cross-contaminated with fish, tree nuts, dairy
Price: 2 8.8oz jars for $19.99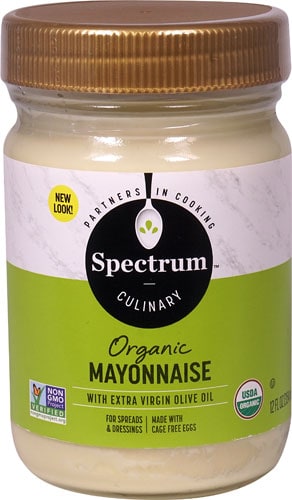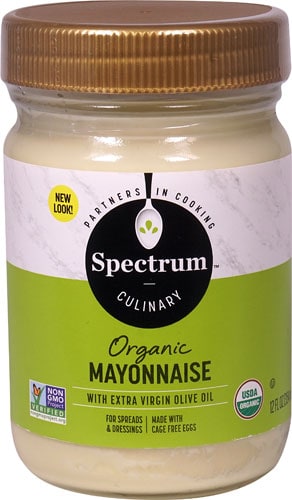 Compromise is vital when it comes to buying a mayo with olive oil, especially if you're on a budget. While Fratelli Carli gets a stamp for the best mayo with olive oil out there, sometimes you have to weigh other factors.
Regarding an olive oil mayo that is not exclusively made with olive oil, this option by Spectrum is a good bet. The flavor is described as smooth, creamy and nutty. Plus, it's GMO-free, USDA organic, and Kosher. Like our other pick, it's also made with cage-free eggs, meaning you're getting the best quality nutrients.
It does contain organic expeller pressed soy oil, but organic pressed oils are not as processed and do not have the same impact as conventional processed oils. The rest of the ingredients are relatively simple. Organic mustard and lemon juice add a touch of flavor.
At $5.52 per bottle, it also is substantially cheaper than our first pick, especially is mayo is a condiment you see yourself using more frequently. Plus, it's available through a mainstream grocery store.
Per Serving: 100 calories; 11g total fat; 0g carbs
Kosher and USDA Organic
Allergens: Eggs
Price: $5.52 per 12 fl oz bottle
Mayo Options with Avocado Oil
Most of us have heard of Millenial's supposed obsession with avocados, but there's reason to join the trend. Avocados are known as super foods and with good reason. One of the most popular varieties, the Hass Avocado, is a source of essential, vitamins and minerals, protein, and healthy fats. They also contain potassium and have been associated with reduced cholesterol and triglyceride levels.
Of course, you won't be eating a whole avocado when you opt for mayo with avocado oil, but these products are still some of the best options for Keto. The healthy fats can help you better absorb the nutrients you're eating with your mayo, too.
As you can imagine, the aesthetic is a little different. But in fact, avocado oil has a pleasant taste, with notes that are 'light, peppery, and mild,' making it a great compliment for tangy mayo.
Luckily, you can find brands that use only 100% of avocado oil, and at a more affordable price than the few 100 percent olive oil options–so if you're skeptical, it might still be worth a try.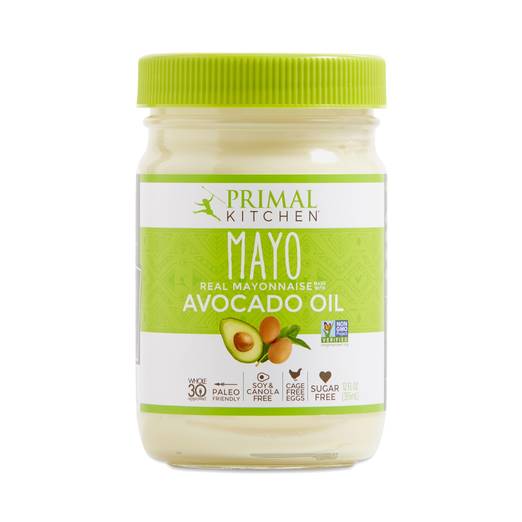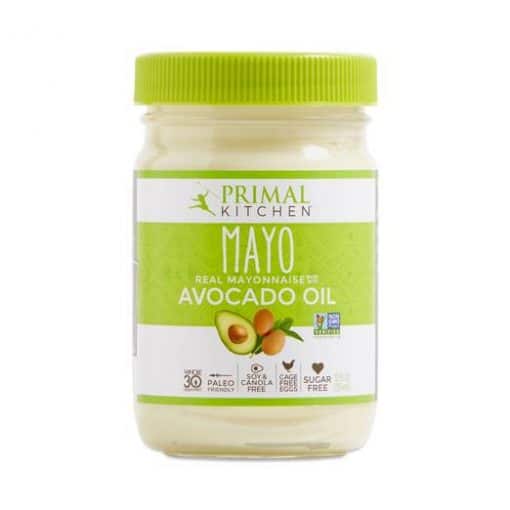 Avocado oil is their first ingredient, which is an excellent sign. This brand, which can be purchased through Thrive Market, is specifically paleo and Keto friendly; has absolutely no added sugar; is gluten free, and soy and dairy free. In fact, even the vinegar is derived from beets. The addition of rosemary extract adds a little something special to the flavor.
If you not only want to follow Keto but want to support the environment, this option might also be for you. The company claims a commitment to sustainable farming, plus all of its jars are recyclable.
Flavor-wise, if this variety is too mild for you, you can also check out their Chipotle Lime Mayo, which also uses avocado oil. And while it's not the cheapest on the market, it's about as good of a mayo option as you can get for Keto.
Per Serving: 100 calories; 12g total fat; 0g carbs
Gluten, soy, and dairy free
USDA organic
Environmentally Friendly
No added sugars
$9.99/ 12 oz jar; less for members of Thrive Market

If you've tried mayo with avocado oil and you like the flavor, Chosen Foods offers unparalleled varieties. Select from regular, wasabi, and black garlic 12 oz jars. You can even purchase individual on-the-go packets.
Cold-pressed avocado oil is combined with cage-free eggs, organic vinegar, and a touch of organic honey. It's gluten free, kosher, nut free, and paleo.
Like Primal Kitchen, Chosen Foods also commits to supporting a sustainable environment and non-GMO ingredients. Prices vary a few dollars depending on variety, with the regular flavor the cheapest at just under $15 per 24 oz bottle.
Per Serving: 100 calories; 11g total fat; 0g carbs
Kosher, GMO/ Gluten/ nut free
Cage Free Eggs
Unique flavor options
Coconut Oil Mayo
Coconut oil has been controversial for some time–while some nutritionists swear by it, others point to its high concentration of saturated fats. However, the evidence is out on saturated fats: new studies have indicated that a number of emerging studies is currently challenging the belief that saturated fats were harmful to our bodies. You can read more about the emerging data here, as well as saturated fats' effect on LDL and HDL cholesterol levels.
In the Keto community, for the most part, coconuts and coconut oils are actually encouraged, in moderation. The reason? Coconut oil is a medium-chain triglyceride which has been linked to a reduction in visceral and abdominal body fat. Such fats can also help initiate, maintain, or propel ketosis.
While coconut oil in mayo may seem like a strange pairing, you'll get more of a creamy and rich rounded flavor than you will taste a lot of coconut.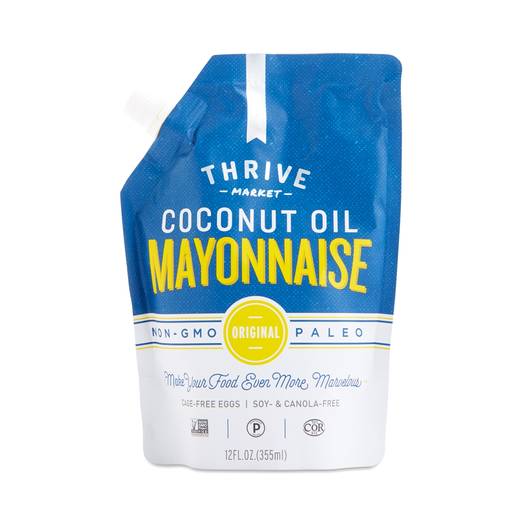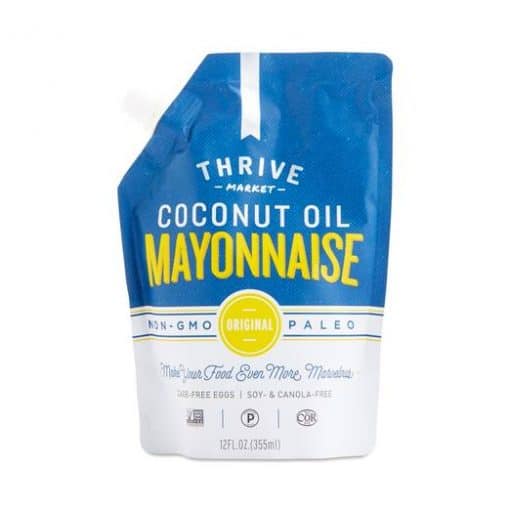 Thrive Market is not being featured on purpose; they happen to have a lot of keto friendly products, including mayo. Their mayo with coconut oil comes in a 12 fl oz pouch, which also makes it easier to squirt out.
But that pouch isn't just fun and convenient; unlike most canned mayo, it's certified BPA free. BPA, which is found in plastic products, has been loosely linked to conditions such as obesity and diabetes, though for now, the evidence is not strong enough to form a solid conclusion.
The product is also kosher, non-GMO, and gluten-free. The ingredients list is short and easy to read: coconut oil; organic egg yolks; organic distilled vinegar; water; organic honey; salt; organic lemon juice; mustard, and rosemary extract.
Per Serving: 100 calories; 11g total fat; 0g carbs
Kosher, Gluten, and GMO-Free
BPA Free
Pouch for Convenience
Simple Ingredients
$9.99/ 12 fl oz pouch; less for Thrive Market members

Our last best mayo option for keto is the most unconventional. While likely most on keto aren't vegan, there's still good reason to take a look at this mayo by NuCo. It uses both coconut and avocado oil but no eggs. Since no mayo is a source of protein, there's nothing particularly wrong with this. If anything, it's great to have an eggless option made with two healthy oils.
If you don't usually like mayo, or if you just want something that doesn't taste so much like eggsm, so it's more versatile, you might want to consider this spread. It's also dairy, soy, gluten, and preservative free.
Pea protein helps create a creamy texture, while rosemary extract lemon juice, and mustard flour add some tanginess.
Per Serving: 90 calories; 9g total fat; 0g carbs
Dairy, Soy, Gluten-free
Eggless
Two Healthy Oils
$8.70/ 12 fl oz
Final Thoughts
No matter what mayo you choose, make sure you take a long look at the list of ingredients. In addition to processed oils, you should be on the lookout for fructose corn syrup and hydrogenated or partially hydrogenated ingredients. Emulsifiers or texture improvers are also not optimal.
With these tips in mind, there's no reason not to enjoy mayo with your keto diet plans.
This Might Interest You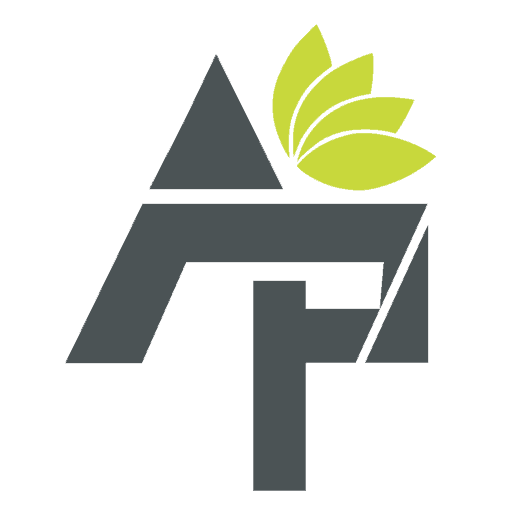 Alt Protein Team is a team of professionals and enthusiasts committed to bringing you the most up-to-date information on alternative protein, health and wellness, workouts, and all things health-related. We've reviewed a lot of products and services so you don't have to guess when you spend your hard-earned money on them. Whether you want to shed some pounds, build lean muscle or bulk, we can help you figure out what you need to do and what you need to have to achieve your goals.