When it comes to fitness supplements, few are as important as BCAAs. Branch-chain amino acids (BCAAs) provide your body with the leucine, valine, and isoleucine that make up 66% of your muscle mass.
By adding more BCAAs to your diet (on top of your protein intake), you deliver the muscle-boosting nutrients your body needs.
Scivation Xtend and BPI BCAA are the two most popular BCAA products on the market. Below, we do a full comparison to help you figure out which one is the best for you!
If you want to know more about BPI BCAA, read my full review here (that is, if you want muscle growth to brag about!).
And Scivation Xtend was already one of my top 5 BCAA choices, so you know we had to put these two powerhouses against each other and see who comes out on top!
Tale of the Tape: BPI BCAA vs Xtend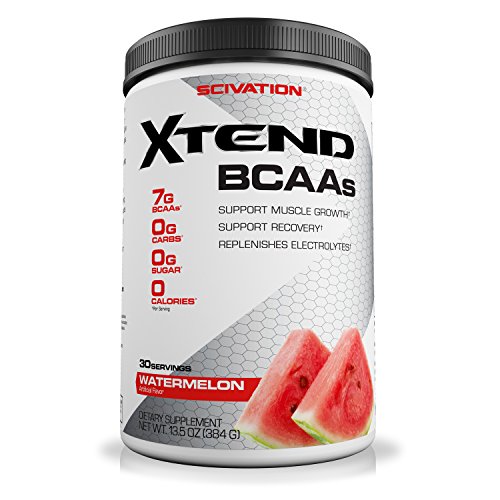 Scivation Xtend comes with 7 grams of BCAAs, with a 2:1:1 ratio standard to most BCAA products. The product is sugar-free, contains zero carbs, and has no calories in each serving. In addition to the leucine, valine, and isoleucine, the BCAA supplement also comes with citrulline (1 gram) and glutamine (2.5 grams), both of which encourage better body function and muscle building.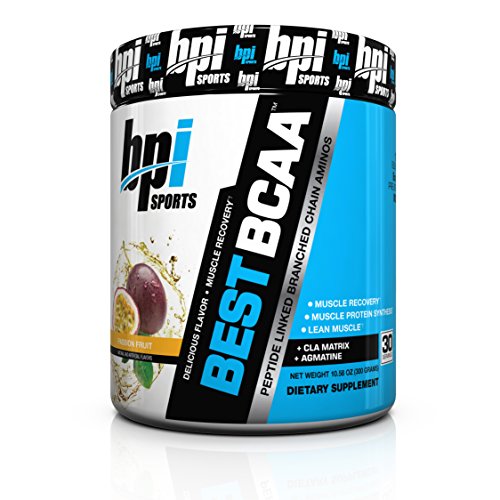 BPI BCAA only contains 5 grams of BCAAs, with the same 2:1:1 ratio (2 parts leucine, one part each of valine and isoleucine). There are also zero grams of carbs, zero calories, and no sugar in this supplement. BPI BCAA comes with Conjugated Linoleic Acid (CLA), which encourages faster muscle-building and speeds up your metabolism.
It also contains Agmatine, a metabolite from arginine that has proven effective at increasing nitric oxide production (dilating the blood vessels and improving blood flow during training).
Flavor Comparison
Scivation Xtend comes in 15 flavors, with the most popular being watermelon and blue raspberry. The taste is sweet (thanks to the artificial sweeteners) and easy to enjoy.
BPI BCAA comes in 12 flavors, with the most popular being Fruit Punch and Arctic Ice. The taste is more tart than sweet, ideal for those who prefer to enjoy something tangy instead of a sugary drink. However, some users have commented that the taste is "lacking" or not as strong as the Scivation.
Winner: Both, depending on your taste preference. Sweet-lovers will prefer Scivation, while those who want a tangier taste will opt for BPI.
Ingredients
Scivation Xtend, in addition to the ingredients mentioned above (BCAAs, glutamine, and citrulline), contains an electrolyte mix of sodium chloride and potassium chloride. This is added to encourage a better electrolyte balance during and after workouts, preventing dehydration.
The other ingredients include: artificial flavoring, sucralose (artificial sugar), malic acid, and artificial colorings.
BPI BCAA, in addition to the above-mentioned ingredients (BCAAs, CLA, and agmatine), contains a similar range of "other" ingredients: maltodextrin (artificial sugar), artificial flavors and colors, and a fiber blend of cellulose and xanthan gum.
Winner: Both of these BCAA products contain a broad range of artificial ingredients, making them a less-than-ideal option for people who want to "eat clean". However, none of the ingredients have been proven harmful to your health, thus making both of these products safe for consumption.
Effects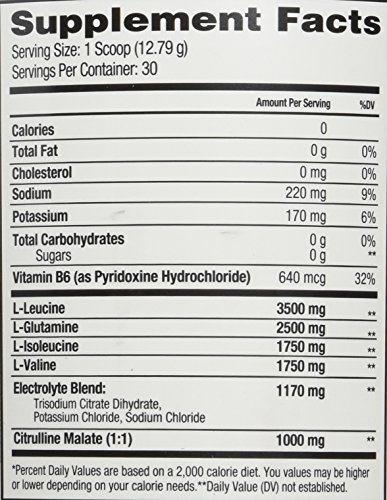 Scivation Xtend contains 7 grams of BCAAs, meaning it will deliver more amino acids needed to build muscle than the BPI BCAA (which contains only 5 grams). The higher amino acid content encourages faster repair and recovery, better workout performance, and reduced soreness after intense workouts.
Plus, the glutamine in the Scivation Xtend means that the supplement will improve immunity. Intense exercise can dampen your immune function and make you more susceptible to disease. Thanks to glutamine (an immune-boosting antioxidant), you can be more resistant to illness, colds, and infections even after pushing your body to its limits.
Winner: Scivation Xtend has a higher BCAA content and immunity-boosting glutamine. It's not just more effective for workouts—it will also protect your body!
Customer Satisfaction
Scivation Xtend has a 4.4 out of 5-star rating on Amazon, with close to 2,800 customer reviews.
Customers have a lot of positive things to say about the product:
Great quality. Not only does it deliver a hefty dose of BCAAs (2 grams more than the average BCAA supplement), but this supplement provides citrulline and glutamine to enhance its effects. All in all, it's a highly effective choice for heavy lifters and CrossFitters.
Noticeable effects. Many customers have stated that they feel less sore and tired after their workouts when taking this supplement. Others have said that they notice a huge difference when they stop using the BCAAs with their workouts.
No unpleasant aftertaste. Unlike with other supplements, this has no unpleasant artificial aftertaste. The primary flavors are a bit "fake", but it's a good-tasting product overall that won't leave a nasty aftertaste in your mouth.
Of course, there are a few negatives as well:
Flavors good, but not great. With 15 flavors to choose from, not all of them can be a "hit". The Watermelon and Blue Raspberry flavors are always popular, but some of the others (mango, pineapple, etc.) are less enjoyable.
Too sweet. As with any product, it's hard to find a balance between too much artificial sweetener and not enough. Many customers have complained the BCAA is a bit too sweet for their liking.
BPI BCAA has a 4.2 out of 5-star rating on Amazon, with close to 1,900 reviews.
Customers have a lot of positive things to say about the product:
Best-tasting of any BCAA supplement. One customer said the supplement "tastes like Jolly Ranchers". The flavors are tart and bold and enjoyable for anyone who likes slightly sour supplements. Instead of focusing on the sweetness of the supplement, BCI adds a tartness that prevents the maltodextrin from overpowering the palate. For those who want to avoid anything too sweet, this is a highly popular choice.
Highly effective. The BCAA ratio in the supplement ensures that your body has what it needs to recover from intense workouts. Hundreds of customer reviews state that they can feel the results soon after taking or immediately following the workout.
Easy to mix. Instead of using a blender, this powder can be mixed into your water bottle or even a cup. It takes a bit of mixing to ensure the water absorbs the powder, but it's unlikely to leave grit in your mouth.
Of course, there are a few negatives as well:
Chemical flavors. The artificial flavors of this supplement are much stronger than you'd expect, and you can clearly taste the "fakeness" of the powder. One customer actually claimed that it "tasted like medicine".
Too strong. The powder recommends using 8 ounces of water to dilute, but many customers complained that the artificial flavors were too strong when diluted at this ratio. Using 12 ounces of water made the flavor more bearable.
Winner: Scivation has more positive reviews and, according to its customers, delivers better results!
Value for Price
Scivation Xtend comes in a 30-serving container that costs $18.52 (check this listing for the latest live prices). For 90 servings, the price goes up to $46.18.
BPI BCAA comes in a 30-serving container that costs $19.48 (check this listing for the latest live prices). For 60 servings, the price goes up to $35.99.
Winner: Scivation is slightly cheaper than BPI. Given its higher BCAA content (7 grams as opposed to BPI's 5 grams), it delivers better value for the money.
Overall Winner: BPI or Scivation?
My Pick: Scivation Xtend has the edge in terms of ingredients and effects. With 2 more grams of BCAAs per serving, it delivers more of the amino acids you want in order to speed up recovery and improve muscle building. It's also a slightly cheaper option.
Though you may have to deal with the sweet, artificial flavors, it's worth it for more BCAAs, glutamine, and citrulline.
However, BPI is currently on sale here for a significant discount, so this helps balance the scales a bit if you prefer the taste of BPI.
(Visited 292 times, 1 visits today)
Health enthusiast, runner, protein nut. Owen likes to write about protein, particularly alternatve supplementation and supplement comparisons.