More and more research is showing just how much our gut health can impact us. It can influence our body composition, and perhaps even our mood and behavior. That's a lot more important than just whether we feel bloated or not.
And as the importance of gut health becomes better known, probiotic supplements have never been so popular. Probiotics work by adding beneficial gut bacteria directly into our digestive system. While most are familiar with various brands of yogurt and cultured milk drinks advertising their probiotic content, today the most popular kind of probiotic supplements are available in simple pill form.
One company that has hopped onto the probiotic bandwagon is Plexus. For those not in the know, Plexus is one of those 'direct marketing' companies that could uncharitably be called 'MLMs' or 'pyramid schemes'.
But Plexus' business model aside, are their probiotic supplements worth considering? In this review, we will take a detailed look at Plexus probiotic offerings and whether or not they will be suitable for you, specifically the Plexus Probio5 and Plexus Vitalbiome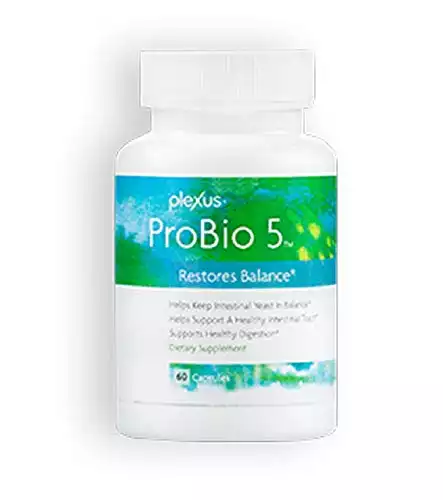 ProBio 5 (60 count) by Plexus | Amazon
Aids 70% of your immune system in the digestive tract. Improves your digestive health. Aids your body in replenishing good bacteria.
Buy at Amazon.com
We earn a commission if you click this link and make a purchase at no additional cost to you.
05/01/2023 12:10 am GMT
Plexus currently has only two probiotic products in its lineup. They are:
Probiotic Content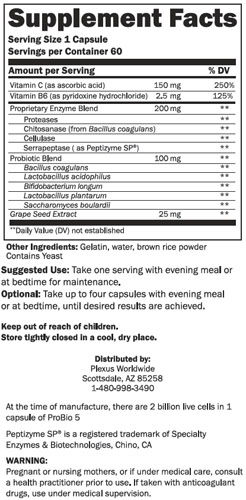 In probiotics, the number of probiotics contained is denoted by CFUs, which stands for Colony Forming Units. A typical per serving dose would have anywhere from 1 to 50 billion CFUs, although extra strength products can exceed that amount. The probiotic content for Plexus products are as follows:
Probiotic Strains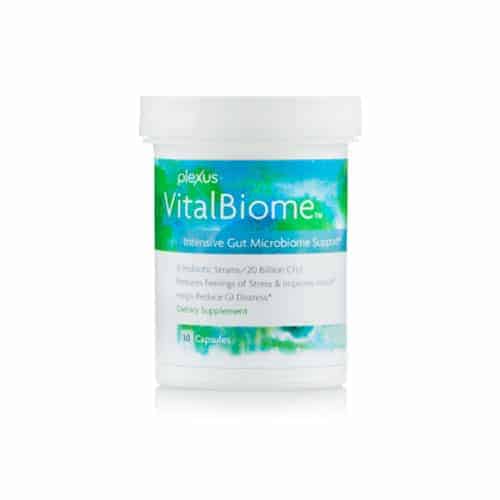 There are a myriad of different probiotic strains, and while they are all beneficial, some do confer a bit more specific benefits. Let's take a look at which specific strains Plexus is using in its products.
Product
Probiotic Strains
Plexus Probio5
Bacillus Coagulans

Lactobacillus Acidophilus

Bifidobacterium Longum

Lactobacillus Plantarum

Saccharomyces Boulardii

Plexus Vital Biome
Lactobacillus Helveticus

Bifidobacterium Longum

Bacillus Coagulans

Bifidobacterium Lactis

Saccharomyces Boulardii

Lactobacillus Plantarum

Lactobacillus Acidophilus
Overall, looking at the probiotic content of both of Plexus' products, we have to say that overall they are decent. Plexus Vital Biome contains all of the five probiotic strains found in Plexus ProBio5, plus an additional two strains. Let's take a look at how each probiotic strain can benefit you.
Bacillus Coagulans – Also known as lactobacillus sporogenes, studies have shown that this strain can help with constipation and irritable bowel syndrome. It may also aid in reducing cholesterol levels, muscle recovery, relieving symptoms of rheumatoid arthritis.
Lactobacillus Acidophilus – Research has shown that this strain may help with constipation and diarrhea. It may even help alleviate symptoms of depression and reduce bad cholesterol levels.
Bifidobacterium Longum – This strain may help with constipation, cholesterol levels, and symptoms of anxiety and depression.
Lactobacillus Plantarum – Another strain that can help with constipation.
Saccharomyces Boulardii – This strain may help symptoms of acute diarrhea, irritable bowel syndrome, boost the immune system, and prevent gastrointestinal diseases.
Lactobacillus Helveticus – This particular strain has been shown to help with symptoms of anxiety and depression, improve immune system function, and lower blood pressure.
Bifidobacterium Lactis – In addition to helping with symptoms of irritable bowel syndrome, this strain has also been shown to help with weight loss and combating obesity.
Looking at the strains above, Plexus Vital Biome contains additional Lactobacillus Helveticus and Bifidobacterium Lactis strains. This means that the product may be more suitable for those looking toward more weight loss goals, given the role of Bifidobacterium Lactis in promoting weight loss and fighting obesity. Plexus Vital Biome may also be slightly better at alleviating symptoms of anxiety and depression.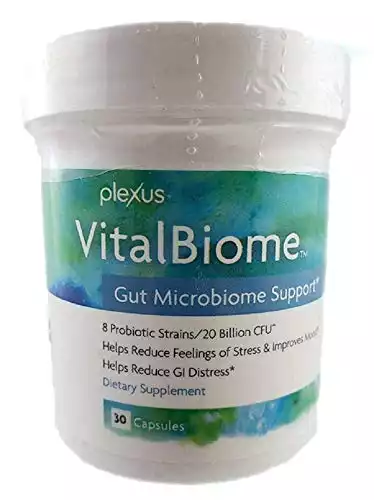 Other Beneficial Ingredients
Other than the active probiotic content, Plexus has also added several other beneficial ingredients to Plexus Probio5. Let's take a look at what they are.
Product
Other Beneficial Ingredients
Plexus Probio5
Vitamin C (150mg)

Vitamin B6 (2.5mg)

Grape Seed Extract (25mg)

Enzyme Blend (200mg)

Proteases

Chitosanase

Cellulase

Serrapeptase

Plexus Vital Biome
None
Other than the slight amounts of Vitamin C and Vitamin B6, the main additional beneficial ingredients are the proprietary enzyme blend in Plexus Probio5. Protease is a protein-digesting enzyme and may aid digestion by helping to break down protein into its component amino acids.
Cellulase breaks down cellulose into glucose which may again potentially help with digestion. Cellulose is found in the cell walls of fruits and vegetables.
Chitosanase is an enzyme that breaks down chitin. If it sounds familiar, chitin is what the exoskeletons of insects are made of. Chitin is also found in some weight loss supplements such as Chitosan. Not a lot of research has gone into chitosinase, but there is some research claiming some health benefits.
Serrapeptase, another protein digesting enzyme has been shown to decrease inflammation and pain related to inflammation.
Finally, research has shown that grape seed extracts to be beneficial in increasing blood flow and reducing blood pressure. However, it should be noted that the quantities used were 6 to 32 times higher compared to the quantity available in one serving of Plexus ProBio5.
Note: Both Plexus ProBio5 or Plexus Vital Biome contain yeast, with the latter also containing milk and soy.
Price per Serving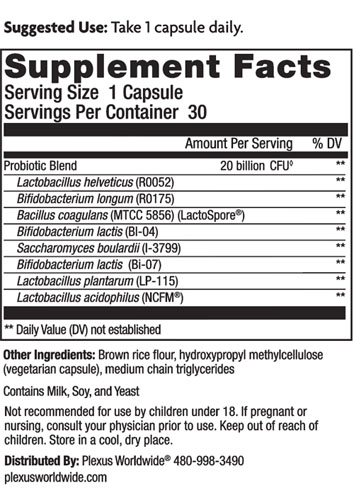 All serving sizes for the below are one capsule. Prices are based on retail customer pricing on the official Plexus website.
Plexus Vitalboime and Probio5 Review: The Final Verdict
So, after considering all the information above, you want to know, "Are Plexus Probiotic products worth my time and money?"
The answer we have come up with is that when it comes to probiotic supplements, you would be better off with another company. Here's why.
First, let's just say right off the bat that there's nothing inherently wrong with the probiotic content in either Plexus Probio5 or Plexus Vital Biome. In fact, the probiotic strains that they decided to include in the products is an overall positive, not a negative.
We like that they included strains such as Lactobacillus Helveticus and Bacillus Coagulans; highly beneficial strains that we don't often see in other probiotic products.
Here's the main reason why you're better off not using Plexus Probiotic products. They are quite simply way too overpriced. Looking at the per serving costs of Plexus Probiotic products, they don't seem that expensive. However, consider that $0.67 per serving for Plexus ProBio5 is for a mere 2 billion CFUs while $1.33 per serving for Plexus Vital Biome is for only 20 billion CFUs.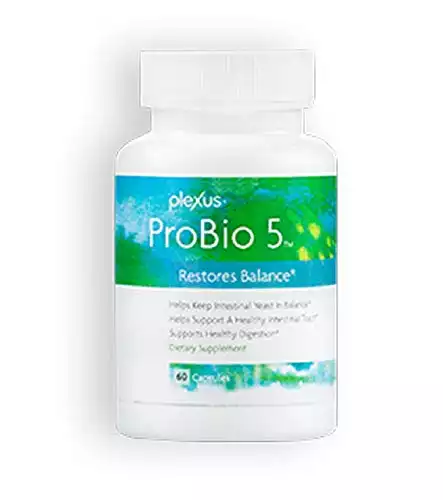 ProBio 5 (60 count) by Plexus | Amazon
Aids 70% of your immune system in the digestive tract. Improves your digestive health. Aids your body in replenishing good bacteria.
Buy at Amazon.com
We earn a commission if you click this link and make a purchase at no additional cost to you.
05/01/2023 12:10 am GMT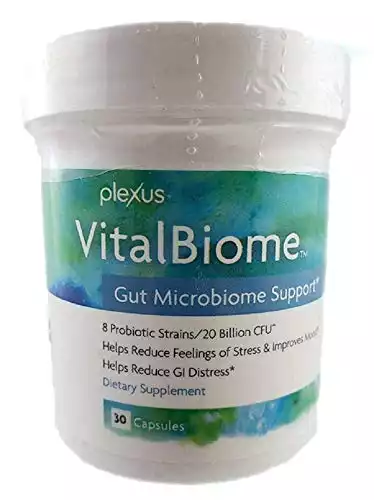 Compared to other brands, this is much more expensive for little-added benefit. At that price point, other brands are giving us as much as 3 to 10 times the amount of probiotics! Plexus ProBio5 is particularly expensive when considering how low the probiotic content is.
Of course, this isn't really surprising considering Plexus' business model. One of the main criticisms levied against these direct marketing companies, in general, is that the products, while decent, are just simply overpriced.
We should also highlight that the FDA issued a warning to Plexus in 2014, noting that the way it had promoted its products, including ProBio5 would classify it under 'drugs'. According to the warning, Plexus has previously marketed ProBio5 as being able to cure "jock itch, migraine headaches, recurring cystitis/vaginal infections…"!
Thus when considering how little value for money Plexus probiotic products offers, in combination with the generally bad reputation of the company, we would advise you to look elsewhere. So the next time your long lost Facebook friend tries to sell you some Plexus probiotic supplements, you will be a better-informed customer.
Quick Review Table
| | |
| --- | --- |
| Advantages | Disadvantages |
| Some rare but highly beneficial probiotic strains | Extremely overpriced |
| Contains digestive enzymes | Bad reputation of company |
Recommended Reads:
—-
Disclaimer
Last updated: December 16, 2019
The information contained on www.altprotein.com website (the "Service") is for general information purposes only.
Alt Protein assumes no responsibility for errors or omissions in the contents on the Service.
In no event shall Alt Protein be liable for any special, direct, indirect, consequential, or incidental damages or any damages whatsoever, whether in an action of contract, negligence or other arising out of or in connection with the use of the Service or the contents of the Service. Alt Protein reserves the right to make additions, deletions, or modification to the contents on the Service at any time without prior notice.
Alt Protein does not warrant that the Service is free of viruses or other harmful components.
Fitness disclaimer
The Service offers health, fitness and nutritional information and is designed for educational purposes only. You should not rely on this information as a substitute for, nor does it replace, professional medical advice, diagnosis, or treatment. If you have any concerns or questions about your health, you should always consult with a physician or other health-care professional.
Do not disregard, avoid or delay obtaining medical or health-related advice from your health-care professional because of something you may have read on the Service. The use of any information provided on the Service is solely at your own risk.
You can also review our Editorial Integrity Policy.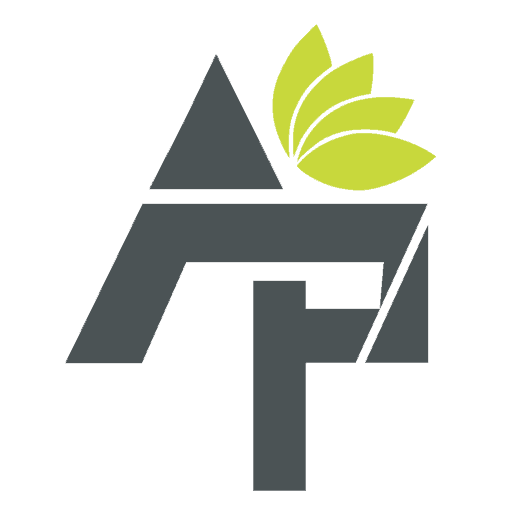 Alt Protein Team is a team of professionals and enthusiasts committed to bringing you the most up-to-date information on alternative protein, health and wellness, workouts, and all things health-related. We've reviewed a lot of products and services so you don't have to guess when you spend your hard-earned money on them. Whether you want to shed some pounds, build lean muscle or bulk, we can help you figure out what you need to do and what you need to have to achieve your goals.