What is it about fruit that is just so delicious? The tangy, tart, sweet, sour, fruity flavors of berries, apples, oranges, bananas, pineapples, mangoes and so many other fruits are delightful, and they make everything so much tastier as a result.
Despite that great flavor, it's sometimes hard to get enough fruit in your diet. Busy people don't always have time to cut and prepare fruits to take to work, and it can be hard to remember to eat raw foods (fruits and veggies) during the day. If this sounds like you, you'll definitely want to consider a superfood powder.
Go Ruby Go is a superfood powder that combines the best fruits on the planet to deliver a healthy dose of nutrients. If you're looking for a good way to improve your daily nutrition, it's a supplement worth considering…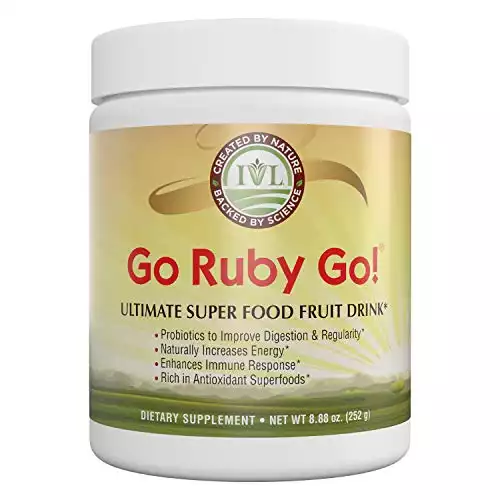 About Go Ruby Go Superfood Powder
Produced by Institute for Vibrant Living, this superfood powder is packed with vitamins minerals, enzymes, and antioxidants from over 40 different fruits and natural ingredients. Some of the ingredients it contains includes:
Cranberries
Coconut
Acai berry
Barley
Oat bran
Cherimoya
Flaxseed
Grapeseed Extract
80% or so of the ingredients are derived from fruits, while the rest come from seeds, herbs, and sources of soluble fiber (like oat bran).
This superfood powder is bright red, with all the flavor you expect from your favorite fruits. It's designed to mix well with water and juice, and is easy to blend without leaving clumps in your liquid.
Key Features
Made with 42 all natural ingredients
Contains probiotics and fiber to enhance digestion
Delivers a hefty dose of Vitamin C
Designed to improve skin and hair health
Price: $40 for 8.93 ounces
All natural ingredients
No chemical or synthetic fillers, additives, or flavorings
Specifications
If you're looking for an easy way to add more vitamins to your healthy diet, this is the product for you. Each serving delivers 133% of your Vitamin C DV, along with other vitamins (Vitamin A, antioxidants, fiber, etc.). You can improve your daily intake nutrition by adding a scoop of this powder into your water or smoothies.
The potent antioxidants content of this superfood powder is one of its main selling points. You get a hefty dose of free radical-killing antioxidants, which can reduce aging, prevent oxidative stress, and protect your cardiovascular system. It's a great option for those who want to improve their overall health.
Pros of Go Ruby Go Superfood Powder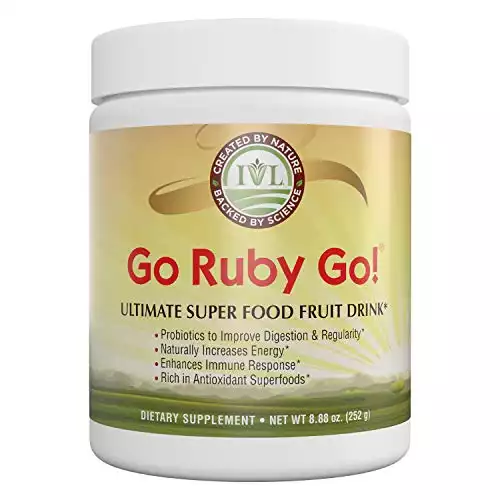 Here are a few of the positive things users have had to say about Go Ruby Go Superfood Powder:
Contains probiotics — This is one of the best aspects of this superfood fruit powder. Probiotics are live bacteria that act as reinforcements to the beneficial bacteria living in your intestinal tract. By increasing this gut bacteria, you enhance your natural immunity to disease and make your body more effective at controlling harmful bacteria, viruses, fungi, and germs from the food you eat.
These bacteria will also streamline your digestion, helping you to make the most of your food. For a healthier body overall, probiotics are definitely a good addition to your diet.
Fruit-flavored — Unlike green superfood powder, this supplement has a strong fruity flavor. No more trying to choke down a green shake, but you can actually enjoy your daily dose of vitamins and nutrients. The majority of the positive reviews had something good to say about the fruit-heavy taste of this red superfood powder.
Potentially better than juicing — Juicing is all the rage these days, but one thing most people don't understand is that juices contain all the sugar from fruits with very little of the fiber. With this superfood powder, you get a healthy dose of fiber, vitamins, and antioxidants, but with hardly any of the sugar found in most fruits. It's a good way to benefit from fruits without overdoing it on sugar (even if the sugar is natural).
Mixes well — Mix with a spoon or drop a scoop of this stuff in the blender; either way, it will blend nicely with your water or juice. You won't have to worry about lumps or clumps.

Cons of Go Ruby Go Superfood Powder
As with any product, there are drawbacks to Go Ruby Go Superfood:
Too sweet — This supplement contains natural sweeteners (fructose from the fruit as well as the highly-sweet Stevia extract), and many people have complained that it's TOO sweet. Not too fruity-flavored (indeed, some even complain that it has a "flat" taste), but simply more "sugar" flavor than they were expecting.
Pricey — This container costs $40 for less than 9 ounces, which means you're paying nearly $4.50 per ounce of the supplement. Compare this to the nutrition you'd get from simply eating fruits and veggies, and you can see why many consider this a steep investment.
"Diet" flavor — One of the primary complaints about these dietary supplements is the "diet" flavor it has. This is the result of Stevia, a zero-calorie sweetener used in many diet products. To many, the Stevia flavor ruins the taste of the supplement.
Fruits, but no veggies — While this supplement is LOADED with vitamins and antioxidants from fruits, it contains nothing in the way of veggies. Many people have no trouble eating fruit, but they struggle with veggies. Some users complained that they would have preferred a supplement that combined fruits and veggies in one high-nutrition, great-tasting superfood powder.
Other Options to Consider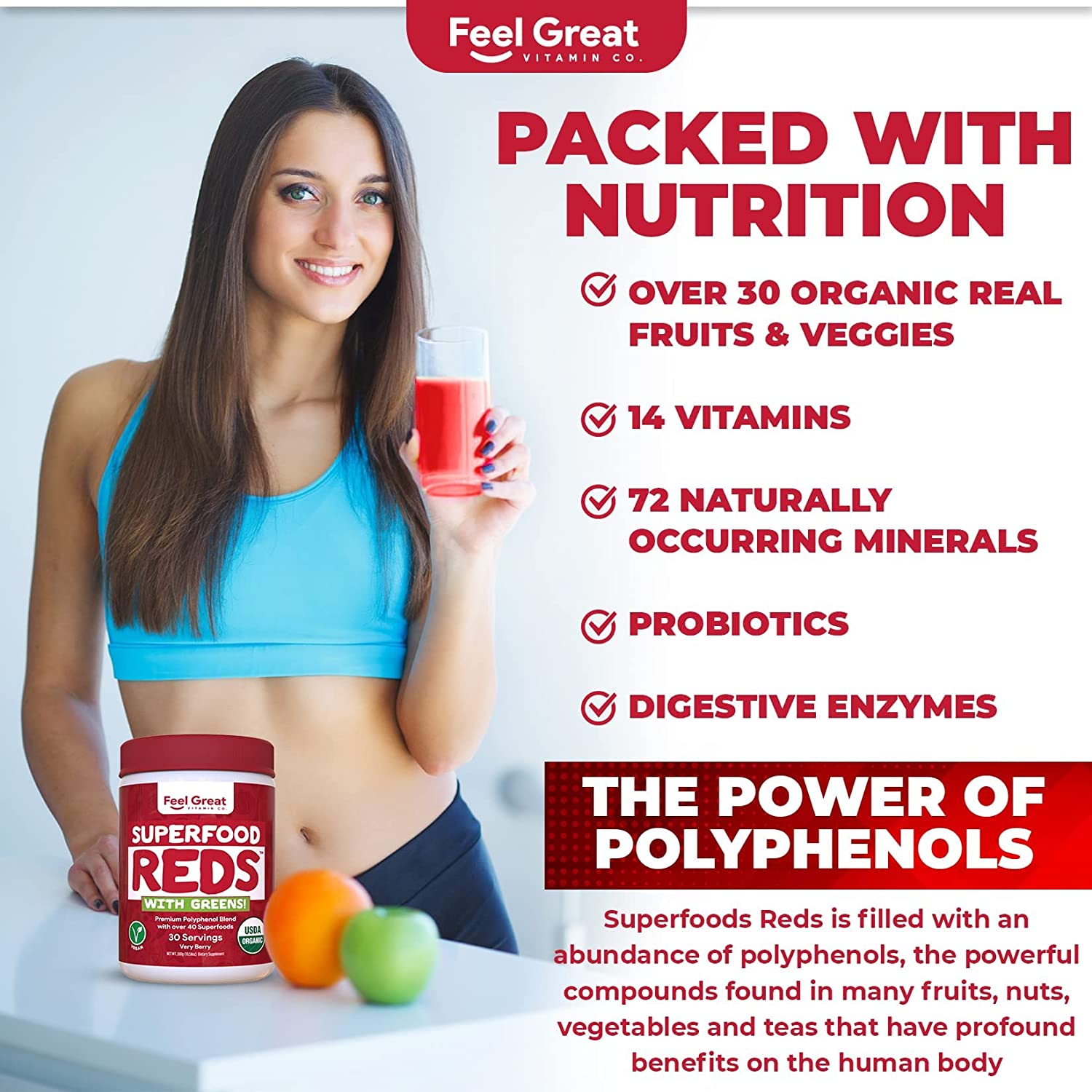 Not sure Go Ruby Go is your best choice? Here are a few alternatives for you to consider:
Miracle Reds Superfood — This product contains antioxidants and nutrients from 19 different ingredients, but it's loaded with extra enzymes (like bromelain) and weight loss-friendly ingredients (like turmeric). It has a better antioxidant profile than Go Ruby Go, and all of the ingredients are grown in the USA. However, it is a bit pricier than Go Ruby Go.
Feel Great SuperFood Reds With Greens — If you're looking for a superfood powder that combines the delicious flavor of fruits with the high nutritional value of veggies, this is exactly what you want. You get not just the antioxidant and vitamins from your favorite fruits (including cherries, Goji berries, blueberries, and raspberries), but also the minerals and fiber from the healthiest veggies (like kale, broccoli, and spinach).
This supplement is also packed with antioxidants and digestive enzymes, making it as well-balanced a supplement as you could wish for. Each serving of this supplement contains the antioxidants you'd get from 20 servings of fruits and veggies, so it's a healthy option indeed.
Red Leaf Green Superfood Plus — This is another superfood powder that combines the health benefits of energy greens and red foods. It's mostly a green superfood powder, but it's made with antioxidant-rich cranberries. You get 100% natural flavorings (Stevia and Monk Fruit) to make this 100% raw supplement as tasty as possible. It's not too high-priced–just $30 for a 30 day supply ($1 per day).
It's an all-natural, dairy-free, vegan-friendly supplement that's worth considering as an alternative to Go Ruby Go.
Frequently Asked Questions
Is Go Ruby Go gluten-free?
No. Go Ruby Go contains barley which contains about 5 to 8 percent gluten.
How many carbs does one serving contain?
One serving (1 scoop) of Go Ruby Go contains around 5 grams of carbs of which 1 is fiber and the rest is sugar.
Does Go Ruby Go use any sweeteners?
No. It does taste pretty good because it's a fruit-based product and it has stevia content, but it does not contain artificial sweeteners.
Bottom Line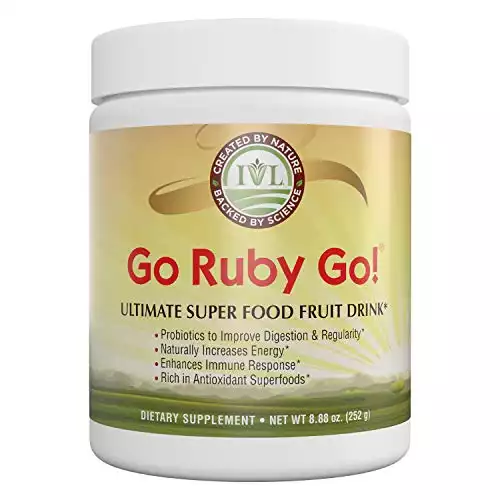 Go Ruby Go provides you with a hefty dose of Vitamin C and antioxidants, making it easy for you to improve your daily nutrition. Thanks to its probiotic content, it can help to enhance your digestion. However, be prepared for a "diet" flavor and a high price tag.
Recommended Reads:
—
Disclaimer
Last updated: December 16, 2019
The information contained on www.altprotein.com website (the "Service") is for general information purposes only.
Alt Protein assumes no responsibility for errors or omissions in the contents on the Service.
In no event shall Alt Protein be liable for any special, direct, indirect, consequential, or incidental damages or any damages whatsoever, whether in an action of contract, negligence or other arising out of or in connection with the use of the Service or the contents of the Service. Alt Protein reserves the right to make additions, deletions, or modification to the contents on the Service at any time without prior notice.
Alt Protein does not warrant that the Service is free of viruses or other harmful components.
Fitness disclaimer
The Service offers health, fitness and nutritional information and is designed for educational purposes only. You should not rely on this information as a substitute for, nor does it replace, professional medical advice, diagnosis, or treatment. If you have any concerns or questions about your health, you should always consult with a physician or other health-care professional.
Do not disregard, avoid or delay obtaining medical or health-related advice from your health-care professional because of something you may have read on the Service. The use of any information provided on the Service is solely at your own risk.
You can also review our Editorial Integrity Policy.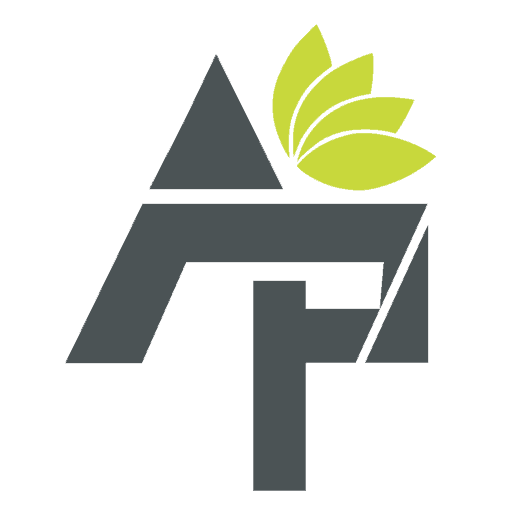 Alt Protein Team is a team of professionals and enthusiasts committed to bringing you the most up-to-date information on alternative protein, health and wellness, workouts, and all things health-related. We've reviewed a lot of products and services so you don't have to guess when you spend your hard-earned money on them. Whether you want to shed some pounds, build lean muscle or bulk, we can help you figure out what you need to do and what you need to have to achieve your goals.