If you want an energy boost during workouts but you have a sweet tooth, this review was made especially for you. Builder Bars, created and sold by the Cliff company, are nothing else than delicious and nutritious protein bars.
They represent a quick, easy, and highly convenient protein source. Some people even use these bars as meal replacements although this is not the purpose for which they were created. Clif Builder's Bars can lead to lean muscle mass growth, fat burn, and other beneficial results.
Below, I have detailed several important aspects and characteristics of these delicious treats. I will talk about their ingredient profile, price, pros, cons, and more.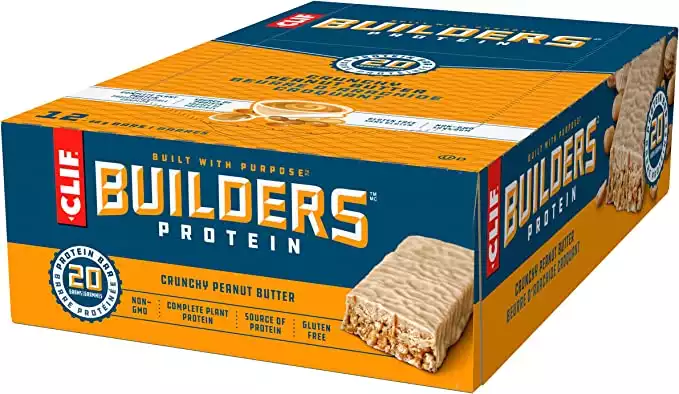 What Are Clif Builder's Bars?
Clif Builder's Bars are high-protein snacks developed and marketed by the Cliff Company. The firm's founder, Gary, is a huge fan of long bike rides. During these bike trips, he used to eat energy bars but he wasn't completely satisfied with their taste. So, he decided to come up with a better and more delicious protein bar.
Soon after that idea, Gary founded his own company and successfully reached his goal of creating tasty healthy energy snacks. Many don't even know that Gary prepared these bars in his mother's kitchen, at first. Since then, his idea and product have gone a long way, becoming the official protein snack of the Spartan Race.
The manufacturer has specially designed these bars to offer a convenient and tasty source of protein. They work by boosting your body's vital nutrient intake right before or after a workout. Therefore, your muscles will adapt and recover way quicker. Besides all these benefits, your immunity will also become stronger which will lead to a good general health.
Ingredient Profile
All the ingredients added in the Clif Builder's bars are taken from non-GMO sources. In other words, these compounds don't contain chemicals or pesticides.
a. Proteins
The main ingredients of Clif Builder's Bars are proteins sourced from soy protein isolate, peanuts, and almonds. These elements also offer a large variety of essential amino acids which are truly important because they make your body able to recover in more effectively.
Both soy and nuts proteins provide several health benefits:
They lower bad cholesterol while also preventing numerous cardiovascular diseases;
These protein types are easily-digested which means your body will use them entirely without storing fat;
High-quality protein sources regulate your appetite, reduce sugar cravings, and lower the process of fat absorption. So, all these mean that you can consume the Clif Builder's bars during a weight-loss diet.
b. Saturated Fats
Another major ingredient of today's reviewed product are saturated fats which some of you might think are not very healthy. Although recent studies have shown that consuming too many saturated fats can increase the risk of several heart diseases, you should become aware of the fact that these risks only appear when your entire eating plan is focused on high-fat food items.
As long as you keep your saturated fats consumption to a minimum, you will only benefit from their advantages. For example, saturated fats are an excellent energy source and they act as a fuel for your organism. Moreover, these compounds assist the absorption of vitamins.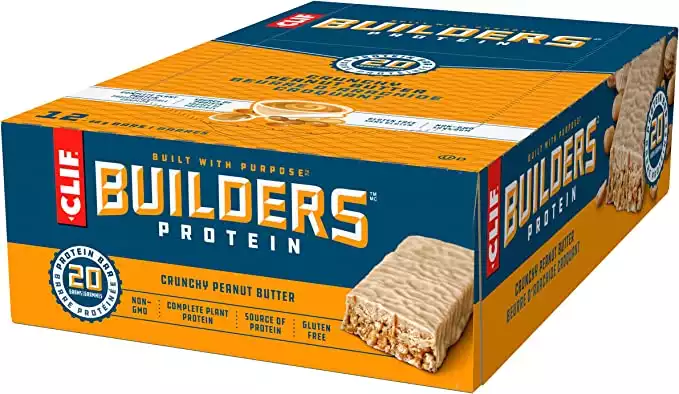 c. Vitamins and Minerals
Speaking of vitamins, Clif Builder's Bars also contain a healthy blend of minerals and vitamins (A, B, C, D, E, calcium, magnesium, iron, iodine, phosphorus, etc.). These are vital micronutrients that help your body function properly.
Elements like thiamin and niacin produce energy while other minerals such as zinc, calcium, and magnesium regulate muscle function, cellular metabolism, and energy production.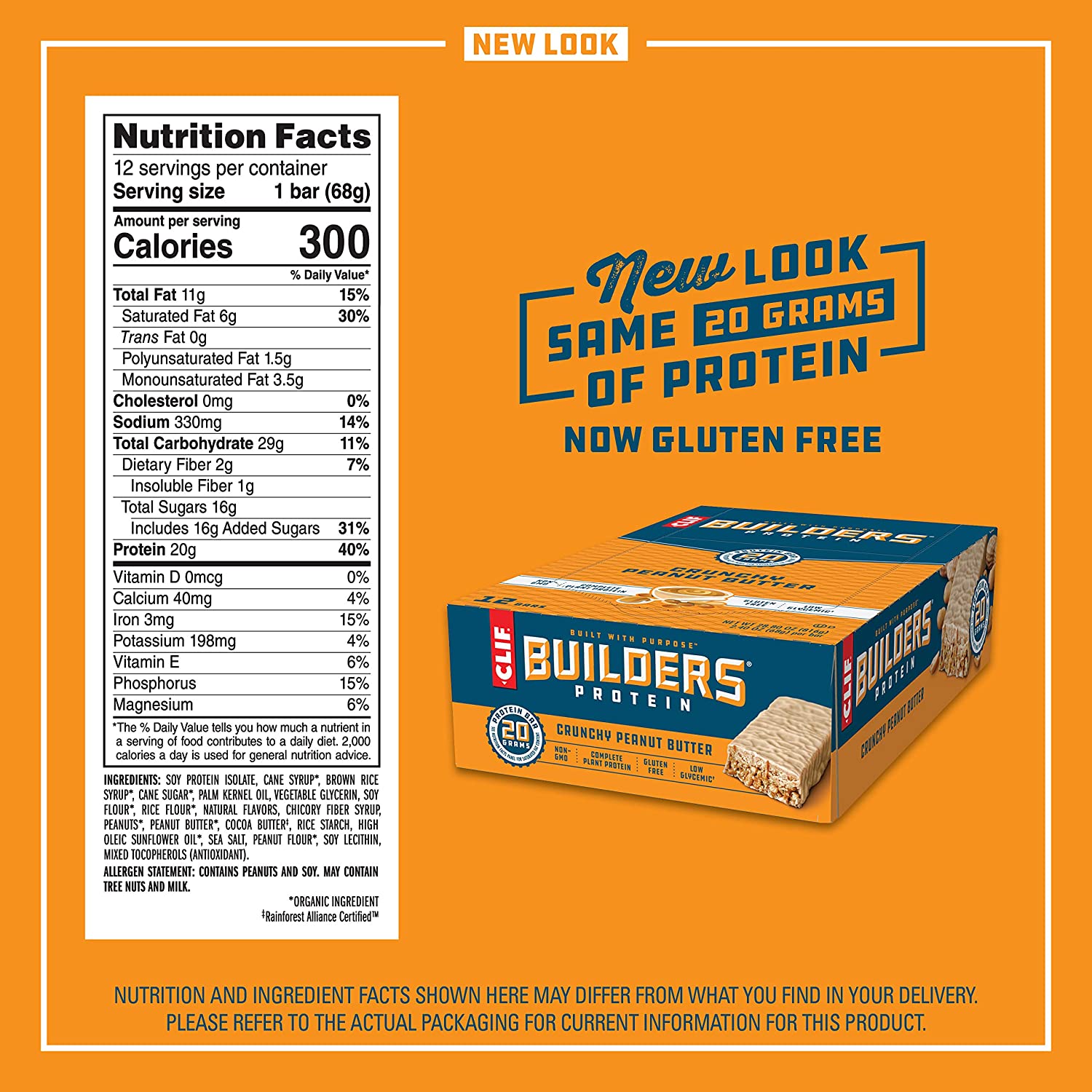 d. Other Ingredients
Beet syrup;
Cane sugar;
Brown rice syrup;
Cocoa;
Vegetable glycerin;
High oleic sunflower oil;
Palm kernel oil;
Rolled oats;
Oat fiber;
Cocoa butter;
Rice starch;
Soy lecithin;
Natural flavors;
Salt, etc.
Nutritional Values
Nutritional Facts of Clif Builder's Protein Bars – per one serving (one bar of 68 g)
Calories
270
Protein
20 g
Dietary fiber
1 g
Total fat
9 g
Carbohydrates
30 g
Sugars
22 g
Sodium
220 mg
In terms of nutritional value, these protein snacks are not heavy packed. Each bar, no matter the flavor, contains 270 calories. The only exception is the Crunchy Peanut Butter Flavor variety which has 280 calories per serving.
Also, depending on the chosen flavor, there might be minor differences regarding the fat quantity of a protein bar. For example, the classic chocolate flavor has the lowest fat content which is only 8 grams while all the other alternatives provide 9 grams of fat per portion. Again, the only exception is Crunchy Peanut Butter which has 10 grams of fat.
According to most people, these energy bars can definitely be looked at as muscle builders due to their high protein content. However, for bodybuilders, 20 grams of protein per serving might not be enough or might not work as effective as other supplements.
The fact that these protein bars are rich in vitamins and minerals will give you a metabolic boost during a workout. Also, you will receive a high Potassium dosage which has plenty of health advantages such as lowering blood pressure, preventing your blood from clotting, and even promoting a healthy heart.
All in all, these bars are healthy and very nutritious but they still cannot replace a regular meal which is fine because the main purpose of these products is to offer their consumers that extra kick they need in order to complete their exercise routine and make the most out of a workout.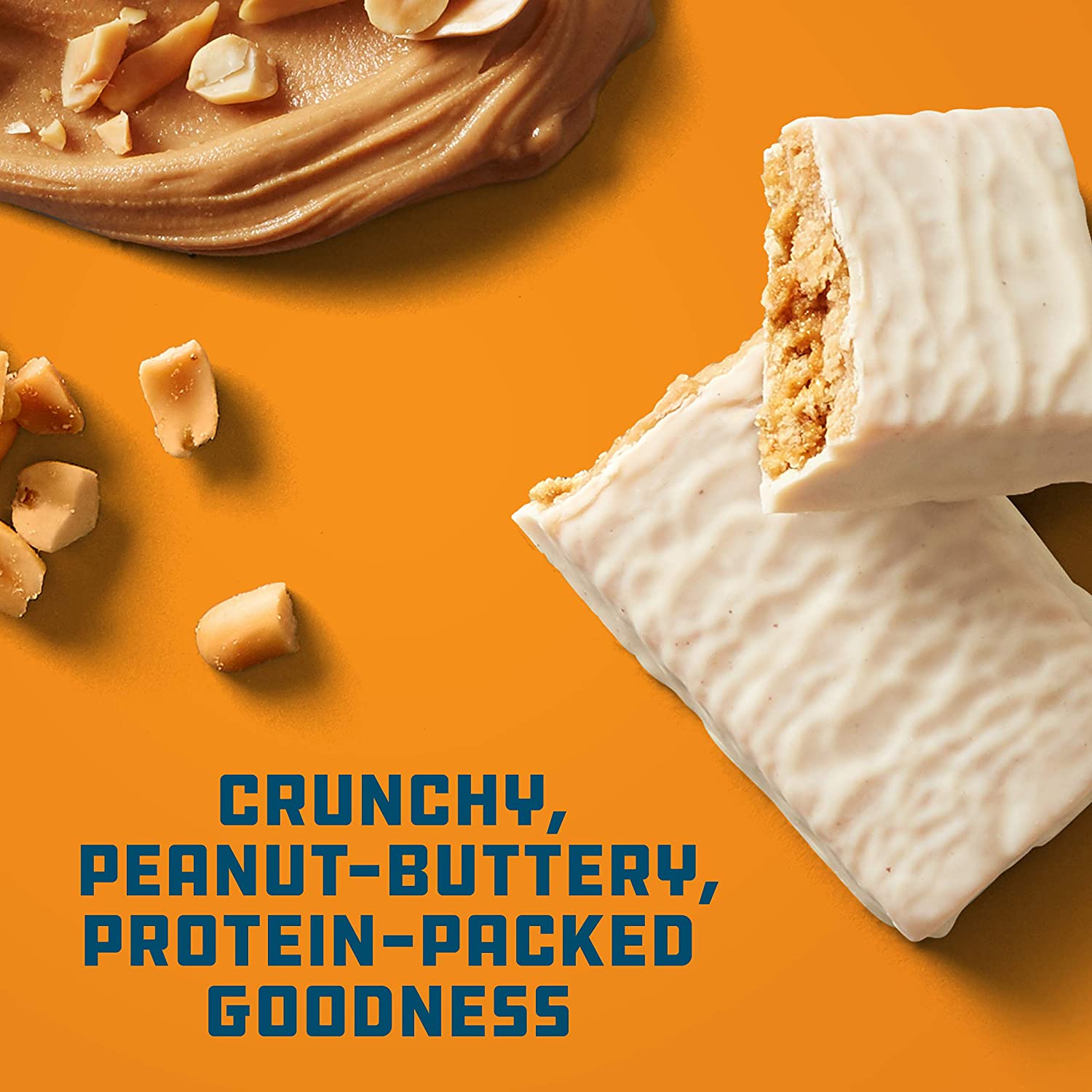 Taste and Proper Dosage
Taste and Texture
Clif, the manufacturer of today's reviewed product, is trying a difficult thing: to design a healthy snack that also satisfies one's sweet tooth. Well, that is quite difficult to achieve, if you ask me. Nevertheless, some people say the company has achieved their goal in a very good manner when they created these protein bars. They contain oats and nuts which lead to a mouthful texture.
Usually, protein bars enthusiasts are disappointed by the chalky aftertaste that some protein bars leave in their mouth but this is definitely not the case with the product I'm reviewing in this post.
To be honest, I don't truly know how much these snacks will help you with your weight-loss diet but they provide a perfect blend of carefully-selected ingredients that will simply melt in your mouth. The final result is a delicious flavor mix.
Available Flavors
* Update! The company has launched several new flavors that you might like to know about:
Apricot;
Blueberry crisp;
Chocolate almond fudge;
Carrot cake;
Berry pomegranate chia;
Chocolate brownie;
Coconut chocolate chip;
Oatmeal raisin walnut;
Peanut toffee buzz;
White chocolate macadamia, etc
Dosage
I personally like the Chocolate Mint flavor the most. It is delicious and easy to swallow. If you're on a strict eating regimen, you shouldn't consume these bars on a daily basis. Instead, you can enjoy one Clif Builder's snack once in a while.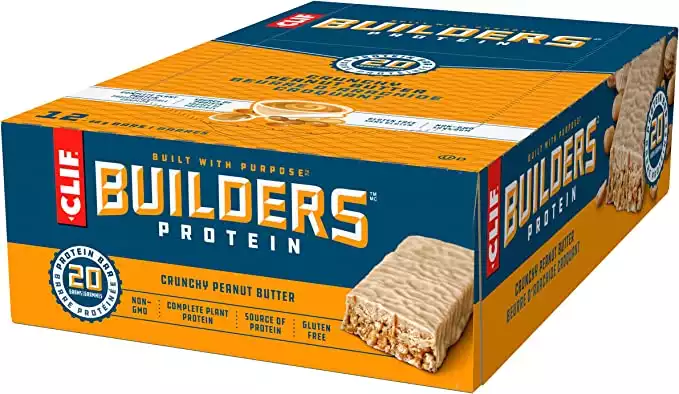 Pros and Cons of Clif Builder's Protein Bars
Advantages
These are healthy and nutritious snacks that will support your weight-loss regimen;
They have an excellent taste and the bars are available in a wide variety of choices;
This can be a highly convenient snack, especially if you're always on the go;
All the ingredients of this product are organic and they come from non-GMO sources;
One bar provides no less than 20 grams of protein which is an impressive amount, even for a protein snack;
One serving can significantly increase your energy level, helping you perform better during workouts;
It represents an excellent mid-day treat;
The Clif Builder's bars contain beneficial ingredients such as vitamins, minerals, and others;
Both types of proteins contained by these bars (soy and nuts) are easily digested by your stomach and they come with a large amino acid profile.
Disadvantages
Although the manufacturer claims these snacks can be used during weight-loss diets, they contain too much sugar. 22 grams of sugar per portion is way too much, especially for a protein bar that is designed to help dieters fight cravings and lose weight;
According to some consumers, Clif Builder's treats have too many empty calories;
Because this bar contains a lot of sugar, consumers might experience a false feeling of energy;
Some even think of Clif Builder's as candy bars instead of healthy protein products;
Besides having too much sugar, this supplement also has a lot of fat. 6 grams of saturated fat contained by one single serving is a considerable amount;
The bars might not contain enough protein if you're a bodybuilder.
How Effective Are Clif Builder's Bars?
I am about to tell you a little something regarding the way these protein bars worked for me. For starters, they helped me stay fuller for a longer period of time which I like, especially during those days in which I spend a lot of time outdoors and I don't have enough time to eat regular meals. At first, I was eating one of these bars as a snack, at brunch time. After a while, I must confess I realized how much sugar and how many calories I was consuming so I started to believe that maybe these products are not the ideal real food substitutions.
On the other hand, they do help you reduce cravings and control your hunger so if you aren't able to eat a complete meal, one Clif Builder's protein bar might be a good solution. However, I personally think that these supplements are not as effective as other similar products and they can be used more as a treat than a protein bar.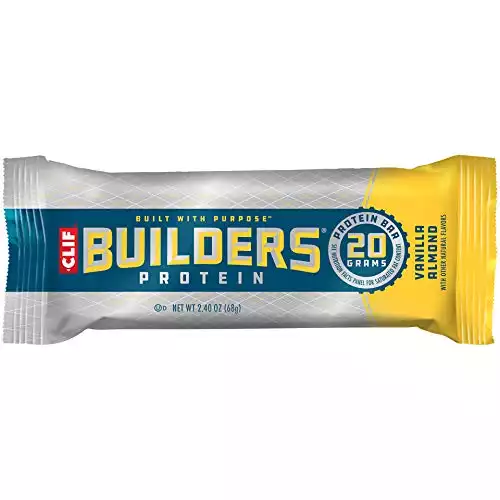 Clif Builder's Bars Value – How Much Do They Cost?
On Clif Builder's Online Shop
You can order Clif Builder's bars for almost $2 per piece, from the company's online shop:
If you've never tried Clif Builder's bars before you can buy one 2.4-ounce protein bar – it sells for the price of $1.99;
To save some money, I recommend you to purchase the 12-pack alternative which requires you to pay $21.48;
If you want to save even more money and you have already tried these snacks several times, you can definitely opt for the huge 144-pack which is marketed for the price of $214.56.
The company also offers some other sale-related perks:
If the value of your order is at least $75, you will receive free delivery;
In case you decide to use the auto delivery order type you will save 5%.

On Amazon
On other online sellers such as Amazon, you can buy Clif Builder's bars at lower prices:
Potential Side Effects
These products are safe for most people. Still, they contain certain allergenic ingredients such as soy which might not be good for sensitive and allergic people.
Other possible adverse effects:
Fatigue;
Dehydration;
Headaches.
All these symptoms occur when you consume too much sugar.
Frequently Asked Questions
Are Clif builder bars good for post-workout?
Yes. In fact, you can take the Clif Builder Bars are prior, during, or post-workout. They are great for replenishing glycogen stores and fuel your muscles.
Are Clif Bars made GMO?
No. The Clif Bars are gluten free, non-GMO, and have low glycemic index which makes them good for diabetics.
Can I eat a Clif bar before I run?
Yes. A few hours before running. Eating foods with carbs, in general, are a good meal option before running because they provide you with the necessary energy levels. These protein bars exactly that, a great pre-workout food stacked with carbs and protein.
Drawing to a Close
Clif Builder's bars are one of the best nutritional supplements on the market which are suited to those who have an active lifestyle. It is quite impressive that these bars were launched as a necessity and they have gained a lot of popularity due to their ingredients as well as affordability. Still, there might be better options out there to consider when it comes to healthy and effective protein bars.
Recommended Reads: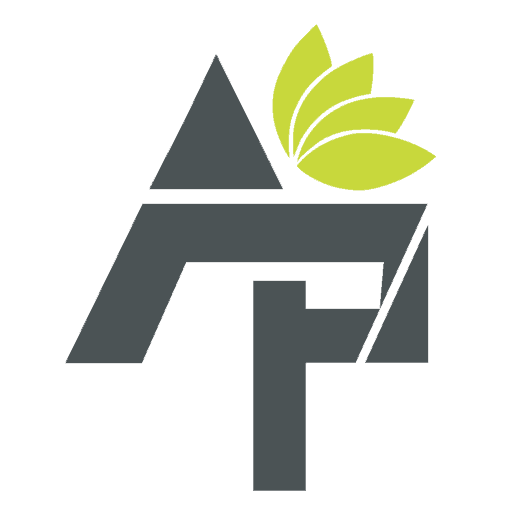 Alt Protein Team is a team of professionals and enthusiasts committed to bringing you the most up-to-date information on alternative protein, health and wellness, workouts, and all things health-related. We've reviewed a lot of products and services so you don't have to guess when you spend your hard-earned money on them. Whether you want to shed some pounds, build lean muscle or bulk, we can help you figure out what you need to do and what you need to have to achieve your goals.