The older you get, the more you need to give your body the nutrients required for healthy joints and bones. Your joints, in particular, need extra attention. As you age, your body produces less and less of the collagen, glucosamine, and other nutrients required to repair damaged joint tissue. This leads to a higher risk of joint degradation and decay, leading to arthritis.
There are a number of supplements intended to provide the nutrients your body needs to repair or your joints. In this Joint Juice Review, we'll see why it's one of the most popular of its kind: not a pill-based supplement, but a juice that is simple and easy to drink.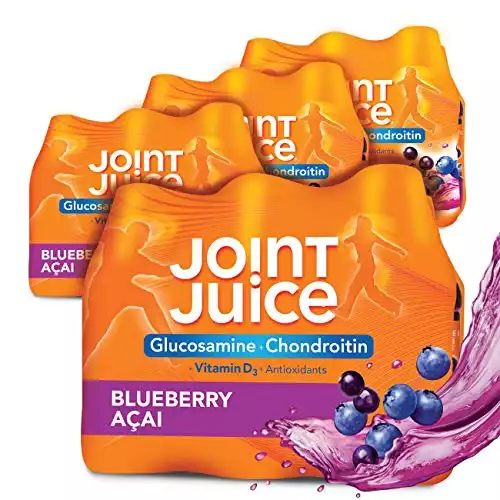 About Joint Juice
Joint Juice is a glucosamine and chondroitin supplement. Both of these nutrients are required to produce new healthy cartilage. Glucosamine is a natural substance found in shellfish covering, but it can be synthetic as well. Chondroitin can come from bovine and shark cartilage or made in a lab.
Joint Juice provides both chondroitin and glucosamine (synthetic) in an easy-to-take form. No more swallowing hefty pills—simply pop the top and enjoy the flavors of health.
In addition, the juice contains Vitamin D3 (which is needed for healthy bones), Vitamin C (which helps your body produce more of the collagen that repairs your joints), and green tea extract (excellent for weight loss, which reduces strain on the joints). The supplement contains a full 1,500 mg of glucosamine, plus 200 mg of chondroitin.
Key Features
25 calories per bottle
1,500 mg of glucosamine
200 mg of chondroitin
25 mg of potassium
100% DV of Vitamin D3
4 grams of sugar
Natural ingredients and artificial flavors
Price: $40 for a 30-day supply
Specifications
One of the things that sets this joint supplement apart from most others on the market is the fact that it's a juice. Instead of a dry, dusty pill that's hard to swallow, Joint Juice provides a simple and tasty way to get the nutrients your joints need.
Each bottle contains 8 ounces of liquid that will deliver the glucosamine, chondroitin, Vitamin D3, and potassium that your body uses to produce new joint tissue.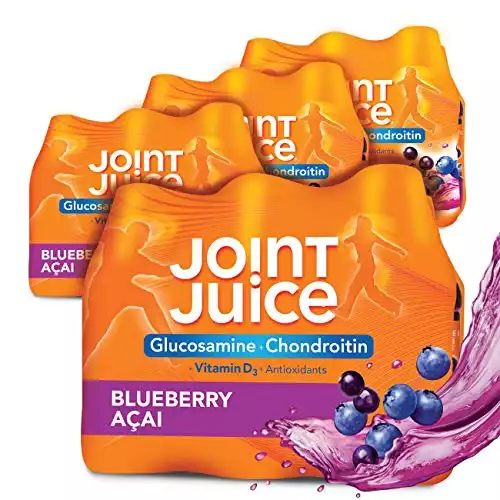 This product was originally produced by an orthopedic surgeon for use by professional athletes. It's intended for those with an active lifestyle—gymgoers, marathon runners, athletes, etc.—but it works for anyone who wants to have healthier joints. The mixture of nutrients and antioxidants can be an efficient solution for preventing the degradation of your joints.
Pros of Joint Juice
Here are a few of the things users love about Joint Juice:
Noticeable results – More than a few reviewers have commented that they started noticing visible results within the first 1 week to 1 month of taking Joint Juice. While it didn't cure their joint pain, it did help to reduce pain and stiffness and enhance the flexibility of the joints. If you want results, you may want to give Joint Juice a try.
Easier to take – Many people struggle to take glucosamine sulfate and chondroitin pills, as the pills tend to be fairly large in order to provide a full daily dose of these minerals. Joint Juice, however, is beautifully easy to take. The fact that it's a supplement in juice form means you can take it any time in the day, and actually look forward to it.
Good taste – Joint Juice comes in a delicious pomegranate flavor, and you'll find it's a highly tasty drink. It resembles most flavored waters or juices, but it's low in sugar and calories without skimping on the deliciousness.
Get more nutrients – The supplement delivers your full daily value of glucosamine and chondroitin, but it also delivers a hefty dose of Vitamin C, Vitamin D, and potassium. It can encourage healthier bones, which will lead to better bone and joint health overall.
Cons of Joint Juice
As with any product, there are a few downsides to taking Joint Juice:
Pricey – You're going to pay $40 for a 30-day supply with this supplement. Compare that to the cost of a bottle of pills (with 120 capsules for $10-$20), and you're looking at a much pricier supplement than you might expect. If you're looking for a budget buy, Joint Juice isn't for you.
Not always effective – More than a few users reported noticing no change in their joint health, pain, or mobility. Thus is ever the way with joint health supplements: they work for some and do nothing for others.
Takes longer to work – The supplement claims that you won't begin to see results from the supplement for at least a week or two, possibly longer. The real results only kick in once you hit the 3-6 month mark. Joint Juice won't prevent joint pain and stiffness NOW—it's intended to be a long-term solution rather than a quick fix.
Other Options to Consider
Not sure Joint Juice is the supplement you want to try? Here are a few other options to help you improve your joint health:
Wellesse Joint Movement

This supplement is another joint juice glucosamine and chondroitin, with the addition of MSM and hyaluronic acid to increase the production of collagen and healthy joint tissue. The supplement comes in a "natural berry flavor" and delivers far more nutrients than joint juice: 2,000 mg of glucosamine and 1,200 mg of chondroitin per serving.
You also get an equal dose of Vitamin D, and zero grams of sugar. It's a fully gluten-free product, with the glucosamine derived from a plant-based source. At $22 per 33-da7 supply, it's a much more affordable option than Joint Juice.
VitaBreeze Glucosamine Chondroitin Supplement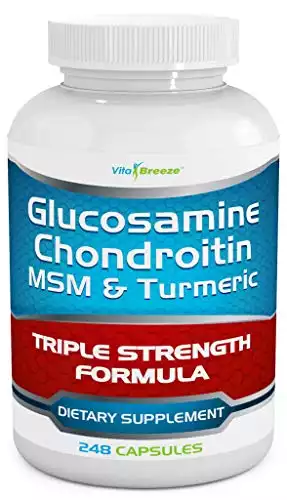 If you don't mind a supplement in pill form, you'd do well to try this one. The VitaBreeze Supplement contains 1,500 mg of glucosamine, 1,000 mg of chondroitin, and 300 mg of turmeric to counteract the pain of your arthritis. Tumeric belongs to natural anti-inflammatory foods. Therefore, the anti-inflammation agent in this supplement may be able to reduce the swelling caused by arthritis or joint damage.
The veggie capsules are gelatin-free, and the mixture of active ingredients is intended to make it easier for your body to absorb and put to good use. With 250 capsules in the $28 bottle, you have a long-lasting supply of joint pain supplements.
Vimerson Health Glucosamine Chondroitin Turmeric MSM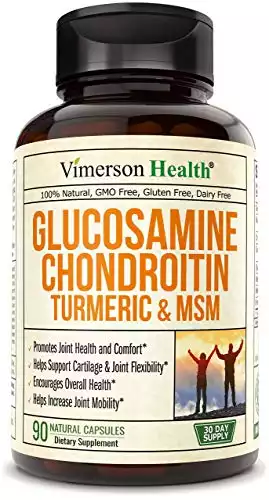 These types of glucosamine supplements contain 1,500 mg of glucosamine, 150 mg of chondroitin, and a hefty dose of Boswellia extract to combat joint pain. The addition of quercetin, bromelain, and methionine will help to decrease pain in your joints while increasing flexibility.
Vimerson's Joint Supplement is free of soy, dairy, gluten, hormones, antibiotics, preservatives, yeast, sugar, and artificial ingredients.
It's a non-GMO product made in the U.S. at an FDA-approved lab. Each $21 bottle contains 90 capsules, which is a 30 day supply (3 capsules per day).
If you want to learn more about joint supplements, read my article: What to Look for in a Joint Supplement.
Frequently Asked Questions
Do Joint Juice supplements really work?
Even though not scientifically proven, these supplements work by reducing inflammation which is the leading cause of joint cartilage failure.
What is the best vitamin to take for arthritis and joint pain?
Vitamins like glucosamine and omega-3 are used widely used supplements for joint paint. Glucosamine has an anti-inflammatory effect and it keeps the joint cartilage healthy.
Are there any side effects of Joint Juice?
Most commonly reported side effects that people experience from joint juice include:

•constipation
•diarrhea
•stomach pain
•gas
•bloating
•nausea
•heartburn
•headache
•fatigue
•skin irritation
Final Thoughts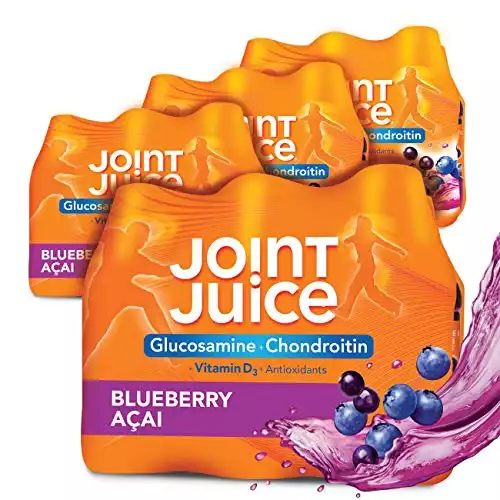 Joint Juice is an excellent supplement for those who want a good-tasting source of glucosamine and chondroitin to improve their joint health. It's easy to take, absolutely delicious, and does what it promises. It may take a while to kick in, but it does work.
You may have to be willing to swallow a slightly higher price tag for the supplement, but it's definitely a good option for anyone who is looking for a new way to improve their joint health.
Further Reads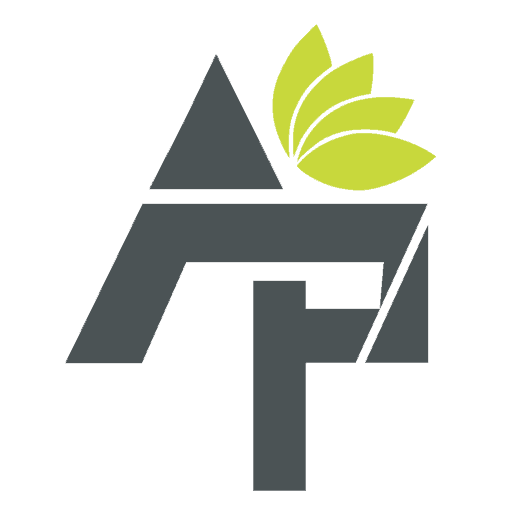 Alt Protein Team is a team of professionals and enthusiasts committed to bringing you the most up-to-date information on alternative protein, health and wellness, workouts, and all things health-related. We've reviewed a lot of products and services so you don't have to guess when you spend your hard-earned money on them. Whether you want to shed some pounds, build lean muscle or bulk, we can help you figure out what you need to do and what you need to have to achieve your goals.