Onnit is a fairly new brand in the very saturated, competitive world of health supplements. Despite only having been founded in 2010, Onnit has quickly become a highly respected supplement brand, primarily targeting those interested in improving their body and brain.
Onnit produces supplements known as nootropics (supplements to improve mental function) as well as performance fitness and general health supplements. Onnit first got into the spotlight with the success of their Alpha BRAIN nootropic designed to enhance brain cognition.
However, you don't need to be a serious athlete or brain hacker to enjoy their line of supplements.
In their Supplement category you'll find a section dedicated to Daily supplements for improving your everyday health. Anyone can benefit from this line, regardless of whether you're just starting to get healthy or you're a serious athlete. One of the most popular of their Daily supplements, and a high seller overall, is Onnit Total Gut Health.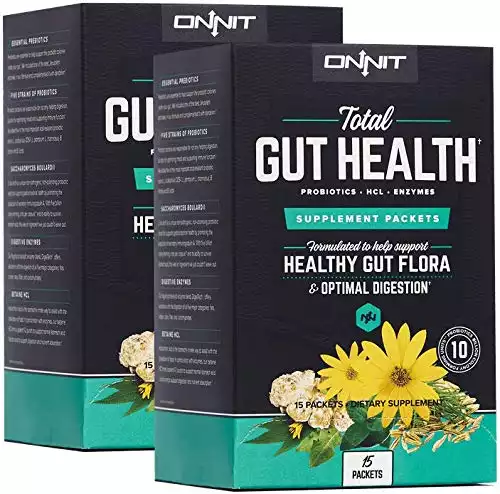 Onnit Total Gut Health is a supplement designed to optimize all aspects of digestive health through a carefully formulated recipe that includes digestive enzymes, prebiotics and probiotics, and betaine HCI. Onnit sells this product in easy to use packets that contained pre-measured scoops of the supplement.
Each box contains 15 packets and is normally priced under $35 (For the latest prices and discounts, check here), with discounts if you sign up with their Subscribe & Save deal.
Digestive health is incredibly important yet rarely ever discussed. The idea of the gut being a second brain isn't that far-fetched and striving to improve health gut bacteria can lead to some amazing benefits.
If you're interested in taking a daily digestive supplement or looking to replace your old product, Onnit's Total Gut Health could be an excellent choice.
Nutritional Information and Ingredients for Onnit Total Gut Health
Before getting into advantages or disadvantages of any type of supplement product it is important to flip it over and take a look at the nutritional information. Any reputable supplement of this type should have a Supplement Facts label, and not surprisingly Onnit includes one.
Onnit Total Gut Health is a blend of different products, presented in one single packet to prevent you from having to swallow a bunch of capsules everyday.
There are five different products in this supplement, which are:
DigesTech – 2 capsules per packet

500 mg DigesTech Power Blend
250 mg Serratiopeptidase
130 mg Pepsin
125 mg Organic Fennel Seed
125 mg Organic Ginger Root Extract
50 mg AstraZyme

Saccharomyces boulardii – 1 capsule per packet

250 mg of this digestive enzyme in each packet.

Betaine HCI – 1 capsule per packet

500 mg of HCI in each packet.

Prebiotic – 2 capsules per packet

900 mg Organic Jerusalem Artichoke Root
600 mg Organic Dandelion Leaf

Probiotic – 1 capsule per packet

500 mg Onnit Probiotic Blend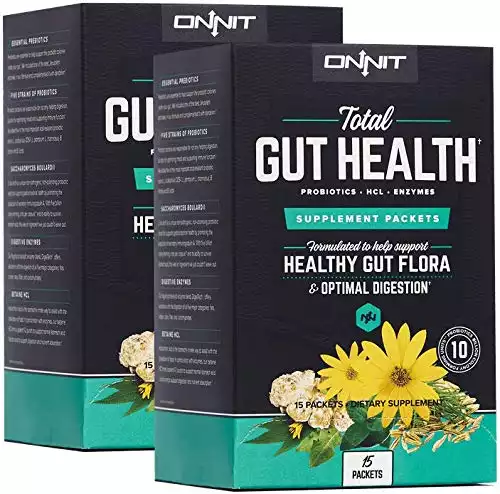 The Onnit Total Gut Health blend is designed to be taken once daily with a large meal. It is designed for adult use only. Additionally, this blend is free of dairy, gluten, and soy.
This supplement is also BSCG certified as being drug-free and safe for performance athletes, meaning it contains no questionable fillers or other ingredients.
Advantages of Taking Onnit Total Gut Health
Onnit Total Gut Health has a fairly good track record of success, with plenty of happy customer reviews and solid 4 out of 5 star rating on most websites.
There are a few reasons why you should consider trying out this product.
Transparency and Quality of Ingredients Used
One thing Onnit is well known for is being very honest and transparent about what is in their products. When it comes to health you shouldn't settle for anything less than total honesty.
The Supplement Facts label clearly explains what is in the product as well as how much is present. Even when Onnit uses their own blend within a blend they still list each and every ingredient.
The brand does try to use organic extracts when possible and has made this supplement appropriate for most restrictive diets. This really is a quality product and Onnit proves it by their extensive label information.
Designed to be Taken with a Meal
Some digestive health products require an empty stomach for maximum effect. Some are sensitive to taking supplements on an empty stomach and may feel digestive upset when they do so.
Onnit Total Gut Health is specifically made to be taken with the largest meal of the deal and can be taken anytime during the day (i.e. you're not limited to meal time). This really helps alleviate any negative symptoms.
Causes Noticeable Improvements in Many
Most digestive health symptoms work in a very subtle fashion, meaning they you won't take it for a week and notice a huge change. That being said, many customers do find that Total Gut Health makes them noticeably less bloated and they have healthier digestion after a fairly short time.
For some, it has helped with gassiness and nausea. Compared to other products this one really does show positive changes in a fairly quick manner, if the user knows what to look for.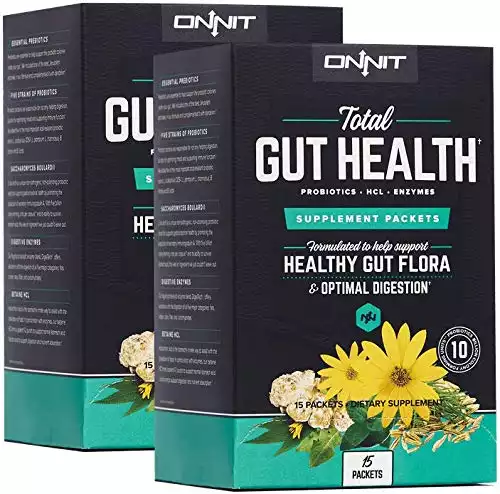 Potential Reasons to Not Take Onnit Total Gut Health
As with any dietary supplement, it is important to consider your own health prior to adding something new to your regimen. There is also one complaint about this product that is often cited in poor reviews.
Currently Taking Another Pre or Probiotic Supplement
If you're currently taking a prebiotic, probiotic, or any other type of digestive supplement you must proceed with caution. It is absolutely possible to consume too much of these types of ingredients which may lead to stomach upset, cramping and generally feeling ill. Either stop the use of other supplements or consult your physician prior to trying Onnit. If you do feel ill at any time you should cease use.
Have Chronic Digestive Issues or a Disease Affecting the Gut
Similarly to the above factor, if you have any disease or chronic ailment affecting your digestive processes or gut you should consult a doctor before trying a supplement. While chances are high that there shouldn't be a problem, it is much better to err on the side of caution when it comes to your health.
Again, if you do nay certain health issues and feel they are worsening or more pronounced while taking Total Gut Health, cease use immediately.
Are Sensitive to Digestive Health Supplements
Some individuals are sensitive to digestive health products and shouldn't begin taking one without careful consideration. If you have a sensitive stomach you will enjoy that this product is meant to be taken with a meal, but you may still find it to make you feel uncomfortable. Listen to your body and if something doesn't feel right, stop.
Overall Onnit Total Gut Health is a safe, effective digestive health product that the average adult may take daily without concern. It is priced very well for the quality and the ability to sign up for their Subscribe & Save ensures you never run out nor will you pay full price.
The tricky thing about these types of supplements is that they don't always cause noticeable changes in the body which is frustrating since people tend to want to see results fast. Be patient with your body and understand that a digestive health product isn't always going to show drastic changes right away.
Keep an eye out for the subtle ones mentioned above, such as less bloating or healthier bowel movements.
If you're consider purchasing a prebiotic and probiotic digestive health blend, Onnit Total Gut Health is absolutely worth trying. The brand also offers a money-back guarantee so if you fall into the group that isn't a fan, you won't be out anything.
Recommended Reads: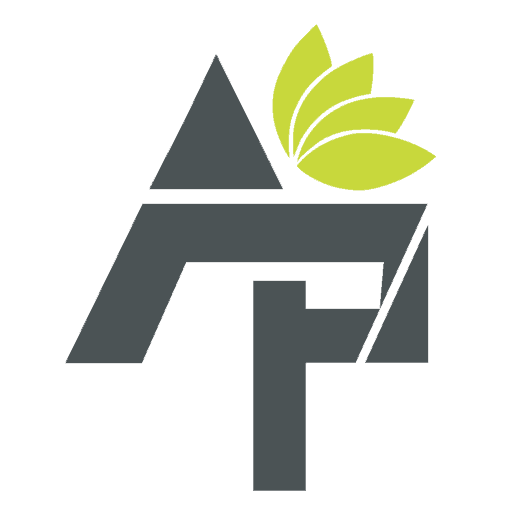 Alt Protein Team is a team of professionals and enthusiasts committed to bringing you the most up-to-date information on alternative protein, health and wellness, workouts, and all things health-related. We've reviewed a lot of products and services so you don't have to guess when you spend your hard-earned money on them. Whether you want to shed some pounds, build lean muscle or bulk, we can help you figure out what you need to do and what you need to have to achieve your goals.