Picture this situation: you go out for a nice refreshing run thinking that it will be no sweat but instead you find yourself feeling exhausted. Your lungs feel like they are burning and your legs become numb while you lose the ability to carry on. Those of you who love running know exactly what I am talking about.
Luckily, there are several effective and even healthy pre-workout supplements that will boost your physical strength and endurance during your run. This article's purpose is to help you choose the best pre workouts you can afford that will meet your needs and preferences.
With that in mind, we have created a list of the best pre-workouts for running that are not crammed with creatine and caffeine.
My Top 5 Choices – At A Glance
Attention: The internal data of table "36" is corrupted!
*The following pre workout products are listed by price, from the most affordable to the most expensive one.
The Best Pre Workouts for Running You Should Consider
1: Body Rush Force Factor
The Body Rush Force Factor is an effective pre-workout supplement for runners. One serving provides the same level of energy as two cups of coffee. This product was developed for intermediate and advanced runners but it is also used in bodybuilding, endurance activities, and intense sports.
All the ingredients contained by Body Rush create the proper environment for boosting muscle mass and aiding you with your weight loss journey. It is a concentrated pre-workout powder that provides mental focus and improved blood circulation.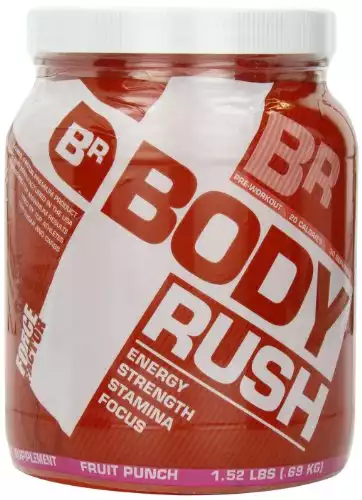 Ingredients
This is a great product that provides the necessary amount of endurance and strength one needs during an intense run. The manufacturing company has a great reputation when it comes to marketing effective and safe products.
Body Rush contains the following ingredients:
Vitamins B6 (2 mg) and B12 (7 mcg).
Thiamine – 2 mg.
Beta Alanine – this is one of the most common ingredients used in pre workout supplements due to its proven effectiveness; it increases muscular endurance.
Creatine Monohydrate – increases body strength and boosts muscle mass.
Magnesium (125 mg) and potassium (200 mg).
So far, the only side effect that consumers talked about is a mild sensation of body tingle which fades away on its own and it is not dangerous for one's health.
Pros
Increases your body endurance, strength, and energy.
Boosts focus and determination.
Promotes muscle mass growth.
It mixes well and easily.
Has an amazing taste.
Cons
Some consumers have said it is quite expensive especially when you think about the cost-quality ratio.
Others stated they did not feel the amount of focus and energy they were expecting.
Price
You can purchase the Body Rush Force Factor supplement on Amazon for the price of 14.98 dollars.
2: Scivation Xtend BCAAs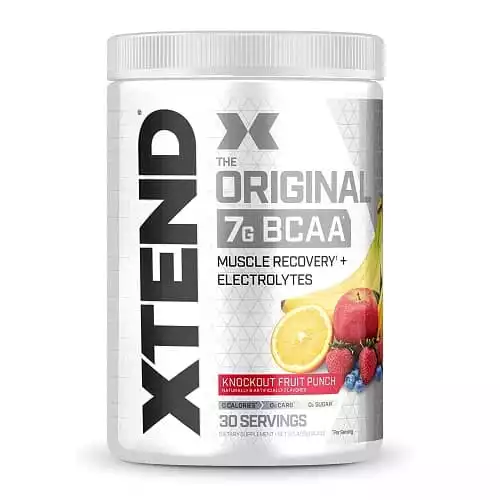 The Xtend pre workout for running is manufactured by Scivation. It is a BCAA, which stands for branched-chain amino acids. Scivation BCAA promoted muscle recovery, increases protein synthesis, reduces body fat, and even increases endurance and energy during high-intensity workouts.
This product has no side effect whatsoever. Also, all its available flavors are tasty and easy to mix or prepare. If you ask most clients, they will tell you this is definitely a supplement that delivers great results while being a great bang for your buck.
Ingredients
The Scivation Xtend comes with a nice blend of amino acids such as isoleucine, leucine, glutamine, and valine. All these acids elements will protect your muscles from rips or soars. They will help your body resist longer during a run or training.
Besides the above amino acids, you will also find additional ingredients like electrolytes and vitamins. It is good to know that this powder doesn't contain carbohydrates or sugar.
Due to its unparalleled mixability, wide array of effective and powerful ingredients, and delicious tasty flavors, the Scivation Xtend is a tough competitor on the fitness supplement market.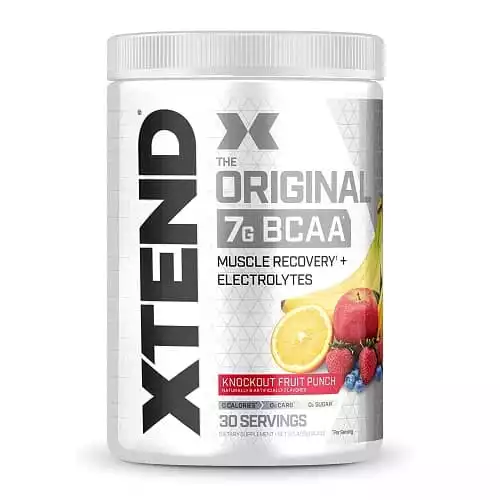 Pros
It is high in electrolytes.
It is an affordable product.
Increases body strength and endurance.
Improves both muscle retention and blood circulation.
Mixes well and quickly.
It comes in a wide range of flavors.
Cons
Contains acesulfame potassium and sucralose.
There are no powerful stimulants in this supplement.
It can contain allergens.
Some users claim they felt a mild tingling sensation after consuming this supplement.
There are a few people who might need some time to get used to this product's taste.
Price
You can buy the Scivation Xtend BCAA online. It has a price tag of around 18 dollars per 30 servings. It's true, however, that this price may vary depending on several factors like flavor and number of servings.
3: Optimum Nutrition Amino Energy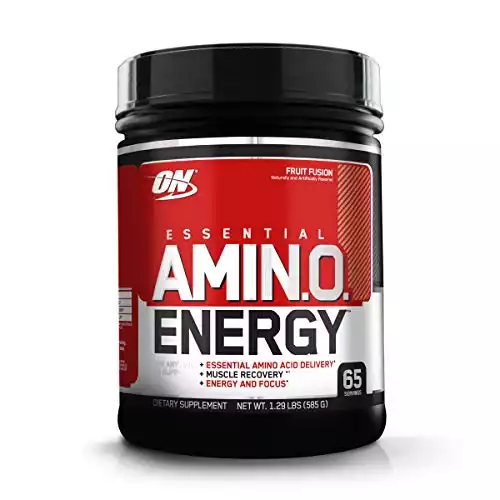 What makes this product special and differentiates it from its competitors is the efficient Amino Blend which consists of five grams per each serving (keep in mind that, in this case, one serving refers to two scoops. Unlike many other regular BCAA supplements, the Optimum Nutrition provides instant energy and it can be used in multiple scenarios.
It is not a standard pre-workout supplement and one can also use it first thing in the morning, before a workout, during a training, and even as a post-workout recovery tool. As you can see, the Amino Energy fits a wide range of needs and preferences.
Ingredients
There are two main categories of ingredients that Optimum Nutrition is made up of: an Amino Acid Blend and an Energy Blend. Below, we will detail each of these two types of ingredients.
a. The Amino Blend
L-Arginine – this ingredient boosts both stamina and performance. It creates the proper environment for an improved and more oxygenated blood flow.
L-Glutamine – prevents muscle tissues from breaking apart and speeds up the recovery process.
Beta-Alanine – it acts as an effective buffer against bad elements such as acidosis, especially during intense workouts or runs.
L-Leucine – balances your body's nitrogen level and supplies you with the right amount of energy.
Taurine – improves digestion and nutrients' absorption. Also, it acts as a powerful antioxidant.
L-Isoleucine – you can say this is a fuel for your muscle cells.
L-Phenylalanine – boosts your metabolism and plays the role of an appetite suppressant.
b. The Energy Blend
When it comes to this product's energy stimulant, the main ingredient is caffeine. One serving of Optimum Nutrition contains 160 mg of this energy blend. The formula provides the following energy-providing ingredients: caffeine, green coffee extract, and green tea extract.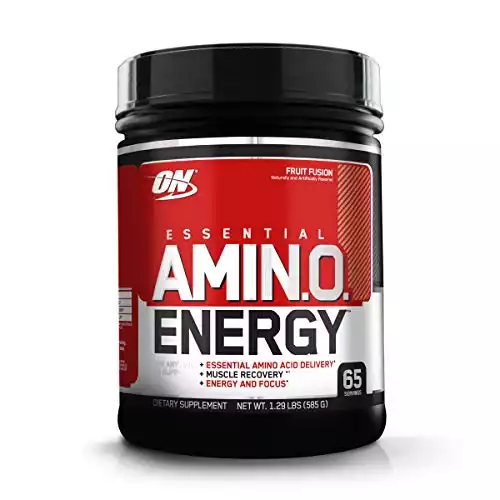 Pros
It has a nice pleasant taste.
It comes with an amazing and effective amino acid profile.
They are affordable supplements for runners.
It improves both endurance and focus.
Cons
It contains a high amount of caffeine. Actually, this can also be seen as an advantage. It depends on the way you look at it and what your needs and preferences are. For example, some people might be worried that they will experience jitters while others might be pleased to consume a power drink that has plenty of caffeine.
Although it contains plenty of beneficial amino acids, the label doesn't really say the exact dosages.
Contains artificial sweeteners as well as soy.
Price
Several online e-commerce sites sell the Optimum Nutrition supplement but you can easily find all of its flavors on Amazon, for a price that ranges between $18 and $35, depending on the flavor and container size.
4: Red Leaf Pre Workout Energizer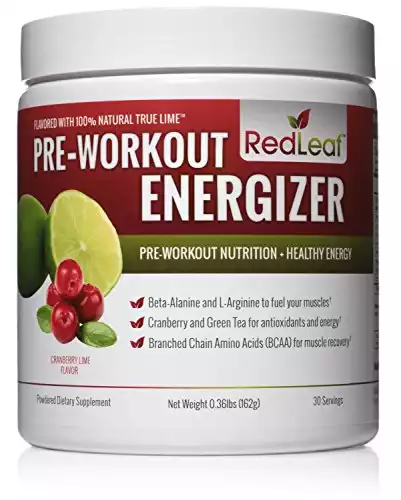 The Red Leaf Pre Workout supplement is manufactured by Integrated Sports Nutrition. The company claims to have found the perfect combination between a healthy energy-providing formula and all the great fitness enhancing benefits. According to them, those who consume this product before a run or training will get the most out of their workout.
This product will help you achieve your fitness and health goals without experiencing any side effect. In fact, Red Leaf contains natural substances. This results in a high-quality and effective pre-workout drink that will keep you going even during intense training routines.
Ingredients
This product comes in a tasty fresh flavor: Cranberry-Lime. You will have to mix it with water or a beverage to prepare the drink and consume it at least half an hour before a run or training session. Red Leaf contains several ingredients that not only will boost your energy and overall health but will also support your fitness efforts:
Cranberry extract – it provides a powerful antioxidant protection.
Raspberry Ketones – burns fat.
Green tea extract – it acts as an antioxidant and fat burning enhancement element.
Caffeine – for increased energy and endurance.
Amino Acids blend – L-Leucine, L-Glutamine, L-Valine, and L-Isoleucine – speed up the muscle recovery process.
Beta Alanine – you will be able to train longer and harder due to this ingredient that reduces muscle fatigue.
L-Arginine AKG – improves blood circulation.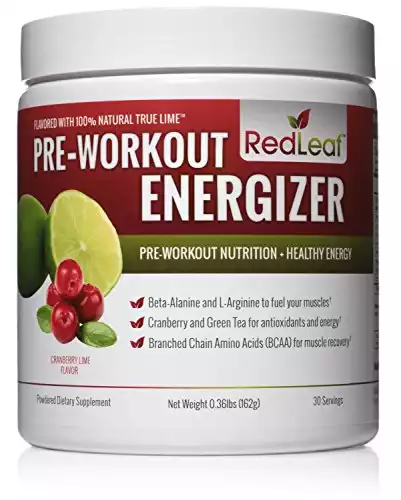 Pros
Promotes muscle mass growth and proper muscle development.
Acts as a muscle fuel which leads to better and longer workouts.
Increases energy levels, endurance, and body strength.
It is a healthy energy blend – contains plenty of antioxidants as well as other high-quality ingredients.
Red Leaf has a pleasant citrusy fresh taste.
It is an affordable pre-workout supplement.
Cons
Although it contains caffeine, this product is not very strong and it is more suitable for beginners.
Price
You will find the Red Leaf supplement on both their official website and on Amazon. Its price is $32.99 per a 30-servings container.
5: Cytomax Sports Performance Mix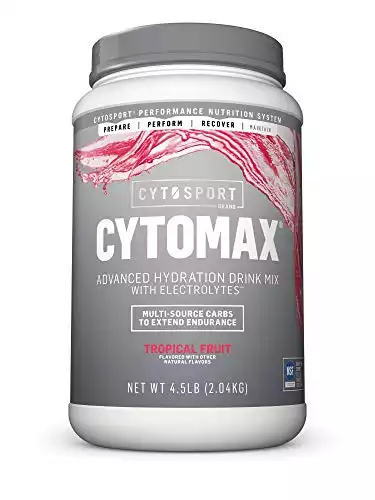 The Cytomax Sports Performance Mix is available on the market in no less than five different tasty flavors: grape, cool citrus, tangy orange, pomegranate berry, and tropical fruit. This brand has been on the market since 1989 and even since it helped plenty of athletes enhance their sports performance.
This effective product ensures increased endurance, steady energy, proper hydration, and reduced fatigue during a run or an intense workout. Its lactic acid content will protect your muscles from the typical burn one feels after an intense training.
Ingredients
This pre workout product for running contains 22 grams of carbohydrates that were gathered from multiple healthy sources and transformed into five different light and crisp flavors. Besides carbs, Cytomax also contains the following active ingredients:
Sodium – 120 mg.
Calcium – 6 mg.
Potassium – 60 mg.
Magnesium – 14 mg.
Vitamin C.
Amino acid peptides blend.
Chromium – 50 mcg.
You might also want to know that this product has both natural and artificial flavors, stevia, and turmeric powder. The last one is added for coloring purposes only.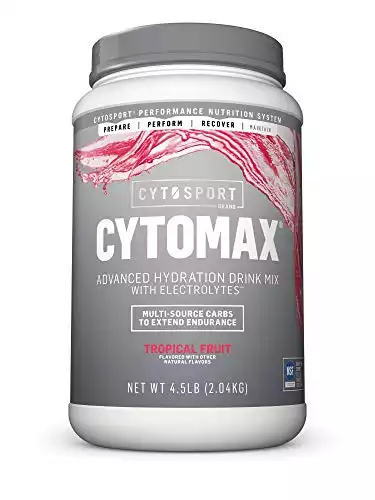 Pros
It works quickly and provides fast results.
Has an amazing taste – much better than other pre workout supplements available on the market.
Decreases the lactic acid burn.
One serving provides all the necessary elements to keep your body strong enough during a run: potassium, carbs, magnesium, sodium, vitamin C, and even calcium.
One pouch contains only 90 calories – so, it will not interfere with your weight loss goals.
It is a healthy product that doesn't contain any sweeteners or artificial colors.
Cons
Although the powder mixes well, the resulted drink appears a little foamy. It is not completely fluid but this shouldn't be a significant drawback when you choose to buy a certain supplement.
Despite the fact that all the available flavors have a nice pleasant taste, it can sometimes be a little watery.
Some of this product's flavors contain Guarana as the main herbal stimulant.
Price
If you're interested in purchasing this supplement, you can find it online, on Amazon. The price starts from $23.53 and it can go up to $60, depending on the flavor and container size/number of servings you choose to buy.
Frequently Asked Questions
What do pre-workout supplements do?
Pre-workout supplements are specially designed formulas that boost your performance and increase your energy levels to get you prepared for your workout.
Are pre-workout supplements healthy?
Even though pre-workout supplements are fairly popular they are not entirely healthy. Some pre-workout supplements may contain artificial sweeteners and caffeine which can cause several negative side effects.
We suggest trying small doses to see how your body will react to it before gradually increasing it.
Is coffee a good pre-workout?
Yes. Coffee is a great pre-workout beverage. Research shows that drinking coffee prior to running has a positive effect and it will increase your performance, in fact, it's highly popular among athletes.
Which Is the Best Pre Workout Supplement for Running? – Bottom Line
All the above pre-workout supplements are effective and contain high-quality ingredients. Now, the final choice is all yours. Before making a purchase, you should consider several aspects such as your budget and the product's price, its quality level, ingredients, your needs and preferences, as well as your level of experience.
For example, Red Leaf is best suited for women and beginners but anyone can actually consume it. If you want a stronger and more powerful result, you should opt for Optimum Nutrition. At the end of the day, what counts the most is your satisfaction and the results you achieve by consuming one of these products.
Recommended Reads: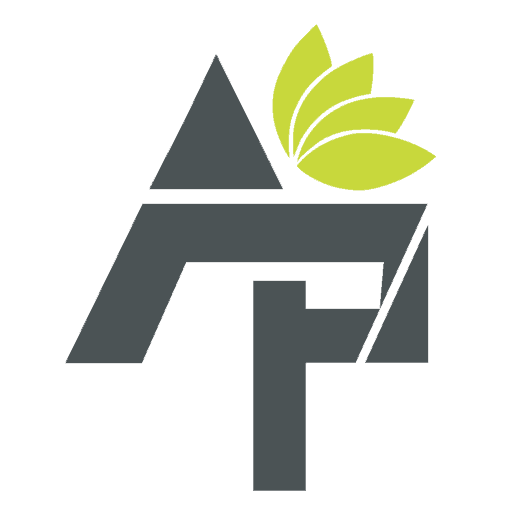 Alt Protein Team is a team of professionals and enthusiasts committed to bringing you the most up-to-date information on alternative protein, health and wellness, workouts, and all things health-related. We've reviewed a lot of products and services so you don't have to guess when you spend your hard-earned money on them. Whether you want to shed some pounds, build lean muscle or bulk, we can help you figure out what you need to do and what you need to have to achieve your goals.