The health and fitness world is ruled by animal protein sources, with whey and whey isolate protein being the most popular powder options, but as you know, there are many plant-based proteins out there that are amazing. Protein powders do come in handy, whether it's for meal replacement or a more specific purpose like a post-workout shake.
Since the average person doesn't consume enough protein on a daily basis, especially those that don't eat animal products, protein shakes are an easier way of ensuring you are getting what you need in your diet.
While we love plant-based proteins around here, not everyone views this protein source the same. Soy protein is one of the most common but leaves those with soy allergies or dietary restrictions unable to consume it. Pumpkin or pea protein are two other options, though rarer, although we've seen the rise in pea protein recently.
Recently hemp protein has been making the rounds, and many have found it to be highly beneficial. There are other vegan protein powders out there, such as brown rice protein powder, which you can find readily available as well.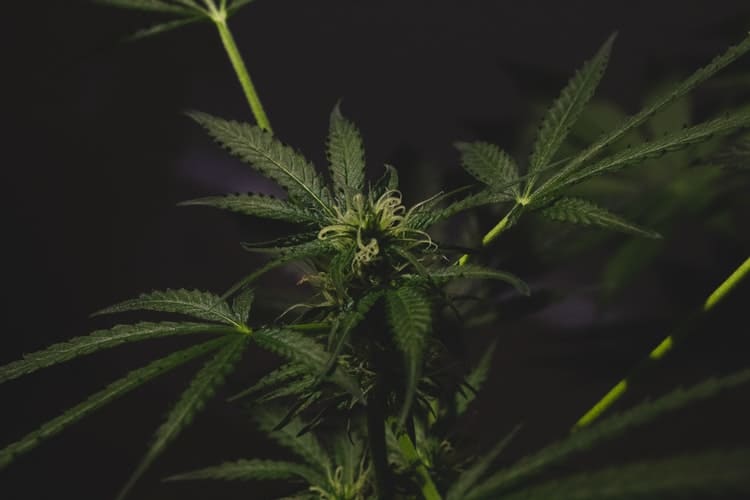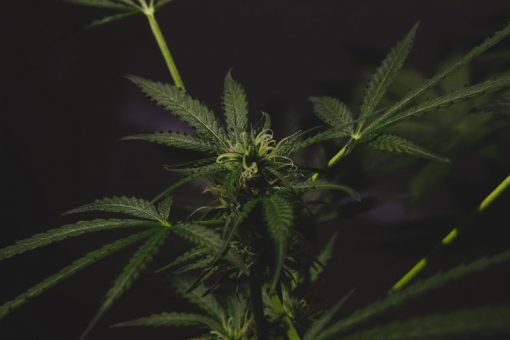 Hemp protein is made from hemp seeds, which are rich in nutrients. In fact, hemp seeds contain all 21 essential amino acids, including the 8 amino acids that are vitally important since your body is unable to produce it. Roughly two tablespoons of a high-quality hemp powder will give you about 15 grams of protein, give or take a few grams.
On top of the protein, two tablespoons of powder also give you important BCAAs, including leucine and valine, as well as other essential amino acids.
Hemp powders are typically more natural than soy powders, especially when compared to the increase of GMO soybeans used in soy powders. Another natural benefit of the hemp plant is its hardiness, which means the plants can grow without the use of chemical protection against bugs and weeds.
You can easily find organic hemp protein powder anywhere, and it's a great vegan protein powder option as well! You'll likely be surprised at how many brands are organic anyway, which is a pleasant discovery if you strive to avoid non-organic foods.
Even if you aren't vegan or vegetarian, you can still benefit from using hemp protein powder in addition to your regular powder. Protein aside, its other health benefits just can't be ignored. Not all hemp protein powders are created equal, so try out one of these 3 options first.
Hemp Protein Powder
Hemp is a very powerful plant that carries with it a variety of minerals, vitamins, and fats which are beneficial to the body. Hemp protein powder is just as beneficial as it contains high amounts of omega fatty acids and fiber, hemp protein powder is a very naturally robust source of heart-healthy fats as well.
The essential nutrients found in hemp protein powder has been compared to soy protein and egg whites just to give a realized perspective on its true benefits. Hemp protein powder is so effective due to how easily it's digested by the body, due to the fact that it contains edestin which is a protein that breaks down fairly quickly.
Before using hemp protein powder as part of your everyday diet, you need to have a clear plan in terms of the fitness goals you're trying to achieve. Fiber plays a major role in how well our bodies are able to break down the food that we consume, high-fiber consumption has been linked to an array of health benefits including improved blood sugar.
Hemp protein powder achieves its effectiveness due to the amount of fiber and protein found in the substance, this combination allows you to feel fuller for longer periods of time. Hemp protein powder is loaded with lots of antioxidants and minerals including copper, zinc, calcium, manganese, and more.
Hemp protein powder is a great vegan-friendly plant-based protein supplement that mixes well with a wide range of different juices and yogurts. If you're looking for a pure source of high-quality protein without the added saturated fats and sugars, hemp protein powder is the perfect supplement to your diet.
Below, you'll find a list of the top hemp protein powder supplements available so you can choose the option that's right for you.
Top hemp protein powder supplements
All of the hemp protein powder supplements mentioned in this section are non-GMO and USDA certified organic so you get maximum benefits. These selections have varying amounts of protein, minerals, and vitamins so make sure to read carefully before choosing which one is rig
Sunwarrior Warrior Blend
Sunwarrior Warrior Blend protein is formulated with a complete profile of essential amino acids that your body needs. Sunwarrior Warrior Blend protein is perfect for those individuals who want to build lean muscle by using a clean source of pure energy.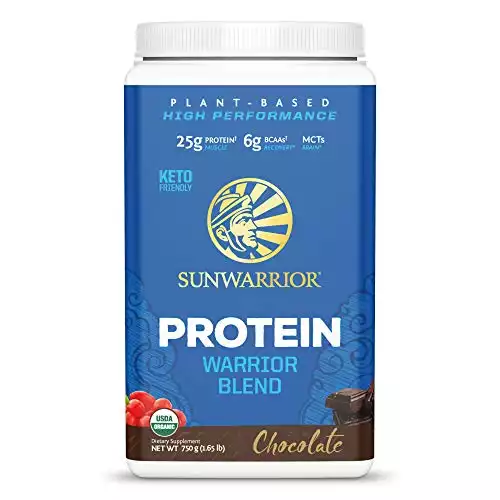 Sunwarrior Warrior Blend is gluten-free and soy free in addition to containing no added sugars so all you ingest in pure protein. Sunwarrior Warrior Blend protein is also Paleo and Keto friendly so you can mix it with virtually any meal or any other dietary supplement without worrying about negative side effects.
Ingredients
Yellow Peas
Goji Berries
Hemp Seeds
Coconut
Sunwarrior Warrior Blend protein provides a healthy all-natural protein supplement that is nutritional and tasty.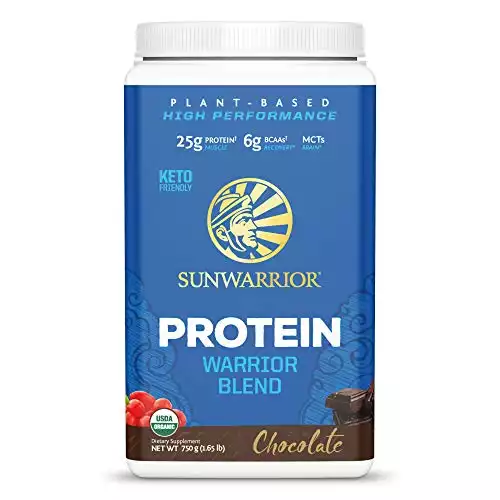 Nature's Way EfaGold
Nature's Way EfaGold hemp protein powder is one of the purest and most natural supplements available. Nature's Way EfaGold contains a very powerful formula that consists of organic hemp seed powder and premium fiber at roughly 13g per serving.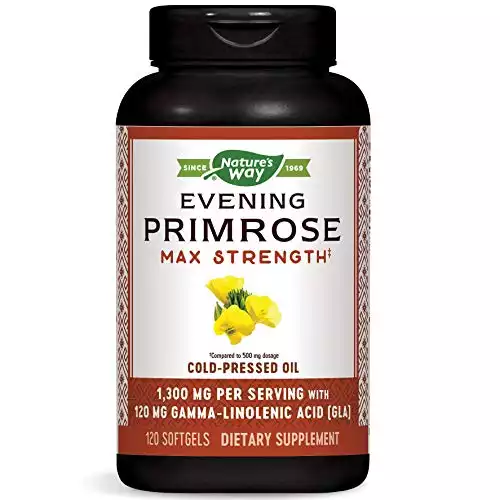 Nature's Way EfaGold has a lot of essential amino acids which makes it a very potent solution for receiving your daily recommended value of protein without a large diet. Nature's Way EfaGold hemp protein powder is non-GMO and has up to 11g of protein in each serving.
Ingredients
Isoleucine
Leucine
Lysine
Methionine
Phenylalanine
Tryptophan
And more
Nature's Way EfaGold contains no starch, preservatives or artificial coloring so you can consume premium protein without any issues.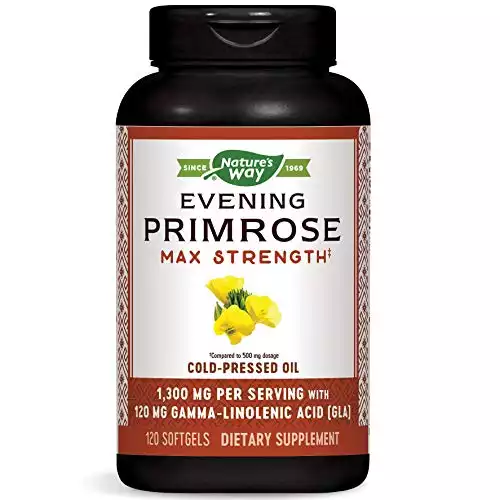 Jarrow Formulas Organic Hemp Protein
Jarrow Formulas Organic Hemp Protein contains 6 different sources of plant-based protein to provide you with comprehensive support in all active areas of your life. Jarrow Formulas Organic Hemp Protein is formulated to be easily digestible and it contains no added gluten or sugar so you only receive pure protein.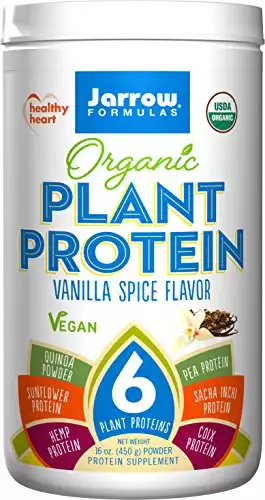 Jarrow Formulas Organic Hemp Protein is rich in fiber and combines multiple protein sources to help sustain Amino Acid levels over time. Jarrow Formulas Organic Hemp Protein only uses premium ingredients to deliver a powerful protein supplement that can supply you with the essential vitamins and minerals you need.
Ingredients
Organic cinnamon
Organic guar gum
Organic Sacha Inchi protein
Organic Sunflower Protein
Organic Quinoa Powder
Organic Ginger
And more
Jarrow Formulas Organic Hemp Protein is a powerful all-natural plant-based protein supplement that can substitute for meals if you're trying to develop healthy and lean muscles.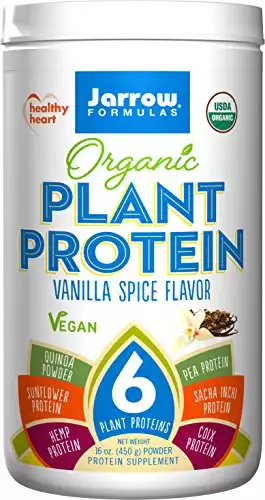 We earn a commission if you click this link and make a purchase at no additional cost to you.
The hemp seeds used in Navitas Naturals powder is grown in Canada. The brand doesn't grow their hemp; they instead support local small family farms that grown this plant organically.
The hemp used is grown from non-GMO seeds to ensure a pure, healthy product. Once the seeds are harvested, they are brought raw straight to a cold press which is what grinds the seeds into the final powder form.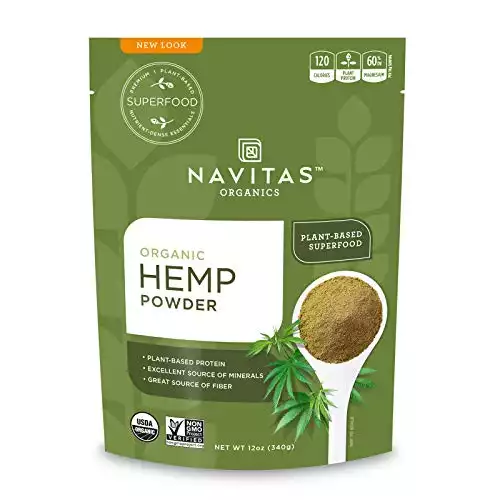 This is all done at low temperatures to ensure maximum nutrient retention by protecting fragile enzymes and micronutrients from damage. This is a high-quality protein option that I love, especially if you are looking for an all natural, vegan protein source.
Navitas Naturals Organic Hemp Protein Powder has high protein content, with 50% of their powder being pure protein.
Many customers find it to taste delicious, with the typical nutty flavor associated with hemp protein.
This brand sells protein powder in 12 oz bags which retail for $16.99. This powder is:
100% organic
Gluten-free
Vegan
Kosher
The nutritional content for one serving (4 tablespoons) includes:
120 calories
12 grams of protein
11 grams of carbs
5 grams of dietary fiber
3 grams of fat
5 mg of sodium
260 mg of magnesium
380 mg of potassium
6% calcium
35% iron
The Navitas Natural Hemp Powder is a great source of protein and is on the higher end of the spectrum with 12 grams. While this may seem low compared to the 15 grams you can find, this is because this is pure, fairly low processed hemp powder.
There are no fillers and no additives used to try and increase protein. At 4 tablespoons per serving, you could easily have two smoothies per day for a total of 24 grams of protein. This powder is also particularly good as a flour alternative in cooking and baking.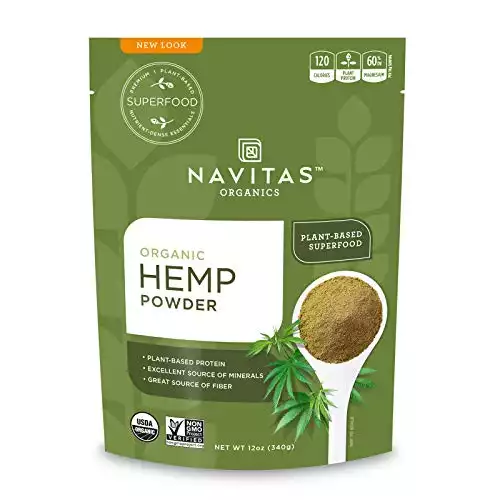 Nutiva Organic Hemp Protein 15g Powder
Nutiva's mission is to provide the power of superfoods to the world, both hemp as well as others like chia and red palm. Their hemp protein powder is reasonably priced and a great product to have in your pantry.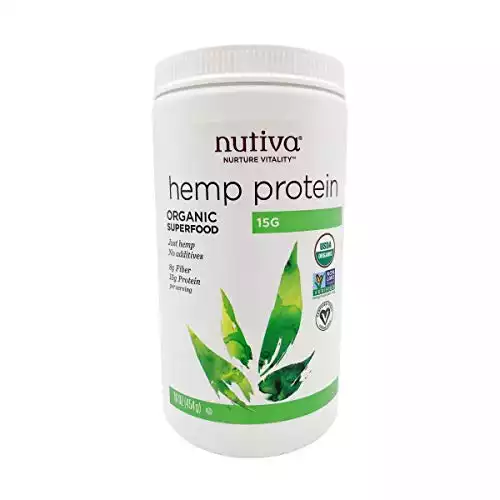 All of Nutiva's hemp products are:
Certified organic
Non-GMO
Made from raw seeds
Cold/Low temp processed (no hexane-processing)
Unrefined and minimally processed
Chemical-free
You can find this powder in a few sizes:
The nutritional content for one serving (3 tablespoons) includes:
90 calories
15 grams of protein
9 grams of carbs
8 grams of dietary fiber
1 gram of sugar
3 grams of fat
370 mg of potassium
60% magnesium
25% zinc
40% iron
This is another 100% pure organic hemp protein powder with no additives. It may be a pretty basic powder, but sometimes that is all you need. If you are looking for a powder for traditional protein shakes/smoothies or to mix with your current protein powder for variety, this one won't disappoint.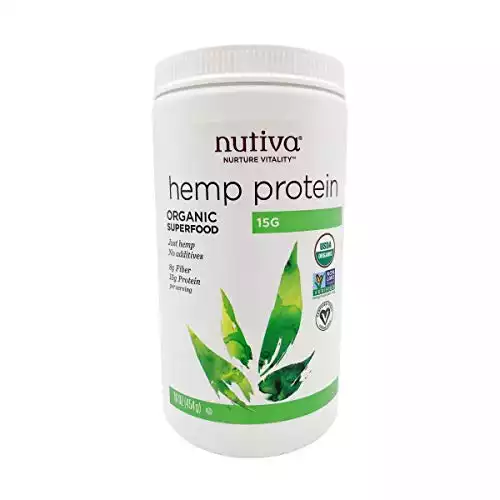 Manitoba Harvest Hemp Pro 70 Protein Powder
Manitoba Harvest is another Canadian company that excels in creating hemp protein powders. Their whole brand focuses solely on hemp, so you can rest assured they know how to create top-notch products.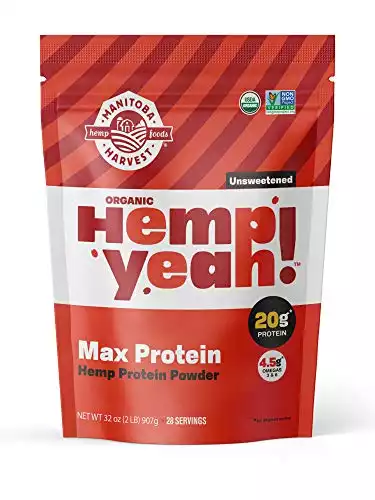 They have three different hemp protein products, with the Hemp Pro 70 having the highest protein, as well as one major selling point.
This powder is available in a few options:
Flavors – Original, Vanilla and Chocolate
Container sizes – 1lb, 2lbs and 5lbs
The nutritional content for one serving (4 tablespoons) of Original includes:
140 calories
20 grams of protein
5 grams of carbs
2 grams of sugar
5 grams of fat
30 mg sodium
10% vitamin A
4% calcium
25% iron
800 mg Omega-3
2600 mg Omega-6
600 mg Omega-9
Unlike the other two protein powders featured, the Hemp Pro 70 isn't pure hemp powder. Take a look at the ingredients list and you'll see hemp powder concentrate as well as natural plant extracts. The natural plant extracts are minimal and part of how Manitoba Harvest can increase the amount of protein in this powder. It is still complete plant-based and vegan.
The way the Hemp Pro 70 powder sets itself apart from the competition is how it can be used. Manitoba Harvest specially designed this powder to be used with a shaker cup. A shaker cup sometimes called a blender bottle, is a popular tool for fitness buffs.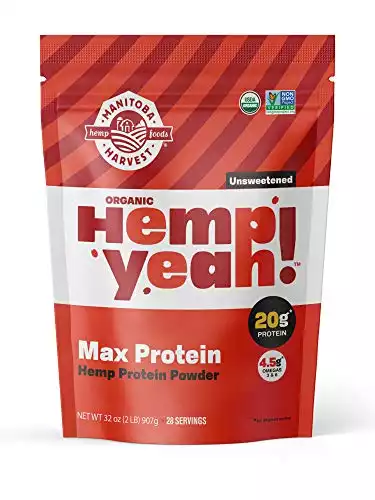 The cup has a built-in strainer which helps to break down clumps of protein powder. This solves the gross issue of clumpy protein drinks in a normal water bottle and eliminates the need for a blender.
The Hemp Pro 70 is the first water-soluble hemp powder of its kind. The ability to use it with a shaker cup means it is perfect for the busy individual. Simply use water or juice, for better flavor. Each serving packs in 20 grams of fiber as well as all the typical nutrients you expect from a quality hemp powder.
It's water-solubility also means it blends seamlessly into normal smoothies, green or fruit juices, yogurt, and oatmeal.
FAQs
Question: What can I mix my hemp protein powder with?
Answer: Hemp protein powder is soluble in a variety of liquids including smoothies, yogurts, water, and more.
Question: How much hemp protein powder should I use?
Answer: Hemp protein powder comes in a variety of formulas and potency levels; the suggested usage amount will vary depending on which hemp protein powder product you use.
Question: Is hemp protein powder a safe meal replacement long-term?
Answer: No real studies have been conducted to prove the effectiveness of using hemp protein powder as a long-term meal replacement however occasionally substituting a meal for hemp protein powder will not harm you.
The Final Scoop
They say variety is the spice of life, and it couldn't be truer when it comes to diet. Not only does changing things up to keep you interested in eating well but it also helps in providing your body with all the nutrients it needs.
Hemp powder is an excellent source of protein, vitamins, minerals, and amino acids, making it perfect for anyone to try. Keep in mind you aren't just limited to drinking protein powder in a shake: Hemp protein can also be used in baking recipes, as a flour substitute or a delicious topping for yogurt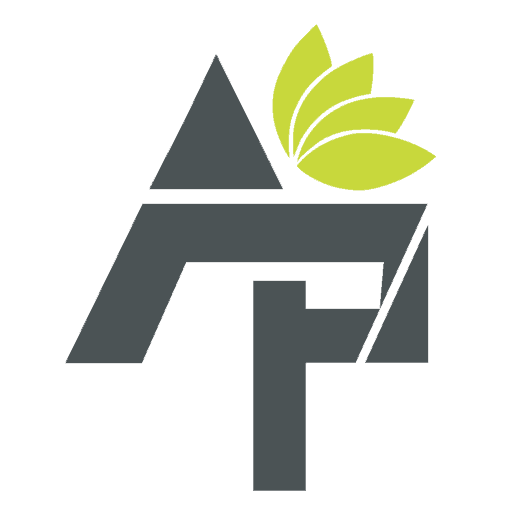 Alt Protein Team is a team of professionals and enthusiasts committed to bringing you the most up-to-date information on alternative protein, health and wellness, workouts, and all things health-related. We've reviewed a lot of products and services so you don't have to guess when you spend your hard-earned money on them. Whether you want to shed some pounds, build lean muscle or bulk, we can help you figure out what you need to do and what you need to have to achieve your goals.