When you're following a diet plan, especially a ketogenic one, holidays might be pretty tricky to go through. With all those calorie bombs around, it is hard to keep track of your healthy eating plan. Considering that Thanksgiving is closing in, I've decided to lend you a helping hand by revealing some of the best keto-friendly Thanksgiving recipe ideas you should consider preparing this year. They are a great way to avoid munching on cookies, stuffing, and punch. Without further ado, here they are!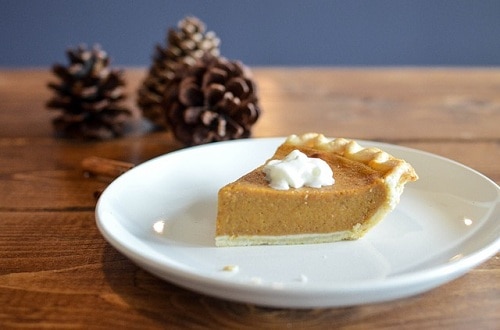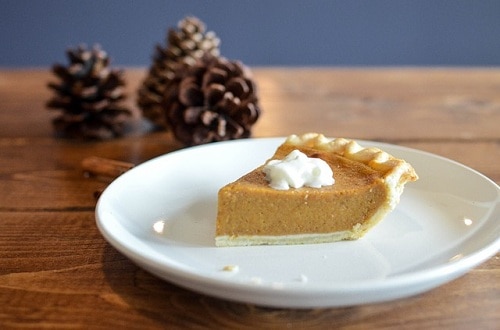 1. Low-Carb Pumpkin Cheesecake
Not only is this cheesecake recipe a low-carb one but it is also gluten-free. It makes a perfect keto-friendly Thanksgiving Day dessert, although I, for one, don't really need a special occasion to prepare this creamy pumpkin pie. It is easy to make, and you can serve it whenever you want. Preparing and cooking this recipe takes about 50 minutes.
Ingredients – for eight servings
For the Crust
1 ¾ cups of almond flour (preferably sugar-free)
A couple of tablespoons of sweetener
One stick of melted butter
½ teaspoon of cinnamon
For the Filling
2⁄3 cup of sweetener
½ teaspoon of vanilla extract
Two large eggs
¼ teaspoon of nutmeg
½ teaspoon of cinnamon
1/8 teaspoon of allspice
About 16 ounces of room-temperature cream cheese
Pumpkin puree (at room temperature and not more than 2/3 cup)
Preparation
Preparing the Crust
Mix together the following ingredients: almond flour, sweetener, and cinnamon. Place the mixture in a pie pan of about 9 inches.
Add the melted butter and stir it in, to incorporate it into the mixture. Press down the mixture with your hands to even it up into the pan.
Preparing the Filling
Use a large bowl to mix the following ingredients: sweetener, cream cheese, and vanilla extract. Use a mixer to obtain a smooth texture. You can also use a food processor if you want.
Add the eggs, nutmeg, pumpkin, allspice, and cinnamon and blend them all in until they are well-combined in the filling.
Pour the entire filling into the already-prepared crust and bake it for about 35 to 40 minutes. Remember to preheat the oven at 350 degrees Fahrenheit.
In the end, take out the cheesecake from the oven, allow it to cool off before chilling it in the fridge for a couple of hours. You can even keep it in the refrigerator overnight.
Nutritional Values – per one serving (one slice of pie)
| | |
| --- | --- |
| Calories | 460 |
| Carbohydrates | 9 g |
| Protein | 10 g |
| Total fat | 44 g |
| Dietary fiber | 3 g |
| Sugar | 3 g |
2. Pumpkin Pie Spiced Waffles
These waffles are the perfect dessert for the entire fall season. They have an amazing texture, being crispy on the outside while maintaining a fluffy and soft consistency on the inside. It doesn't even matter if the weather on Thanksgiving Day will be cold because this recipe will warm up your holiday. I've made them several times this year just to practice for the upcoming holiday season, and I must confess that they seemed to me like the best keto waffles I've ever tasted.
Ingredients – for two servings
½ cup of almond flour
1/3 cup of coconut or almond milk (I usually use the coconut alternative because it gives the recipe a nice rich, flavorful taste)
1 ½ teaspoon of pumpkin pie spice (I prepare my own spice mixture made from ginger, cinnamon, allspice, cardamom, nutmeg, and ground cloves)
2 large eggs
7 drops of stevia extract (liquid form)
3 tablespoons of sweetener
One teaspoon of baking powder
2 tablespoons of flaxseed meal
¼ cup of canned pumpkin
One teaspoon of vanilla extract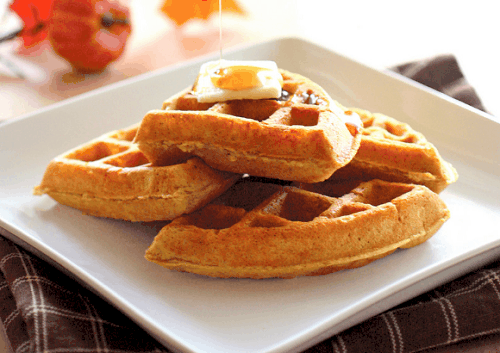 Preparation
Add all the wet ingredients in a larger measuring jug and mix them all together. The final result should be a well-blended combination. You'll know when the stirring is complete because the egg whites will become almost invisible. In a sifter, include all the dry ingredients. You can also use a colander instead but, in my opinion, it takes much more effort. Filter all the dry ingredients through the sifter and into the mixture made from the aforementioned wet elements. Now, it is finally time to combine all the ingredients together until the entire batter is well-blended.
The final result should be a somewhat watery batter but don't worry because, in the end, it will turn into a crispy waffle with a soft inside part. Apply some grease on your waffle maker (I hope you have one in your kitchen because you need it to prepare this recipe). I usually grease it with coconut oil spray. When the waffle iron is heated and ready, you must pour the previously prepared batter.
Even if the machine shows that the waffles are ready, I always check on them first to see if they are really done or if I need to leave them a bit longer. Once the waffles are done, remove them from the waffle maker and cut them into four smaller pieces. I like to serve this dessert with several pecan nuts and a small amount of keto-friendly maple syrup*.
*The maple syrup recipe includes ingredients such as coconut oil, xanthan gum, water, unsalted butter, vanilla extract, cinnamon, and maple extract.
Nutritional Values – per one serving (one or two small waffles)
| | |
| --- | --- |
| Calories | 296 |
| Carbohydrates | 7.12 g |
| Protein | 14.21 g |
| Total fat | 21.91 g |
| Dietary fiber | 6.25 g |
| Sugar | No added sugar |
3. Roasted Pecan Green Beans
This savory keto-friendly Thanksgiving recipe comes with an excellent texture. It will leave your mouth watering due to its flavor explosion. Make sure to use dry green beans to avoid getting a lot of moisture on the ingredients. This way, the dish will remain nice and crisp during its cooking process in the oven. Also, don't be afraid to pair this side dish with almost any type of meat you like. No matter what meat you include in the recipe, it will taste amazing.
Ingredients – for four servings
Green beans – about one pound
½ cup of pecans – finely chopped
2 tablespoons of lemon zest
One teaspoon of red pepper flakes
¼ cup of extra virgin olive oil
¼ cup of Parmesan cheese
2 teaspoons of minced garlic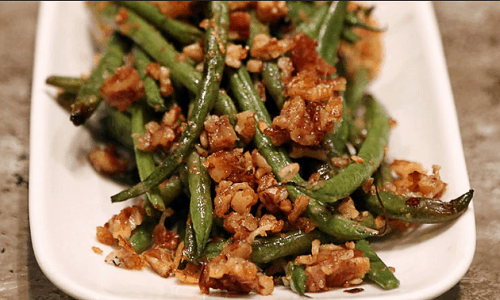 Preparation
Start by preheating your oven to the temperature of 450 degrees Fahrenheit. Take a large mixing bowl and add all the dry green beans to it. Use a food processor to grind the pecan nuts until you achieve the desired consistency. I usually like to leave some pieces larger and others smaller and crumbly to obtain contrasting textures.
Now, let's go back to the bowl full of green beans. I want you to add the olive oil, lemon zest, red pepper flakes, Parmesan cheese, and garlic. Use a fork or your hands to mix everything together. Place a foil on a baking sheet and spread the mixture as evenly as you can. Still, if some of the beans are overlapped, don't worry because it will offer the dish a textural contrast.
Let it roast for up to 20-25 minutes. Keep an eye on the oven, especially once the 20-minute time mark has passed. Take the dish out of the oven and let it cool for several minutes. Enjoy!
Nutritional Values – per one serving
| | |
| --- | --- |
| Calories | 336 |
| Carbohydrates | 11.11 g |
| Protein | 4.93 g |
| Total fat | 24.68 g |
| Dietary fiber | 4.83 g |
| Sugar | – |
4. Low-Carb Cranberry Cobbler
You might think this recipe sounds difficult and time-consuming, but you couldn't be more wrong. It takes around ten minutes to prepare it plus another 30 minutes to cook it. I don't know about you, but I was very proud of my first attempt of making this cobbler. So much so, that I've made it the star of last year's Thanksgiving Day and the entire family liked and enjoyed it. I've used sugar-free almond flour to make the batter and filled it with fresh cranberries. The final result was light yet crunchy and delicious cake.
Ingredients – for nine servings
One cup of almond flour

One cup of fresh cranberries
¼ teaspoon of salt
2 teaspoons of baking powder
2 tablespoons of heavy cream
½ teaspoon of vanilla extract
½ teaspoon of cinnamon
6 tablespoons of sweetener
2 large eggs
6 tablespoons of melted butter
2 tablespoons of water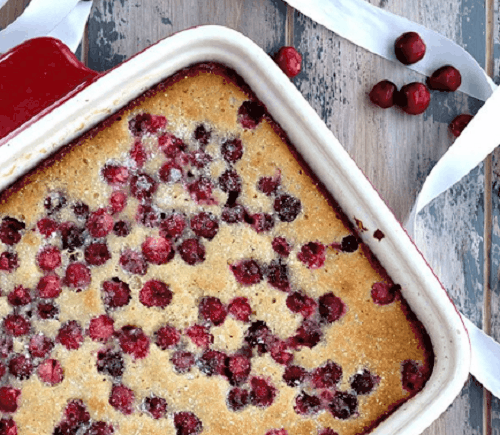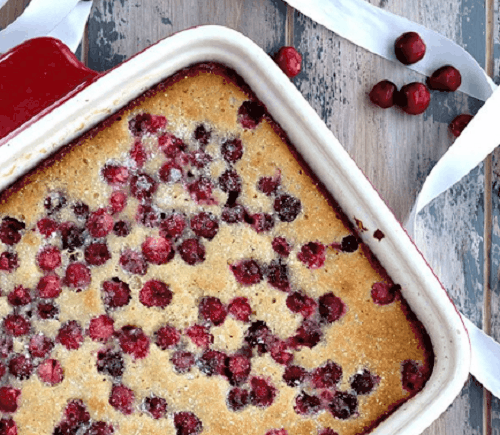 Preparation
First and foremost, preheat your oven to reach a temperature of 350 degrees Fahrenheit. Secondly, grease a pan. You can use a ceramic or glass one (I, personally, am in favor of ceramic pans). If you have a 9-inch pie pan, that's even better.
Use a medium bowl to toss the cranberries and mix them with only a couple of tablespoons of your chosen sweetener. Take a larger bowl to whisk the following ingredients: the remaining amount of sweetener, the baking powder, the almond flour, the salt, and the cinnamon. Then, include the rest of the ingredients: water, melted butter, vanilla extract, eggs, and whipping cream while also stirring the batter after every additional ingredient you include in the bowl.
Now, it is time to pour the mixture into the baking pan and sprinkle it with the cranberries. Place the pan in the oven for about 30 minutes, time in which the cobbler will gain a beautiful golden brown color. When the dessert is ready, remove the pan out of the oven, sprinkle it with a bit of sweetener (this is optional), and serve it with whipped cream.
Nutritional Values – per one serving (one piece of cobbler)
| | |
| --- | --- |
| Calories | 174 |
| Carbohydrates | 4.63 g |
| Protein | 4.26 g |
| Total fat | 15.5 g |
| Dietary fiber | 1.92 g |
| Sugar | No added sugar |
5. Crispy Parmesan Tomato Chips
This recipe is a great ketogenic alternative to a holiday snack or even a side dish. To make this delicious recipe it is best to use larger tomatoes because they will shrink during cooking. So, let's not waste more time and go directly to what you need and how it is made.
Ingredients – for six servings
You will need the following ingredients
6 cups of sliced tomatoes
Sea salt – no more than 2 teaspoons
Freshly chopped parsley – 2 tablespoons
Extra virgin olive oil – 2 tablespoons
Garlic powder – one teaspoon
Grated Parmesan cheese – 2 tablespoons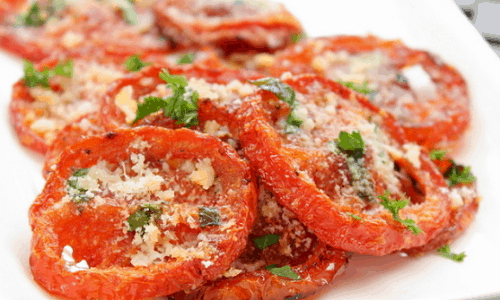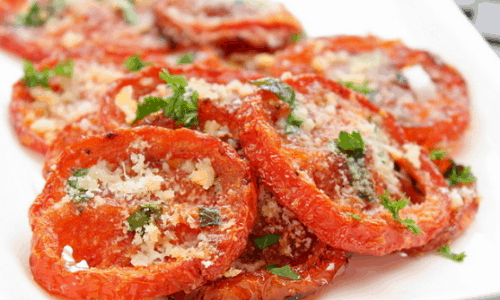 Preparation
First, you must drizzle and toss the beefsteak tomatoes in the extra virgin olive oil until the slices are coated. Then, place all the slices in a baking pan, without overlapping them. There are two ways to prepare this dish: you can either bake it or dehydrate the tomatoes and serve them as they are. If you choose to bake this dish, make sure you preheat the oven to around 200 degrees Fahrenheit.
Next, take a small bowl in which you'll whisk all the other ingredients together. You've probably guessed that you must pour the mixture from the bowl over each tomato slice. Here comes the trick, if you choose to go with the dehydration method! You need to dehydrate the tomato slices, and this is a process that can take between 12 and 24 hours so arm yourself with patience.
If you don't want to wait that long, you can always bake the tomatoes. The baking process takes less (around 4 or 5 hours), but you need to check if the edges present some charring and you must do this every 30 minutes.
Nutritional Values – per one serving (one cup)
| | |
| --- | --- |
| Calories | 88 |
| Carbohydrates | 9.4 g |
| Protein | 2.5 g |
| Total fat | 5.8 g |
| Dietary fiber | 2.1 g |
| Sugar | 0.8 g |
Bottom Line
All the recipes presented above are proof that you can eat healthy and keto-friendly on Thanksgiving Day without having to sacrifice the taste of your meals. I hope you will try as many of these recipes as possible. Thanksgiving Day is a special moment, and it should be enjoyed together with your family, but that doesn't mean you should give up on sticking to your ketogenic eating plan.
Feel free to share some of your own personal ketogenic recipes that you use to prepare during the holiday season.
This Might Interest You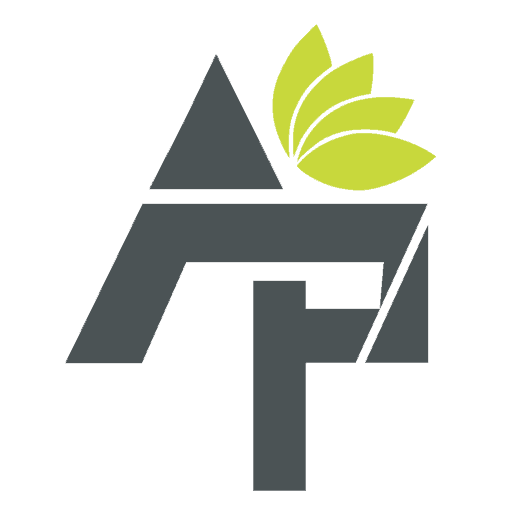 Alt Protein Team is a team of professionals and enthusiasts committed to bringing you the most up-to-date information on alternative protein, health and wellness, workouts, and all things health-related. We've reviewed a lot of products and services so you don't have to guess when you spend your hard-earned money on them. Whether you want to shed some pounds, build lean muscle or bulk, we can help you figure out what you need to do and what you need to have to achieve your goals.