To ensure a long-term healthy digestive system, you need to ingest the right kind of microorganism strains which are commonly found in probiotics. However, many people overlook their gut when it comes to maintaining or improving their overall well-being. To fix that issue, I've decided to review Plexus ProBio5 which is one of the most popular probiotic supplements on the market.
This product delivers five strains of probiotic bacteria which are highly beneficial for your organism. In the article, you will discover many useful details about ProBio 5 such as its ingredients, benefits, price, consumers' opinions, and more.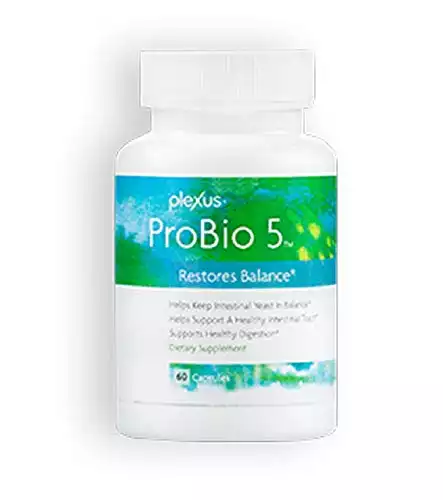 ProBio 5 (60 count) by Plexus | Amazon
Aids 70% of your immune system in the digestive tract. Improves your digestive health. Aids your body in replenishing good bacteria.
Buy at Amazon.com
We earn a commission if you click this link and make a purchase at no additional cost to you.
05/01/2023 12:10 am GMT
What Is Plexus ProBio5?
The product I am reviewing today is a well-known probiotic supplement that helps your digestive system to function better. It comes with five probiotic strains, vitamins, an enzymatic formula, and other natural ingredients. So, if you always feel deprived of energy or if you suffer from diarrhea or constipation, you should definitely consider ProBio5 as an excellent solution for all these problems.
An important competitive advantage of this probiotic is given by its ingredient profile. ProBio5 contains only natural and healthy ingredients which are all derived from safe sources. Some of these components are even organic but more about them in the section below.
Ingredient Profile
Unlike other similar probiotics, Plexus ProBio5 contains less CFUs (two billion). However, I'm more interested in the quality of these elements rather than their quantity and ProBio5 provides premium CFU strains. Moreover, another thing that makes this product stand out is its antifungal and enzyme blend that breaks down the yeast.
Below, I will discuss the list of ingredients contained in today's reviewed supplement but don't expect to find a full disclosure because the company focuses on protecting their supplements from being duplicated.
Probiotic Blend
Bacillus Coagulans – a spore-forming bacterium that provides numerous health benefits. It is especially good for one's immunity and digestive function. It promotes a healthy gut while also neutralizing the intestinal flora. This compound can be used as a form of treatment in plenty of gastrointestinal diseases.
Lactobacillus Acidophilus – this bacterium is well-known for its capacity to transform milk's sugar content into lactic acid which is also known as the food decomposition process. It is good for those of you who are lactose intolerant because it reduces bloating, gas, and even abdominal pain.
Bifidobacterium Longum – this probiotic boost your body's digestion rhythm while also enhancing nutrient absorption. It is a member of a well-known probiotic family, the Bifidobacterium one, and it helps you lose weight. Also, this element lowers inflammation and fights harmful pathogens.
Saccharomyces Boulardii – this is a popular and commonly-used probiotic enhancer. It has the ability to enhance both immunity and digestion. Saccharomyces Boulardii normalizes your bowel's motility and it is recommended to those who suffer from diarrhea.
Lactobacillus Plantarum – this is the ideal probiotic if you want to prevent E-coli infections. It comes in handy if you're lactose intolerant or simply have a sensitive organism. I'm talking about a probiotic that has powerful antimicrobial and antioxidant properties.
Digestive Enzyme Blend
Chitosanase;
Proteases;
Serrapeptase;
Cellulase.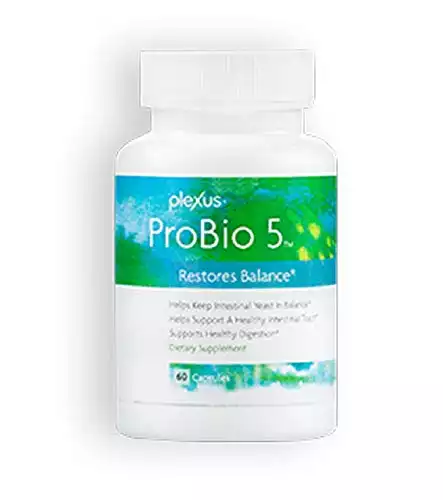 All digestive enzymes are great for your body because they boost nutrient absorption and help your organism retain its necessary vitamins, minerals, and antioxidants from the foods you consume. They reduce blood clots formation and have strong anti-inflammatory effects.
But the main element that differentiates ProBio5 from many other competitors is chitosanase. This is a unique enzyme which improves your colon health and creates a better intestinal environment.
Vitamin Mix
Vitamin B6 – a member of the B-vitamin complex, this has a crucial role when it comes to your body's enzymatic metabolism. It even helps pregnant women alleviate their early-stage pregnancy symptoms such as nausea.
Vitamin C – ascorbic acid increases your metabolic rate, boosts immunity, and provides wonderful antioxidant effects. It can prevent several health conditions like common cold, cardiovascular issues, and cataract.
Grape Seed Extract
This ingredient offers countless health benefits, enumerated in the list below:
Improved eyesight;
Better control over diabetes;
Alleviated PMS symptoms;
Antioxidant effects;
Lowered cholesterol and blood pressure levels;
Normalizes bowel movements.
Additional Ingredients
Water;
Gelatin;
Brown rice powder.
Nutritional Values
Nutritional Facts – Plexus ProBio5 – per one serving (one capsule)
Proprietary enzyme blend
200 mg
Probiotic Blend
100 mg
Grape seed extract
25 mg
Vitamin B6
2.5 mg
Vitamin C
150 mg
Pros and Cons of Plexus ProBio5
Advantages
Contains antioxidants which are very beneficial for your health because they lower the effects of oxidative stress;
The formula is made with powerful probiotics which provide plenty of health benefits;
It can boost your immunity and improve your digestive system's health;
The manufacturer claims ProBio5 helps you lose weight while also reducing the amount of abdominal fat;
Lowers bad cholesterol and blood pressure levels;
It is said to restore the balance of your entire body;
One capsule provides you with no less than two billion CFUs;
It is a gluten-free product so it can safely be consumed by people who are on a special diet;
The formula is free of harmful ingredients such as artificial flavorings, colors, or preservatives;
Alleviates the symptoms of eczema and other skin conditions;
Eases both depression and anxiety.
Disadvantages
You might experience some short-term mild side effects like bloating or gas;
Some say that this product is not as effective as the manufacturing company claims to be;
Plexus doesn't have a very good reputation compared to some of its competitors;
It is quite expensive;
It is not a complete solution to all the challenges you might encounter during your diet.
What Are the Company Claims?
According to Plexus ProBio5 representatives, their probiotic supplement will help you achieve the following things:
Get rid of sugar cravings and lower your appetite;
Reduce your body weight and gain a slimmer figure;
Lower the anxiety level of your body;
Reduce bloating effects.
How to Properly Consume Plexus ProBio5?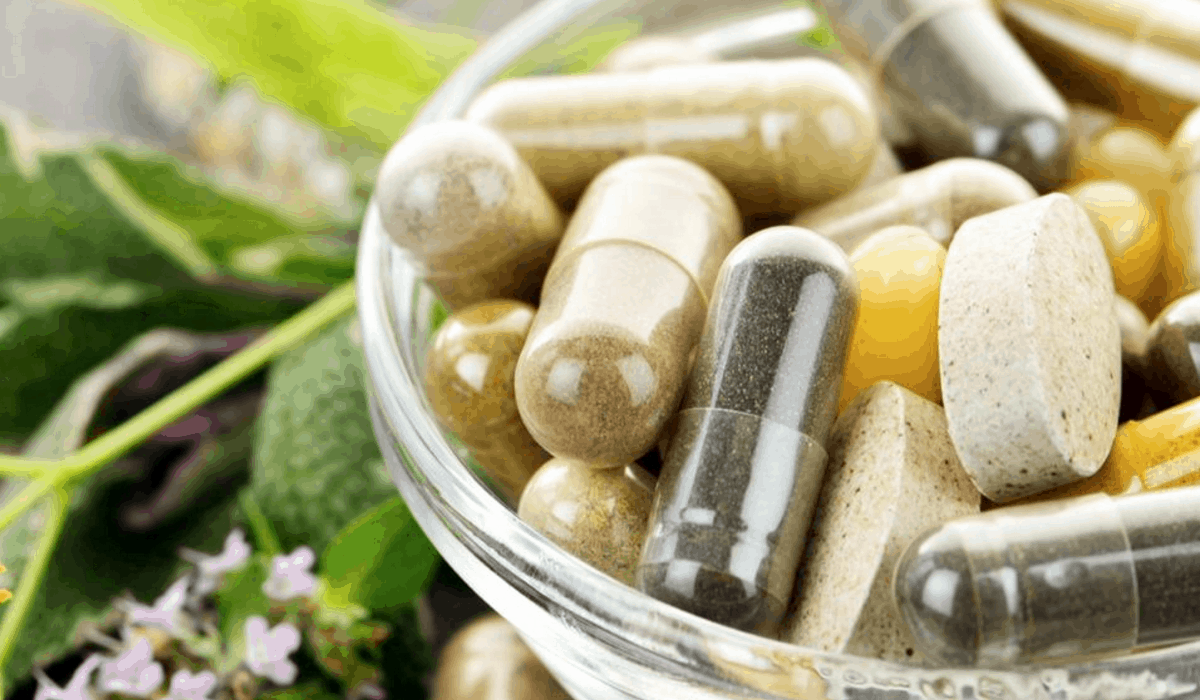 If you want to really see results in a short time, you need to follow the recommendations that Plexus Worldwide offers on the company's website. According to their specialists, you should only consume one or maximum two capsules per day on an empty stomach. It is also best to take them close to bedtime. You can increase the dosage up to four capsules per day if the results don't show as expected.
Make sure to drink plenty of water with these capsules so that the nutrient absorption process will be significantly boosted. Or, even better, you could take this supplement with one of your evening meals.
Caution! ProBio5 might lead to complications in CVS patients so make sure you seek your doctor's approval before taking these capsules. Also, it is strictly prohibited in pregnancies and children.
Potential Side Effects
Another competitive advantage of this product that sets it apart from many other similar probiotics is given by the fact that ProBio5 is a safe supplement to consume. It won't make you experience any side effects whatsoever. Still, as you probably know, those who are trying a probiotic treatment for the first time in their life can deal with some mild issues like gas or bloating.
These can appear because probiotic consumption will lead to an initial gut imbalance but we're talking about a short-term consequence that shouldn't be a real concern for you. The fact that Plexus ProBio5 doesn't have any serious side effects represents a huge plus in the probiotic industry. So, compared to many other similar products, the one I'm reviewing today is much safer to use and more effective.
How Much Does ProBio5 Cost?
You can buy this supplement from the company's official website (Plexus Worldwide). One tub of 60 servings costs $39.95 for a one-time purchase. If you choose to become a subscriber, you will save 15% which means you will only have to pay $33.95 for the same amount of ProBio5. In other words, you will pay between $0.58 and $2.33 per day, depending on how many capsules you consume.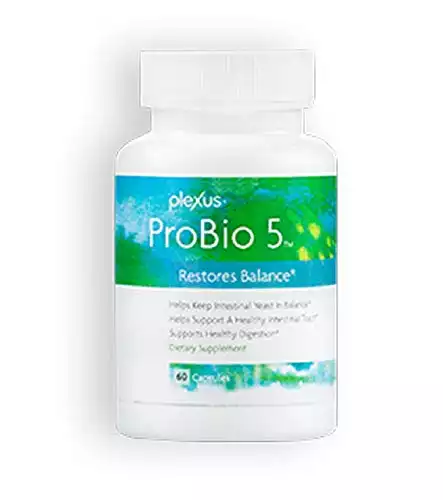 ProBio 5 (60 count) by Plexus | Amazon
Aids 70% of your immune system in the digestive tract. Improves your digestive health. Aids your body in replenishing good bacteria.
Buy at Amazon.com
We earn a commission if you click this link and make a purchase at no additional cost to you.
05/01/2023 12:10 am GMT
*The recommended daily dosage is 1-4 capsules.
Unfortunately, many clients and potential users seem to agree that Plexus ProBio5 is quite expensive, surpassing the price per serving of the average probiotic supplements which is around $0.70. This can really burn a hole in anyone's pocket pretty quickly. So, I would say that the price of this product is definitely a disadvantage.
The good news is the Plexus Worldwide company offers the possibility of a full refund by applying their 60-day money-back guarantee in case you're not satisfied with the way ProBio5 works for you.
After a more thorough research, I have found Plexus ProBio5 on Amazon as well but what shocked me was the price of a 60-capsule container. It costs $56.99. The price of $0.95 per serving is incredibly expensive if you ask me. Still, the shipping is free of charge.
What Are Consumers Saying About Probio 5?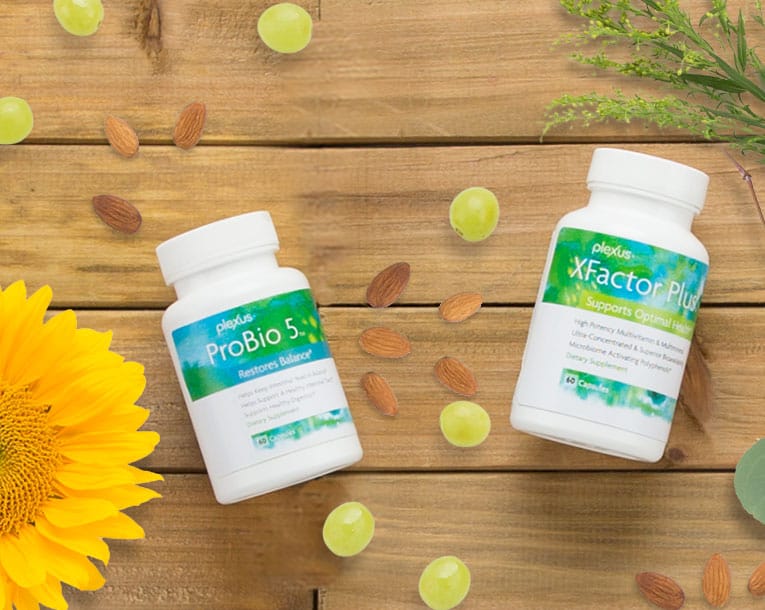 Opinions regarding ProBio5 are controversial and they differ from a person to another. Most reviewers declare themselves satisfied with the product while a few of them say that ProBio5 did not help them at all.
It can be a bit confusing when you see one person's comment that states how well she feels after taking this probiotic and immediately after to read a negative review in which someone describes how useless the product is. I guess you need to try it and see for yourself.
Note! As expected, most of the complaints are related to ProBio5's price which is considered too high.
Probio 5 – Putting It All Together
Plexus ProBio5 is a good and quite effective probiotic supplement. It's true, however, that this product costs significantly more than other similar supplements but it also provides some unique elements that differentiate it from its competitors.
What I like most about PrioBio5 is the fact that it is so much more than a simple probiotic. The formula also contains an enzyme blend which supports the life and development of the product's healthy bacterial strains.
On the other hand, there are a number of concerning voices that say ProBio5 is not actually effective and it won't provide the results its consumers expect. They also claim that is no clinical evidence that actually shows the way this product aids digestion.
All in all, gathering all the reviews, statements, and opinions of plenty of people, from consumers to nutrition specialists, I can say that ProBio5 might be a decent probiotic but it certainly isn't a viable weight-loss solution.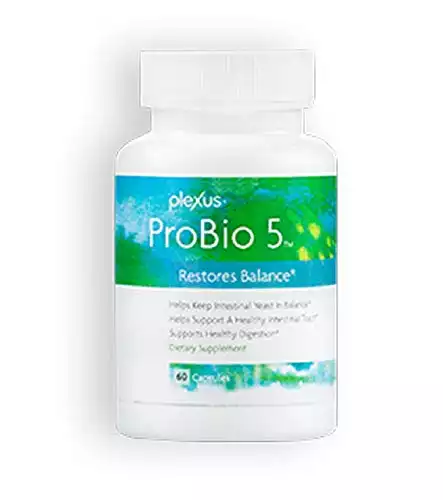 ProBio 5 (60 count) by Plexus | Amazon
Aids 70% of your immune system in the digestive tract. Improves your digestive health. Aids your body in replenishing good bacteria.
Buy at Amazon.com
We earn a commission if you click this link and make a purchase at no additional cost to you.
05/01/2023 12:10 am GMT
Recommended Reads:
—-
Disclaimer
The information contained on www.altprotein.com website (the "Service") is for general information purposes only.
Alt Protein assumes no responsibility for errors or omissions in the contents on the Service.
In no event shall Alt Protein be liable for any special, direct, indirect, consequential, or incidental damages or any damages whatsoever, whether in an action of contract, negligence or other arising out of or in connection with the use of the Service or the contents of the Service. Alt Protein reserves the right to make additions, deletions, or modification to the contents on the Service at any time without prior notice.
Alt Protein does not warrant that the Service is free of viruses or other harmful components.
Fitness disclaimer
The Service offers health, fitness and nutritional information and is designed for educational purposes only. You should not rely on this information as a substitute for, nor does it replace, professional medical advice, diagnosis, or treatment. If you have any concerns or questions about your health, you should always consult with a physician or other health-care professional.
Do not disregard, avoid or delay obtaining medical or health-related advice from your health-care professional because of something you may have read on the Service. The use of any information provided on the Service is solely at your own risk.
You can also review our Editorial Integrity Policy.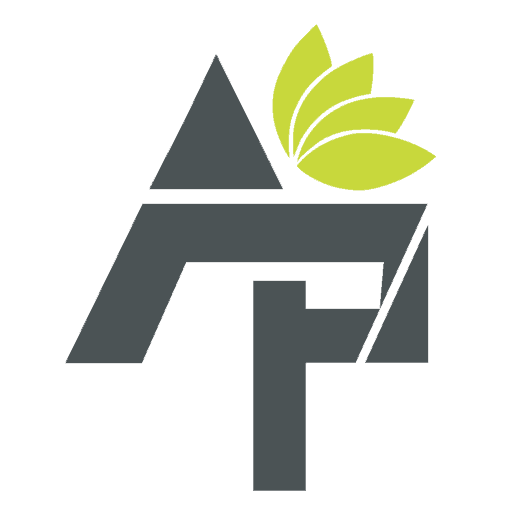 Alt Protein Team is a team of professionals and enthusiasts committed to bringing you the most up-to-date information on alternative protein, health and wellness, workouts, and all things health-related. We've reviewed a lot of products and services so you don't have to guess when you spend your hard-earned money on them. Whether you want to shed some pounds, build lean muscle or bulk, we can help you figure out what you need to do and what you need to have to achieve your goals.