If you're a fan of protein supplements, you must have noticed Special K shakes at your local grocery store by now. These meal replacements claim to help consumers lose weight.
Still, this aspect is most likely linked to the low-calorie content of these beverages rather than with what the shakes contain. When I found out that the shakes are part of a Special K Challenge diet created by Kellogg's, I wanted to discover more regarding these products' effectiveness.
In my review, you will find plenty of information about Special K protein meal substitutes such as their ingredients, price range, side effects, and more.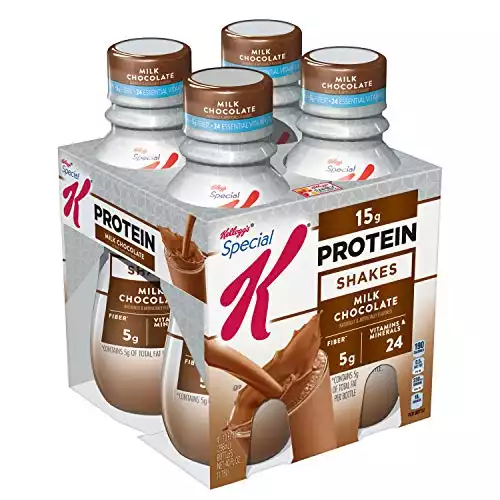 What Is Special K Protein Shake?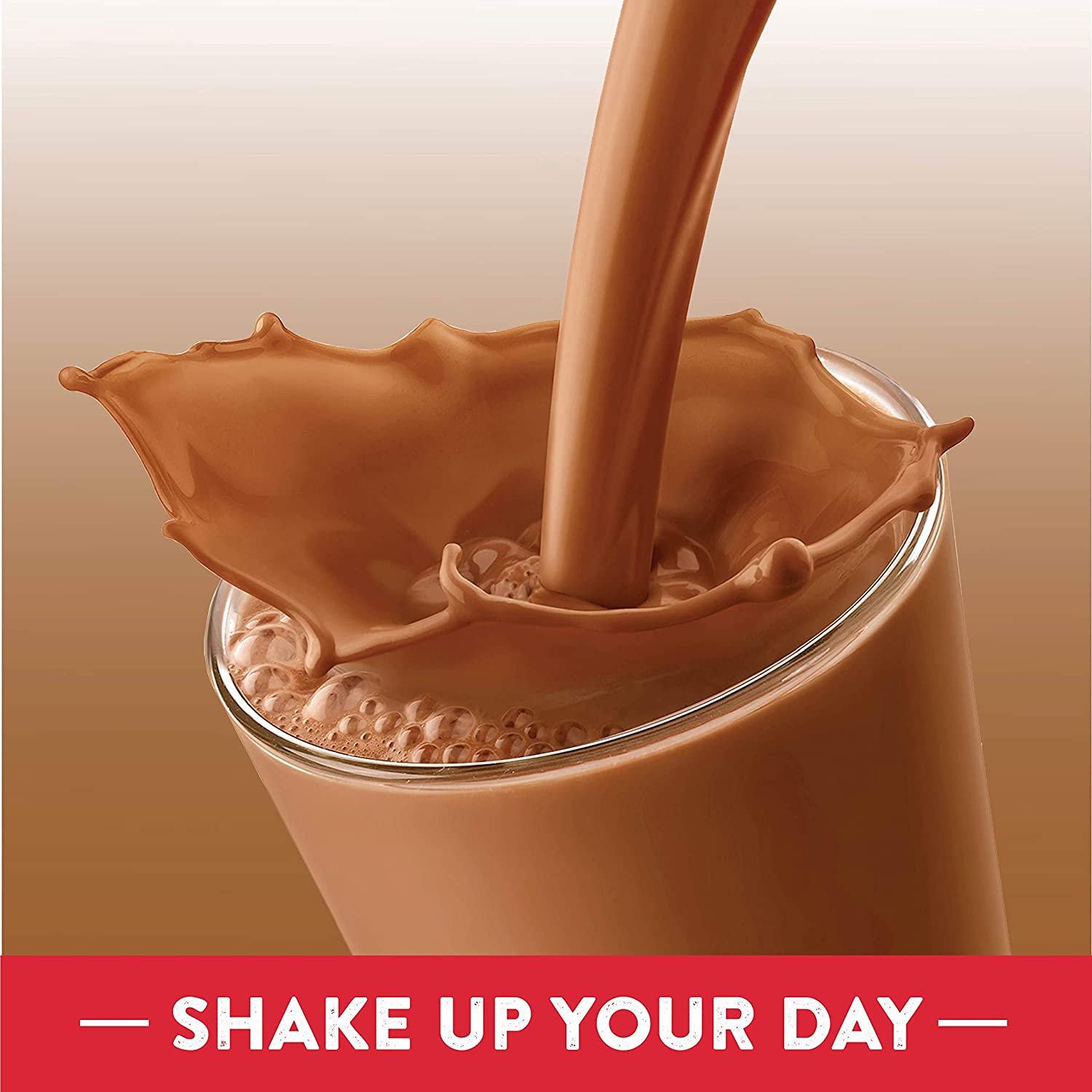 Special K shakes are marketed by the well-known Kellogg's brand.
At first, Special K was the name of the company's brand of breakfast cereal which were promoted as low-fat morning meals, specially created for those who wanted to lose weight.
After the breakfast cereal and other snacks like meal bars, Kellogg's has widened their line of health and fitness supplement products by launching the Special K protein shakes as well as the K20 Protein Water.
All these products were under the same general name of Special K Challenge and their main goal was to help consumers lose weight.
Special K shakes are meal replacers, they are a convenient snack, and you can substitute any meal of the day with these beverages. In terms of texture and consistency, it seems that these products are tasty and creamy.
You can choose from a large array of available protein shake flavors: milk chocolate protein shake, rich chocolate, French vanilla, chocolate mocha, strawberry, vanilla cappuccino, strawberry banana, and raspberry cheesecake. I personally consider this aspect a plus that can differentiate Special K from other similar supplements.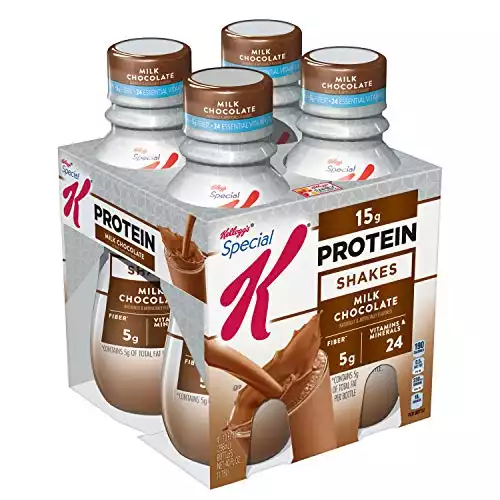 Do Special K Protein Shakes Help You Lose Weight?
Some people said they have lost some weight due to the Special K shakes, while many other consumers were very disappointed with the way this product works.
According to them, the shakes have a very good taste but they fail to block the sensation of hunger as effectively as other similar supplements.
What's even more concerning is that Kellogg's advertises these beverages as effective methods to suppress your appetite which doesn't seem to be entirely true.
Special K shakes are a disappointment for me as well, especially considering that they are supposed to be consumed as meal replacements in order for you to lower your calorie intake.
A few people even stated that the product doesn't even have any fat-burning qualities whatsoever and, in some cases, it might help consumers lose a bit of weight but the results don't measure up to the company's claims.
A particular fact that I considered slightly weird is the fiber content of these beverages. In theory, supplements that also have fiber included in their formulas should make one feel full and satiated for a longer period of time which apparently Special K shakes fail to accomplish.
So, as a conclusion, I think these shakes can work as a short-term weight-loss solution. However, maintaining your new weight for the rest of your life or at least for a long period represents a whole new issue that might not be solved by the use of these products.
Who Makes Them and How Did These Shakes Appear on the Market?
Special K shakes are produced and sold by the popular Kellogg's company which you have probably heard of. The company was launched in 1906 and its founder was W.K. Kellogg.
Nowadays, the corporation is fully developed into a household brand. Kellogg's is best known for its cereals. Still, it appears that it has plenty of other things to offer.
Their Special K product line was relatively recently introduced on the market and it includes several different products like crackers, shakes, protein bars, and, of course, cereals.
According to the company's representatives, their special shakes will help consumers lose weight, lower their appetite, and achieve a number of health benefits.
To promote these shakes, Kellogg's has even developed an online program, under the name of the Special K Challenge. It is meant to assist clients who are trying to achieve rapid weight loss results while consuming the protein beverages provided by the company.
On their main website, dieters will discover plenty of tips, recommendations, suggestions, and recipes.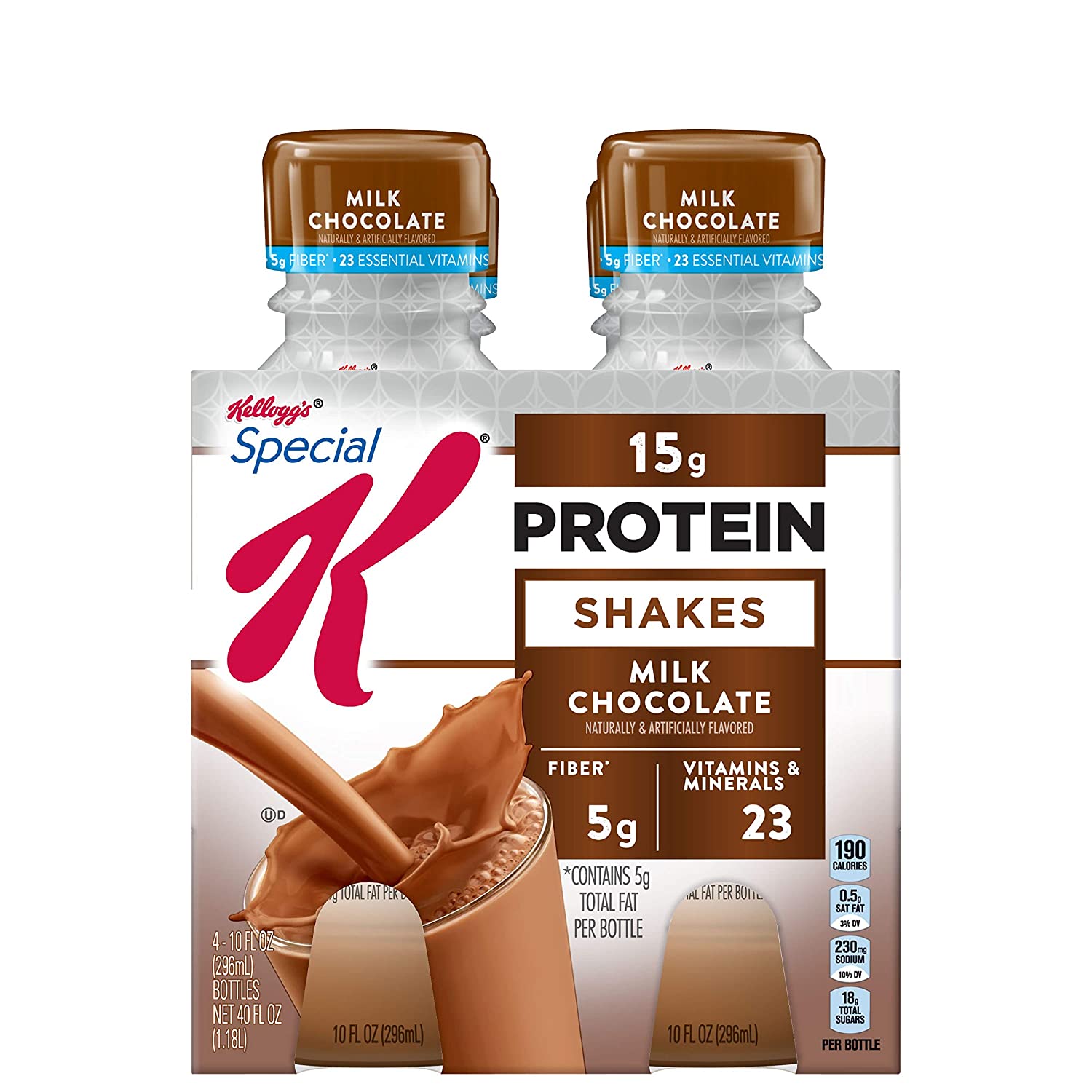 Ingredient Profile
When it comes to the content of these shakes, their ingredients are a lot and varied. Below, you will find the main ingredients of this product as well as some additional elements that complete this supplement's formula.
Main ingredients:
Protein blend, non-fat milk combined with water;
Canola oil;
Soy protein isolate;
Both natural and artificial flavors;
Sugar;
Vitamin and mineral blend: vitamins A, D, B, K, calcium, potassium, zinc, etc.
Other ingredients:
Cellulose gum;
Salt;
Cocoa;
Maltodextrin;
Gellan gum;
Corn syrup solids;
Riboflavin;
Biotin, etc.
When I took a better look at the ingredients listed above, I immediately had certain issues with this product. The shake contains a very low amount of protein per serving.
Other protein beverages provide at least 20 grams of protein per portion. Furthermore, certain shady ingredients are included in the formula such as artificial flavorings, among others.
Also, the amount of fiber that one bottle of Special K protein shake offers is simply not enough to make this product an effective appetite blocker.
For this reason, many consumers have complained about the fact that these particular beverages don't suppress their appetite as long as they expected.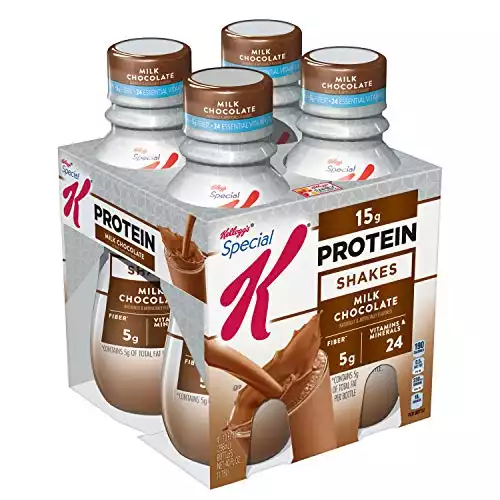 Other personal concerns regarding some of the ingredients are the following ones:
The product contains soy protein isolate which is good until a certain level. When consumed for a longer period, this compound might lead to several health problems like a weakened immune system;
The combination of acesulfame potassium and sucralose is one of the worst mixes of artificial sweetener. These elements are linked to multiple side effects. So, in my opinion, you should try to find a natural protein shake instead, if, of course, you can afford it;
As you will see in the table presented below, one bottle of the Special K protein shake has way too many calories for a supplement that is supposed to help you lose weight. Regular meal substitutes don't contain more than 100 calories.
Nutritional Values
Nutritional Facts – Special K Protein Shakes – per one serving (one bottle of almost 300 mL)
Calories
190
Proteins
15 g
Dietary fiber
5 g
Carbohydrates
24 g
Total fat
5 g
Sugars
18 g
Sodium
230 mg
Pros and Cons
Advantages
These are marketed as calorie-restricted shakes so they are recommended for when you want to lose weight;
The shakes control your hunger and are good at curbing your cravings;
According to most consumers, Special K protein shakes have a very good taste;
Compared to other similar supplements, these beverages are relatively affordable.
Disadvantages
Although the manufacturer claims that you will lose weight by consuming their product, there's no conclusive proof that the shake really works;
Compared to other alternatives available on the market, the Special K protein shakes contain a bit too much sugar;
Some consumers are not pleased with the fact that this product contains a slightly low amount of protein.
Special K Protein Shake Benefits
According to the manufacturer and numerous Special K consumers, the protein shakes produced by Kellogg's promote weight loss but that's not all. They also encourage numerous other benefits like the ones listed below:
As I was saying, you might get rid of some of your extra pounds because the shakes contain fewer calories than a regular meal;
They are said to build lean muscle mass due to their protein content;
The company claims their product will help consumers curb cravings and the feeling of hunger. Unfortunately, not many users stick by that claim;
Most people tend to believe that the main competitive advantage of these shakes is given by their taste and their wide range of flavors. I do agree with them in that regard;
When you compare Special K with other interchangeable products, the Kellogg's shakes are more affordable.

The Proper Way to Consume the Special K Protein Beverages
Special K shakes are ready-to-drink beverages that you can buy at your local grocery store or through online sellers. Despite the fact that these products are full of minerals and vitamins, they also contain artificial flavorings and sweeteners which can be unsafe to consume.
It's true that the FDA has approved the use of sucralose and acesulfame potassium in supplements and other products but a bit of controversy still surrounds this matter.
When you take a look at the nutritional values of one bottle of Special K, you will realize it was made as a meal replacement. It is supposed to be both tasty and wholesome while also helping you achieve an optimal body weight.
The entire Special K Challenge program was developed to help consumers lose weight, improve their digestive systems, and lowering the risks of diabetes and cardiovascular conditions.
So, besides the shakes, Kellogg's advises its clients to replace some of their meals with other Special K products as well, like protein bars, cereals, etc.
In my opinion, you should not substitute all three main meals of the day with these supplements. Instead, you could replace one or maximum two meals and see how this approach works for you. Then wait for a couple of weeks to see if you get any results and if you don't, then just quit using these products or simply replace them with others that are more effective.
Potential Side Effects
For starters, Special K has a lot of sugar which can lead to weight gain instead of helping you lose your extra pounds.
As I was saying in a previous section, soy protein isolate is another ingredient that might cause health issues, especially if consumed continuously. It seems to be linked to thyroid problems.
Other unpleasant effects that can occur are nausea, digestive issues, and headaches, all caused by artificial sweetening agents like sucralose. The list of possible adverse effects can go even further with more severe health conditions such as kidney or liver dysfunctions.
What Are Consumers Saying about Special K Protein Shakes?
Most reviewers agree that the Special K shakes provide a delicious taste, and all their flavors are worth a try. Still, the same people complain about how low the amounts of protein and fiber are. According to them, the overall product is not entirely satisfactory.
Despite their very good taste, one consumer said she finds these supplements way too sweet for her taste. Another reviewer declared himself more than happy with the way the beverages worked.
He has been using the shakes for over 4 years now and he has experienced an increased energy level. On the other hand, the majority of clients think this is a mediocre product.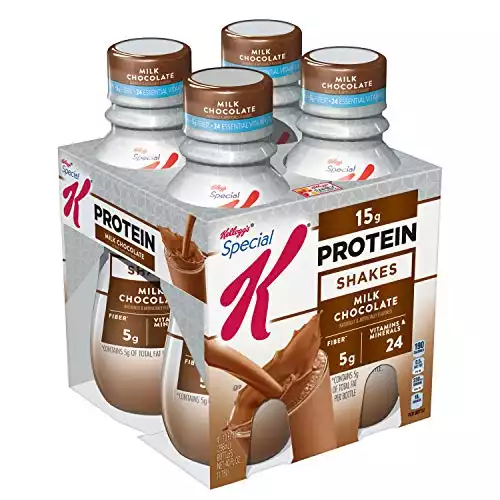 How Much Do These Shakes Cost?
You can purchase the Special K shakes on Amazon. The prices may vary depending on the seller, the ordered quantity, and the chosen flavor.
For instance, a pack of four bottles of Special K shakes has a price that ranges between $17 and $21, based on the flavor you opt for.
FAQs
Question: Does Special K Protein shakes work?
Answer: Special K Protein shakes are rich in fiber and proteins, but some flavors have a lot of sugar, so if you consume this flavor only, you might gain weight instead of losing it.
Question: How to use Special K Protein shakes?
Answer: Special K Protein shakes are best to be consumed in the morning, as they contain 15 grams of protein and are a perfect way to replace a meal, especially in the morning.
Question: Is the recipe on the Special K Protein Shakes changed?
Answer: Yes, the Special K Protein shakes are constantly changing, as the company is trying to create the best possible meal replacement shakes for its customers. Currently, their shakes contain 15 grams of proteins, instead of 10 which had the previous version of it.
Drawing to a Close
On one hand, Special K shakes are manufactured and marketed by a highly popular company, with a long tradition, that doesn't even need to introduce itself.
Also, their products seem to have a more than pleasant taste. On the other hand, their ready-to-drink meal replacements aren't working as effectively as you might expect.
Moreover, there are some concerns related to the artificial ingredients included in the formula that might lead to certain adverse effects, especially on people who have a sensitive stomach.
Recommended Reads:
---
Disclaimer
Last updated: December 16, 2019
The information contained on www.altprotein.com website (the "Service") is for general information purposes only.
Alt Protein assumes no responsibility for errors or omissions in the contents on the Service.
In no event shall Alt Protein be liable for any special, direct, indirect, consequential, or incidental damages or any damages whatsoever, whether in an action of contract, negligence or other arising out of or in connection with the use of the Service or the contents of the Service.
Alt Protein reserves the right to make additions, deletions, or modification to the contents on the Service at any time without prior notice.
Alt Protein does not warrant that the Service is free of viruses or other harmful components.
Fitness disclaimer
The Service offers health, fitness and nutritional information and is designed for educational purposes only. You should not rely on this information as a substitute for, nor does it replace, professional medical advice, diagnosis, or treatment.
If you have any concerns or questions about your health, you should always consult with a physician or other health-care professional.
Do not disregard, avoid or delay obtaining medical or health-related advice from your health-care professional because of something you may have read on the Service. The use of any information provided on the Service is solely at your own risk.
You can also review our Editorial Integrity Policy.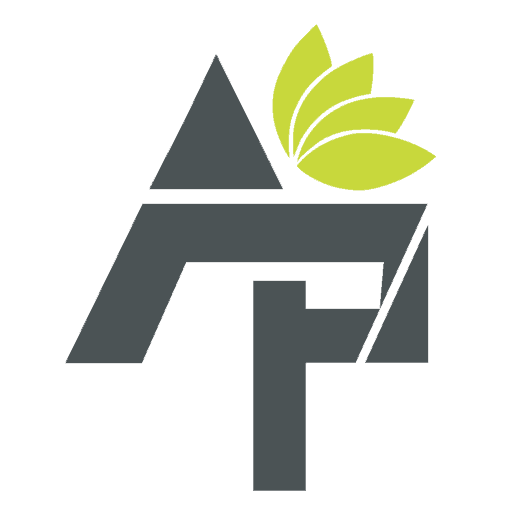 Alt Protein Team is a team of professionals and enthusiasts committed to bringing you the most up-to-date information on alternative protein, health and wellness, workouts, and all things health-related. We've reviewed a lot of products and services so you don't have to guess when you spend your hard-earned money on them. Whether you want to shed some pounds, build lean muscle or bulk, we can help you figure out what you need to do and what you need to have to achieve your goals.