If you're ready to let Jillian Michaels kick your butt and change your life in 30 days, you might be looking at Ripped in 30 vs 30 Day Shred. Which one is better?
Ripped in 30 Overview
This DVD came out in 2012 and features four workouts. You'll do one workout each week and then progress to the next one. Each workout is divided into three sections: strength, cardio, and abs. These workouts move quickly in order to keep the intensity (and your heart rate) up, which is what leads to fast results.
With this workout DVD, you'll get a 30-day meal plan to follow along with. You'll get access to it online, so there won't be a physical copy that you'll receive when you purchase the workouts. I didn't see any claims about losing a certain amount of weight over the course of the month like the ones I saw for 30 Day Shred, but I don't see why this one would be any different.
Worried that the intensity might be too much for you? No need. Jillian walks you through not only the correct form for everything you'll be doing but offers modifications for those who can't do the original exercises. Show yourself some grace if you can't do all the reps the first time through.
Though there's a chance to get bored because you're doing the same workout for a week at a time, she introduces plenty of new moves from one workout to the next. Even if you do get bored by day four or five, you'll get a switch-up soon, and it's only 24 minutes. In some cases, it may even come as a comfort to have the workout basically memorized. That way, when you're exhausted a little over halfway through, you can tell yourself what's left (and hopefully it won't seem like much).
Some people complain about Jillian Michaels' methods of pushing you to do more and do better. She is tough and she doesn't sugarcoat things, so if you're looking for a peppy, upbeat cheerleader-style trainer, keep looking. That's not just this DVD though. That's just her training style. It's effective, but it seems to be a love-or-hate thing for most people.
You'll need some dumbbells and a mat to get started with this one.
30 Day Shred Overview
Jillian Michaels herself says "you can lose up to 20 pounds in 30 days" by following this program, which came out in 2008. You'll have to push hard and be aware of what you're eating, but I can see how that could be possible. I've done these workouts, and they're challenging.
There are three 20-minute workouts that you'll be doing over the course of the 30 days. You'll do Level 1, graduate to Level 2, then it's on to Level 3. Each workout is also divided into three sections: strength, cardio, and abs. The workouts are fast-paced so you can incinerate as many calories and work your whole body before the 20 minutes are up.
As you probably guessed, each level is harder than the last. Expect jumping, intensity, and moments of wondering why you're even doing it (don't worry, those will pass). The training method will be the same since this is another Jillian Michaels workout. She's going to be tough. She's going to tell you that you can do things you don't really want to do. You'll be glad that you did them when it's over, though.
I always found it easiest to get these workouts done first thing in the morning. They're only 20 minutes, but it's easier to tell yourself that and get it done before you're fully awake, drained from the day, and trying to make dinner.
You'll need a few dumbbells and a mat to do these workouts.
How They're Similar
Each workout DVD will give you:
A month's worth of workouts
Short workouts (under 30 minutes)
Results! Following either one and eating a healthy diet should get you results in weight loss, toning, and/or the way your clothes fit
A good deal, because each one is under $10.00 on Amazon and probably easy to get your hands on in second-hand stores (I've seen them plenty of times)
The intensity you may not be getting from other workouts, even if you go to the gym
Only a few workouts per DVD
Confidence in your ability to achieve fabulous results, based on the thousands of positive reviews (Ripped in 30 has a 4.5 rating with over 1600 reviews and 30 Day Shred has the same rating with almost 6500 reviews)
Modifications for the moves, though it sounds like she may push harder to have you do the "real" moves in 30 Day Shred
Thorough explanations of the exercises
Motivation from a tough (not especially peppy) trainer
How They Differ
The big difference is the addition of a 30-day meal plan with the Ripped in 30 option. Even if you don't follow it perfectly, you'll get some pointers on how to fuel yourself. This is an important component when you're starting to work out or increasing the intensity of your existing workouts.
Now, if you really prefer the 30 Day Shred workouts, that doesn't mean you can't change your eating habits or find a different plan to follow. Even a few changes to your diet can lead to noticeable results when paired with a workout program. Some people find it easier to just cut out sugar and processed food than commit to something strict as they're easing into a new lifestyle. Others already have their healthy diet all figured out and just want to switch up their workouts.
The Ripped in 30 workouts are a little longer. They're 24 minutes long and the workouts from 30 Day Shred are only 20 minutes long. However, you're trading four more minutes of work for a greater variety of workouts (four on the DVD versus three workouts). There doesn't seem to be a whole lot of difference between the two workout programs. You'll get a little more variety (including fresh new moves), a meal plan, and four workouts instead of three when you use Ripped in 30.
However, both programs follow the same 3-2-1 interval format (three minutes of strength, two minutes of cardio, and one minute of abs) and have you doing the same workout for several days in a row. They're both intense. They both feature Jillian Michaels, motivating you in her own signature way.
Ripped in 30 vs 30 Day Shred: Which Should You Do?
Of Ripped in 30 vs Jillian Michaels - 30 Day Shred which one should you do? My answer is one and then the other. But that's just me. I get bored easily by doing the same workouts over and over. If you like to work out at home and tend to get bored easily, I truly do recommend getting both eventually (assuming you like her training style).
But let's assume you're looking to jumpstart your routine, add some spice to a current one, or just have a back-up to do on the days you can't go to the gym. If you only want to get one, get Ripped in 30
Why? – Ripped in 30 seems to be the new and improved version of Jillian Michaels - 30 Day Shred. You still get short, 24-minute workouts, but there's one extra one (so it's less boring overall). They're still presented in the same format, so you'll be hitting strength, cardio, and abs every time you work out—without spending hours on it.
In addition, you'll get access to a 30-day meal plan to reprogram your nutrition habits as you change up your workout routine. When you're working out like this, it's important to fuel your body for the best possible results. A lot of people probably don't have all the knowledge they need to effectively fuel workouts like this.
Word of Caution Regardless of Which One You Choose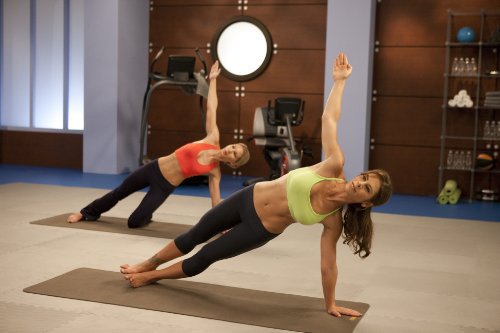 With either of these programs, you'll need to leave your ego at the door. If you need to modify some of the moves, do it. If you need to go slower at first and do fewer reps, do fewer reps and work up to the correct amount as you get stronger and faster.
If you're not used to a fast-paced workout program with HIIT training components and you try to go all-in on day one (or several days in a row), you may set yourself back. Push yourself (you'll have to, to get results), but give yourself time to get a feel for the moves and pace. This is especially important to keep in mind if you're an exercise newbie or it's been a while since you've counted much more than a walk around the neighborhood a workout.
Once you've got your mindset ready, Ripped in 30 vs 30 Day Shred comes down to how much you want a meal plan and an extra workout versus how much you want to shave an extra four minutes off of each workout.
Recommended Reads:
Disclaimer
Last updated: December 16, 2019
The information contained on www.altprotein.com website (the "Service") is for general information purposes only.
Alt Protein assumes no responsibility for errors or omissions in the contents on the Service.
In no event shall Alt Protein be liable for any special, direct, indirect, consequential, or incidental damages or any damages whatsoever, whether in an action of contract, negligence or other arising out of or in connection with the use of the Service or the contents of the Service. Alt Protein reserves the right to make additions, deletions, or modification to the contents on the Service at any time without prior notice.
Alt Protein does not warrant that the Service is free of viruses or other harmful components.
Fitness disclaimer
The Service offers health, fitness and nutritional information and is designed for educational purposes only. You should not rely on this information as a substitute for, nor does it replace, professional medical advice, diagnosis, or treatment. If you have any concerns or questions about your health, you should always consult with a physician or other health-care professional.
Do not disregard, avoid or delay obtaining medical or health-related advice from your health-care professional because of something you may have read on the Service. The use of any information provided on the Service is solely at your own risk.
You can also review our Editorial Integrity Policy.
(Visited 618 times, 7 visits today)
Health enthusiast, runner, protein nut. Owen likes to write about protein, particularly alternatve supplementation and supplement comparisons.