The DASH diet is a popular and appreciated dietary program that more and more people follow nowadays. It claims to help you lose weight, prevent cardiac diseases, and regulate your hypertension. With these in mind, it is only natural for nutrition experts to be eager to write books about this eating plan. I have selected some of the best DASH books on the market that will teach you what the program is all about.
1. The DASH Diet Weight Loss Solution
This is ranked as one of the most popular DASH diet books out there. One of its major advantages is its user-friendly approach. According to what it is written in this book, you can easily lose a significant number of pounds in only two weeks while also improving your health and boosting your metabolism.
The book presents and details the most important DASH diet rules and what I like about it is the fact that its content is based on comprehensive research. It is written by Marla Heller and it has become one of the New York Times bestseller books. The author is a nutrition expert and dietitian who has the talent to transform this complex researched eating plan into an easy-to-understand material that everyone can keep on their kitchen table.
In her book, Maria shares her insights on the diet plan that makes this eating program so easy to apply and follow. Her readers are in for a treat. They will discover a diet rich in healthy foods such as vegetables, fruits, lean meat, fish, low-fat dairy products, nuts and seeds, as well as a low amount of whole grains. The DASH Diet Weight Loss Solution was updated with the latest DASH system improvements and includes menu plans, shopping lists, recipes, and many other things.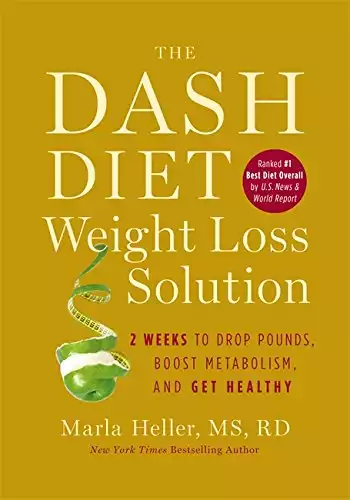 What Does the Book Include?
In fact, the book has four main parts:
Part one, in which the author talks about the proper way to adjust the DASH diet to suit your unique needs and the way to develop your own weight-loss solution by following this program;
The second part is all about the food items allowed in this diet and their secrets – it comprises all food categories, from fruits and veggies to meat, minerals, beverages, and their nutritional values;
The third part talks about the program's benefits in terms of weight loss and health improvement. This section is entirely based on scientific studies;
Part four is the last section of the book. In it, you will find the necessary steps to set the stage for weight-loss success. Here, the author teaches you how to go grocery shopping in the right way, and shares some of the healthiest and most delicious DASH-friendly recipes.
Price: On Amazon, The DASH Diet Weight Loss Solution book costs $17.68 (hardcover).
2. The Everyday DASH Diet Cookbook
This is not just another DASH diet book that tells you how you should cook low-salt recipes. It unfolds numerous fabulous meals that you and the rest of your family members can enjoy together.
Not only is this book following the DASH diet's guidelines, but it also is the real deal, according to most reviewers. With its help, it will be much easier for you to remain on the right track and manage your weight-loss process a lot better and more effective.
If you ask me, this is much more than a simple cookbook. It details more than 150 delicious recipes for all three main meals of the day. There is a wide range of choices, from simple soups to healthy yet tasty desserts. What I love about this book are its high-quality and appealing photos that are a nice addition to help you see how a recipe should look like.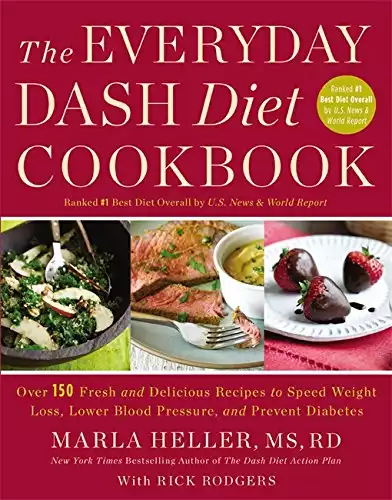 Although it describes a weight-loss diet, this book is pretty flexible and permissive. What I mean is it allows you to include some of your favorite comfort foods in your daily eating habits but it also presents new ideas collected from all around the world.
Therefore, you don't have to worry that you will ever get bored by reading this book. Moreover, this DASH diet material was created with the help of Rick Rodgers who is a well-known culinary instructor so expect to find many "chef" cooking ideas, tips, and tricks. Believe me when I say that you will learn from the best.
There's something included for every one of you, no matter your taste, preference, lifestyle, and more: soups, salads, lean meat recipes, seafood, side dishes, and even vegetarian alternatives.
Price: You can purchase The Everyday DASH Diet Cookbook on Amazon, for the price of $14.26 (hardcover).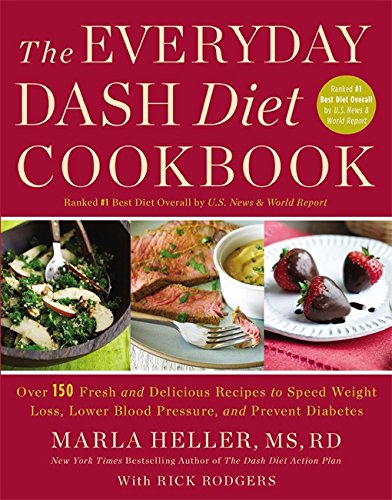 3. The DASH Diet Younger You
This book is supposed to help you shed not only those extra pounds that have been bugging you so much but also up to 20 years of the way you look and feel. And, it is supposed to accomplish all that in only ten weeks, as long as you follow the guidelines presented in the book.
The DASH diet which is described in the material is one of the most trusted brands worldwide when it comes to eating plans. It has made millions of dieters happy by making them slimmer, lowering their blood pressure, and improving their overall health.
Here's what you will benefit from if you buy this particular DASH diet book:
Two full weeks of regular meal plans and the same number of vegetarian alternatives;
Recommendations and suggestions for natural and unprocessed foods that are free of additives.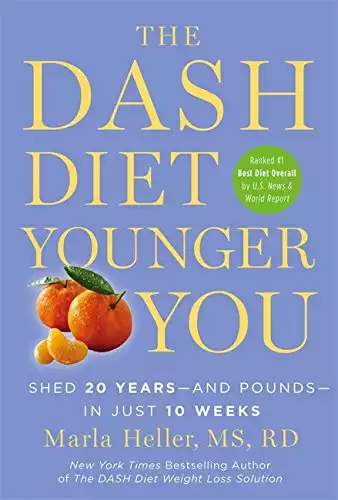 The DASH Diet Younger You book reveals several age-defying strategies created to act as anti-aging solutions. Some of these methods are Inflamm-Aging, Glyc-Aging, and Oxid-Aging. You will be able to turn back the clock without giving up on consuming delicious meals that are rich in antioxidant superfoods. Moreover, these meals are plant-based and they lower body inflammation, curb your cravings and promote the production of healthy gut bacteria.
In the book, you will find everything you need to know about this powerful detoxifying program which will regulate your blood pressure. This material, that offers over 75 tasty recipes, represents a starting point once you decide to embark upon the DASH diet journey which brings plenty of benefits.
Main Benefits
Fights aging signs and disease-related effects;
Rejuvenates your skin and makes your hair look stronger and more beautiful;
Leads to stronger muscles, joints, and bones;
Helps you lose weight and feel better about yourself;
Makes you feel and look younger.
All in all, it is a three-part book that teaches you how to eat better and how to change your entire lifestyle to lead a happier and more satisfying existence.
Price: On Amazon, this book is marketed for the price of almost $9 (paperback). Check the latest price here!
4. The DASH Diet Action Plan
When we say "The DASH Diet Action Plan," we're talking about another bestselling book that describes DASH dieters' fresh start to healthier eating habits. In the book, you will find both a simple and actionable plan that can be easily adjusted to fit your type of lifestyle. If you follow the rules written in this material, you will speed up your weight-loss process while also changing your entire life for the better.
The book features 28 days' worth of recipes, meal plans, recommended foods, and the necessary strategies to include DASH in your life and make it a normal part of it. According to the book, DASH diet is the perfect solution if you want to achieve a proper weight and a healthy heart.
You are probably wondering what makes this particular book special because there are so many of them on the market. Well, to start with, you will find carefully-balanced meal plans which will help you avoid issues like blood sugar spikes.
Secondly, these meal ideas are flexible which means you are free to include some of your favorite food items in the recipes. So, you will curb cravings without developing frustrations or feeling deprived of something. Readers will also discover useful tips and tricks on how to tracks their progress and remain on the right path towards achieving their goal. It is a researched-based book.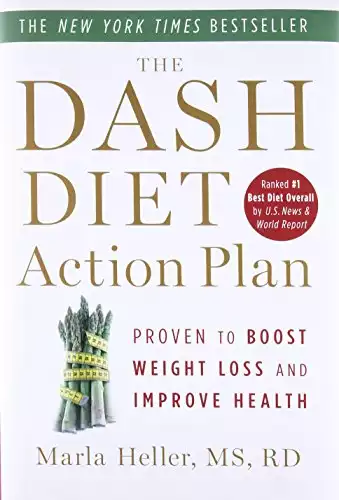 Some of the Things You Will Find by Reading the DASH Diet Action Plan
Calorie-controlled and nutritious meal plans for a diet that lasts 28 days;
Shopping lists and recipes that meet DASH requirements;
Tips on how to eat healthy when you're on the run;
Useful advice on weight management and how to painlessly include physical exercise in your daily lifestyle and create healthy routines.
Price: You can find this book on Amazon where the paperback version costs almost $10 while the hardcover alternative is $13.84.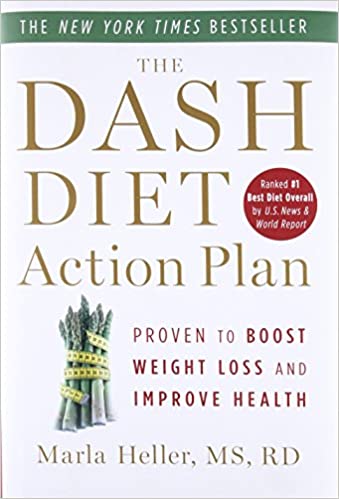 5. The Complete Dash Diet for Beginners
Jennifer Koslo knew what she was doing when she wrote the Complete Dash Diet for Beginners. This book is well-organized, simple, well-structured, etc.
Simply put, you could say it is a DASH guide that is easy to follow. The author is a certified sports dietetics specialist, a licensed dietitian, and registered nutritionist. She has written several popular books like Diabetic Cookbook for Two and The Heart-Healthy Cookbook for Two.
Unfortunately, Americans tend to consume a lot of processed foods which can lead to serious health problems like diabetes and hypertension. This particular book is easier to read and comprehend compared to other DASH-friendly materials because it is dedicated to those who have never tried a diet before. It will walk you through every single step of the process while creating a stress-free evolution towards an improved general health.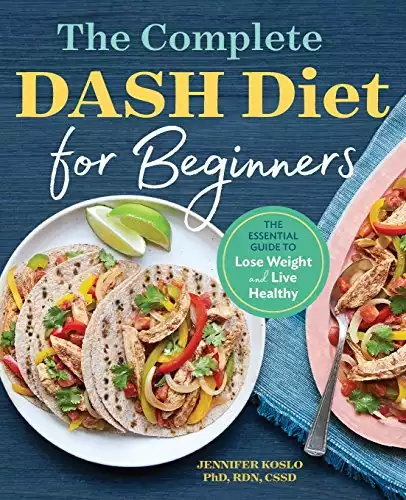 Here's what you get if you choose to read this book and apply its guidelines:
DASH diet in five simple steps – a practical guide with the role of helping you kick-start your eating plan and making the transition from your previous lifestyle to the DASH diet a lot simpler;
A couple of 7-day diet meal plans – this part is comprised of shopping suggestions, especially for those who are on a tight budget or who don't want to waste any leftovers;
75 easy and tasty recipes – each recipe requires only five main ingredients and it is enough to feed up to four people;
Expert guidance and tips from Jennifer, a cardiac rehab dietitian.
Price: On Amazon, this DASH diet book is sold for the price of $6.02 for the paperback version and $7.16 if you choose to buy the Kindle alternative.
6. DASH Done Slow: The DASH Diet Slow Cooker Cookbook
According to plenty of readers, this is definitely one of the best and most easy-to-use DASH-friendly materials. It is written by Karen Frazier who is an author specialized in healthy cooking, nutrition, and, most importantly, holistic healing.
She used to work as a fitness instructor, personal trainer, and nutrition adviser for a long period of time. Due to her experience and knowledge, she knows how to support both their readers and clients in their quest for finding the balance between their unique needs and a proper, healthy, yet tasty meal plan.
You will see that the book is written from the author's personal point of view as well because she has dealt with health issues such as dairy allergy and celiac disease. So, after overcoming her own autoimmune condition, she has the necessary skills and insights to help others, too.
Her book about the DASH diet will save you a lot of time and all the meals included in it are easy to prepare. The material focuses primarily on slow-cooked meals, which, according to some people are healthier and better for one's digestive system.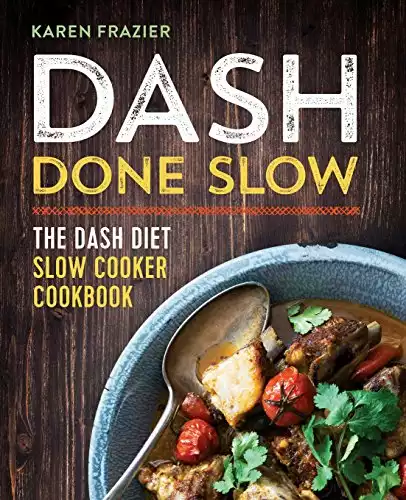 There are 100 heart-healthy recipe ideas, from familiar ones to surprising twists. The book shows you that you don't have to spend a lot of time in your kitchen to prepare delicious meals. DASH Done Slow has something for everyone: vegetarian dishes, soups, meat-friendly meals, side dishes, and desserts. So it is based on the following principles and ideas:
Teaching you the basic rules of the DASH diet;
Providing tips and tricks on how to prepare slow-cooked meals in a delicious yet healthy manner;
Offering readers fuss-free recipes that require maximum 10 ingredients and no more than 15 minutes of preparation time.
Price: DASH diet fans can buy this book on Amazon, for $9.72 (the paperback version).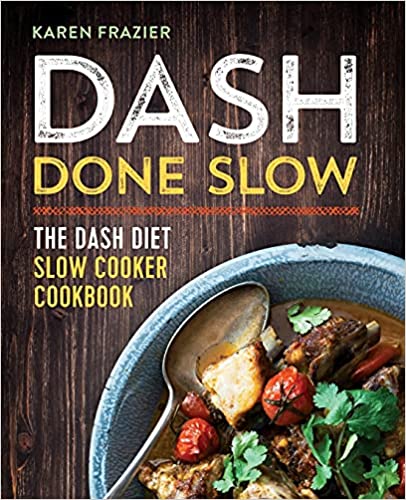 Bottom Line
As you will see, if you read one or several of the books presented above, the DASH diet is not only about helping dieters lose weight. It is also about improving their general health, preventing cardiovascular diseases, and helping people adjust the program to suit their unique needs and preferences. Any of the books mentioned in this post is worth reading but don't just resume to that. You must also apply what you learn if you want to achieve your weight-loss and health-related objectives.
Recommended Reads: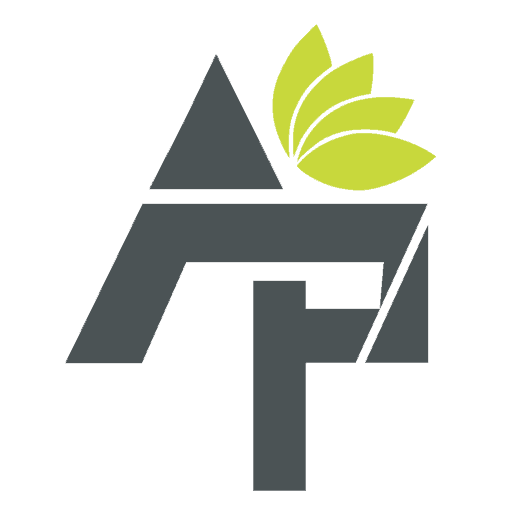 Alt Protein Team is a team of professionals and enthusiasts committed to bringing you the most up-to-date information on alternative protein, health and wellness, workouts, and all things health-related. We've reviewed a lot of products and services so you don't have to guess when you spend your hard-earned money on them. Whether you want to shed some pounds, build lean muscle or bulk, we can help you figure out what you need to do and what you need to have to achieve your goals.