Today, you're in for a treat. I am about to compare two of the most popular Amazing Grass powder blends. I'm talking about Green Superfood and Brain Elixir.
Both of them are revolutionary supplements specially created to support cognitive function, mental focus, and performance. They contain organic ingredients that provide a wide range of health benefits. So, let's find out more about them, in the following Green Superfood vs Brain Elixir battle.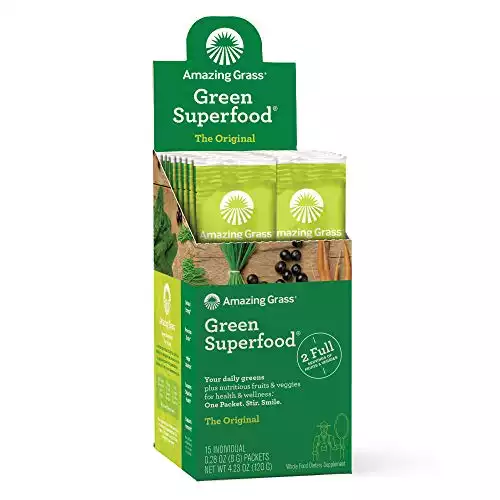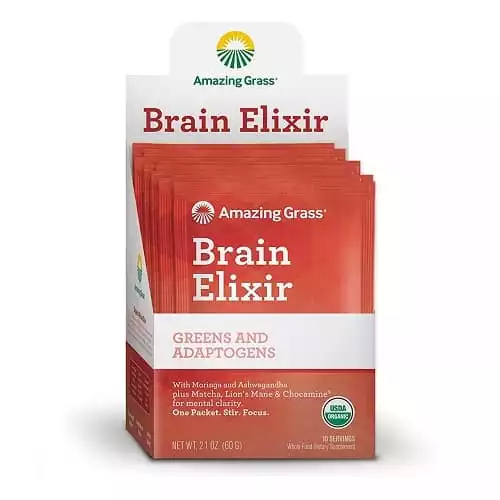 A. Amazing Grass Green Superfood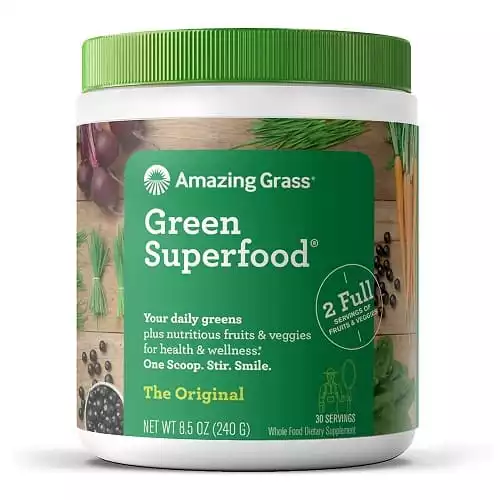 What Is the Amazing Grass Superfood?
Green Superfood is a formula created to offer your body all the necessary nutrient-dense calories. This diet supplement brand was designed by Amazing Grass which is a well-known and reliable producer that markets fitness and nutrition-related products.
Green Superfood has significantly increased in both popularity and visibility lately. It stands out from other similar products due to its mix of antioxidants, edible grasses, amylase, and essential fatty acids.
According to the manufacturer, the formula's main power lies in the product's nutritious greens which are always harvested right before the plants' jointing phase of their growth cycle. Then, Amazing Grass dehydrates these plants and turns them into powder. Before the bottling procedure, the ingredients are kept frozen. This way, all the plants' nutritious qualities will remain unharmed.
Amazing Grass Green Superfood Ingredient Profile
As this product's name implies, all its primary ingredients are organic and they are made from whole-food grasses which have received a certification from the CCOF organization (California Certified Organic Farmers). Besides these grasses, Green Superfood also contains root vegetables, digestive enzymes, fatty acids, and antioxidants.
a. Protein Blend
This mix contains peanut flour, hemp protein, pea protein, quinoa, and chia. All these compounds promote lean muscle mass growth, weight and fat loss, and a healthier metabolism. Furthermore, they prevent cardiovascular diseases. Usually, protein blends are easily digested by one's organism which helps the body absorb the product's nutrients a lot quicker.
b. Green Superfood Blend
Wheatgrass – an excellent natural source of amino acids which are crucial for human health; it has powerful anti-inflammatory properties and it is said to even prevent cancer;
Barley grass – this grass is found in numerous foods, from beer to porridge; contains plenty of fiber and it provides antidepressant effects; barley grass can lower cholesterol;
Alfalfa – rich in plant protein and calcium, this herb is used as a prostate and dietary tract medicine; it is helpful in certain health issues like blood disorders and cholesterol conditions;
Spirulina – it is a great source of vitamin B12, protein, and iron; it has amazing antioxidant and anti-inflammatory effects;
Spinach – it is said to counteract high-cholesterol diets as well as high-fat eating regimens; spinach has antioxidant properties;
Broccoli – contains a lot of phytonutrients and it has disease-prevention benefits;
Chlorella – it is easily-digested and it provides plenty of health benefits, working as an antioxidant.
c. Fruit and Veggie Blend
Banana – this fruit is known to contain potassium and magnesium which are both essential elements for one's good health;
Carrot – an important source of beta-carotene or as most people know it, vitamin A;
Acai – marketed as a weight-loss food item, Acai has antioxidant benefits;
Beet – has potential anti-inflammatory benefits;
Pineapple – has regenerative properties;
Raspberry – an excellent fruit that supports weight loss and promotes cardiovascular health;
Rose hips – has a high amount of vitamin C.
d. Vitamin and Mineral Blend
Vitamin A;
Vitamin B12;
Iron;
Vitamin K;
Potassium, etc.
e. Other Ingredients
Natural flavors;
Xanthan gum;
Organic Dutch cocoa;
Peanut flavor;
Digestive enzymes;
Probiotic blend;
Peppermint;
Salt;
Organic stevia, etc.
Nutritional Values
Nutritional Facts – Amazing Grass Green Superfood – per one serving (one scoop of 8 g)
Calories
25
Protein
2 g
Total fat
0 g
Carbohydrates
3 g
Dietary fiber
1 g
Sugars
1 g
Sodium
60 mg
Taste and Available Flavors
This product has a decent taste. However, if you haven't tried a green superfood supplement before, I strongly recommend you to mix it with something that will improve its overall taste. For example, you could combine this powder with yogurt, juice, and even organic fruits.
As a newbie, it will be difficult for you to handle the grassy taste of Green Superfood. It is a green smoothie with a gritty texture which might also represent a potential drawback.
Green Superfood is marketed in the following range of flavors:
Chocolate;
Chocolate peanut butter;
Vanilla;
Orange dream;
Pineapple lemongrass;
Berry;
Lemon-lime;
Watermelon;
Pumpkin spice;
Holiday cookie;
Tangerine;
Chocolate peppermint;
Original formula.
Green Superfood Advantages
Helps you lose weight, burn fat, and grow muscle mass;
It is packed with a lot of nutrients, vitamins, minerals, and antioxidants which provide plenty of health benefits;
All its ingredients are organic and they come from non-GMO sources;
It is an affordable product.
Green Superfood Disadvantages
It cannot replace whole foods;
It doesn't have a pleasant taste;
For a superfood, this product might not deliver one's expected results and it might not contain enough of certain ingredients like, for example, antioxidants.
How Much Does It Cost?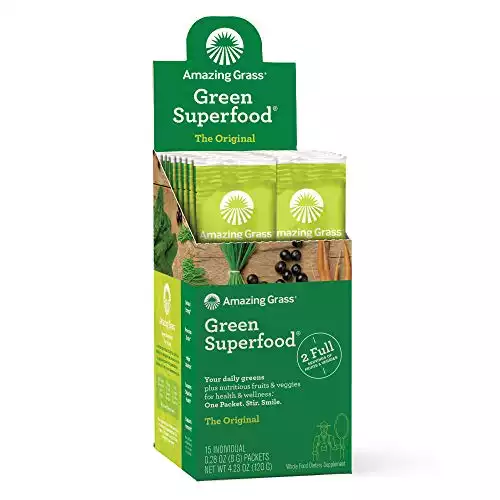 On Amazon, the Amazing Grass Green Superfood is marketed for the price of $35 (Check out the latest prices here!). This is the case of a 60-serving container. Still, this cost is reserved only for Amazon Prime members so if you want to save money you must subscribe to this online seller's membership.
You can also purchase this supplement from the manufacturer's online shop. Here, one tub of 60 portions sells for almost $50 but the higher the quantity you buy the higher the discount will be. For example, if you order two containers, you will receive a discount of 5% while for more than 9 tubs, you will save 25%.
Prices vary depending on the container's size as well as on the seller you choose to buy from. For instance, on eBay, you will find this product at the price of $55, for a 100-serving container. You also have the possibility to return the product within a 30-day timeframe, if you're not happy with it.
Possible Side Effects
Usually, this supplement is safe for healthy people. However, some individuals who have health conditions, allergies, or other sensitivities might experience mild adverse effects: bowel issues, irritated stomach, and others. Also, as a precaution, pregnant women should talk to their doctor before consuming this product.
B. Brain Elixir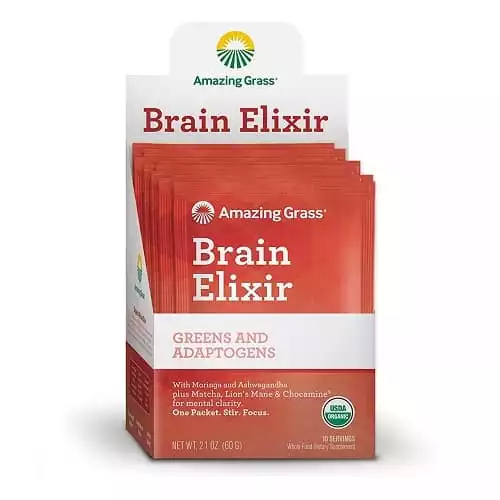 What Is the Amazing Grass Brain Elixir?
Brain Elixir is manufactured by Amazing Grass and it is an organic powder blend which is approved by the USDA. The company claims this product boosts cognitive function and concentration. Moreover, this supplement is supposed to give you a significant and instant energy boost. Many of its ingredients are used as traditional medicine in many parts of Asia.
Amazing Grass claims they grow and harvest all these nutrient-dense greens in their own farm which is located in Kansas. Moreover, all the other ingredients are supposedly sourced from other organic farms all around the world.
Besides the Brain Elixir, the manufacturer also creates and markets two other similar products: Beauty Elixir (leads to healthier and better-looking skin, hair, and nails) and Belly Elixir (it works as a digestive support that soothes your stomach and helps gut health).
Ingredient Profile
Brain Elixir is a combination of adaptogenic herbs, fresh greens, and other functional ingredients. This mix supports focus, mental clarity, and cognitive health. The product's fermented greens have alkalinizing properties which balance your body's PH while also detoxifying your organism. Most of these elements are safe and organic. Brain Elixir's main ingredients are the following ones:
Cognitive blend – Matcha Green tea (works as an antioxidant), Chocamine powder ™ (it is a mix of spices and cocoa for boosted endurance, energy, and stamina), Lion's Mane (supports both cognitive and neurological health), Maca root (increases one's stamina), lemon balm leaf (improves one's mood and cognitive performance), and Bacopa Monnieri (helps you concentrate better and improve the learning process);
Fermented greens blend – wheat grass, organic barley grass, and organic alfalfa (these compounds increase your energy level, boost immunity, support detoxification, and fight free radicals);
Elixir blend – Moringa leaf, mushroom blend (Reishi, Cordyceps, etc.), organic Mucuna seed, Schisandra berry, etc. These ingredients are excellent when it comes to boosting your immune system. They act as a barrier against free radical damages and they can even be used as a method of cancer prevention. Also, mushrooms have powerful anti-inflammatory properties and they protect your heart while also helping the weight management process;
Mineral and vitamin blend – vitamins A, C, K, iron, etc.;
Additional ingredients – organic coconut milk powder, spices (cinnamon and ginger), blueberry juice powder, organic flavors, turmeric root, sage leaf, coconut water powder, stevia extract, etc.
Nutritional Values
Nutritional Facts – Amazing Grass Brain Elixir – per one serving (one scoop of 6 g)
Calories
25
Protein
1 g
Total fat
1 g
Saturated fat
Less than 1 g
Carbohydrates
4 g
Dietary fiber
1 g
Iron
1.1 mg
Taste and Available Flavors
According to a few consumers, this powder has a pleasant taste and a proper level of sweetness without being overwhelmingly sweet. This is most likely due to the stevia extract content which usually gives a natural good flavor to most supplements. On the other hand, a lot of clients have complained about the taste, saying it is a bit blunt and bothersome, especially for those who have never consumed this type of supplement before.
Regarding taste, opinions vary quite a lot. For instance, one reviewer said he had to deal with a horrible aftertaste that resembles the one of bile while another user declared he was more than happy with this powder's flavor, saying it is similar to the one of a blueberry pie.
If you're not brave enough to drink this energy beverage with plain water, I recommend you to add one scoop of powder to your favorite juice, milk, or smoothie. Moreover, you can also add some other ingredients such as nuts or organic fruits to achieve a more pleasant taste.
In terms of flavors, there is only one available formula on the market so there's not much to discuss in that regard. All in all, the taste… well, it appears that this is definitely an important drawback because the majority of reviewers have said that Brain Elixir tastes bad.
Brain Elixir Advantages
It is said to improve mental focus, cognitive functions, mental clarity, and alertness;
The manufacturer claims it alleviates symptoms of depression, anxiety, and stress;
It contains good-quality ingredients;
Improves mental acumen;
This product is highly affordable;
It might restore less severe brain damages.
Brain Elixir Disadvantages
Although it is approved by the USDA, this supplement is not certified by the FDA;
According to plenty of consumers, this powder has a bad taste and an even worse aftertaste;
If you use high dosages of this product, you might experience adverse psychic effects.
How Much Does It Cost?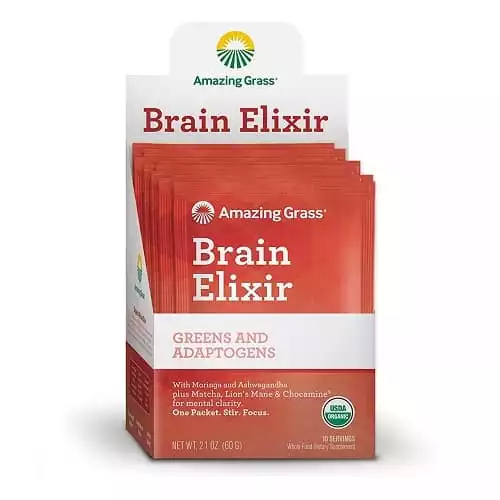 You can either purchase this product from the company's official online shop or you can opt for third-party seller such as Amazon.
Amazing Grass e-Store
10 packets cost almost $22;
A 20-serving container sells for the price of almost $30.
Like in the case of Green Superfood, due to the fact that we're talking about the same manufacturer, the more you order, the bigger the discount will be. Also, if you subscribe to the company's membership and become a VIP GrassHead, you will receive an additional 20% discount.
On Amazon
If you subscribe and become a member of the Amazon Prime program, you will save 5%.
Possible Side Effects
Normally, the Amazing Grass Brain Elixir is safe for most people to consume and it doesn't have any severe adverse effects.
However, you shouldn't take this powder blend while under medication but this is just a normal precaution. Furthermore, if you use high dosages of this product or if you consume it for a long period of time, it might lead to some unpleasant physic effects which will interfere with your performance and mental health.
Amazing Grass Green Superfood vs Brain Elixir – Final Verdict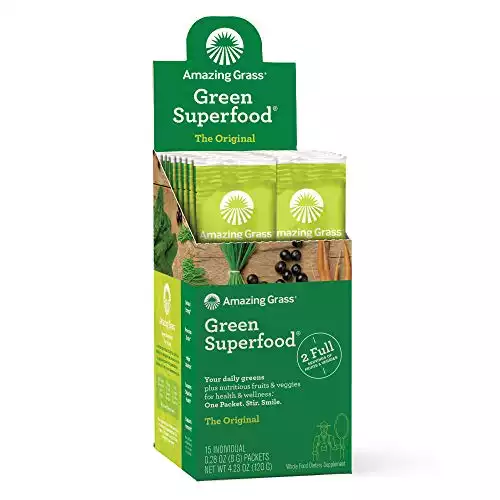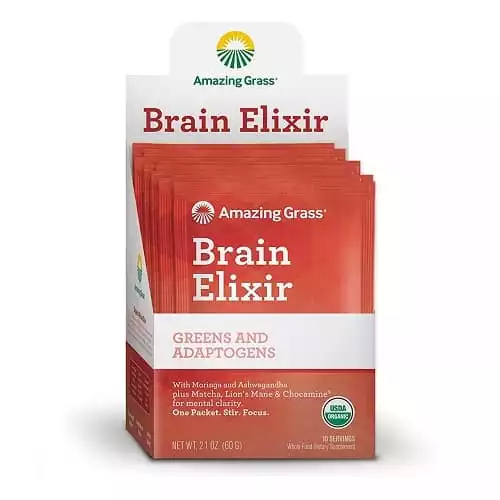 It is quite tricky to choose one of the products presented above because they are pretty similar, not to mention they are made and sold by the same manufacturer. In terms of ingredients, both products contain mostly organic compounds which provide plenty of health benefits.
Their nutritional values are pretty much the same. As for the price, these Amazing Grass supplements are affordable. So, the final choice is all yours, depending on your personal preferences and unique needs.
Recommended Reads: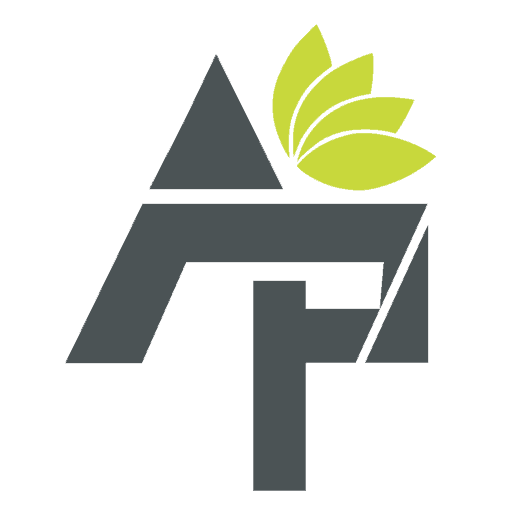 Alt Protein Team is a team of professionals and enthusiasts committed to bringing you the most up-to-date information on alternative protein, health and wellness, workouts, and all things health-related. We've reviewed a lot of products and services so you don't have to guess when you spend your hard-earned money on them. Whether you want to shed some pounds, build lean muscle or bulk, we can help you figure out what you need to do and what you need to have to achieve your goals.