CrossFit is a concept that refers to a complex fitness program. This program incorporates multiple types of exercises such as weightlifting and gymnastics. This practice is all about high-intensity but rather short workout routines that build endurance and strength.
Due to the fact that CrossFit is an adaptable program, anyone can try it. However, if you're too busy to go to a gym or you get a little intimidated when you exercise with others, we recommend you to try some amazing CrossFit apps. Online apps are all the rage among athletes and sports enthusiasts but are these apps worth their price tags?
CrossFit apps work simpler and are less expensive than participating in a regular training program. Some of them are even free of charge.
Nowadays, there is a specialized app for almost everything. And, as you can see, CrossFit practice is no exception. The following apps are listed in no particular order.
Which Is the Best CrossFit App? – Top 5 Choices
1: Beyond the Whiteboard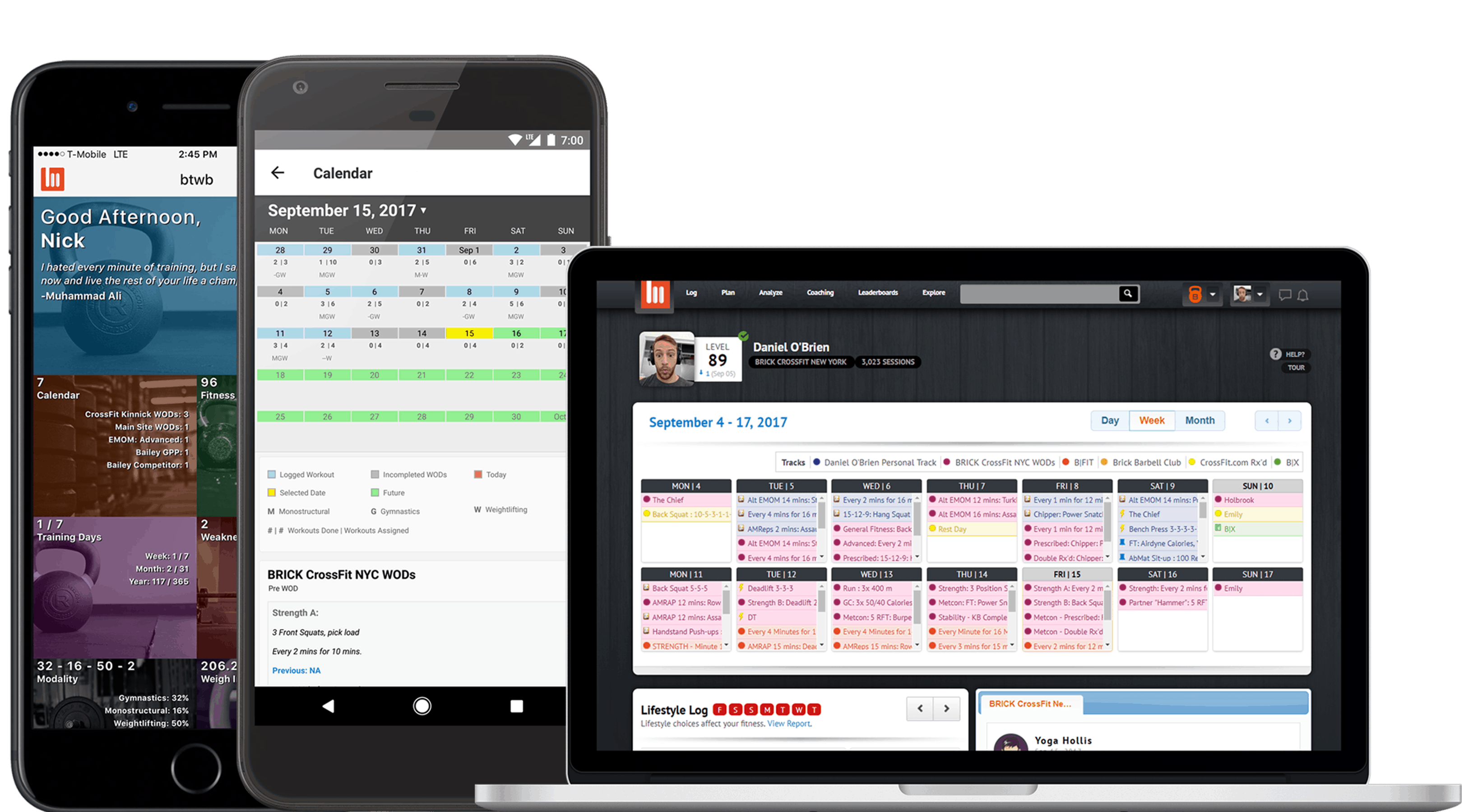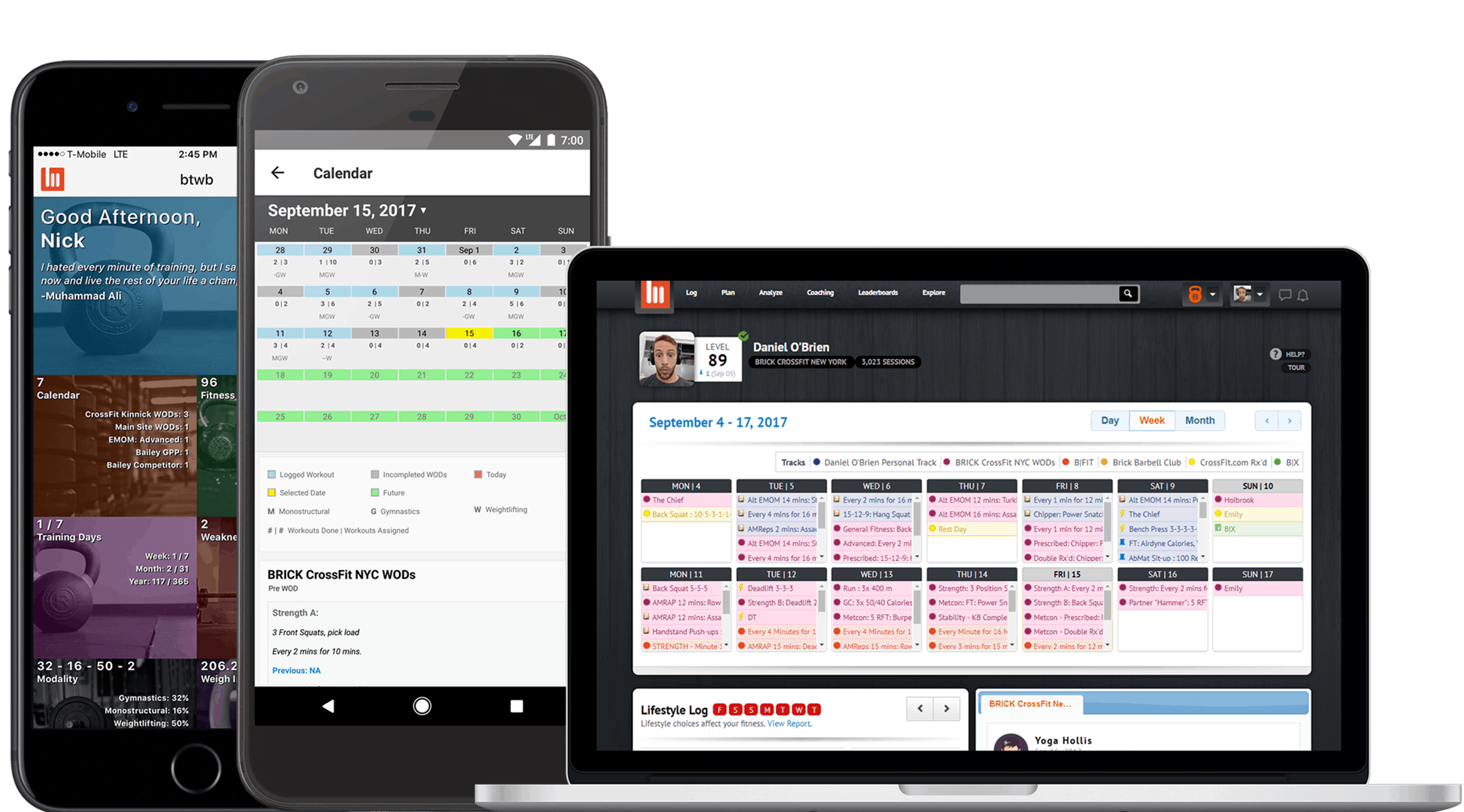 Features
This app was developed in 2008. Its main focus is helping you plan and analyze your workout routines. It allows you to update your results and keep track of your CrossFit activity. Moreover, the app lets you track your body fat as well as your meals.
Beyond the Whiteboard is available on both Android and iPhone devices. You can also find it on its official website.
Pros
#1. Motivation
One of this app's main advantages is its power to make you perform better due to the fact that you can easily track your results and gain motivation. All this will only reinforce your fitness goals. With every small win, you will reassure yourself that you are going in the right direction.
#2. Accountability
Another thing that we can include in the good stuff category of this app is the fact that it provides accountability. It shows how much you have accomplished, your progress, and the moments in which you were not as great as you would have desired.
Cons
#1. You Might Not Get the Bigger Picture
Numbers are not everything that matters. They don't always show all that must be discovered and taken into consideration. Figures might show that you hit a rough patch but they don't disclose the entire story behind it. Why have you gained body fat or why haven't you finished all your reps?
Well, when you use any CrossFit app, you should think about all these factors and not judge yourself too harshly.
#2. Loss of Focus
Seeing that you have encountered an obstacle in your CrossFit journey or not having accomplished your desired goals as quickly as possible might bring you down from an emotional and psychological perspective.
Instead of letting yourself fall on that emotional slippery slope, you should instead take everything as a challenge. Don't consume your energy on beating yourself up. It is extremely easy to become your toughest critic. What you should do is put all that focus and energy in your next workout.
Price
There are two available types of memberships:
Monthly membership: 5 dollars.
Yearly membership: 50 dollars.
2: CrossFit WOD Log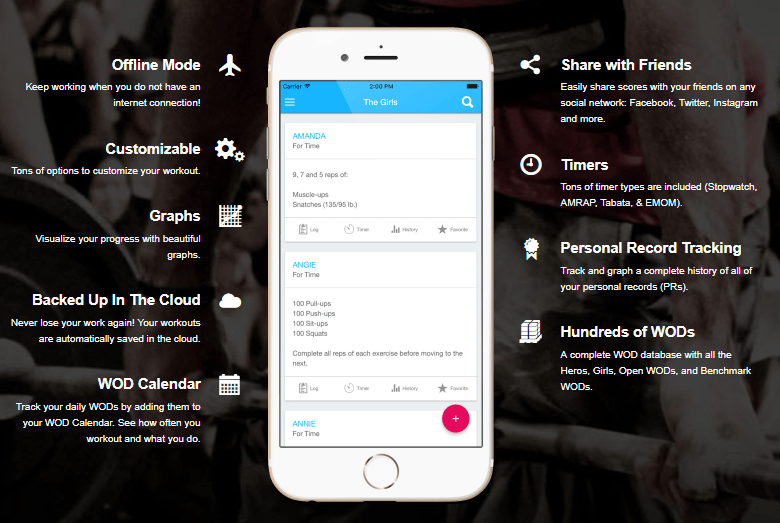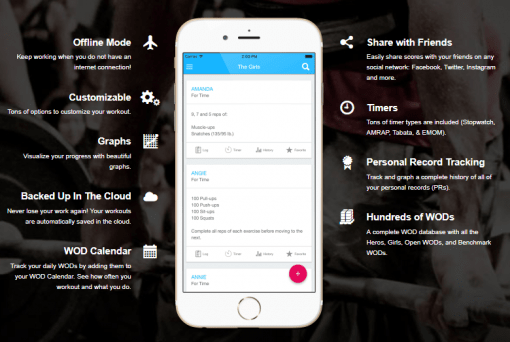 Features
Vandersoft is the maker of WOD Log. According to them, this CrossFit app includes the following features:
Tracking one's daily WODs (WOD stands for workout of the day).
Adding all the WODs to the user's WOD calendar to keep track of the entire physical activity.
Subscribing to your desired boxes using RSS Feed Subscriptions. This way, you can create and import your daily workouts.
Calculating one's athletic skill level.
Attaching relevant pictures to keep track of your progress.
Creating charts of your weight percentage changes.
Accessing more than 150 preloaded workout routines.
Sharing your results on your social media profiles.
Searching and filtering your WODs and records by exercise.
Managing your personal records.
These are the main features but the WOD Log app provides other additional features that you can take advantage of:
Creating an entire athlete profile from scratch. This includes one's completed WODs as well as data analysis.
Receiving scales of one's personal records.
Seeing your entire progress history.
Creating one's own benchmark daily workouts.
The WOD Log app also comes with training timers such as Amrap, StopWatch, and Tabata. Furthermore, you can easily create backups of all your records in the cloud. All you have to do is to sign in with Facebook or Google.
The app is compatible with Android devices, from the 4.1 version and up. You can also find it on iTunes.
Pros
#1. User-Friendly
Although some of you might find this app a bit confusing when you first start using it, after a while, you will see how it comes very easy to navigate it. Its layout is pretty smooth as well as well-designed. As you will see for yourself, both posting and editing your personal scores can be done in a simple manner.
#2. A Complex Product
This is not just a regular CrossFit app. It has plenty of extra features such as max rep charts, converters, a PR tracker, and others. It basically does everything for you while being a more complex product than just a simple spreadsheet. It provides a lot of charts and metrics that will help you track your workouts and performances.
#3. Affordable
You can purchase this software for the price of just 5.95 dollars. Also, this app comes with a perk in the form of a 14-day money-back guarantee. These aspects are strong-enough advantages that should convince you to try the WOD Log app.
Cons
#1. No Mobile App Version
This might be the biggest drawback of this app. You cannot access it from your mobile phone. So, considering that the most recommended moment to write down your workout records is right after a training, this issue might concern a lot of you who are looking to use the best app they can find.
#2. Takes Time to Learn How to Use It
As we previously mentioned, getting used to this app is not very easy. It takes time and patience. If you're not familiar with Microsoft Excel, this app can be slightly confusing at first. However, the more you navigate it the easier this entire process becomes.
Price
Offers in-app purchases.
3: myWOD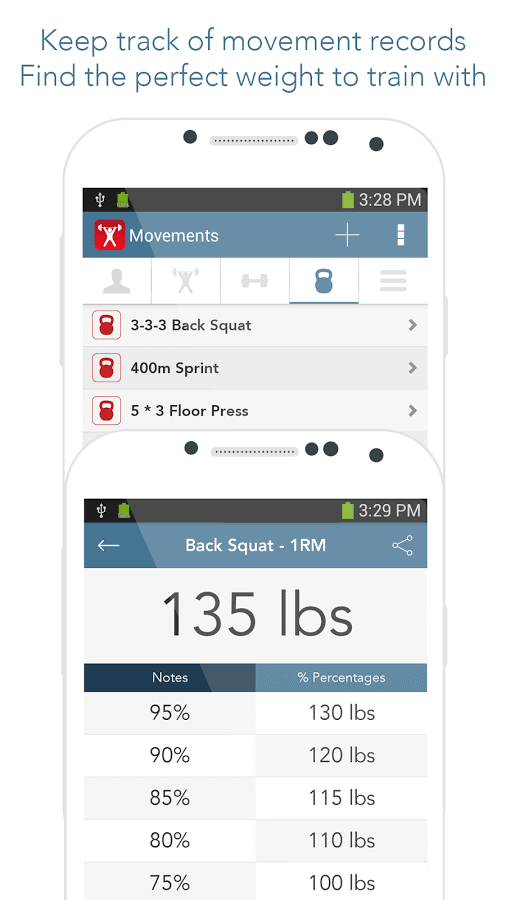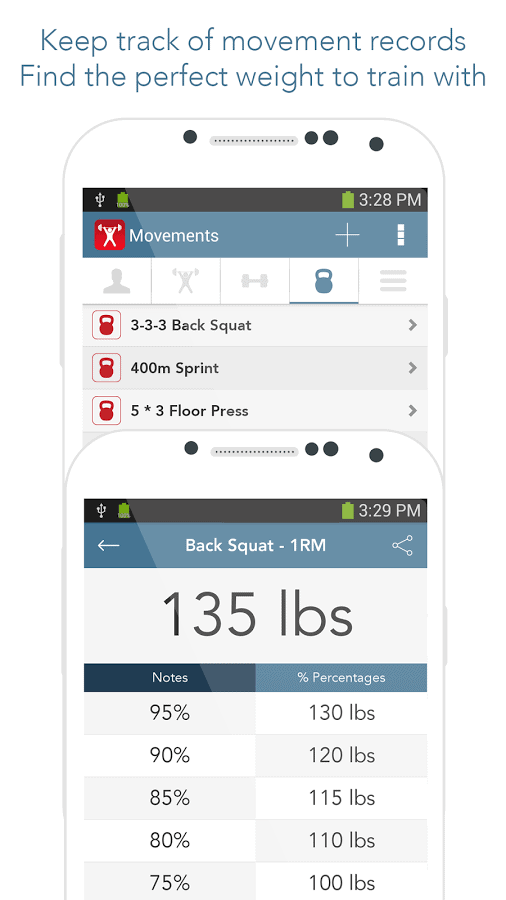 Features
myWOD is one of the simplest and easiest CrossFit apps available out there. Using this app opens up a wide range of possibilities for you like the ones listed below:
Keeping track of workout routines and movement records. This way, you will know which weights to use.
Saving and following an unlimited number of feeds.
Following the WOD feed of your box.
Searching, sorting, and reviewing all your daily workouts in either a list or on a calendar.
Creating and saving custom daily workouts.
So, in other words, with myWOD you can easily monitor all your achievements and share them with your friends on social media networks. This app is available on both iPhone and Android devices.
Pros
#1. Huge Collection of WODs
Using myWOD app enables you to access an amazing collection of over 150 daily workouts. Also, you will be able to add all your training's RSS or ATOM feeds while directly accessing your daily workouts.
#2. Acts as a Locator
myWOD app has a useful function through which you can easily find any CrossFit gym located near your area.
#3. Provides a Wide Range of Functions
This app not only includes plenty of tutorials and instructional videos that will make you feel more familiar with navigating it but it also lets you sync your records with devices such as Dropbox and Bluetooth. Also, you can easily share your training with other users via Twitter, Facebook, Email, and more.
Cons
We are aware of the fact that no CrossFit app is perfect. However, there seems to be a lack of negative reviews regarding the myWOD app.
Price
This app is available on the iTunes app store for the price of 3.99 dollars. On Google Play it sells for about 4.99 dollars.
4: CrossFit Games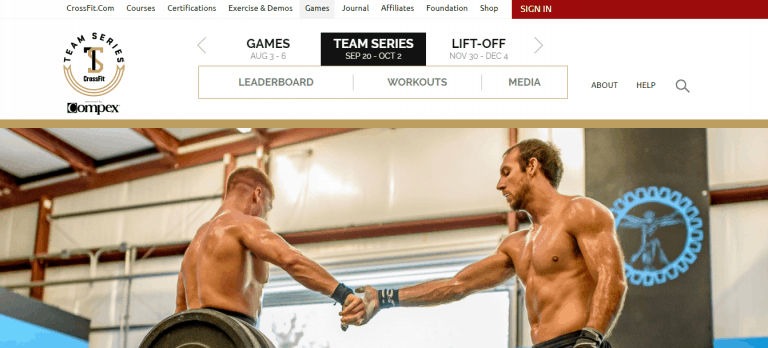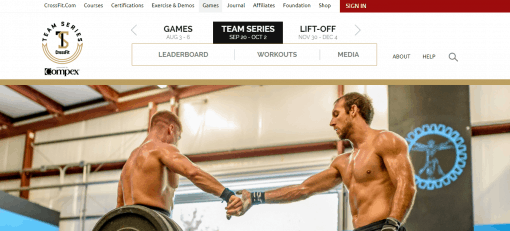 Features
This app was developed by CrossFit, Inc. According to most of its users, the app works better and faster compared to the website. Among this app's features, you will encounter the following ones:
Discover a series of preloaded workout routines.
Submit your own scores and keep track of your ranking.
Create customized leaderboards.
Share your results with your friends on social media pages.
Create personalized alerts and reminders.
Allows you to watch live events.
Pros
The CrossFit Games app is easy to use and fairly simple and clear. So, there isn't much to say about it besides the following key advantages:
It is an amazing and easy way to maintain a fit and healthy body. With this app, you will stay in shape for sure.
The app provides a very competitive context as well as great leaderboards.
You will gain access to plenty of video content that will help you to achieve your fitness goals.
It is a free CrossFit app. So, all you need to do is to download it without having to pay a dime.
Cons
The only potential drawback is that it requires an affiliate gym nearby. That is the only way in which you can compete with other users.
Price
A big advantage of this app is the fact that it is free of charge. You can simply download it on the iTunes store and start using it as soon as the download process is completed. However, this app requires you to have at least the iOS 8.0 version installed on your device.
5: WODBook App
Features
This app offers in-app purchases and it is available on the iTunes store. You will find many other details about this software on their official website.
The makers of WODBook are GabilamArg and according to them this CrossFit software has the following features:
Tracking your Box activity and compare your personal records with the other Box members.
Using the WOD machine which is a smart WOD generator.
Providing a whiteboard full of daily workouts.
Getting WOD feeds from your own Box.
Keeping track of your daily workout routines by adding them to the WOD calendar that the app provides.
Attaching images to your personal records.
Sharing your results and achievements on Facebook and Twitter.
Searching your activity and benchmark WODs by exercise.
Pros
WODBook is totally free of charge.
It comes with a wide range of options and features.
It acts as an effective guide that helps you get fit.
The app is compatible with several devices like iPods, iPhones, and iPads.
You will gain free access to plenty of instructional videos.
It syncs your data in real time.
Cons
According to some users, the WODBook app still has some issues that the developer should fix. For example, one reviewer said he wasn't able to use this app offline. Another user claimed that the app seems to work more like a workout journal. In other words, one cannot analyze results over time.
Price
The WODBook CrossFit app is free and you can download it from the iTunes store.
Summing It Up
We have listed these five great CrossFit apps which are among the best and most effective ones available on the market to help you make a decision in a simpler manner while being well-informed about your options. There is definitely a CrossFit book at an international level. Therefore, we are not surprised that there is a wide range of apps already available for download.
All these CrossFit apps that we listed and detailed in our article will offer more structure and discipline for your CrossFit workouts and overall experience. This way, we can almost guarantee that you will accomplish your fitness and CrossFit goals much faster.
Recommended Reads:
Disclaimer
Last updated: December 16, 2019
The information contained on www.altprotein.com website (the "Service") is for general information purposes only.
Alt Protein assumes no responsibility for errors or omissions in the contents on the Service.
In no event shall Alt Protein be liable for any special, direct, indirect, consequential, or incidental damages or any damages whatsoever, whether in an action of contract, negligence or other arising out of or in connection with the use of the Service or the contents of the Service. Alt Protein reserves the right to make additions, deletions, or modification to the contents on the Service at any time without prior notice.
Alt Protein does not warrant that the Service is free of viruses or other harmful components.
Fitness disclaimer
The Service offers health, fitness and nutritional information and is designed for educational purposes only. You should not rely on this information as a substitute for, nor does it replace, professional medical advice, diagnosis, or treatment. If you have any concerns or questions about your health, you should always consult with a physician or other health-care professional.
Do not disregard, avoid or delay obtaining medical or health-related advice from your health-care professional because of something you may have read on the Service. The use of any information provided on the Service is solely at your own risk.
You can also review our Editorial Integrity Policy.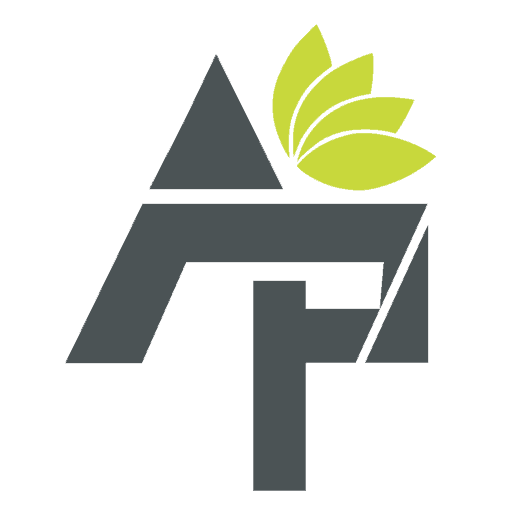 Alt Protein Team is a team of professionals and enthusiasts committed to bringing you the most up-to-date information on alternative protein, health and wellness, workouts, and all things health-related. We've reviewed a lot of products and services so you don't have to guess when you spend your hard-earned money on them. Whether you want to shed some pounds, build lean muscle or bulk, we can help you figure out what you need to do and what you need to have to achieve your goals.