All cutting stack manufacturers make a lot of promises and marketing claims but not all of them manage to truly deliver what they are claiming. To find an effective cutting stack that will bring you long-lasting results, you must look beyond the companies' promises and focus on the products' real effects. After a thorough research, I was able to find 4 of some of the best cutting stack options out there.
ON Weight Loss Stack
Gold Standard 100% Whey Powder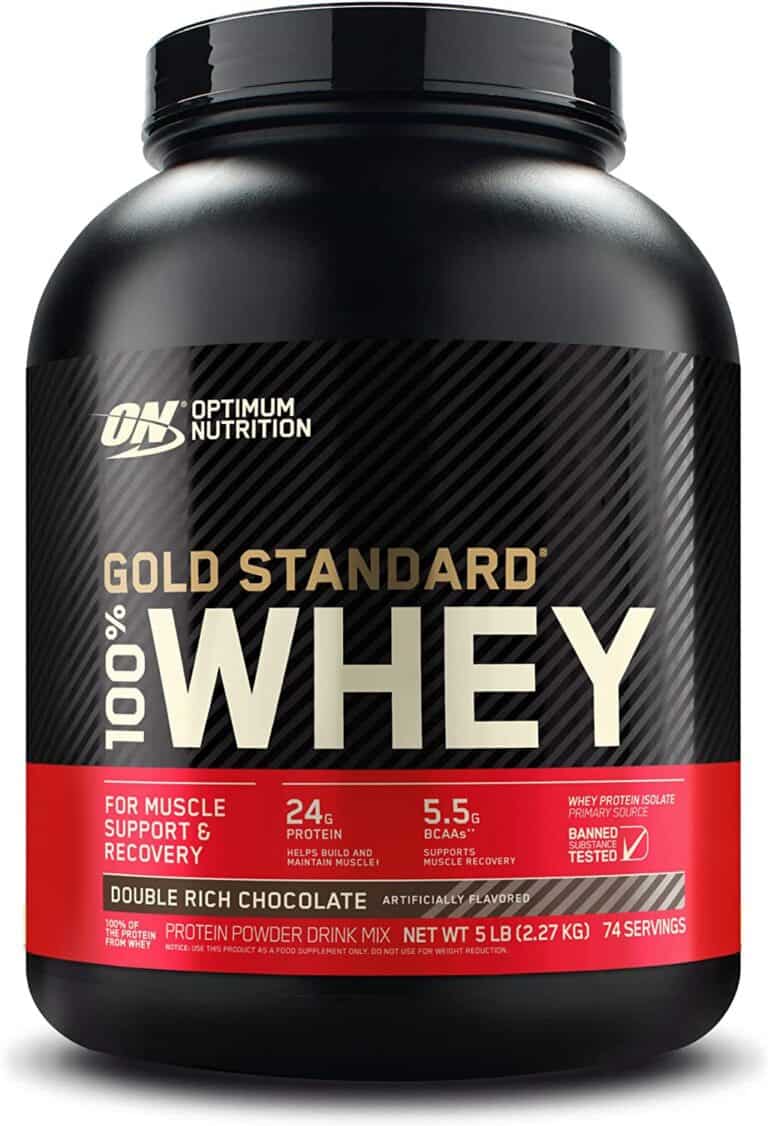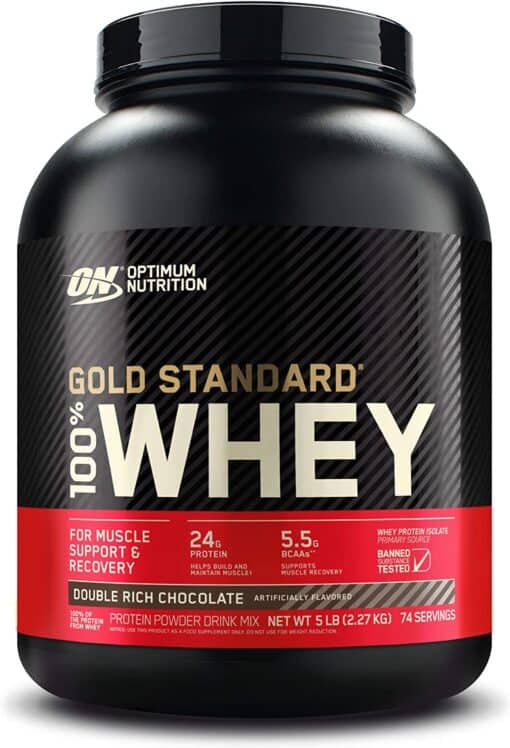 This product contains three protein types: whey protein isolate, whey protein concentrate, and whey protein peptides. Each serving of Optimum Nutrition's Gold Standard Whey Powder provides 5 grams of the following amino acids: leucine, valine, and isoleucine.
Every portion also offers other amino acids as well like glutamine and glutamic acid, in the amount of 4 grams per serving. Check out the latest prices on Amazon.
Benefits
Supports lean muscle mass growth as well as quicker recovery
One single scoop of this protein powder delivers a high amount of protein – 24 grams
It is a great choice for people who follow low-fat or carb-restricted diets
Contains two ingredients that can help you improve your digestive system – lactase and aminogen
It is highly convenient and time-saving. The preparation process won't take more than a couple of minutes and this powder mixes well with milk, water, and other liquids
You can choose from a wide range of available flavors and, according to most reviewers, all of them are delicious
This is a pretty affordable supplement
Downsides
Contains several potentially-dangerous ingredients – artificial sweeteners, soy, and lecithin
The information presented on the label should've been more descriptive
Price
Five pounds of Gold Standard 100% Whey Powder are listed for $57.94, or about $0.75 per serving. Check out the latest prices on Amazon.
b. CLA Softgels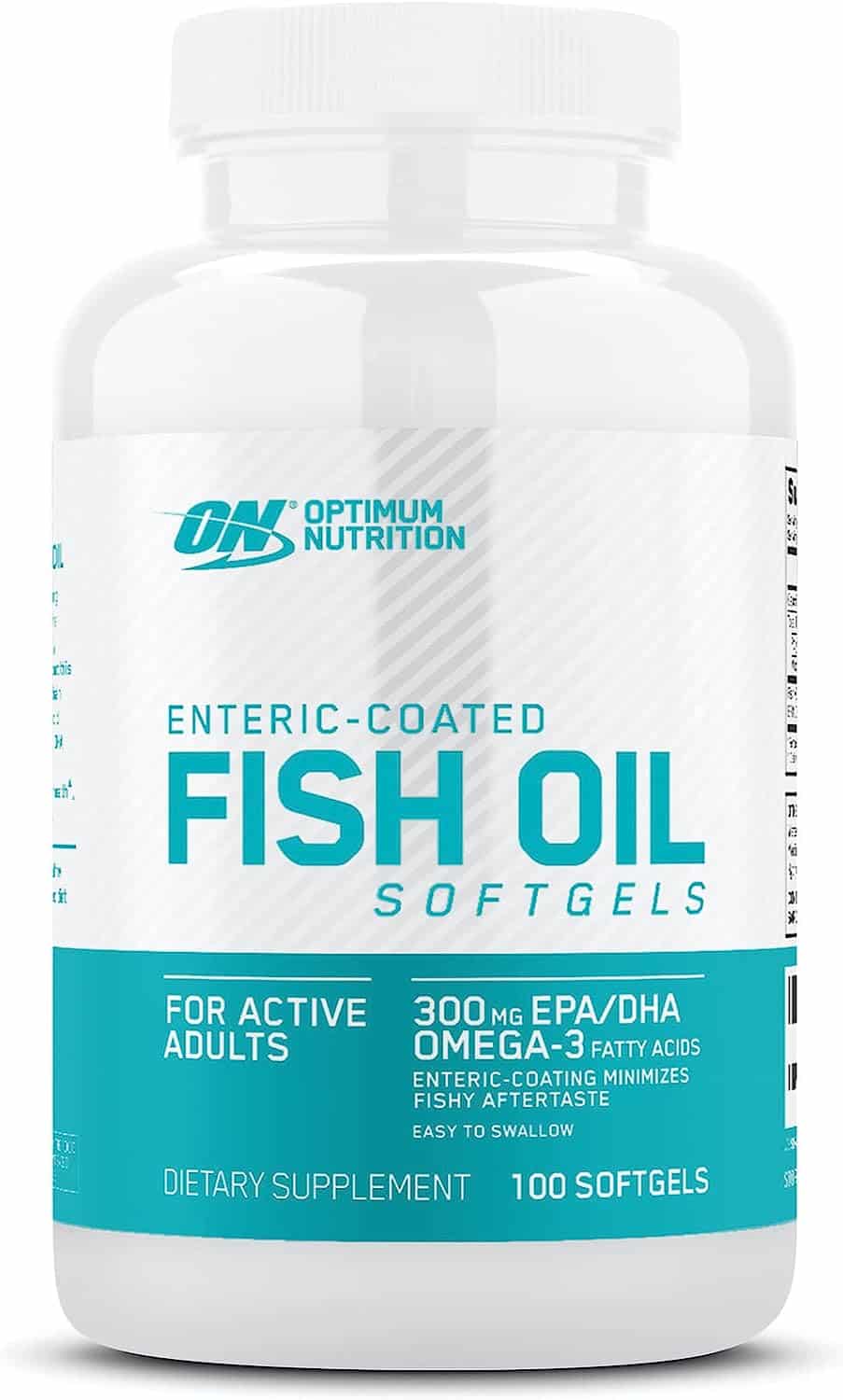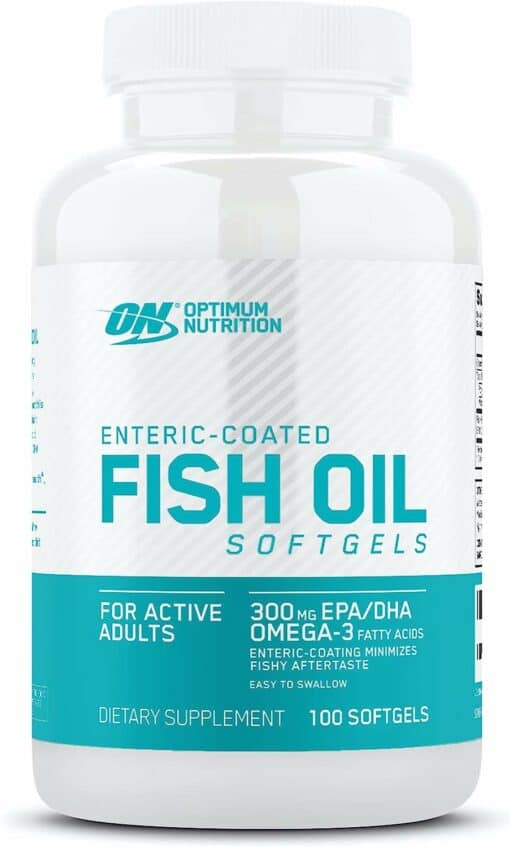 CLA stands for "conjugated linoleic acid." This substance seems to boost one's metabolic rate while also improving muscle definition. These facts are backed by science. Regarding the dosage of this specific acid, one capsule of ON CLA softgels provide the same CLA amount as you would achieve from the consumption of 6 pounds of beef.
Usually, CLA is naturally found in dairy products and meat. Still, it has become a very popular dietary supplement because it helps consumers to burn fat and grow muscle.
Benefits
These softgels are easy to swallow and they are the ideal choice of those who want to gain muscle and lose fat
Optimum Nutrition has a long history of producing health and weight-loss products and the company is a trusted and reputable one
The majority of people who have taken these capsules say they have achieved consistent results
Downsides
Sometimes, sensitive individuals might experience a number of unpleasant side effects like stomach pain, flatulence, diarrhea, or nausea
Although this product seems to be scientifically based, there are still studies to be conducted in order to verify those initial results because the proof of the research, in human beings, is not that promising
Price
180 softgels of CLA Softgels will cost you $22.40 or about $0.12 per softgel. Check out the latest prices on Amazon.
c. Opti-Men Capsules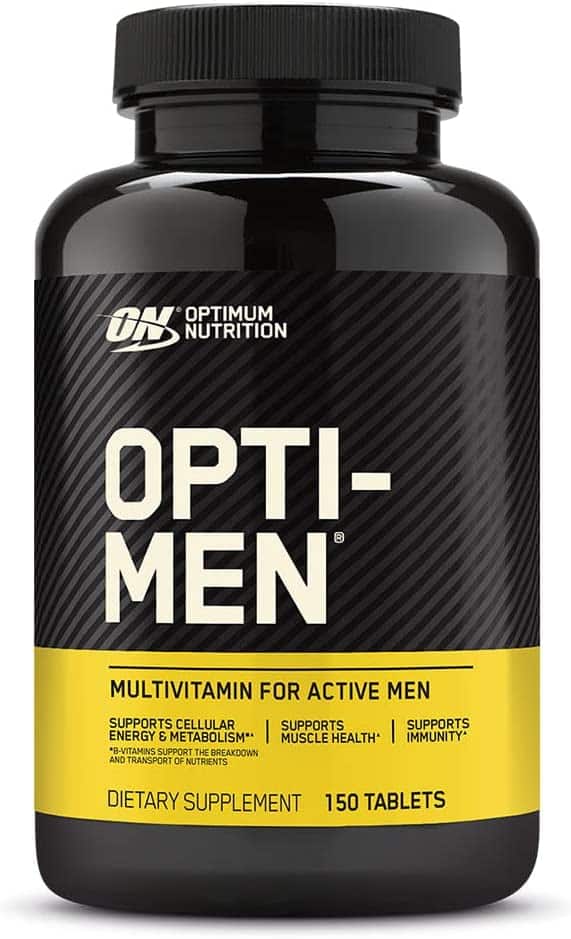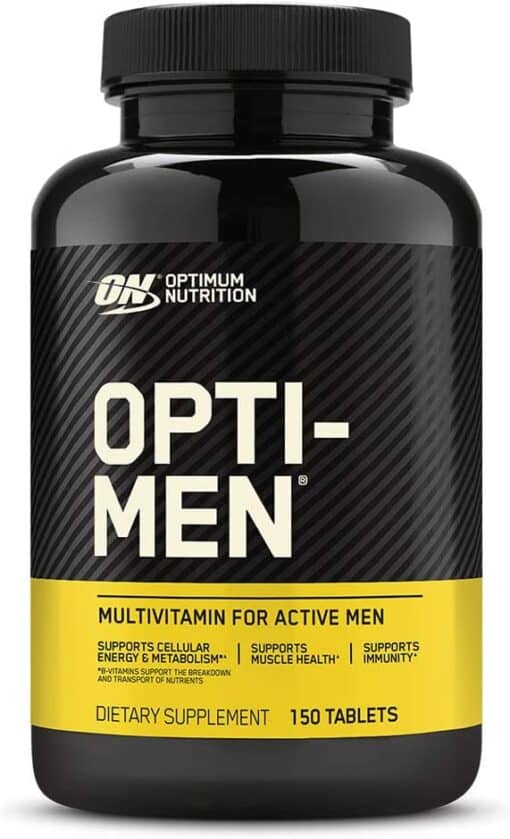 This is actually a multivitamin supplement for men. The proper dosage is one tablet per day. Opti-Men provides 70 different active ingredients, most of which are highly potent minerals and vitamins.
The tablets are easy to swallow and they also contain amino acids. All these elements put together to increase your body strength and athletic performance.
Benefits
The formula comes with a blend of phytonutrients which are sourced from over 20 veggies and fruit concentrates
There is also an amino acid blend made from glutamine, arginine, and many BCAAs
Besides vitamins and minerals, Opti-Men provides four important digestive enzymes
The product boosts both your immunity and metabolism while also lowering fatigue
Downsides
It might not work so well for people who suffer from chronic diseases such as kidney issues
Some clients complained that the formula has changed for the worse
Price
90 tablets of Opti-Men Multivitamin cost $15.99 or $0.18 per tablet. Check out the latest prices on Amazon.
d. Essential Amino Energy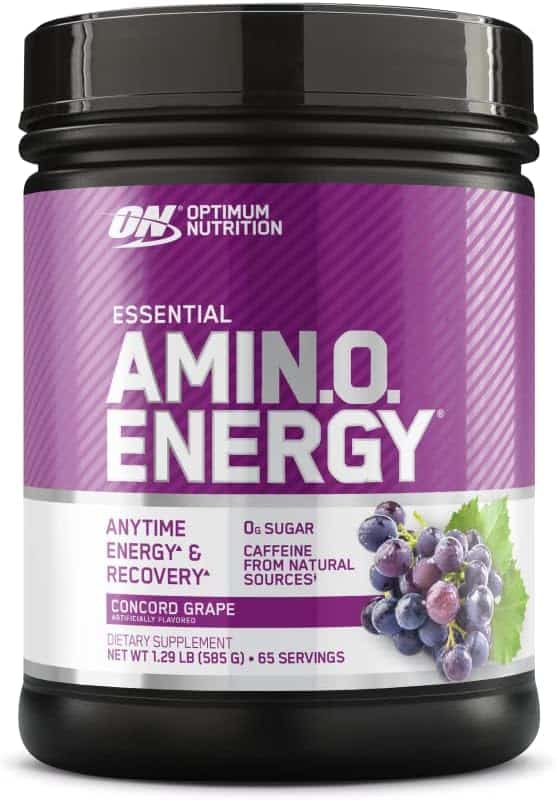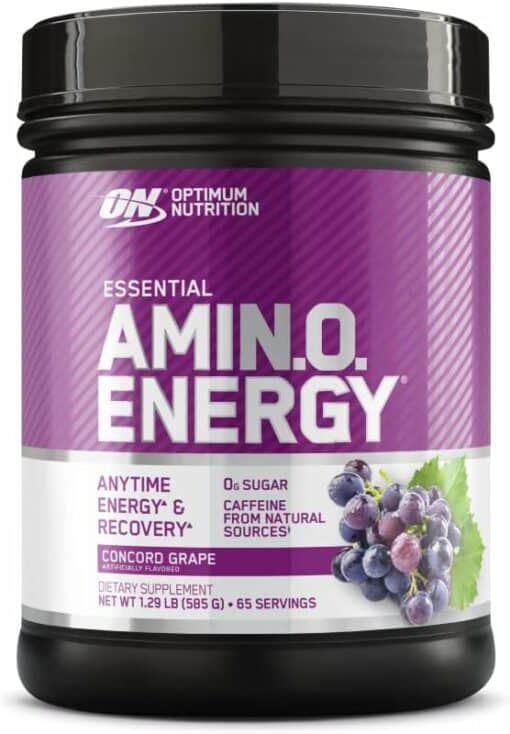 This works best as a pre-workout BCAA supplement but it can also be taken prior to your physical activity because it increases endurance and mental focus.
You can easily mix this powder with cold water or even add a couple of ice cubes in there just to enhance the entire experience.
Benefits
It is a potent pre-workout supplement with a pretty high dosage of caffeine
Because I've just mentioned the caffeine content, you are probably worried about jitteriness but you should consider that this supplement also contains taurine which lowers that annoying side effects of stimulants
The BCAAs included in the product's formula prevents muscle damage and increases endurance
It is affordable
Downsides
Although this supplement comes in a large array of available flavors, they aren't very tasty
Some of the ingredients aren't that useful for your training sessions
Contains artificial sweeteners and soy
Price
1.29 Lbs or 65 servings of the Essential Amino Energy cost $37.99 or about $0.58 per serving. Check out the latest prices on Amazon.
2. Trans4ormation Mode Stack by Evlution Nutrition
a. Trans4orm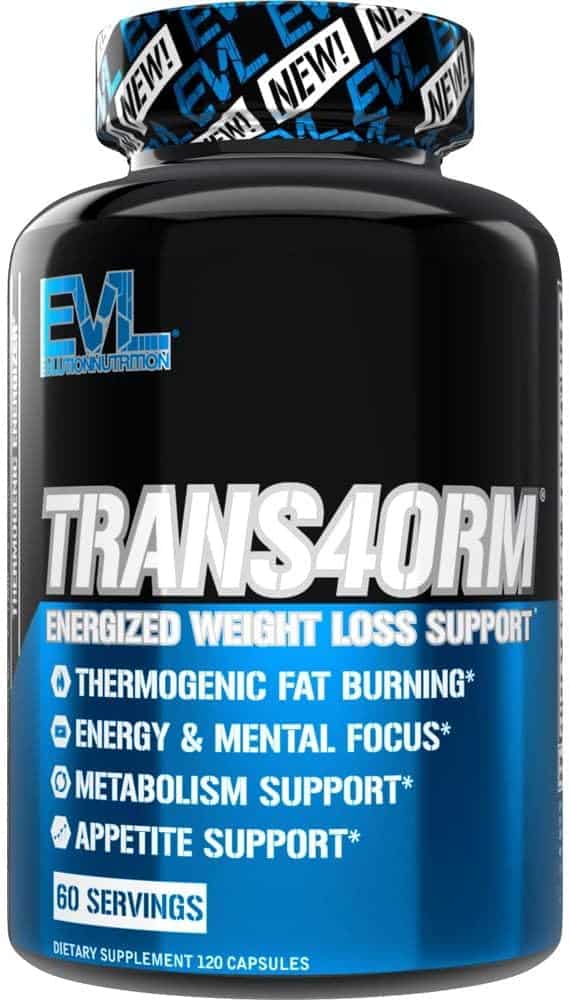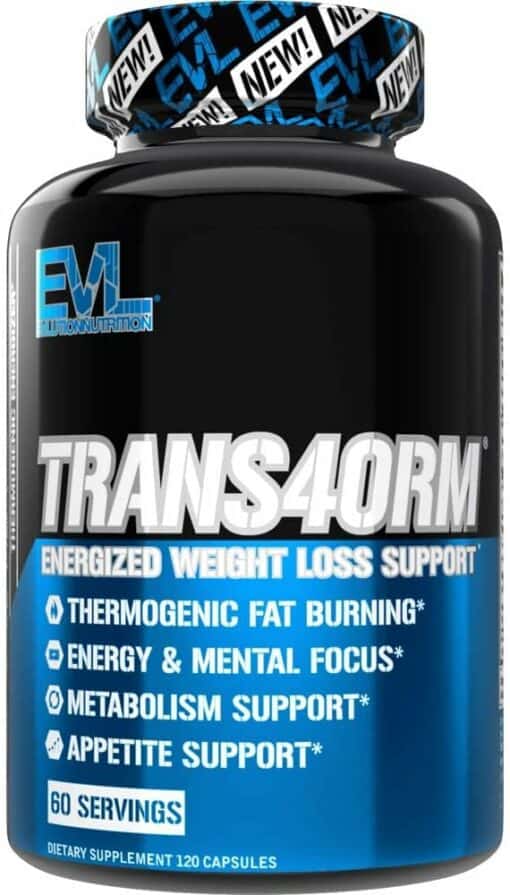 According to most consumers, this is one of the best thermogenic and energizing fat burners on the market. Trans4orm is an effective dietary supplement and it is part of the cutting stack manufactured by Evlution Nutrition.
Besides being marketed as an effective fat burner, Trans4orm is also popular for its mental functions enhancing properties.
Benefits
This fat burner has a solid and potent formula that includes powerful cognitive ingredients
Comes with a full vitamin profile that will boost your energy
Evlution Nutrition is a reputable company that manufactures good health and fitness products
This particular supplement lowers hunger, controls your appetite, and curbs cravings
Provides a decent amount of antioxidants which will help you maintain a general good health
You will be able to focus better and concentrate more
Downsides
Unfortunately, there are a number of potential side effects that can occur when consuming this product: diarrhea, headaches, hyperactivity, and vomiting
A few consumers have complained about the fact that Trans4orm has made them experience feelings of anxiety
Might not provide the expected results for all the buyers
You cannot purchase it from anywhere you want
Price
Sixty servings of the Trans4orm will cost you $19.99 or about $0.17 per serving. Check out the latest prices on Amazon.
b. Lean Mode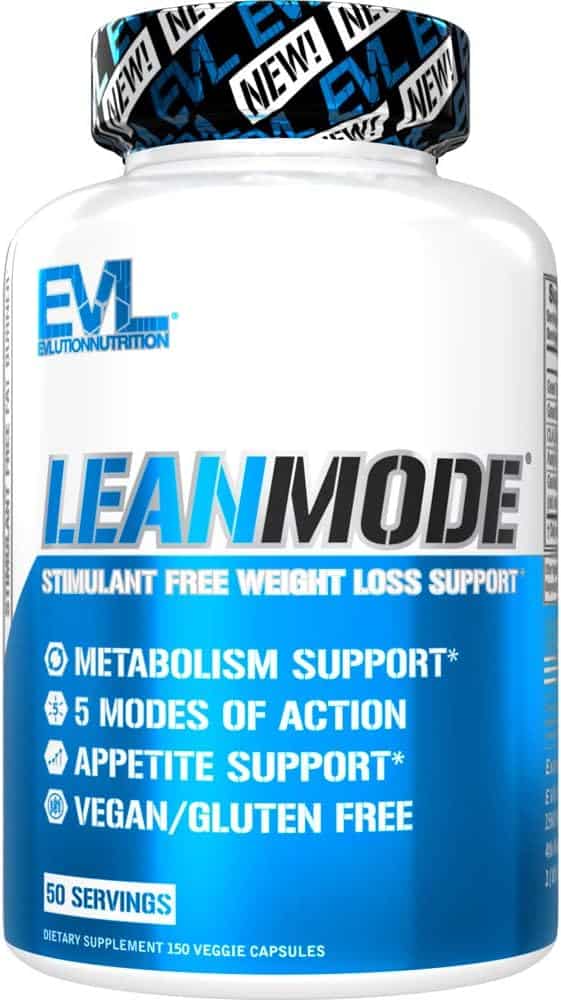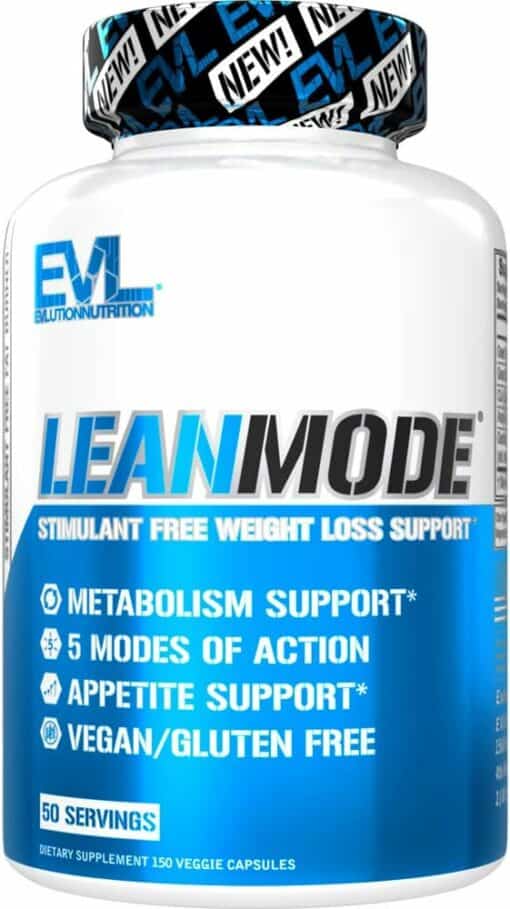 Lean Mode is the perfect addition to this cutting stack because it completes and enhances the effects of Trans4orm. It will raise your metabolic rate which will further lead to an increased fat burn.
Moreover, it helps you regain control over your appetite while also providing plenty of antioxidants. This product contains some of the best weight-loss compounds out there: green coffee bean extract, CLA, green tea extract, Garcinia Cambogia extract, and Acetyl-l Carnitine.
Benefits
It contains highly effective ingredients
Promotes a healthy weight loss
It lacks proprietary blends which is definitely a major plus because you can see exactly how much of each ingredient is added to the formula
Lean Mode suppresses hunger and boosts your energy
It is available in 5 different tasty flavors, from pink lemonade to peach tea
Comes with a lower risk of side effects, so you don't have to worry about exhaustion or jitters
It is less expensive than many other similar supplements
Downsides
I couldn't really find serious disadvantages. However, individuals who are under the age of 18, nursing or pregnant women, and people who deal with severe medical conditions or who are taking medication should not consume the Lean Mode.
Price
50 Servings of the Evlution Nutrition Lean Mode will cost you $19.99 or about $.13 per serving. Check out the latest prices on Amazon.
3. GAT Fat Shredding Stack
a. Jetfuel Superburn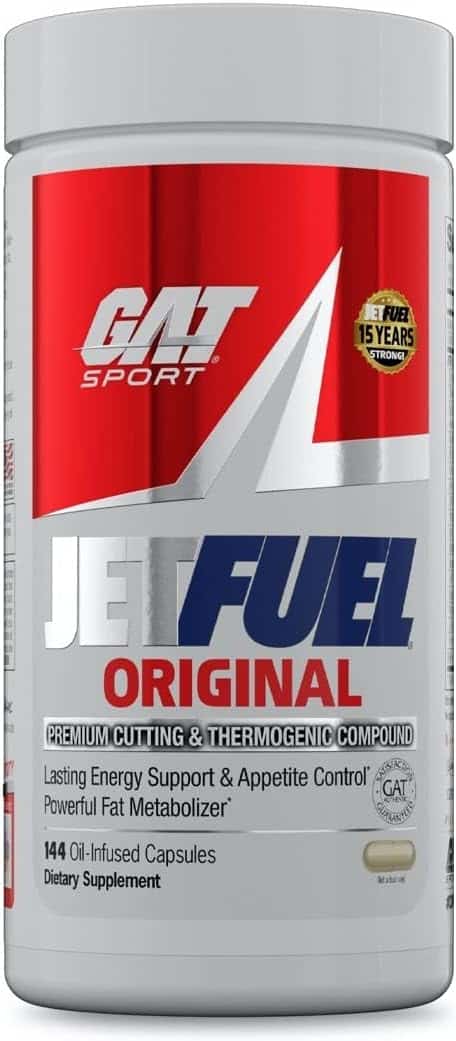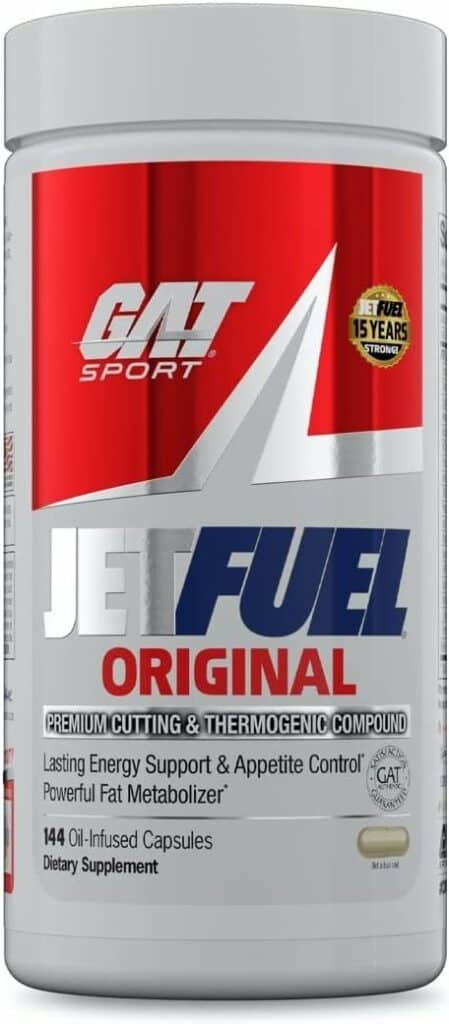 This GAT product that's included in the GAT Fat cutting stack is a thermogenic pill created to speed up the entire process of weight loss. Not only will you quickly burn more fat but you will also enjoy increased levels of physical and mental energy.
According to the company, Jetfuel Superburn works as a highly potent metabolic intensifier, and it is formulated with 14 powerful ingredients: black and green tea extracts, olive leaf, cayenne pepper, bioperine, L-theanine, lemon balm, and others.
Benefits
It seems that Jetfuel Superburn boosts both your metabolism and the speed at which your body burns fat storages
It is formulated with natural ingredients which will prevent you from dealing with jitters
Increases your energy levels
Enhances one's mental focus and improves the overall mood
Burns significantly more calories compared to many other similar supplements
Improves your athletic performance
Downsides
It can cause certain unpleasant adverse effects such as dizziness, tiredness, headaches, irritability, and an upset stomach
Unfortunately, many of the ingredients are included in proprietary blends so you can never know the exact amount of each compound
Jetfuel Superburn contains too many stimulants while some other ingredients are said to be pretty ineffective
Price
The Gat Jetfuel Superburn is listed for $26.11 or $1.84 per serving. Check out the latest prices on Amazon.
b. GAT Amino GT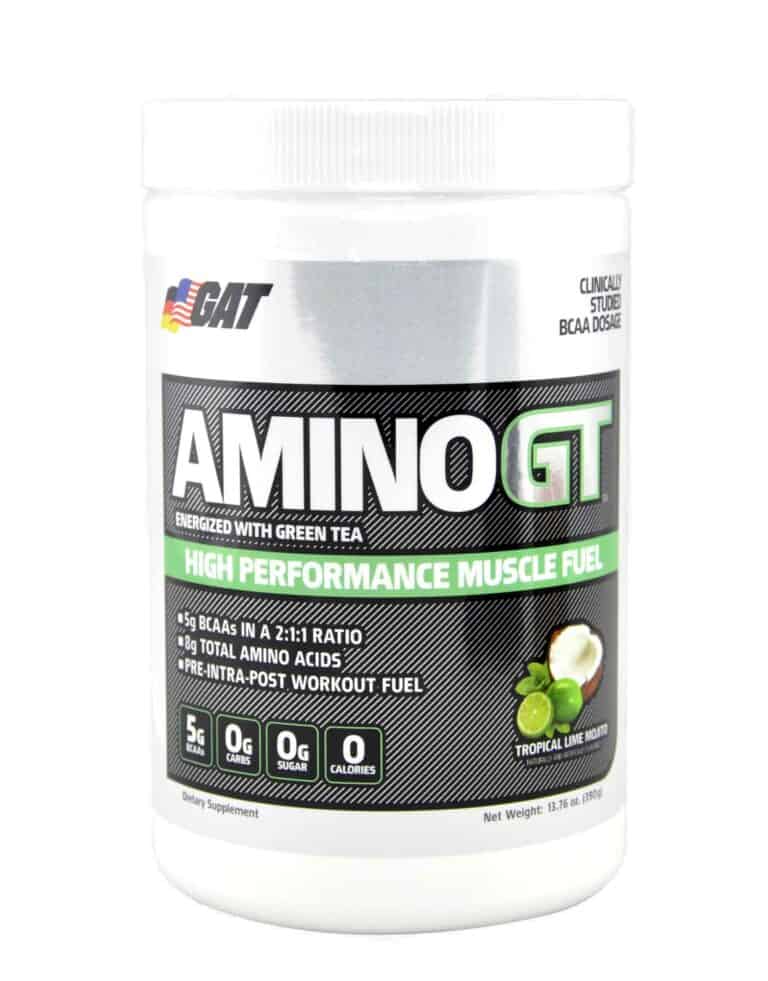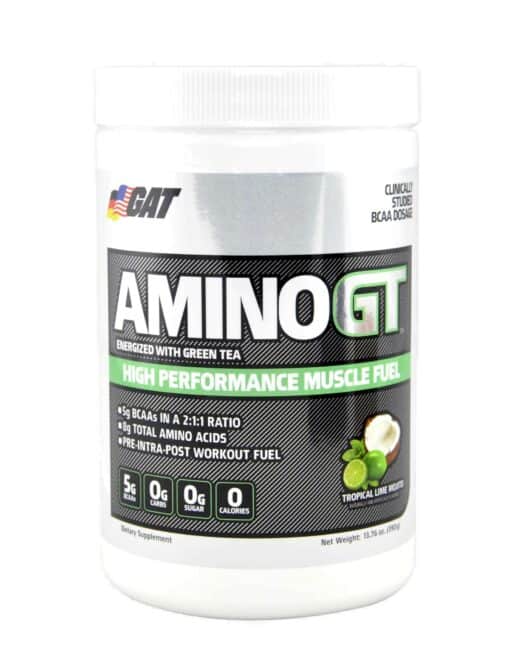 This is the stack's high-performance muscle fuel. One serving provides a decent amount of 5 grams of BCAAs, and their ratio is 2:1:1.
However, the total amount of amino acids reaches 8 grams per scoop. What I like most about GAT's Amino GT supplement is the fact that it can be consumed whenever you feel like it (before, during, or after your workouts). This product is free from carbs and sugars, and it is a 0-calorie supplement.
Benefits
It comes in a wide range of available flavors, and all of them taste very good
The ratio of the main BCAAs (leucine, isoleucine, and valine) is 2:1:1 which is the perfect one
This product offers plenty of potent ingredients that can help you burn fat and lose weight: amino acids, papain complex, green tea leaf extract, and bromelain complex; not to mention its mineral and vitamin blend with although is not perfect, it remains a pretty decent addition: potassium, vitamin C, and pantothenic acid
Downsides
Unlike the other GAT products, the Amino GT doesn't have a great mixability. When you add the powder into water, you might have to deal with clumps from time to time, but it reacts better than other similar amino acid supplements
Price
The GAT Amino GT costs $24.50 per 390 grams (30 servings) or about $0.82 per serving. Check out the latest prices on Amazon.
c. Jetfuel Accelerator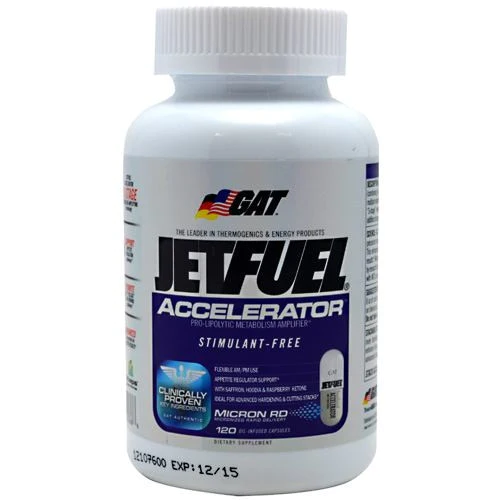 Jetfuel Accelerator offers you an effective way to lose weight and burn fat without the side effects of stimulants. It is formulated with great ingredients like choline, cayenne pepper, L-Carnitine, and raspberry ketones.
The product comes in the form of capsules, and there are 120 counts in a container. Consumers must take one serving of three capsules per day.
Benefits
Amplifies fat burn and metabolism and it doesn't impact your central nervous system because it is free from stimulants
Has nutraceuticals which are linked to healthy aging
Contains micronized compounds which support a better solubility
The capsules are made in such a way that they dissolve quickly inside your stomach
Unlocks stored body fat and controls your appetite
These dietary supplement capsules are infused with oil
Downsides
Some say this product is excellent while others state it made them constipated
Sometimes one single capsule might not be enough to achieve your desired results so you might need to increase the dosage up to three capsules per day
One reviewer complained that this product had caused him jitters
Price
The Jetfuel Accelerator is pack of 120 capsules is listed for $38.95 or about $0.32 per capsule. Check out the latest prices on Amazon.
d. GAT L-Carnitine
Each GAT L-Carnitine container comes with 60 veggie capsules that are meant to offer consumers an energy boost as well as an increase in the body's thermogenic effect which leads to a quicker fat burn. This amino acid is included in the formula in its free form.
The company created this versatile supplement to help athletes or fitness enthusiasts improve their athletic performance. It comes in a variety of flavors, but the most popular ones are green apple, rainbow burst, and blue raspberry.
Benefits
Supports weight loss and boosts endurance
It works as an effective fat burner supplement
One serving provides no less than 500 mg of L-Carnitine tartrate
The capsules suit all types of lifestyles and diets, including those of vegetarian people
It has a very good taste
GAT's L-Carnitine is a very affordable product
It is free from any stimulants
Downsides
A few consumers have stated that this supplement made no difference for them when it comes to their athletic performance and energy level
Price
You can find the Gat L-Carnitine on Amazon for $8.97. It contains 60 capsules which means that each capsule will cost you about $0.15. Check out the latest prices on Amazon.
4. Fat Loss Stack by Infinite Labs
a. Carnitine MTX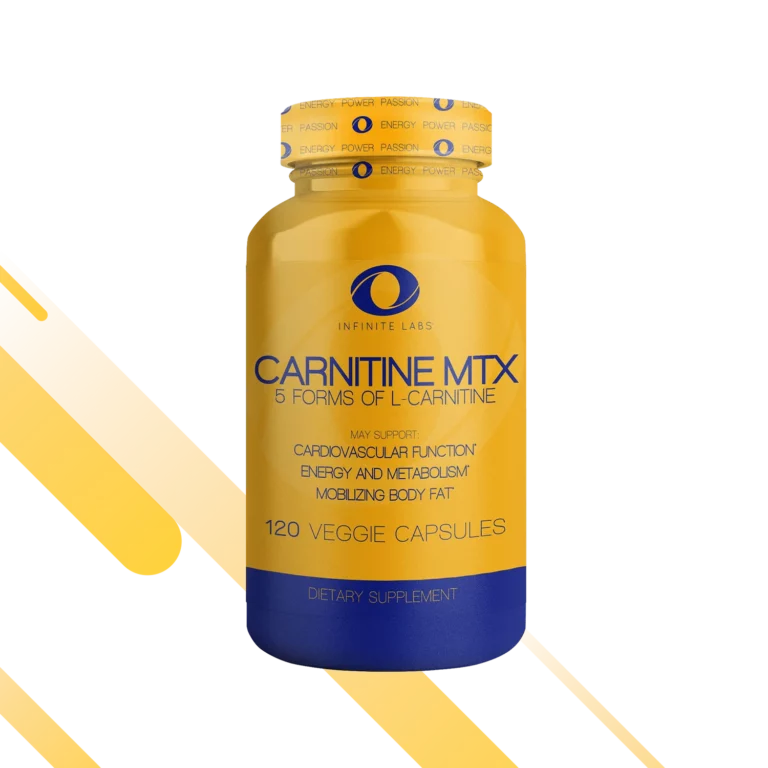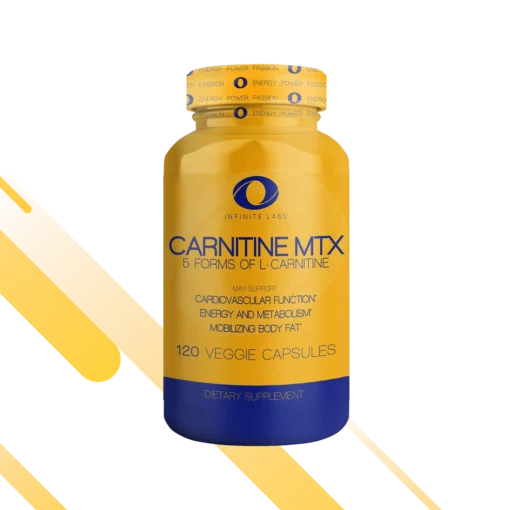 Carnitine MTX is a dietary supplement, part of the Infinite Labs' Fat Loss cutting stack. The recommended daily dosage is comprised of two capsules.
This is a great weight-loss and health product because it contains 5 different amino acids, all derived from carnitine. The capsules are easy to swallow, and the product is stimulant-free.
Benefits
Promotes body fat reduction
Prevents muscle damages and initiates muscle recovery
Supports a balanced hormonal production
Converts fat storages into fuel and energy
Increases one's endurance and physical performance
Boosts your metabolism and it has a great bioavailability
Downsides
There are some claims according to which this supplement, although it is free from side effects, might work only or primarily at a psychological level, like a placebo effect, instead of having real results, but all these are merely speculations.
Price
A one-time purchase of the Carnitine MTX will cost you $15.71 or about $0.13 per capsule. 
b. Final Cutz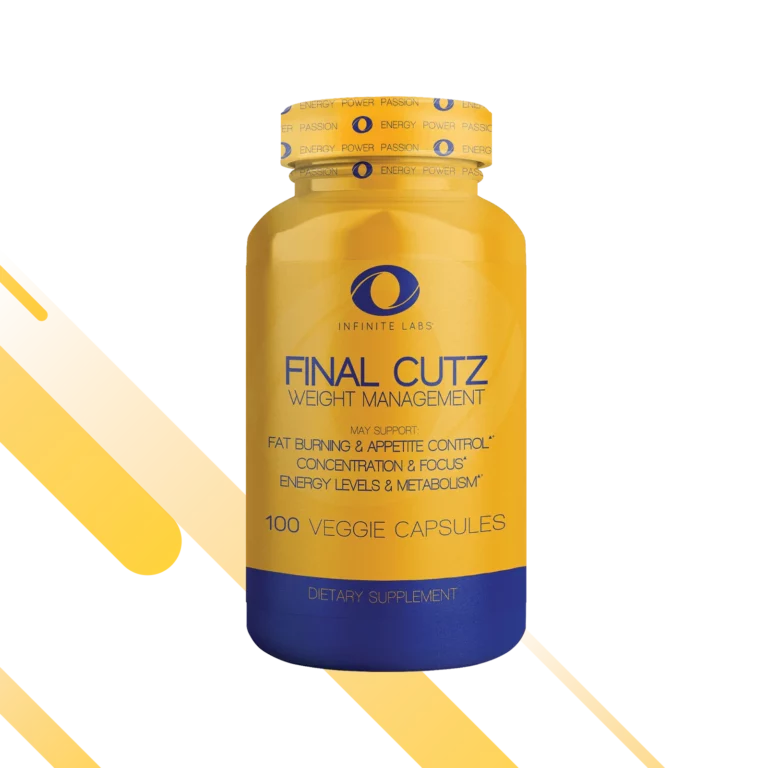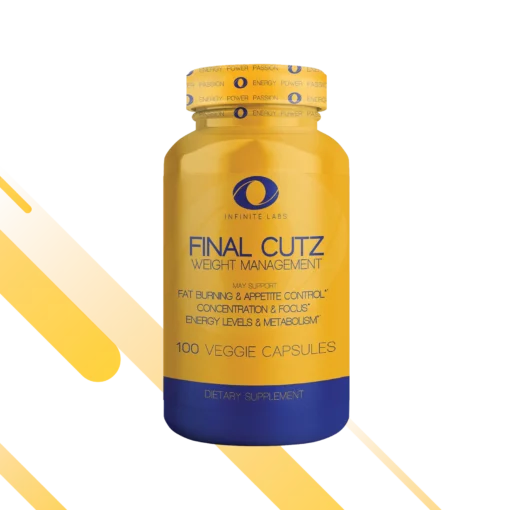 This supplement enhances the effects of the other two products included in this cutting stack manufacture by Infinite Labs. Moreover, it also provides other important advantages such as increased mental focus and a better concentration.
It contains Acetyl-L-Carnitine which enables lipid transportation and oxidation. These processes will lower one's appetite and control hunger.
Benefits
Supports a lower appetite and a healthier metabolism
Helps you burn fat and transform it into fuel for your muscles
Increases your energy as well as mental clarity
You will achieve a better body composition
Downsides
A few consumers have said that Final Cutz didn't do anything for them
One reviewer even stated that the company has a poor customer service
Price
The Infinite Labs Final Cutz comes in a pack of 50 servings (100 capsules) and it costs $15.99, $0.16 per capsule or $0.32 per serving. 
c. Final Form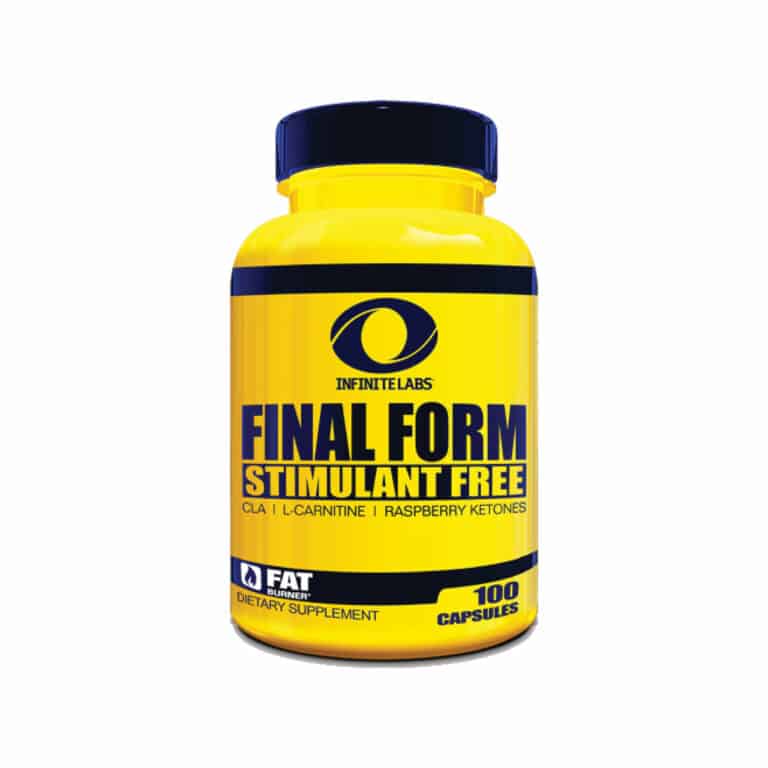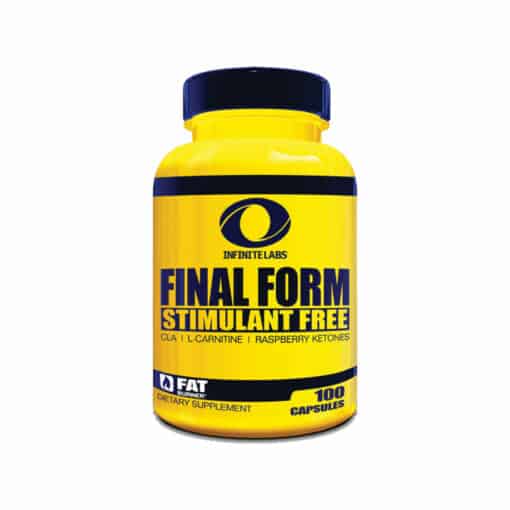 This is the stack's metabolic optimizer which is also free from stimulants. It is formulated with L-Carnitine, raspberry ketones, and CLA which are all effective metabolic boosters.
Final Form suppresses your appetite, induces thermogenesis, and boosts fat burn. Most of the people who take this supplement have said that they can last longer in the gym.
Benefits
Transforms fat storages into fuel and energy
Lowers the body's tendency to store fat
Supports thermogenesis
Controls your hunger
It is free from stimulants so you won't have to worry about jitters
Downsides
According to certain consumers, Final Form didn't meet their expectations of effectiveness
Some say they haven't lost a pound after taking this supplement
It contains artificial dyes and colors
Frequently Asked Questions: FAQs
Bottom Line
All the above cutting stacks provide decent results and, combined with a healthy diet and daily or regular exercises; they will bring your desired body composition. However, I think that the best and most effective cutting stack of all is the Optimum Nutrition Weight Loss Stack because it comes with a great mix of amino acids, caffeine, and other essential nutrients.