Following a ketogenic diet can be difficult at times, especially if you're someone who is extremely busy and constantly traveling around. If you happen to be someone who depends heavily on fast food, finding low carb options at your go-to joints may not be something that you know of. However, many fast food joints and even mom and pop shops are beginning to offer a more extensive selection of low carb snacks and meals for their customers!
When you have the option to eat out at a restaurant while you're following the ketogenic diet, you don't necessarily have to go off the rails and eat a high-carb dish to break your healthy habits. There are strategies and tips that you can follow when you go out to eat that will provide you with the opportunity to make healthy choices that follow along with your keto diet when you go out to eat.
Tips for eating out while following keto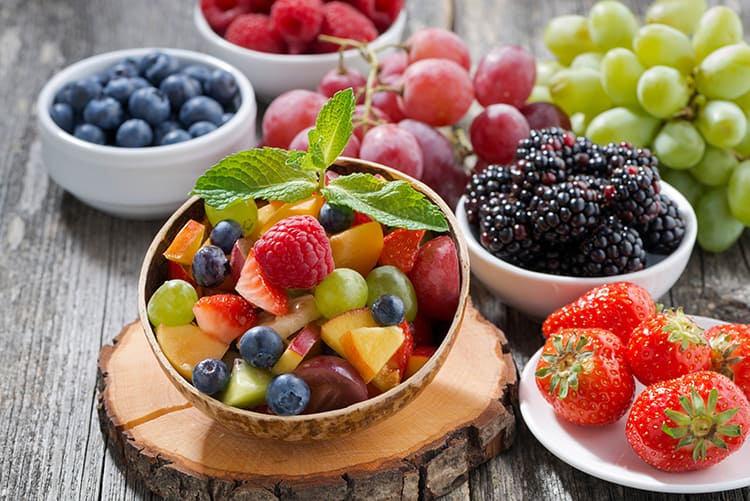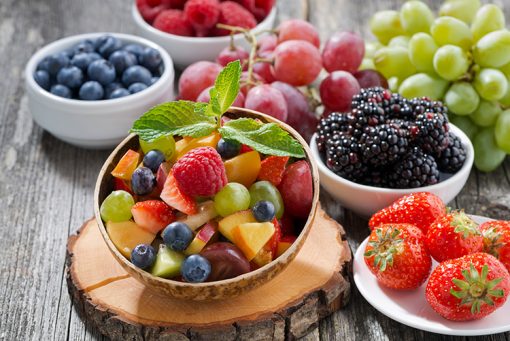 Do a bit of research
Before you make a decision about where you're going to eat, do a quick little search on the Internet to find the restaurant menu. Typically, you can find the menu on the restaurant website, on Yelp.com, or even on their Facebook page. Look through the menu and decide what low-carb option you're going to order before you head over to the restaurant, that way you're prepared to say no to other tempting option. It would also be a good idea to think of the best fats you can eat while on Keto diet, and which keto snacks to include in your Ketogenic diet.
Ask questions if you're uncertain
When you're ordering at a restaurant, and you're unsure whether the food will fit into your keto diet, don't be afraid to ask the wait staff questions. Here are a few questions you could ask, to help ensure that the meal you're ordering is low carb:
Ask to see if you could switch out fries/potatoes/other high-carb sides for steam veggies or a side salad.
If you happen to be order fish, meats, or any seafood, make sure to ask if the meat/seafood is breaded.
If you have a salad, ask if you could have a vinaigrette for salad dressing instead of ranch.
When ordering your dish, make sure to ask if your meal comes with any toppings or sauces that aren't listed in the description of the dish.
Choose to eat at certain types of restaurants
Certain restaurants offer more keto-friendly options that other restaurants do. These types of restaurants include:
Seafood restaurants
Chinese restaurants
BBQ restaurants
Steakhouses
Greek restaurants
Middle Eastern restaurants
You should pay extra attention to avoiding these types of restaurants:
Pizza shops
Sandwich shops
Italian restaurants
Mexican restaurants
Have a small snack before you leave
One easy way to ensure that you don't slip up and over carb is to have a small snack before you leave for a restaurant. Arriving at a restaurant when you're starving will decrease the chances that you're going to stick to your diet, as you will be more willing to give into your cravings.
Stick to the keto basics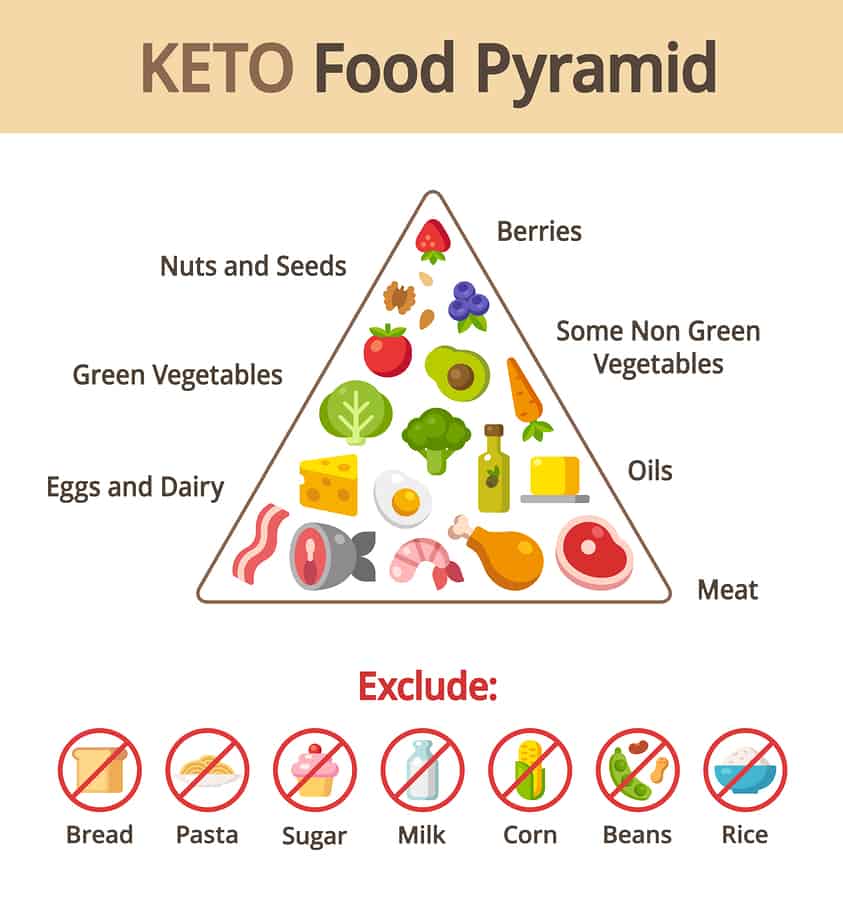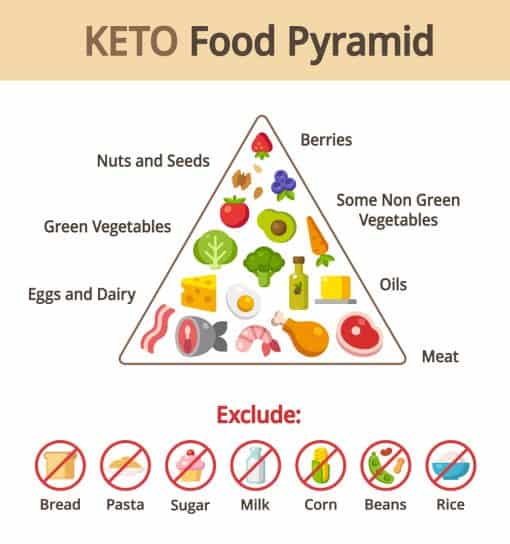 It's more common than not that most restaurants are adding extra carbs and sugar in their dishes. The very basics of the ketogenic diet include cheese, meat, and vegetables; if you're stuck at a restaurant and you can't really find a dish that fits into your diet, sticking with the simplest combination (meat, veggies, and a fat) can be an easy option for you to choose. Even if your only option is to order a hamburger, you can cut out the majority of the carbs for that meal by not eating the bun on the burger and not eating the fries.
Make sure to check the ingredient list on salads
A lot of pre-made salads come with croutons, dried fruits(find out which sneaky fruits and vegetables to avoid), and dressings that are high in carbs. If you have the option to, order salads that don't have too many extras included in them and ask for dressing on the side. On the other hand, if you don't have the option to build your salad, pick out the additives that are high carb.
In addition to that, make sure that you keep a careful eye on the dressings and condiments that you use with your dishes. Many dressings and sauces come jam-packed with extra sugar and extra carbs, so make sure that you're choosing fattier salad dressings that don't typically contain sugar; ranch dressing, bleu cheese dressing, and Caesar dressing are all great keto-friendly choices.
Keto friendly restaurants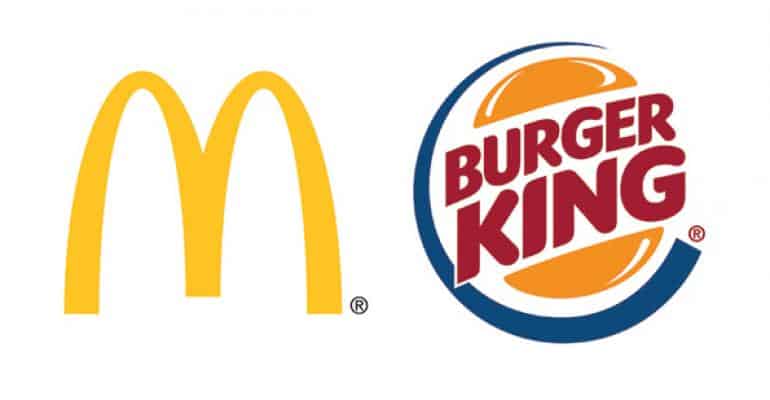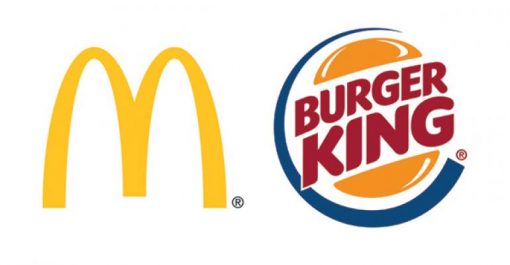 Burger King /McDonalds /Wendy's/ Hardee's/ Carl Jr's
On any road trip that you take, you're more than likely going to run into a Burger King, Wendy's, McDonald's or another type of fast food burger joint. Finding a quick meal at a popular burger joint can also be friendly to your wallet while still providing yourself with a low carb option.
You can ask for a burger or a grilled chicken sandwich without a bun for a lunch or dinner option. Typically, when you order a burger or a grilled chicken sandwich without a bun, your sandwich will come wrapped in lettuce on top of the sandwich to act as a bun.
When you're eating out at these burger joints, make sure that you stay away from breaded chicken nuggets and French fries, as both of these options are incredibly high in carbs. Another way you could cut out additional carbs is by asking for a burger or a grilled chicken sandwich that doesn't have ketchup on it.
One serving of ketchup will add an additional 1 gram of net carbs to your meal. If you're looking to give yourself a more substantial sandwich, you can ask for bacon on your sandwich or extra cheese and mayo on the side. All three of these options will provide you with a larger fat intake without having to add any additional carbs.
On the other hand, if you're looking for a keto breakfast option, these fast food burger joints are a great place to stop. You can get your hands on a low carb breakfast bowl at Hardee's/Carl Jr's that is filled cheese, egg, and a selection of meats. If the burger joints you're at doesn't provide you with any selection of a breakfast bowl, you can always order a breakfast sandwich with egg, cheese, and bacon/sausage/ham and take the bun off of the sandwich.
Subway/ Jimmy John's/ Jersey Mike's
Sub sandwich shops are beginning to offer low carb options; one of the most popular keto options that many sub shops are starting to offer a lettuce bowls filled with sub fillings. Some of the most commonly found low carb fillings are; grilled chicken, bacon, boiled egg, cheddar cheese, spinach, olive oil, almonds, pecans, and vinegar.
Panera Bread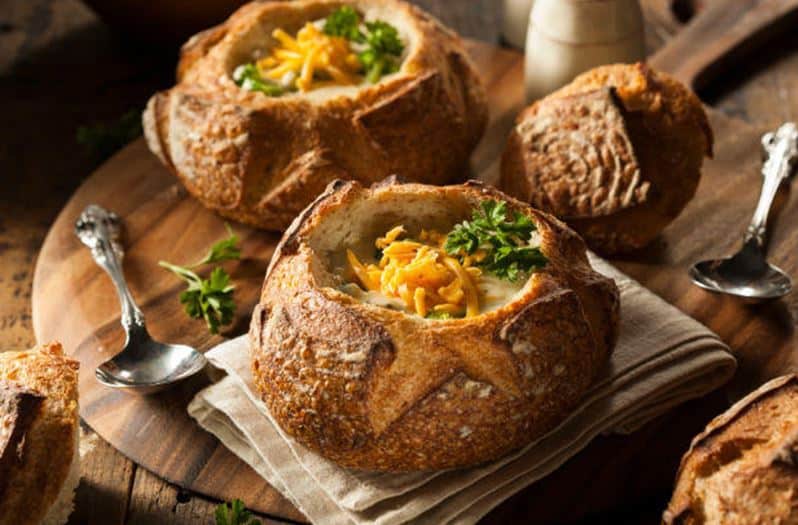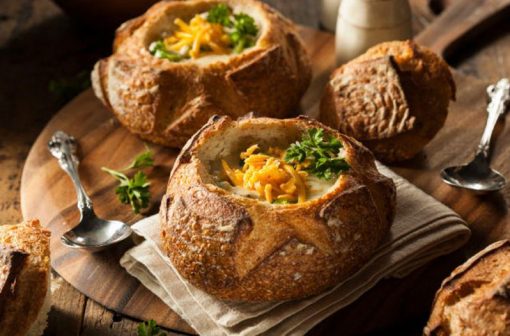 Panera is a place that is well-known for their sandwiches, but they do offer several keto options that aren't salads! Some of these options include:
Power Breakfast Egg Bowl with Steal
Power Breakfast Egg White Bowl with Roasted Turkey
Power Mediterranean Chicken
Power Mediterranean Roasted Turkey Bowl
Power Steak Lettuce Wraps
Chick-Fil-A/KFC
Chick-Fil-A is a restaurant that doesn't have too many low carb or keto options to choose from, but there are still two choices that you can go with at the restaurant:
Grilled chicken nuggets
Grilled market salad
It should be noted that the grilled market salad from Chick-Fil-A is higher in carbs with 11 grams of net carbs for an entire salad. However, if you pick out the berries, fruit, and granola out of the salad, you will significantly reduce the carb intake on the salad. Make sure to be cautious of the dipping sauces that come with your nuggets or your salad, as these are often full of sugar and are high in carbs.
KFC is a good place to stop if you are looking for a keto meal that includes chicken. Each serving of KFC's grilled chicken has between 0 grams to 1 grams of net carbs for each serving of the grilled chicken. If you don't consume dipping sauces with your chicken and instead order a side of green beans, you'll be able to cut out a lot of potential carbs. You could also order from KFC:
Caesar salad without croutons
House salad without croutons
Taco Bell/ Del Taco
Taco places don't usually have low carb tortilla shells in their stock, so you're not going to have a whole bunch of low carb taco options at these types of restaurants. Ordering a burrito or a taco that is filled with a whole bunch of cheese and meats can get really expensive, so that isn't always a valid option for some users, especially if you're trying to do keto on a budget.
At Taco Bell and some other taco places, you can have the option to order a side of chicken (or beef) with guacamole and lettuce for around $2, but placing this order can depend upon where you are located. Del Taco's lowest carb option is their chicken bacon avocado salad, but there are 18 grams of net carbs in this salad. At the end of the day, it's usually just easiest to skip out on eating from taco places as there aren't many options for people who are looking to consume a keto diet.
Pizza Hut/ Dominos/ Papa John's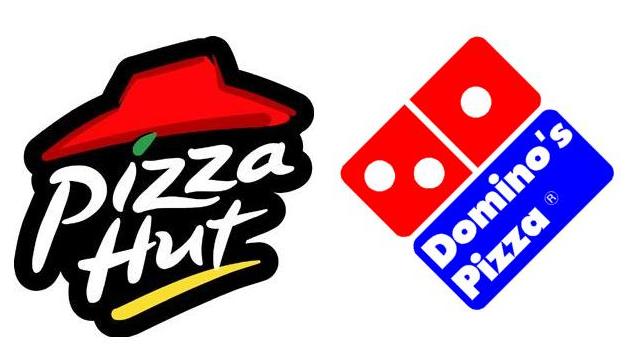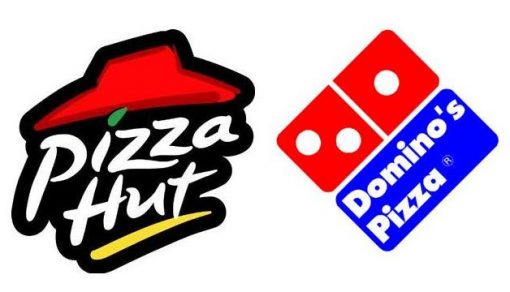 Pizza places, whether they are a local pizza joint or a chain restaurant, typically offer chicken wings and are an excellent option for people are looking to stay on a low carb diet, since pizza isn't a low carb food. However, make sure that the chicken wings that you are ordering aren't breaded; if you are unsure if they are breaded, you can always ask! Also, keep an eye out for the flavor of the wings, as some of the sauces or the dry rubs that are used on the wings will contain sugar.
Wing Stop/ Buffalo Wild Wings
No matter if you're stopping at a mom and pop wing shop or a chain wing restaurant, you're going to find yourself traditional style chicken wings. The lowest chicken wing option for you would be naked wings dipped in a fatty sauce, but that can get very boring rather quickly. Here are a few dry rub options or sauce options that are low in carbs:
Naked or plan
Buffalo
Old Bay
Chipotle BBQ
Hot
Lemon Pepper
Salt and vinegar
Parmesan garlic
Dickey's BBQ/ Famous Dave's/ Arby's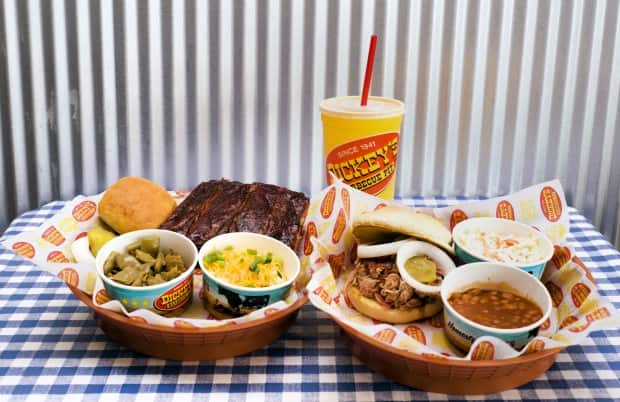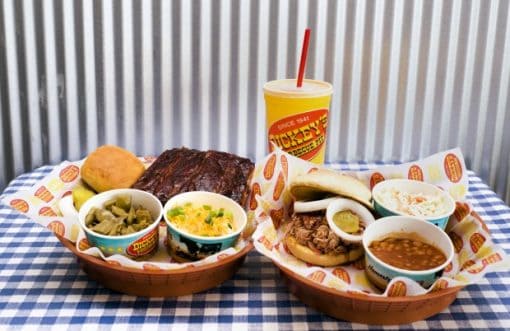 Whether you're choosing to eat at Dickey's BBQ or Famous Dave's or another BBQ joint, there are several hearty options that you can choose from a BBQ joint without eating carbohydrates. While following your keto diet, you can order smoked meats and some pickled vegetables without having to worry about any added sugars.
It does depend upon what joint you're ordering from, but most chain restaurants do typically have nutrition information available online. Make sure that you try your best to stay away from sauces, as most sauces in BBQ joints have sugar in them, which means that they're high in carbs.
Chipotle/ Qdoba/ Moe's Southwest Grill
There are many places in the restaurant industry that allow you to build your burrito or burrito bowl while you're on the go. Many of these places put beans and rice in their bowls to add extra ingredients to their bowls or salads. These types of Mexican food places provide users with several ketogenic options to build a salad or a burrito bowl, make sure that you're conscious of all of the toppings that you're adding onto your meal, as carbs can add up quickly.
Cracker Barrel
Cracker Barrel does offer their own specialty low carb menu that doesn't get too much attention from people who regularly visit Cracker Barrel. However, if you're a die-hard fan of the restaurant and you're looking to follow along with your keto diet, here are a few options for you to choose from that Cracker Barrel offers especially to ketogenic diet followers:
Half pound back cheeseburger
Lemon pepper grilled trout
Grilled steak salad
Grilled roast beef
Green beans
Spicy pork rinds
Starbucks/ Dunkin' Donuts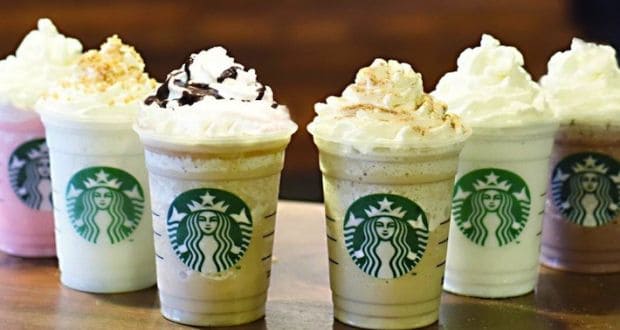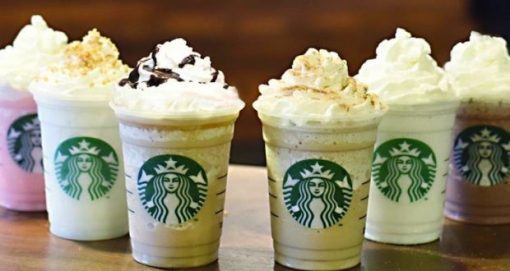 Grabbing a cup of coffee filled with flavored creams, sugars, and flavor shots can be a quick way to rack up a bunch of extra cars and calories without trying. The easiest options for you to choose from are hot or iced tea, black coffee, or coffee with almond milk, coconut milk, or heavy whipped cream. Always make sure that the creams/ milk that you put in your coffee are unsweetened if the shop carries it.
You could also order an Americano, which is hot water added to espresso! Many coffee shops also offer breakfast sandwiches, which are great to grab if you're in a rush that morning- make sure to take off the bun!
Wawa/ Royal Farms/ 7-Eleven/ Sheetz
If you find that you're someone that has to run into a convenience store to grab a cup of coffee and a snack every morning, try switching out your morning snack with a low carb option. While it may not be an immediate idea at first, many gas stations now have a decent selection of ketogenic options for you to choose from, which include:
Hard-boiled eggs
String cheese
Almonds/pecan
Pork rinds
Beef jerky
Deli meat
Conclusion
When you're out traveling, or you're looking to have a meal with your friends and family, there are still plenty of choices that you have available to you if you're looking to stick to your low carb or ketogenic diet. While not all choices are going to be extremely friendly to your wallet, a lot of chain restaurants provide options for low carb-ers that are tasty and inexpensive. No matter what choice of restaurant you've made, make sure to enjoy your meal out!
Additional Readings: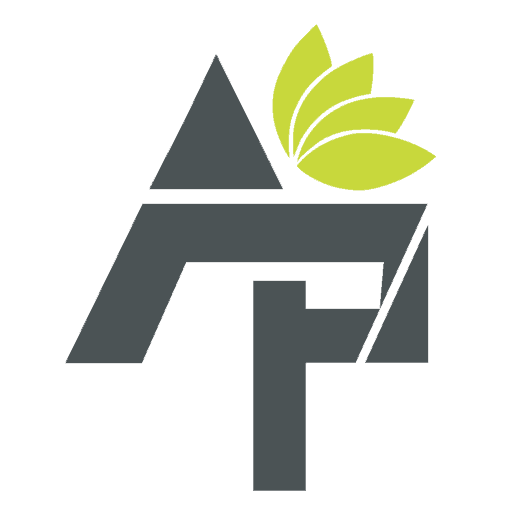 Alt Protein Team is a team of professionals and enthusiasts committed to bringing you the most up-to-date information on alternative protein, health and wellness, workouts, and all things health-related. We've reviewed a lot of products and services so you don't have to guess when you spend your hard-earned money on them. Whether you want to shed some pounds, build lean muscle or bulk, we can help you figure out what you need to do and what you need to have to achieve your goals.