Maca can benefit men or women in a multitude of ways, and the best maca supplements may boost your energy, balance your hormones, increase libido and fertility, make you feel less stressed (maca's an adaptogen), and more.
What to Look For
You can take your pick between powder or capsule form as well as gelatinized vs. raw. But which one is best?
Powder or Capsule
If you're not big on smoothies or find that you don't like the taste, capsules are definitely a superior option.
I prefer powders because it gives me more control over how much I consume. Most of the time, I don't really even notice a flavor. When I do, it kind of reminds me of white potatoes. It's different, but not an unpleasant flavor at all.
Some people may swear that capsules render the maca inside useless because your body won't break it all down, but I'm not sure I agree with that. I have no trouble getting the benefits from other supplements that come in capsule form and see no reason this would be different.
Really, it comes down to personal preference.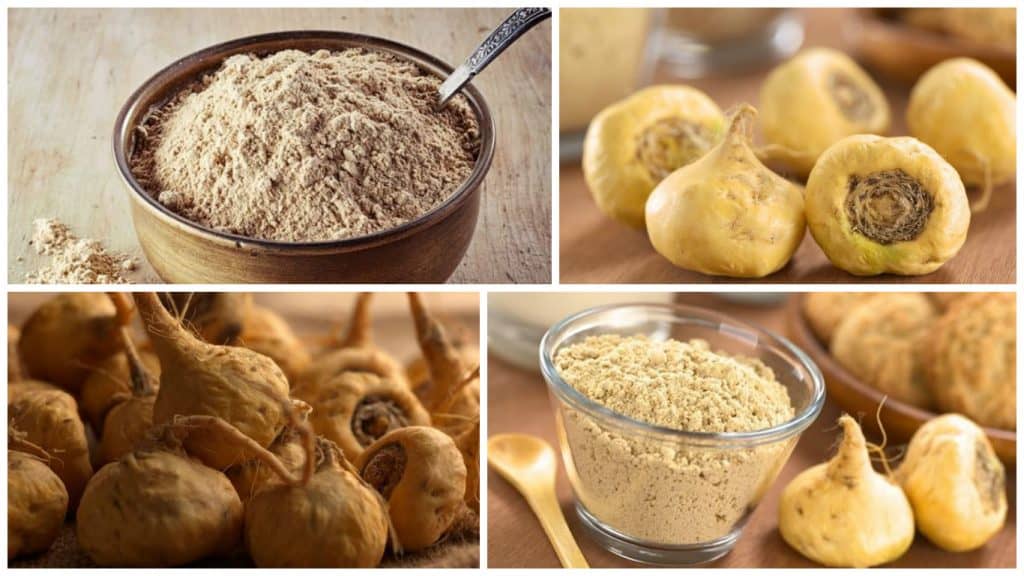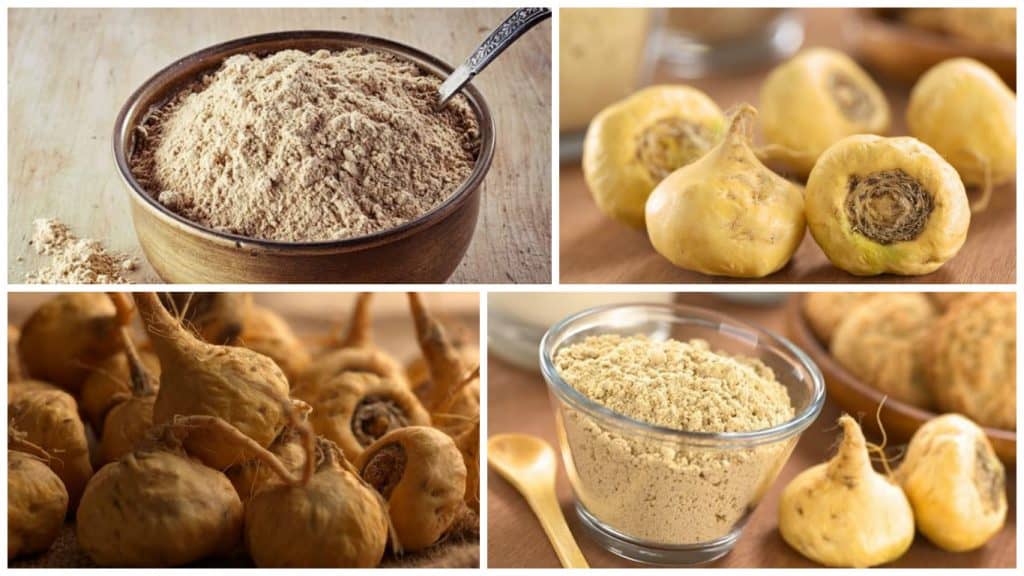 Gelatinized vs. Raw
Gelatinized maca powder sounds disgusting, right? It sounds like anything but powder, and like the texture would be off-putting, but it isn't. It really is just powder.
The gelatinization process takes some of the starch out and makes it easier for your body to digest and use. Gelatinized maca is also more concentrated.
Does that mean you should never take raw maca? Well, no. Knowing the difference will ensure that you get the right one for your needs. For example, the sugars and starch that remain in raw maca can help build muscle mass, boost energy, and speed up post-workout recovery.
Eating raw maca allows you to take advantage of all the nutrients, glucosinolates (associated with anti-cancer properties) and enzymes maca has to offer, too. The gelatinization process can destroy some of the nutrients in maca.
Why Maca?
Talk to your doctor before you add this supplement into your daily routine, but maca may help with:
Reducing stress
Balancing hormones
Boosting energy levels (and helping you maintain them)
Increasing stamina
Boosting libido
I used to mix a maca powder into a smoothie that had coffee, cacao, chia seeds, half of a banana, and ice (sometimes frozen cubes of coffee, but then I subbed some of the liquid coffee with almond milk).
I can vouch for the sustained energy. It wasn't like a normal caffeine high and then a crash. I felt clear, focused, and energized. A similar mix without the maca didn't provide the same results.
The 9 Best Maca Supplements to Try
Want to know the best maca supplements to try? I've broken them down into powder and capsule options since I think choosing between those will be the first step in narrowing down the right one for you.
The Best Maca Powder
Here are the best maca supplements in powder form, for mixing into smoothies, oatmeal, etc:
This one is available in gelatinized or raw form and at least three bag sizes (16, 8, or 4 ounces), which makes it easy to try it without a huge financial commitment and then increase as you become surer that you like it.
It's certified organic and B Corps certified (which means they take social and environmental standards seriously and are transparent about what they do).
Prices vary between about $4.00 to $20.00 depending on the size of the bag and whether you want raw (cheaper) or gelatinized. Check out the latest rates here!
The serving size is one teaspoon. There are about 90 servings in the 16-ounce bags.
Terrasoul Superfoods Organic Gelatinized Maca Powder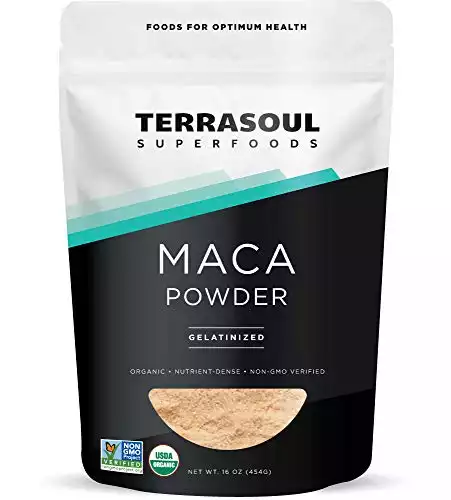 The Terrasoul Superfoods powder comes in larger sizes. The smallest is six ounces (about $6.00), but you can get bags up to five pounds (about $50.00). Check out the latest rates here!
It comes in raw and gelatinized forms. It's certified organic, non-GMO, sustainably sourced, and acquired via fair trade practices.
The serving size is ½ teaspoon whether you go with the raw or gelatinized formula. There are 227 servings in a 16-ounce bag.
The Organique Co. Maca Powder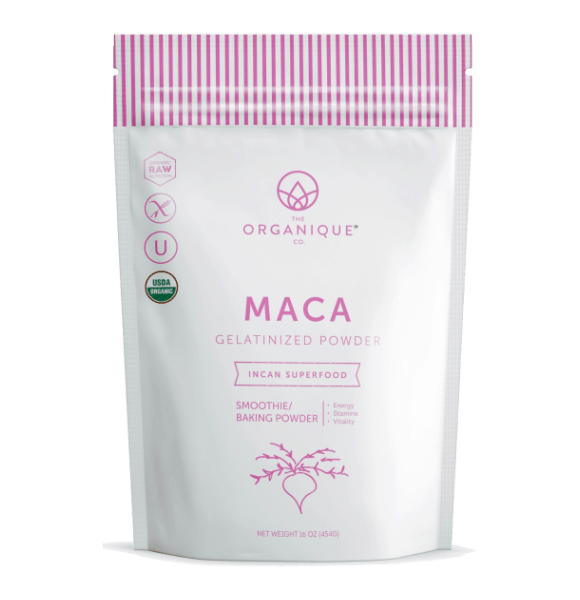 The gelatinized Organique Co. maca powder comes in three options: black (raw), red (raw), and gelatinized (which seems to be yellow maca, though I couldn't find that specific information). There is some overlap in the benefits of the different types, but:
Black maca is especially good for energy, male fertility, male libido, muscle building, mental focus, bone density, vitality, and stamina.
Red maca is especially good for balancing hormones (especially in perimenopausal women), female fertility, female libido, osteoporosis, energy, mood, hair growth, and acne.
Gelatinized maca is good for boosting energy, male and female libido and fertility, mood, energy, hair growth, acne, muscle-building, stamina, endurance, and it's easy on the stomach.
Prices vary by size and type of maca, but you can expect to pay around $14.00 to $25.00. In a 16-oz bag of gelatinized maca, you'll get 90 servings (one teaspoon each). In the raw versions, you get 50 servings (one tablespoon each).
Healthworks Maca Powder Peruvian Raw Organic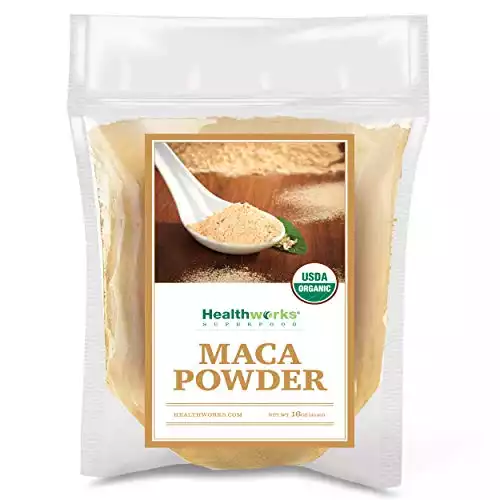 If you just want to try a small bag of raw maca to see how it affects you and if your stomach can tolerate it, this one might be a good one to start with. You can get it for around $8.00 for an 8-ounce bag.
You'll get about 45, one-teaspoon servings in a bag. ]Check out the latest rates here!
Healthworks is committed to sourcing their products sustainably. They work with small farms, use less energy, and are careful about logistic costs and waste. All of their products are minimally processed.
Gaia Herbs Gelatinized Maca Powder
This is one of the pricier options at around $20.00 for an 8-ounce or 16-ounce bag (a little less than $20.00 for the smaller one, a little more for the larger one).
However, you'll be getting 91 one-teaspoon servings in the larger bag. Check out the latest rates here!
The Gaia option is organic and the packaging is especially impressive; the bottle is made from renewable resources. What's inside is a mix of different types of maca.
The Best Maca Capsules
Prefer capsules over powder? No problem. It can be a challenge to make a shake or eat something maca powder is good in every day. Capsules can make it easier to get the supplement in.
Nature's Way Maca Standardized
Nature's Way is a well-known and trusted brand. If you feel the need to go with the capsule option but don't enjoy swallowing pills, you'll be glad to know that a serving is only one capsule (there are 60 in each bottle). The bad news is, you'll need to take one three times per day (with food).
I have no worries about whether the capsule is too much of a barrier. Reviewers comment om quick results, energy, and increased libido.
NOW Maca 500mg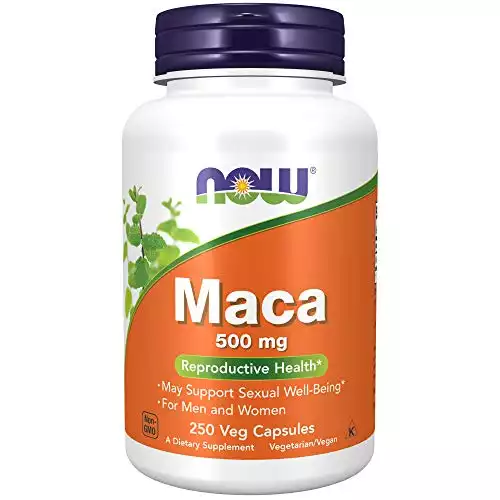 NOW is another one of those well-known brands. This raw, non-GMO maca comes in bottles of 100 or 250 capsules and costs under $15.00 (even the large bottle). Check out the latest rates here![
You're supposed to take one to three capsules per day.
NOW is focused on sustainability and giving back. They've teamed up with TerraCycle (a recycling company that takes some of the materials other recycling companies won't) and donates to charities that teach people how to take care of themselves with new skills and confidence.
Nutra Champs Organic Maca Root Powder Capsules
The listed retail price for this supplement (120 capsules/60 servings) is about $40.00 but you can probably find it for less than half that.
The Nutra Champs version is especially interesting because it's a gelatinized combination of black, red, purple, and yellow maca, plus black pepper (with claims that it helps with absorption, the way it does with turmeric). You take two capsules one to two times per day.
If you were having a hard time deciding which color to try, this one might work well. Your purchase will help get vitamins to a child or mother in need.
NaturaLife Labs Organic Maca 950mg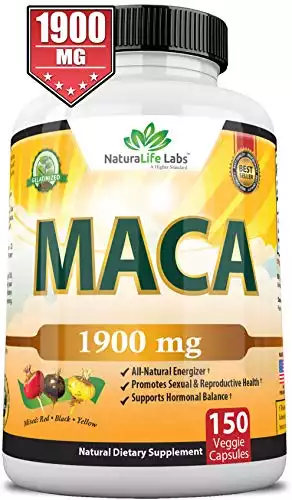 The NaturaLife Labs option has a serving size of two capsules (there are 75 servings per bottle) and they cost just over $15.00. There's even a 100 percent money back guarantee. Check out the latest rates!
This is organic gelatinized maca, so it's perfect if you have digestive troubles.
The description claims that this is the most potent maca supplements you can find. At 950mg, they're probably right. It's also a combination of black, red, and yellow maca, so you'll be receiving all the benefits across the board.
Which Maca Supplement Is for You?
Once you've decided whether you'd like a powder or capsule, you may need to decide on two more things:
Does your digestive system need gelatinized maca or is raw going to be fine?
Do you have a preference in maca color, based on their specific benefits?
From there, it comes down to what you want to pay, the size of the bag you want, and any of the other little details that differentiate the best maca supplements from one another.
Recommended Reads: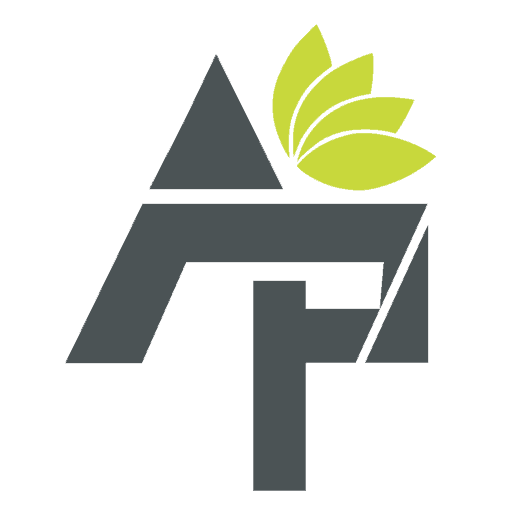 Alt Protein Team is a team of professionals and enthusiasts committed to bringing you the most up-to-date information on alternative protein, health and wellness, workouts, and all things health-related. We've reviewed a lot of products and services so you don't have to guess when you spend your hard-earned money on them. Whether you want to shed some pounds, build lean muscle or bulk, we can help you figure out what you need to do and what you need to have to achieve your goals.