HMB supplements are all the rage nowadays. The HMB compound is a type of amino acid that activates one's metabolism. It works for any type of diet you might follow and it is recommended for active people, athletes, and weightlifters.
In today's post, I have listed and detailed some of the best HMB supplement options on the market. I must mention that the following products were listed in no particular order. Still, I have selected them based on their reviews, benefits, and popularity.
My Top 10 Best HMB Supplements
1. Infinite Labs HMB Supplements
This strength training supplement offers 1000 mg of HMB per serving but unlike other HMB products, in this case, the right dosage is comprised of two capsules instead of one. So, if you consider a per-serving approach, this might feel a tad more expensive compared to HMB supplements that have a recommended dosage of only one single capsule. Infinite Labs, the manufacturer, is a wellness and health company that has more than ten years of experience in the industry.
Main features:
As mentioned previously, one serving of two capsules offers 1000 mg of HMB;
One bottle of Infinite Labs HMB supplement contains 90 capsules;
It is a bit more expensive than other similar products;
It has received good reviews from consumers.
Price
On Amazon, you can purchase the HMB capsules made by Infinite Labs for the price of $35.09 for a bottle of 90 pills. However, the shipping fee is not included.
2. Pure HMB Powder by BulkSupplements
As the name says it, this supplement brand provides bulk products, including this HMB powder which comes in a simple and convenient packaging. Because it is a powder instead of pills, consumers must combine it with juices or other beverages.
You could even put it in empty capsules and use it that way if you like. BulkSupplements is a reliable brand and purchasing their HMB powder represents a cost-effective method to achieve around 100 servings of this supplement. BulkSupplements makes one of the best HMB supplements around.
Main features:
Each package contains 100 grams of pure HMB powder;
Due to the fact that this product is sold in bulk, it is a lot more affordable than many other HMB supplements;
Provides plenty of benefits such as promoting muscle growth, enabling muscle recovery, and inhibiting muscle breakdown;
It is free of soy, gluten, dairy, additives, yeast, and sugar;
The recommended dosage is half of a teaspoon, taken with a liquid or food, up to three times per day;
On Amazon, this product has an amazing rating of 4.6 out of 5 stars.
Price
The BulkSupplements HMB Powder is very affordable. A package of 250 grams or 8.8 ounces costs almost $21 while a bag of 2.2 lbs. is sold for the price of $58.96.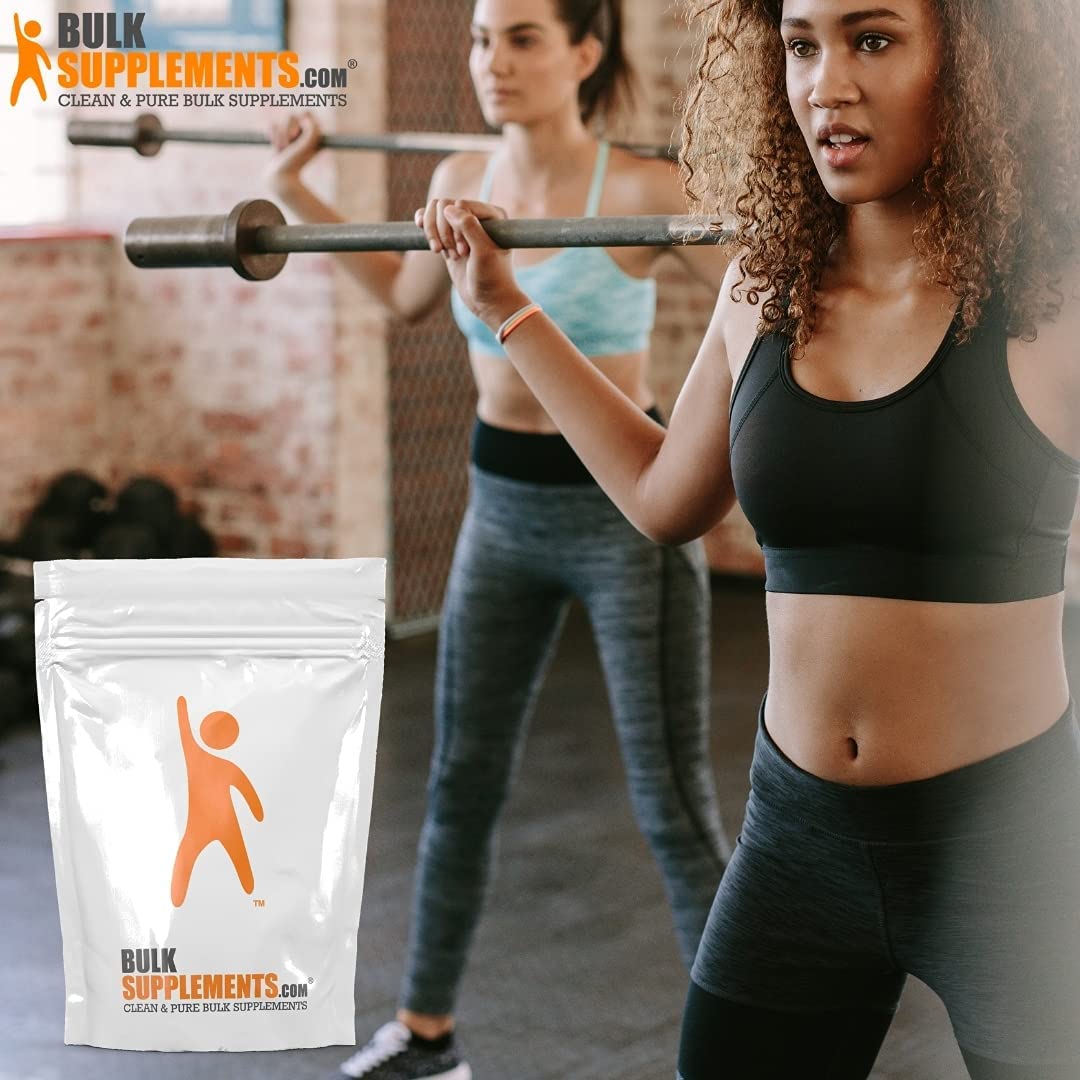 3. NutraKey HMB Capsules
NutraKey comes with a simple HMB formula. Unfortunately, it has a huge downside related to the HMB content per serving: one capsule offers only 333 mg. Nevertheless, this is one of the cleanest supplements out there that are free of artificial compounds or additives.
So, if you want to take NutraKey pills, you might need to increase the daily dosage to 2 capsules at a time.
Main features:
This product boosts your muscles' strength and your body's stamina;
Promotes the growth of lean muscle mass;
Aids in muscle recovery and muscle tissue repair;
One container comes with 90 capsules;
Its formula provides a maximum level of bioavailability;
It doesn't contain any fillers;
The manufacturer is a wellness company that has the goal of helping their clients gain a healthier lifestyle by offering them highly nutritional and good-quality supplements.
Price
This is a rather affordable product. One container of NutraKey HMB capsules (90 pills) costs between $12.50 and $20, depending on the seller.
4. Optimum Nutrition HMB Supplement
I'm sure you have heard about Optimum Nutrition supplements by now if you're a fan of fitness, wellness, and health-related products. It is one of the most reputable, popular, and reliable companies on the market and their capsules provide no less than 1000 mg HMB blend per serving. The manufacturer is also known for marketing high-quality athletic supplements.
Main features:
It has a simple yet effective formula;
One bottle provides 90 HMB capsules;
It has received plenty of positive reviews from the product's consumers;
You will get great value at an affordable price;
The brand has received a certification that states the supplement's good manufacturing practices;
Not only does Optimum Nutrition HMB support lean muscle mass but it also helps to preserve your existing muscles;
Other ingredients, besides HMB, are magnesium stearate, gelatin, and microcrystalline cellulose.
Price
Like I said, the HMB supplement made by Optimum Nutrition is another affordable product of its kind. On Amazon, the price of a 90-capsule container varies, depending on the seller, between $25 and $45.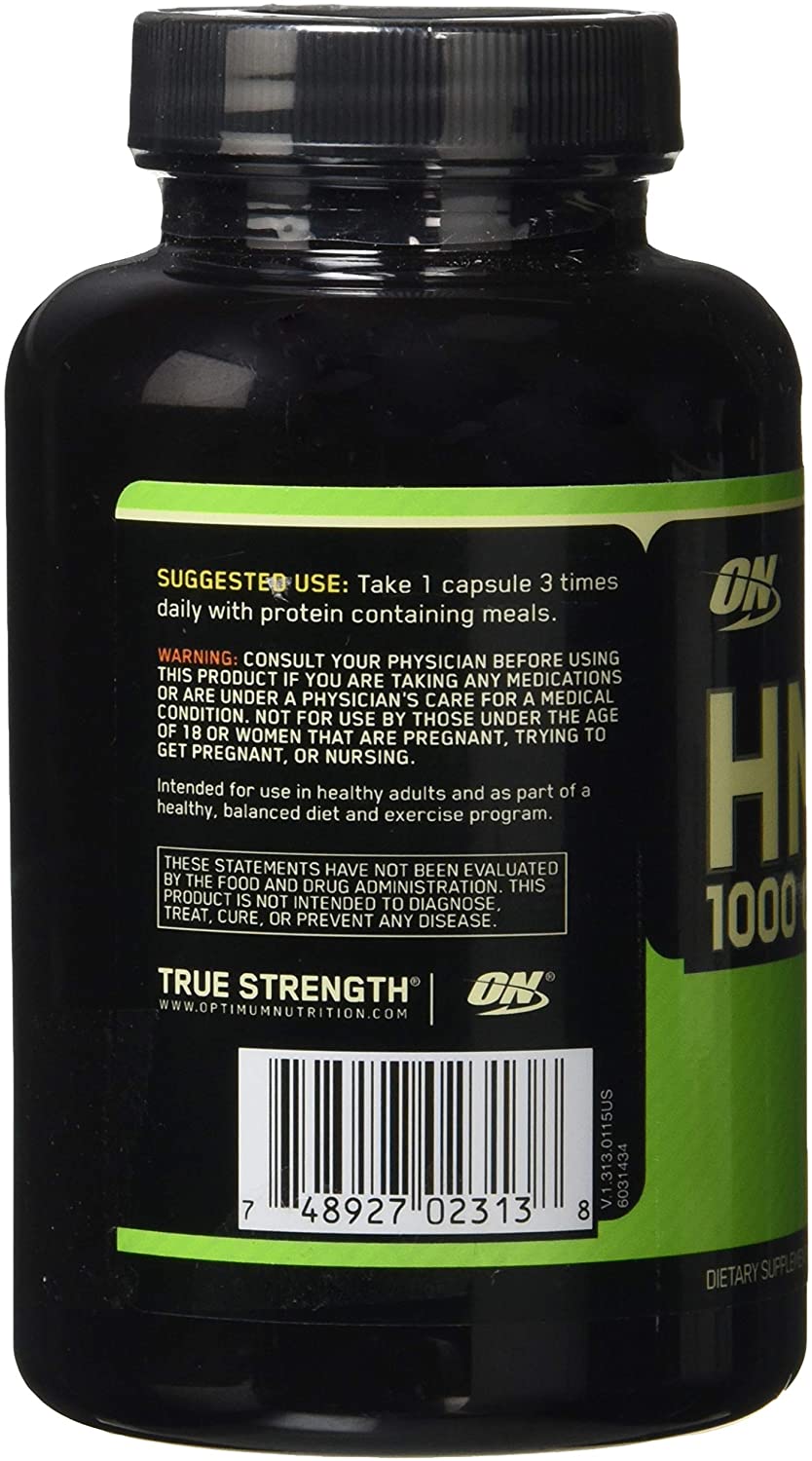 5. MET-Rx HMB 1000
MET-Rx is one of the strongest HMB supplements out there. It offers a simple formula which is highly effective due to its concentrated HMB content of 1000 mg per serving.
The manufacturer is well-known among professional athletes and, since its launch (20 years ago) it has gained a great reputation.
Main features:
Like many other HMB supplements, this one also comes in bottles of 90 capsules each and provides 1000 mg of HMB per serving;
You should give this product a try because it will bring good value. I must confess I have never tried it myself but it seems to have a lot of amazing reviews from numerous consumers;
The capsules are made from gelatin which some like while others dislike. Certain people prefer to take cellulose pills, saying they are cleaner than the gelatin ones;
This product is applauded due to its ability to promote muscle mass growth;
The producing company has come up with a new improved formula that it is said to give you four times more the strength it used to offer.
Price
On Amazon, the price of MET-Rx HMB 1000 may vary, depending on the seller you choose to buy it from. A container of 90 capsules usually costs around $30-$40.
6. Now Foods HMB Capsules
These HMB vegetarian capsules are made by a reputable company but they provide a low dosage of HMB content per capsule (500 mg). Now Foods is a large company that produces health and wellness supplements and markets a wide range of product types.
This particular HMB alternative can be a good choice despite the fact that it can seem a bit expensive when taking into consideration its low HMB dose, price tag, and overall value.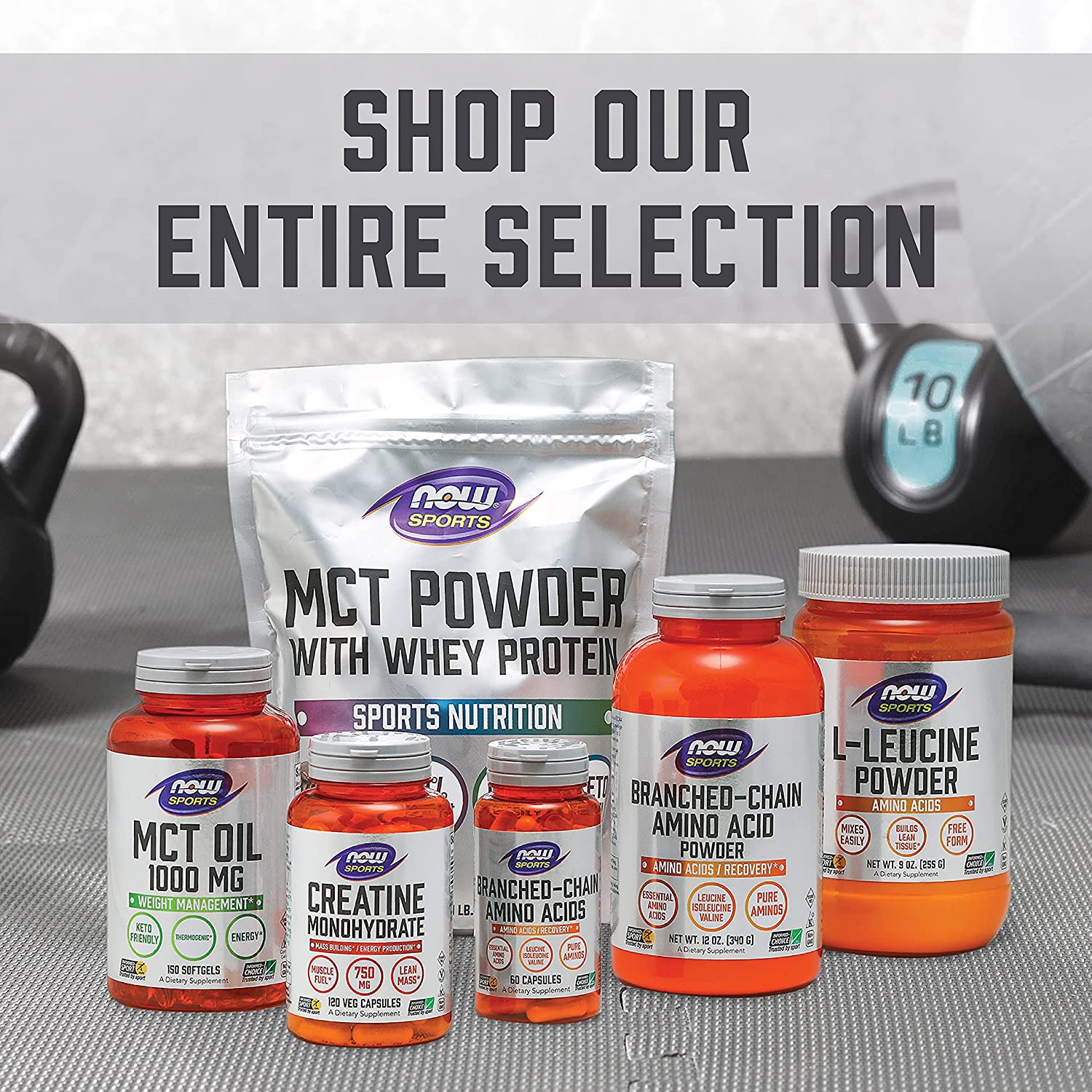 Main features:
One bottle of Now Foods HMB supplement contains 120 capsules;
One capsule offers 500 mg of HMB;
This dietary supplement is suitable for both vegan and vegetarian people;
All its ingredients are non-GMO;
The manufacturer is trustworthy and it has received a certificate that proves its good manufacturing practices;
These capsules enhance the process of muscle recovery and preserve lean muscle mass.
Price
You can purchase the HMB capsules made by Now Foods on Amazon. The Price of one container of 120 capsules ranges between $25.59 and $43.89, depending on the seller.
7. Core Nutritionals HMB Dietary Powder
This is another research-based best HMB supplement as several trials have shown that Core Nutritional's HMB product slows down one's rate of muscle breakdown. It comes in the form of a powder which you can add to smoothies, juices, shakes, or even put small amounts of it in empty capsules.
Although it can be less convenient than HMB pills, this powder is cost-effective. It is manufactured by Core Nutritionals which is a supplement company that makes products for athletes. They have been in the fitness industry since 2005. You can easily use this powder to prepare pre-workout shakes.
Main features:
One scoop or serving contains 1000 mg of HMB;
One package of Core Nutritionals dietary powder measures 90 grams;
It is an affordable product although it can be less convenient than HMB capsules;
It is best to purchase this product in bulk;
Core Nutritionals' supplements are manufactured in the USA, in a CGMP facility;
The recommended dosage is one scoop, taken three times a day, with liquids or food. To achieve optimum results, you should consume these servings 30 to 60 minutes before a training session;
It is the perfect choice for those who want to build as well as maintain lean muscle mass.
Price
You can find the HMB dietary powder made by Core Nutritionals on Amazon. One tub of 3.17 ounces or 90 grams costs almost $32.
8. VitaMonk HMB Capsules
Unlike other HMB alternatives, VitaMonk is a great choice for both vegans and vegetarians due to its pure supplement design and cellulose capsules. It is true that you can find more effective HMB products on the market but most of them include animal-sourced gelatin as the main ingredient for the capsules.
The main downside of this product is its HMB content per capsule: 500 mg. Therefore, if you want to reach an intake of 1000 mg of HMB per serving, you must take two pills at a time.
Main features:
One bottle of VitaMonk supplement provides 180 capsules;
The recommended dosage per serving is two capsules;
It is a certified product for its good manufacturing practices;
Boosts the process of protein synthesis and enables the appearance of lean muscle mass;
Besides HMB, this product contains the following ingredients as well: organic brown rice concentrate and vegetable capsules;
You must take two pills twice a day or as prescribed by your doctor or healthcare specialist.
Price
On Amazon, the VitaMonk HMB supplement costs $21.84. This price tag is for a container of 180 capsules and for subscribers. A one-time purchase costs approximately $23.
9. HMB Double Wood Supplements
In my humble opinion, Double Wood HMB capsules win plenty of points due to their third-party testing approach. This way, they ensure their product's purity.
These pills are decent when it comes to their level of efficiency and they are sold by a trusted brand. One serving consists of two capsules.
Taking one single capsule isn't enough because it contains only 500 mg of HMB.
Main features:
One container provides 120 capsules;
It is a product manufactured in the USA;
The company offers the possibility of a full refund through their money-back guarantee policy;
Double Wood Supplements is located in Philadelphia and it focuses on producing health-related products;
These HMB capsules have received an excellent 4.8 rating on Amazon and plenty of positive reviews from clients;
They have a lot of benefits like lowered muscle loss, increased protein synthesis, and improved power output during workouts;
Besides HMB, the supplement also contains rice flour, silicon dioxide, gelatin, and microcrystalline cellulose.
Price
One-time purchasers must pay $19.95 for a bottle of 120 capsules of Double Wood HMB supplement while subscribers benefit from a slightly lower price tag ($18.95).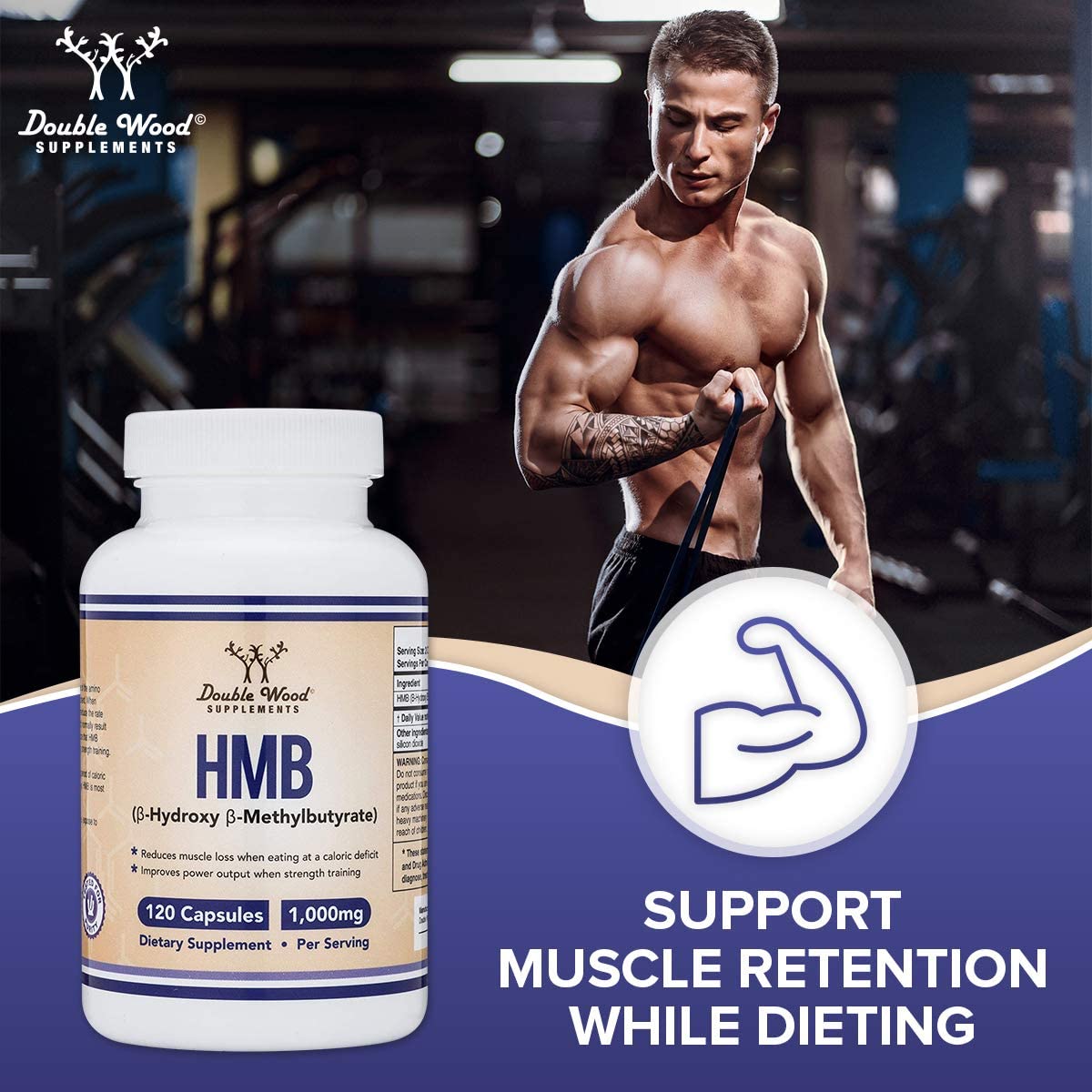 10. MRM HMB Capsules
This is another powerful HMB supplement due to its high dose of 1000 mg per serving. MRM which translates into Metabolic Response Modifiers is a health supplement manufacturer that sells products made especially for athletes and weightlifters. So, these HMB capsules are of a high-quality, they can be bought at a reasonable price, and they are marketed by a trustworthy company.
Main features:
The recommended dosage is one capsule taken 2 or 3 times per day;
Each capsule contains 1000 mg of HMB;
Besides HMB, this product also contains other ingredients such as magnesium stearate and gelatin for the capsules;
It is free of potentially-allergenic compounds like eggs, soy, milk, peanut, fish, gluten, yeast, wheat, and others;
It is a clinically-researched supplement that supports muscle recovery and can easily be combined with other reliable supplements in order to achieve enhanced results;
By consuming this product, you will gain a higher endurance during intense workouts;
These HMB capsules are made by a transparent and reliable company that focuses on providing safe and clean products. Their HMB pills offer veggie proteins and non-GMO ingredients.
Price
You can find the MRM HMB capsules on both Amazon and other online sellers like iHerb.com. On Amazon, the price of a 60-capsule container varies between $18 and $35 while on iHerb.com, the cost of the same amount of MRM pills is $21.10 (this is a promotional price; the initial cost was $39.99).
The Best HMB Supplements – Bottom Line
So, what is the best HMB supplement? All the HMB alternatives presented above are viable choices for when you want to try a good health and fitness supplement that will support muscle growth and recovery. However, I recommend you to choose one that provides a higher amount of HMB per serving, that contains natural or non-GMO ingredients, and which is produced by a reliable and well-known company.
Recommended Reads: