Time to hop on the detox train? Here's a HUM Nutrition Daily Cleanse review to help you narrow down your options.
What Is the HUM Nutrition Daily Cleanse?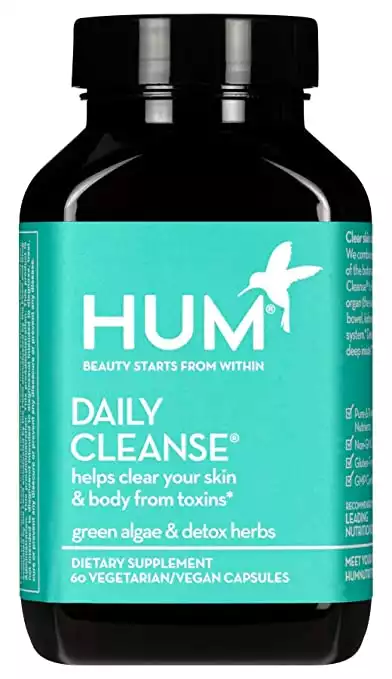 HUM Nutrition's Daily Cleanse is a supplement designed to help your body detox so you get clear skin. It's supposed to help with acne and blemishes and it works from the inside out.
The idea behind the cleanse has to do with just how much is actually detoxed through the skin (which is what causes the breakouts). If you can thoroughly rid your body of the toxins that cause the breakouts, clearer skin is what's left behind once you're no longer burdened by them.
This is supposed to be good for all skin types.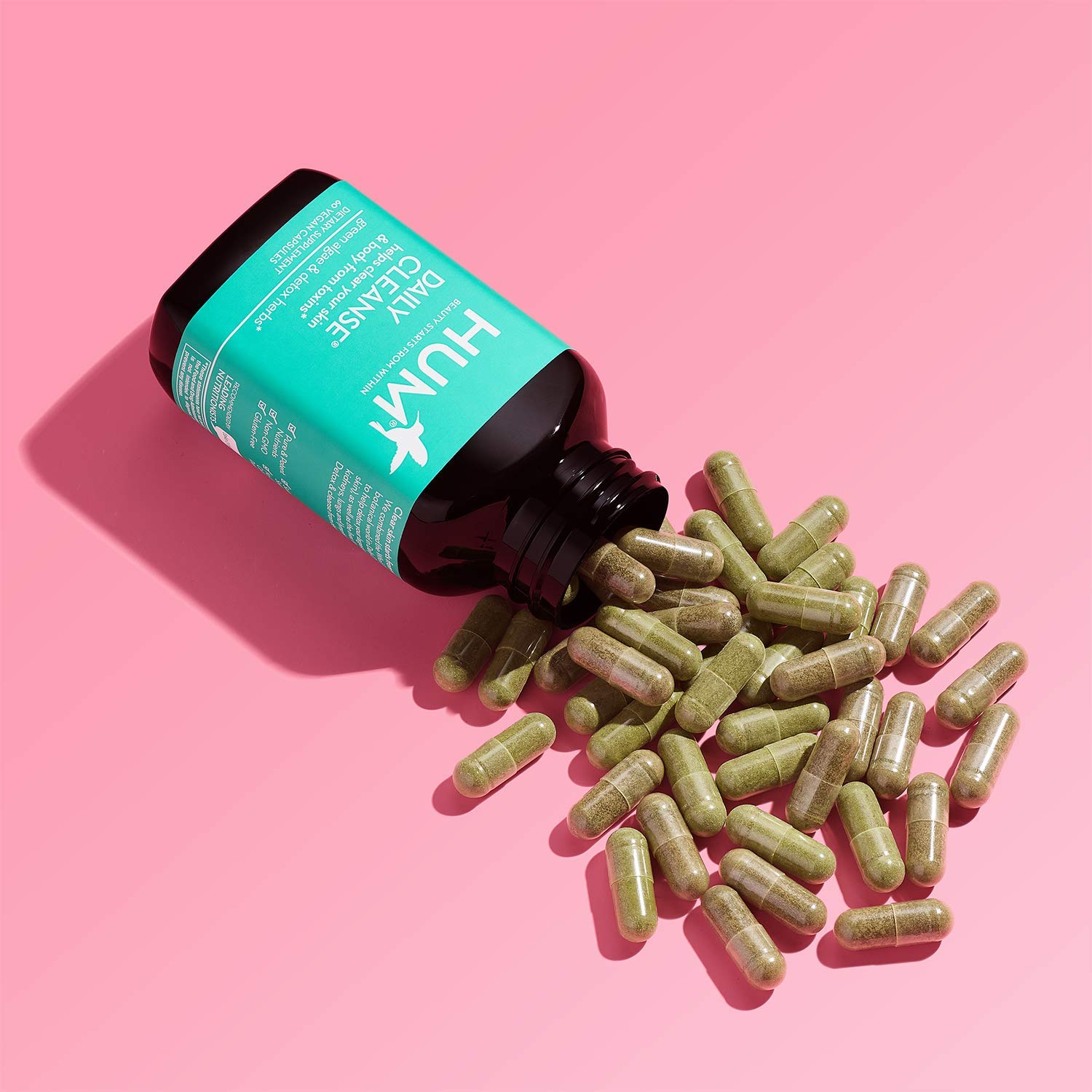 What's in It?
Tons of detoxing ingredients are in here. Here's a look at the whole (vegan-friendly) list of ingredients:
Chlorella (organic)
Dandelion leaf extract
Milk thistle extract
Alpha lipoic acid
Spirulina
MSM
Beetroot powder
Red clover extract
Oregon grape root
Matcha green tea
Zinc
Selenium
Copper
Manganese
What Are Those For?
You already know these ingredients fall under the "detox" umbrella, but here's a better breakdown of the ingredients and what they're for:
Chlorella
Chlorella is an algae that is usually sourced from Japan or Taiwan for supplements sold in the United States. Beyond helping the body rid itself of toxins, it's used for increasing "good" bacteria in the gut, boosting the immune system, slowing aging, and—in some cases—helping prevent cancer.
According to WebMD, chlorella is generally safe for healthy adults when taken orally for up to two months, but it can have side effects like intestinal discomfort, nausea, diarrhea, sun sensitivity, breathing problems, and allergic reactions (mainly to iodine).
Dandelion Leaf Extract
Dandelion leaf extract supports the liver and detoxifying process and is full of antioxidants. Dandelion leaf is totally edible anyway—and nutritious. It's also great for heart health.
Milk Thistle Extract
Milk thistle extract is an herb that's often used to support the liver, and therefore, the detoxification process in the body. It contains antioxidants and has anti-inflammatory properties. Some say milk thistle is good for diabetes and heart health, too.
In general, milk thistle is considered to be safe. However, anyone with a ragweed allergy, fibroid tumors, endometriosis, or certain cancers should steer clear. Some people experience an upset stomach when they take it.
Alpha Lipoic Acid
Alpha lipoic acid is an antioxidant that's used more frequently for aging, diabetes, weight loss, and preventing complications from heart surgery than for detoxification. However, it can be used to support the liver, gut, and immune system, as well as protect the mitochondria.
It's generally considered safe but taking it by mouth could potentially develop a rash.
Spiruina
Spirulina is another algae (it's also a pretty trendy superfood right now). If you can't stomach the taste of spirulina in your smoothies or smoothie bowls (I'm not a fan), this could be one way to get it in.
One of spirulina's top uses is detoxing heavy metals, but it could also be beneficial if you suspect you have candida. It can also boost your energy and help promote weight loss, among other things like lowering blood pressure and helping prevent cancer.
MSM
MSM is used to fight inflammation and it's often used in the treatment of joint pain. It can increase flexibility, decrease pain, and improve the body's ability to get rid of extra fluids from swelling. The key to its use in detoxifying the body is the way it contributes to the production of glutathione, an antioxidant that boosts the detoxing process.
Since MSM already exists in the human body, it's generally considered safe. It could cause discomfort along the digestive tract and may not play well with your other medications, so it's wise to check with a doctor before adding it to your daily supplements.
Beet Root Powder
Beet root is commonly used in liver detoxes and other digestive disorders. Some people find that liver detoxes that include beet root will also experience less fatigue, less pain, and more stable blood sugar.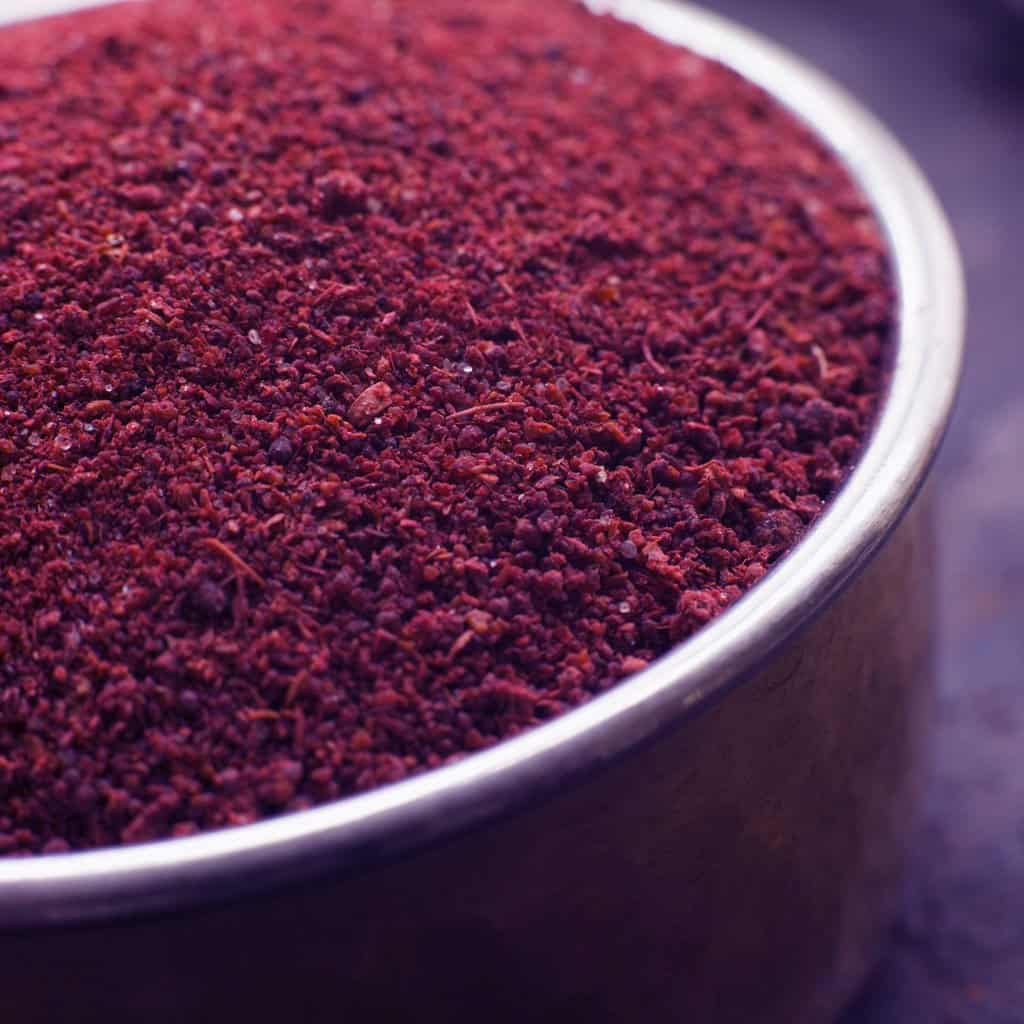 Red Clover Extract
Red clover is an herb that's frequently used to cleanse the blood. It's useful in breaking down toxins in the lymphatic system as well. It's also used for indigestion, asthma, cancer prevention, and more.
In most cases, red clover is considered safe but could lead to rashes, aches and pains, nausea, and increased bleeding. It can act like an estrogen, so keep that in mind if you have any type of hormone-sensitive condition.
Oregon Grape Root
Oregon grape root is another ingredient to enhance liver function and cleanse the blood. It also works as an antimicrobial. Sometimes it's used to help chemotherapy and radiation patients recover.
Matcha Green Tea
I love match green tea for steady, jitter-free energy! I was excited to see it listed in the HUM Nutrition Daily Cleanse. The chlorophyll helps with the liver detox and polyphenols (antioxidants) also promote detoxification.
Minerals
HUM Nutrition Daily Cleanse includes four minerals that can help you in your detoxing journey as well. It is possible to overdose on these minerals and run into some nasty side effects (nausea, hair loss, fatigue, irritability, headaches, stomach cramps, etc.) so you'll need to compare the amounts in these supplements with your regular diet, then adjust accordingly (maybe you take one instead of two, for example).
Zinc (15 mg, 100 percent of the DV)
Selenium (200 mcg, 286 percent of the DV)
Copper (500 mcg, 25 percent of the DV)
Manganese (1.6 mg, 80 percent of the DV)
What's NOT in It?
Don't worry about parabens, sulfates, phthalates.
There are no GMO products in here.
Hate the idea of consuming soy, gluten, artificial colors, or preservatives with your supplements? None of those are in the HUM Nutrition Daily Cleanse, either.
There are no ingredients that fall outside of a vegetarian or vegan diet, either. I can't think of a diet this wouldn't work with.
How Much Is It?
One bottle has 60 capsules, which is a month's supply. It costs $25.00. You could stretch a bottle longer by using just one capsule per day at first. You'll want to go that route with these if you have skin that's especially prone to breakouts during detoxing.
Pros and Cons
As with any supplement, you'll need to weigh the pros and cons. For me personally, I think the pros outweigh the cons. A little breaking out doesn't scare me as long as I know I can expect clear skin on the other side of it, once the purging period is done.
Pros
You can expect clearer, brighter skin (could help with everything from acne to rosacea).
You may find that you have more energy.
It's suitable for a vegan diet.
It's good for all skin types.
This supplement could promote better digestion and elimination.
The ingredients are generally considered safe for healthy adults.
Cons
There's a really good chance your skin will break out when you start this. It's probably fine, and probably the purging period. You can cut back on the dose to slow this process down.
Some people report an unpleasant taste, but not everyone tastes it.
The mineral content could be concerning for some people.
Some people don't feel that detoxes like this do anything at all and that helping your body detox is unnecessary. Even health professionals' opinions differ (that's not to say that you should ignore your doctor's advice if they tell you not to take this, though).
Other Alternatives
If some of the ingredients make you uncomfortable or you're just looking for options to compare, you could always take:

Buy HUM Nutrition Daily Cleanse
Look for HUM Nutrition products at:
Sephora
Neiman Marcus
Nordstrom
Anthropologie
Amazon
Should You Try the HUM Nutrition Daily Cleanse?
People seem to really love it overall because it gives them clearer, brighter skin (of course, some people say nothing happened, too).
Unless you're allergic to something in it, give it a try if you think you could benefit from a detox boost. If you're pregnant or nursing, it's probably best to stay away for now. If you have any health concerns or take medication, check with your doctor first.
The only thing that made me reconsider was the amount of minerals in there. Even with that said, I'm not personally all that worried about the amounts listed. If you're already taking a multi-vitamin, you'll want to be sure to compare labels to make sure you're not overdoing it on anything.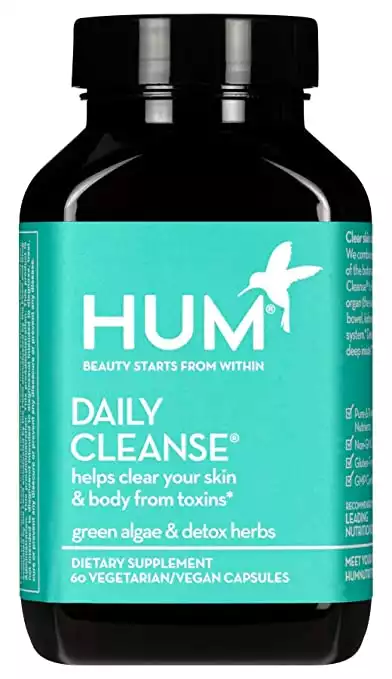 Recommended Reads: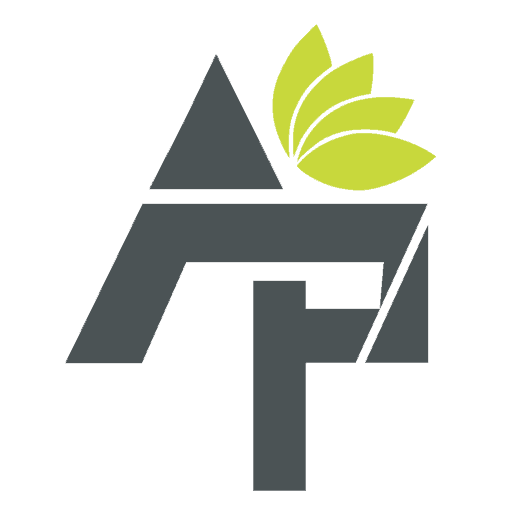 Alt Protein Team is a team of professionals and enthusiasts committed to bringing you the most up-to-date information on alternative protein, health and wellness, workouts, and all things health-related. We've reviewed a lot of products and services so you don't have to guess when you spend your hard-earned money on them. Whether you want to shed some pounds, build lean muscle or bulk, we can help you figure out what you need to do and what you need to have to achieve your goals.