When talking about a healthy diet, we often focus on the main courses, ignoring or at least underestimating what's happening between them. Are you in control of what you're munching on behind your computer, on your breaks, or on outings?
Today we're bringing you 5 super-easy and fast protein-rich recipes for snacks and drinks that can keep hunger at bay without compromising your commitment to a healthier diet.
What should your healthy protein-rich snack look like?
Officially, we all should consume about three main courses and two snacks per day. In practice, our busy lifestyles often turn this formula around – finding a minute or two for a snack is simply much easier when your schedule is full, therefore snacks gradually become more and more prominent in our daily menu.
Snacks are essentially a sort of comfort food – they should be fast and easy to prepare, readily available for instant consumption, and filling enough to keep us satisfied for several hours.
Nevertheless, if you're trying to live a healthier lifestyle or lose a few pounds, you should also make sure that your snacks are not undermining your efforts: a chocolate bar here and a sandwich there, and there go all the good effects of your salad dinners…
So, what should your healthy snack look like?
High in protein – because protein can help you lose weight and prevent regaining it while it also contributes to your muscle growth. You can choose natural sources of protein or plain/flavored protein powders.
Low in calories – you don't have to go to any extremes here, but it's always good to keep control over your calorie intake, especially if you're trying to lose weight.
Tasty – yes, your snacks should be the treats you are looking for. Remember, it's always easier to maintain a healthy diet if it tastes good.
Moreover, try to incorporate at least one fresh seasonal ingredient into your snacks whenever possible. It will make them much more enjoyable and also rich in natural fibers and vitamins.
Need some inspiration? Here are five super-easy recipes for your healthy snacks & drinks that you're going to love:
Delicious and Refreshing Mocha Shake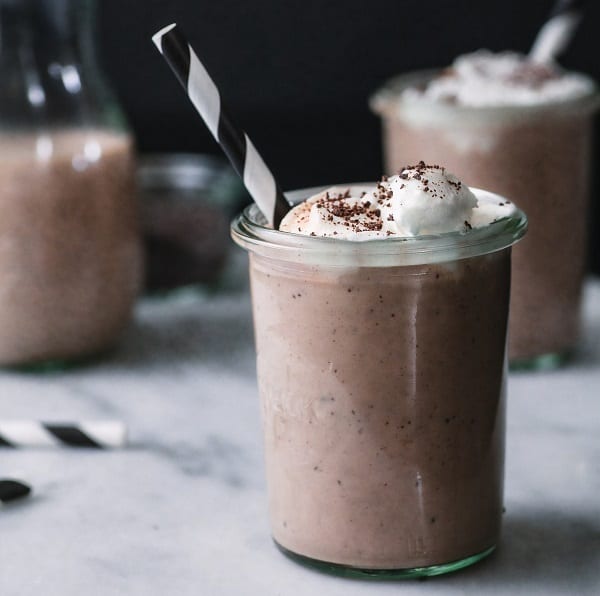 This recipe is a real blessing for all the coffeeholics. If you want to squeeze your favorite drink and healthy snack into a single recipe, this delicious shake is your best choice.
Ingredients:
½ cup of milk of your choice (cow's milk/coconut/almond)
½ cup of ice
½ cup of coffee of your choice
1 tablespoon of dark cocoa powder
1 measuring cup of chocolate whey protein
(our tip: Source Organic Chocolate Whey Protein)
Instructions:
Prepare a coffee of your choice and let it cool down.
Mix the coffee and all the remaining ingredients in a blender.
Serve immediately, or keep in the fridge.
Fruity Frozen Bark Rich On Protein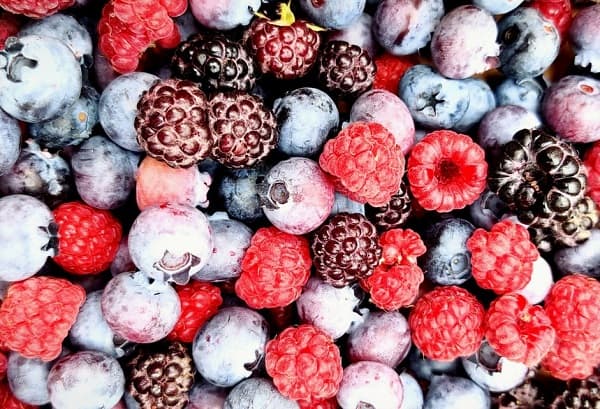 Replace 'fitness' bars from a grocery store, which are often full of sugar and weak on proteins, with these rewarding protein-packed yogurt barks. You can use a wide array of ingredients and make them again and again with new twists.
Ingredients:
2 cups of plain Greek yogurt (low or full fat)
1 tablespoon of maple syrup (or another healthy sweetener of your choice)
½ cup of sliced fresh fruit (bananas, strawberries, berries, etc.)
½ cup of toppings of your choice (granola, dried fruit, chopped nuts, etc.)
Instructions:
Mix yogurt with maple syrup (or any sweetener).
Grab a baking tray lined with parchment paper and spread the yogurt evenly over it.
Sprinkle with fresh fruit and toppings respectively.
Freeze overnight, then break into pieces. Store in a freezer.
Keto-Friendly Peanut Avocado Smoothie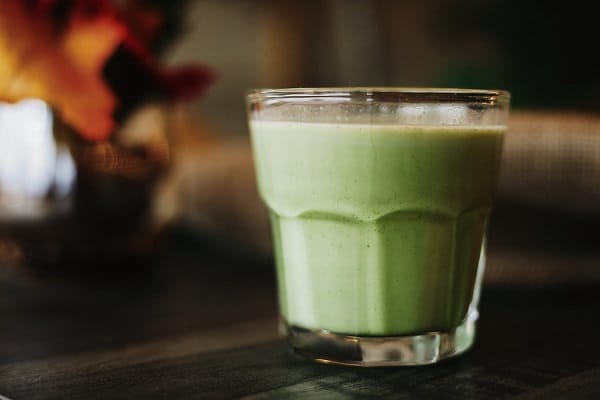 If you're trying to stay in ketosis, this protein-rich smoothie will keep you on the right track. Moreover, it's really filling and totally delicious. Moreover, you can make a perfect dairy-free version of it too!
Ingredients:
½ cup of milk of choice (cow's/almond/coconut)
1 tablespoon of peanut butter (or some other nut butter)
1 tablespoon of dark cocoa powder
1-2 tablespoons of low-fat powdered peanut butter
(our tip: BetterBody PBfit protein powder)
¼ medium-size ripe avocado
maple syrup, liquid stevia, or any healthy sweetener of your choice)
¼ cup ice
chopped nuts for decoration
Instructions:
Blend all the ingredients (except the ice) in a blender or food processor.
Finalize the consistency according to your preferences – more milk will make it thinner, more peanut butter powder will make it thicker.
Add ice, sprinkle with chopped nuts, and enjoy immediately (or store in a fridge).
Hearty Chickpea Fries with Vegan Yogurt Dip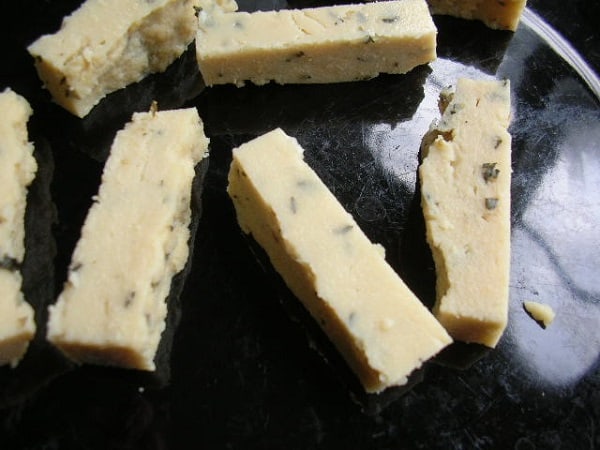 Fries represent the ultimate TV snack and one of the greatest cravings for those on a diet. The good news is that there is a healthy alternative to this comfort food that is high in fiber and protein, perfectly vegan-friendly, and ready in no time.
Ingredients:
4 cups water
2 cups of chickpea flour
(our tip: Anthony's Organic Chickpea Flour)
1 tablespoon of salt
1 teaspoon of cumin powder
2 cups of vegetable oil
For the dip:
1 cup vegan yogurt
(our tip: make your own with the Vegan Yogurt Starter Culture)
1 clove of chopped garlic, small
1-2 tablespoons of chopped fresh mint
a pinch of salt
Instructions:
Boil water in a pot, add salt. Mix cumin with the flour, add the mixture to the pot, and mix until the water soaks in the flour and creates a homogenous dough with no lumps. Then turn off the heat.
Taste and add more salt if needed.
Line a baking tray with parchment paper, pour the mixture on it and spread evenly. Leave alone for 25-30 minutes. The mixture will get harder.
Cut the mixture into fries-like pieces.
Fry in a deep pan with vegetable oil. The fries should be golden and crispy. Let them cool down on parchment paper to get rid of excessive oil. (Alternatively, you can also bake these fries in the oven just lightly sprinkled with oil of your choice).
Mix all the ingredients for the dip and serve together immediately.
Plant-Based Vanilla-Pumpkin Protein Shake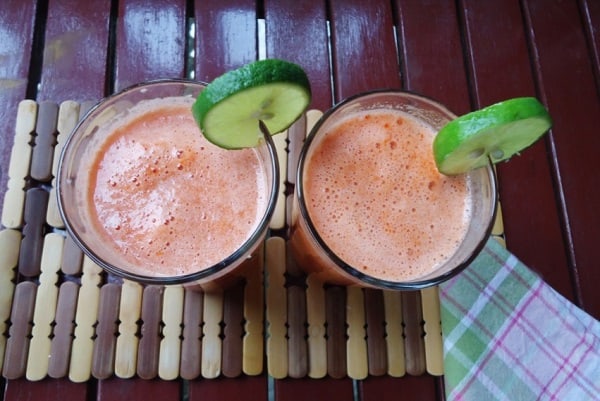 Maybe you feel like you've already tried all the protein shakes and smoothies in the world, but believe us, this one is really special. Its taste is very sophisticated, it looks stylish, and it's also full of vitamins. It's also 100% plant-based!
Ingredients:
1 ½ cup of water (or milk of your choice)
2 measuring cups of plant-based vanilla protein powder
(our tip: Orgain Plant-Based Organic Vanilla Flavor Protein Powder)
¾ cup of pumpkin puree
1 tablespoon of walnuts
½ cup of uncooked oats
Vanilla extract or pinch of vanilla bean paste
¼ cup of ice
Instructions:
Blend all the ingredients (except for the ice).
Add ice. Serve immediately or store in a fridge.
The Bottom Line
Preparing healthy, protein-rich, and mouthwatering snacks is easier than you'd thought, and once you get used to the routine, most of these recipes won't take you more than a couple of minutes. Already tried some of these recipes? Let us know how you liked them or how you've adapted them to your personal taste!