Finding the "right" blender is more difficult these days than you'd expect! With so many high-powered, high-quality blenders on the market, you may find yourself with way too many options to choose from. So many good choices, how could you figure out which one is the best?
Don't worry: we've done the hard work for you!
Vitamix and Blendtec are two of the most popular brands around, with many high-rated products available for sale. We've compared two of their top models to help you find the best blender for your home use.
The Competitors: Blendtec Total vs Vitamix Pro 750
Vitamix Professional 750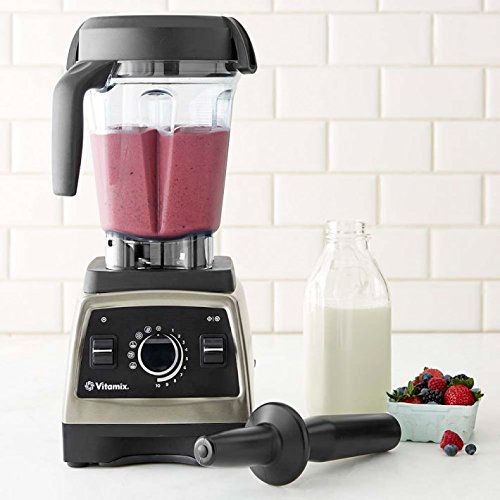 This blender is designed for home use, but the "professional" part of the name means it's suitable for use in a restaurant or kitchen as well. A durable option, overall, and definitely a serious contender.
Blendtec Total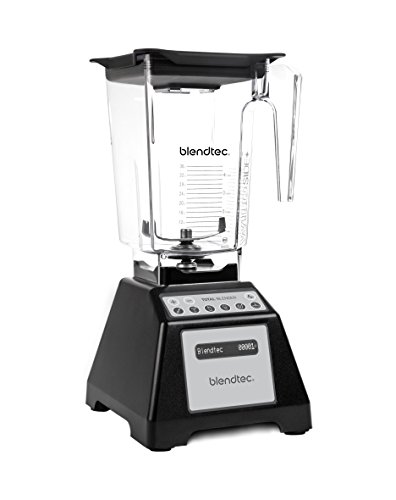 This blender is no slouch! It's powerful, well-sized, and built to last. It's a worthy competitor to the Vitamix Professional 750.
With no further ado, let's take a look at each of these blenders and see which is your best choice…
Capacity
Vitamix Professional 750 — This blender comes with a 64-ounce cup, made with BPA-free Eastman Tritan copolyester. The extra-large blender cup can hold up to 8 regular-sized cups of liquid, meaning you can blend more at once.
Blendtec Total — This blender comes with a 20-ounce cup, which holds less than the competition. The jar is also BPA-free, but without the strong plastic material used for the Vitamix.
Winner: Vitamix Professional 750. Larger cup means more liquid blended, and the material seems more durable.
Design
Vitamix Professional 750 — This blender looks like a model from the 90s, and is built with both a stainless steel and BPA-free PVC plastic housing. The cup is wide rather than tall, so it fits well on any kitchen counter.
The lid is a 2-piece one, made from santoprene rubber. The removable rubber plug makes it easy to add ingredients while blending, yet keeps a tight seal on the top.
Blendtec Total — This blender is much sleeker and more modern-looking, and the base is built with a helmet-grade polycarbonate that is durable and scratch-resistant. The cup is 15″ tall, so it will fit on most kitchen counters.
One of the good aspects of this blender's design is the buttons. They're flat and sealed, so there's less risk of spilled liquid or food building up on the face plate. The Vented Gripper lid holds a tight seal and keeps the food trapped in the blender.
Winner: Both. The Vitamix may not look as good as the Blendtec, but the stainless steel housing is much more durable. On the flip side, the Blendtec's tall jar may not fit under all kitchen cabinets, but the faceplate is much easier to keep clean.
The Machine
Vitamix Professional 750 — This blender comes with a 2.2 HP motor, and it operates at just 1200 watts.
Blendtec Total — This bad boy has a 3 HP motor and operates at 1560 watts, 120 volts, and 13 amps. You get a lot of chopping and blending power from this blender. The Blendtec also features a dual ball-bearing motor that helps to reduce friction and increases the lifespan of the blender.
Winner: Blendtec Total. The machine has almost 50% more power than the Vitamix, meaning you have more power to slice through even fibrous veggies.
Versatility
Vitamix Professional 750 — The machine comes with five programmed settings, made for: Smoothies, Frozen Desserts, Self-Cleaning, Hot Soups, and Purees. The Pulse feature makes it easy to chop through coarse veggies and foods.
One of the great thing about this blender is the fact that it self-cleans. You just pour a bit of water into the blender, turn it onto the Self-Cleaning setting, and it will eliminate all food stains and residue in just 60 seconds. All you need to do is rinse it and it's ready to go!
Blendtec Total — This machine comes with six programmed settings, made for: Ice Crush, Whole Juice, Batters, Ice Cream, Hot Soup, and Smoothie. You get 10 speeds PLUS a pulse setting. There's even an LCD timer that displays how much more time you need to spend blending the food to ensure the proper consistency.
Winner: Blendtec Total. While the Vitamix's self-cleaning setting is AMAZING for those who want to keep messes to a minimum, the Blendtec is much more versatile. With more speed settings and pre-programmed blends, you have more options with the Blendtec.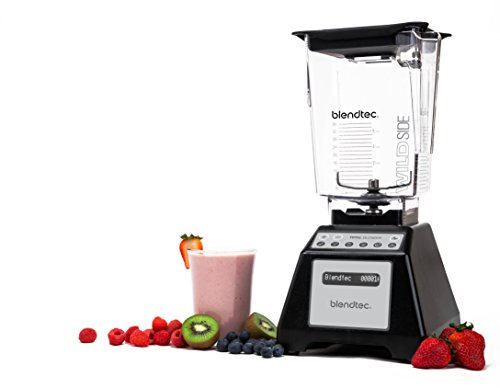 Warranty
Vitamix Professional 750 — Vitamix offers a 7-year warranty on: performance, parts, and return shipping. If you have a problem with your blender, you can return it free of charge.
Blendtec Total — According to Blendtec, the company offers a 7-year warranty on the blender. However, the Amazon page the warranty is 8 years. However, most of the Blendtec Total blenders are refurbished rather than brand new.
Winner: Vitamix. While the Blendtec warranty MAY be a year longer, the fact that the blenders are refurbished is a reason to hesitate. They may not last as long as the brand-new Vitamix blender.
User Ratings
Vitamix Professional 750 — This blender has a 4.7 out of 5-star rating, with over 460 reviews. Some of the user comments include:
Positive:
"The main feature that distinguishes Vitamix blenders from ordinary blenders…is the vastly improved power and speed that will allow you to turn most any food into a liquid…without any graininess."
"The presets are SOOOO nice. We use this every day for protein shakes and various other things. I just dump in my ingredients, flip it to shake and hit start and walk away."
"Vitamix's phone customer support is so friendly and helpful. I had some questions for them before my purchase, and walked away feeling confident and appreciated long before I ever purchased my machine."
Negative:
"From the first time cleaning, I could find black substances in the water after each cleaning."
"I see lots of little black flecks floating around, I tried cleaning it thoroughly (even ran the cleaning cycle a few times) and repeated the water test several times with the same results."
Overall positive reviews, but the majority of negative reviews focus on the "black specks"–pieces of Teflon that flake and fall into the blender cup.
Blendtec Total — This blender has a 4.7 out of 5-star rating, with only 114 reviews. Some of the user comments include:
Positive:
"Powerful, easy to clean, easy to use, good accessories, included recipes (the ones I've made) are tasty, simple, and easy to modify."
"Having blades that are not sharp makes it easy to get down to the bottom with the scraper, without worrying about gouging the scraper or my fingertips."
"It makes fantastic smoothies, nut butters, and soups. I've tried them all and it works flawlessly."
Negative:
"It is already cracking at the base. Had it for 2 weeks."
"I always make sure the lid is on tight, but EVERY time I have anything frozen in it (even just a handful of frozen blueberries) I have to hold the lid on and keep the jar from jumping."
Also mostly positive reviews, but with a few more issues.
Winner: Vitamix.  Not only does it have MORE reviews, but it has the same high rating–meaning more satisfied customers. The majority of the Vitamix complaints revolved around the flaking Teflon and not the blender's operation.
Price
Vitamix Professional 750 —  Check out the latest discounts and lowest prices!
Blendtec Total —  Check out the latest discounts and lowest prices!
Note: On the Blendtec Total Classic page, it says "This item has been discontinued and is no longer available for sale."
Winner: Vitamix. While the price tag is SIGNIFICANTLY higher, the fact that you're buying a brand new blender–not a refurbished one like the Blendtec Total–is a good reason to pay a bit more.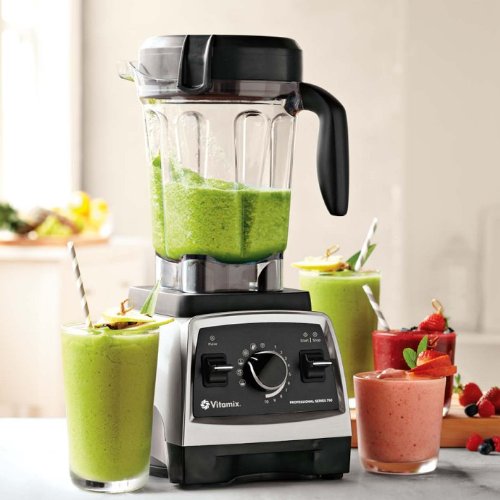 The Overall Winner
Vitamix Professional 750 — The Blendtec Total is a solid blender with a lot of pros, but the Vitamix just does a better job all around, offers more confidence in the product and has better user ratings overall.
Recommended Reads:
(Visited 21 times, 1 visits today)
Health enthusiast, runner, protein nut. Owen likes to write about protein, particularly alternatve supplementation and supplement comparisons.