In case you're following a certain diet such as paleo or ketogenic or if you simply want to develop a healthier lifestyle, then bone broth should certainly be included among your daily meals. One of the most popular bone broth brands is Kettle and Fire which stands out among all the other options on the market due to its natural organic ingredients.
In today's review, I will discuss this product's ingredients, purposes, health benefits, cost, pros, cons, etc. I will also let you know what most consumers think about it.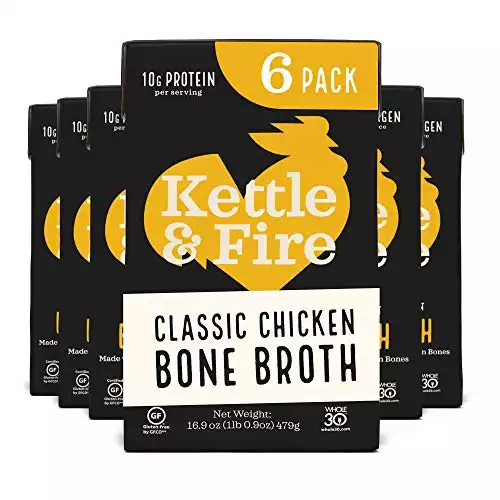 Kettle and Fire Bone Broth – What Is It?
Kettle and Fire is a bone broth supplement. According to its manufacturer, this product supports your immunity, provides you with stronger muscles, and contains a high amount of collagen which will make your skin look better.
This product is a popular and well-appreciated one due to its many great characteristics. For starters, it is made in the United States, from beef, and sometimes chicken bone marrow. The company that produces it follows all the required organic principles so they don't feed their cattle or chickens with antibiotics or hormones.
Secondly, the best bone parts, in terms of collagen content, are combined: patella, feet bones, femur, and knuckle. So, there are no preservatives whatsoever. Not only is this bone broth organic and traditionally slow-simmered but it also comes with an advanced and responsible packaging. What I mean is the packaging is made while the bone broth is still hot. Before doing that, they place it in a vacuum environment where there are no pathogens that might mess the product's level of safety.
Finally, I must say that Kettle and Fire packaging is sustainable, made of natural materials, and recyclable. But enough with this. Let's see how this product is made and what its health benefits are.
How Is It Made?
Kettle and Fire bone broth's manufacturer uses grass-fed and organically-raised cattle to collect their beef bone marrow. This makes their product a natural and high-quality one. The marrow and the bones are both simmered slowly for about 24 hours. Other natural ingredients such as sea salt, organic vegetables, and herbs are added.
The simmering process represents the traditional method to prepare bone broth. This, combined with a low heat, allows all the bone marrow's nutrients, amino acids, and minerals to soak into the mix. When this process is completed, Kettle and Fire bone broth is shipped to its clients' addresses. The way it is prepared doesn't require it to be frozen and you can rest assured that you will get it fresh.
Each box of Kettle and Fire bone broth usually lasts around 20 months after you open it.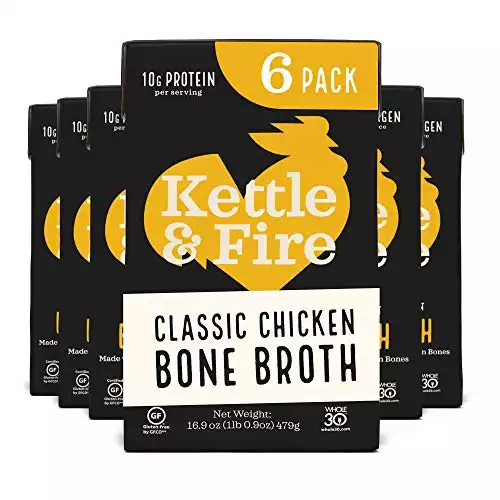 Who Makes Kettle and Fire Bone Broth?
The idea of the Kettle and Fire bone broth belongs to Justin and Nick Mares, two brothers who say they are very passionate about health. Their company was launched on the market in 2013 which is when they first discovered bone broth's amazing benefits.
At the time, Nick was suffering from a soccer-related injury while Justin was eating only paleo-friendly foods. So, they were both searching for a common solution to their problems, one that could speed up the recovery process without breaking the paleo diet's rules.
When they searched online for a good bone broth product, they were very disappointed by the fact that most options contained non-organic ingredients. So, they decided to produce and sell a healthier alternative. According to the official website's About Page, the recipe was created with the help of food scientists and world-renowned chefs.
Their bone broth is special, almost unique, because, besides its organic content, Kettle and Fire will not spoil even when it is kept at room temperature.
Ingredient Profile
The main ingredient of this product is beef bone marrow. This element is sometimes sourced from chicken instead of cattle. It is a delicious product with an amazing taste, despite the fact that it only contains natural ingredients without having flavor enhancers. One serving of this bone broth will definitely spice up all your meals. Kettle and Fire markets two varieties of bone broth: made from beef and chicken.
| | |
| --- | --- |
| Beef Bone Broth Variety | Chicken Bone Broth Alternative |
| Organic bone marrow | Organic chicken bones |
| Onions | Celery |
| Parsley | Carrots |
| Black peppercorn | Parsley |
| Thyme | Rosemary |
| Bay leaves | Apple cider vinegar |
| Carrots | Onions |
| Celery | Garlic |
| Apple cider vinegar | Roasted poblano |
| Sea salt | Scallions |
| Rosemary extract | Green pepper |
| | Tomato puree |
| | Thyme |
| | Sea salt |
| | Basil |
| | Other Spices |
All the bones come from either organic free-range chickens or grass-fed and pasture-raised cows. The other ingredients are produced through sustainable farming and handled in a safe environment.
Update! I have recently checked Kettle and Fire website and I saw they have also launched a new, more exotic variety, of bone broth: mushroom chicken. The only difference between this one and the regular chicken flavor is given by mushrooms. This new version also contains Portabella mushrooms and Lion's Mane mushroom powder.
How Does Kettle and Fire Bone Broth Taste?
As you might have guessed by now, Kettle and Fire is a tasty bone broth. The people involved in its manufacturing process have plenty of years of experience when it comes to classic cuisine. The entire blend provides a rich and delicious texture that will improve any soup it is added to.
You're probably wondering what the secret behind this excellent taste is. Well, there's no secret at all! The preparation follows a time-honored tradition that has been practiced all over the globe. In other words, the slow-simmering method allows all the goodies in the bone marrow infuse and become the final result that we all know as bone broth.
One last yet important thing that also contributes to the bone broth's exquisite flavor is its shelf stability. This product is never frozen so you will receive a complete flavor experience of Kettle and Fire freshly-made bone broth.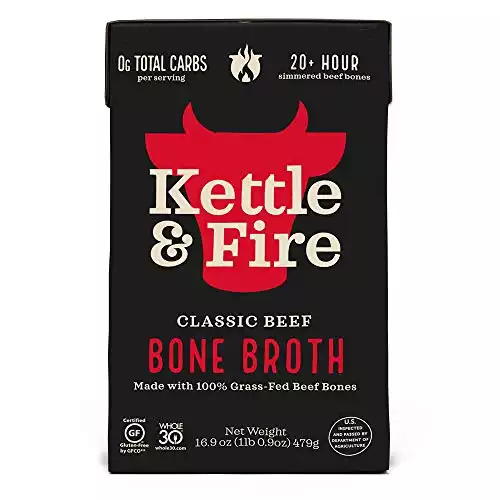 Pros and Cons
Advantages
It is made from organic grass-fed bones and natural ingredients;
It doesn't contain any artificial or harmful preservatives;
Kettle and Fire is a reasonably-priced product;
Some consumers think it has a delicious taste;
Provides a wide range of health benefits and helps your body while also boosting your immunity;
It is cleverly-packaged so that it doesn't need freezing and you don't have to worry it will go bad;
Due to the fact that this product doesn't require low-temperature storage, it can be shipped anywhere across the United States. Also, the delivery cost is usually lower than $10;
It is a versatile product because you can enjoy it in plenty of ways. You can add it to soups, consume it as it is, or even use it to tenderize meats;
This is a convenient alternative to cooking your own bone broth. You will save a lot of time and, most importantly, you will receive a high-quality product;
Many users said they've gained more vitality and energy after including this product in their daily diet.
Disadvantages
Although there are certain consumers that like the way this bone broth tastes, others say they don't really enjoy the flavor;
A few reviewers stated they felt an unpleasant odor coming from the package, the first time they have opened it;
The price of this product is a controversial subject. While some people may think it is a reasonable cost, other seem to believe that Kettle and Fire is quite pricey;
Unfortunately, if you are a vegetarian, you won't be able to consume bone broth. In other words, you will not benefit from all its amazing benefits.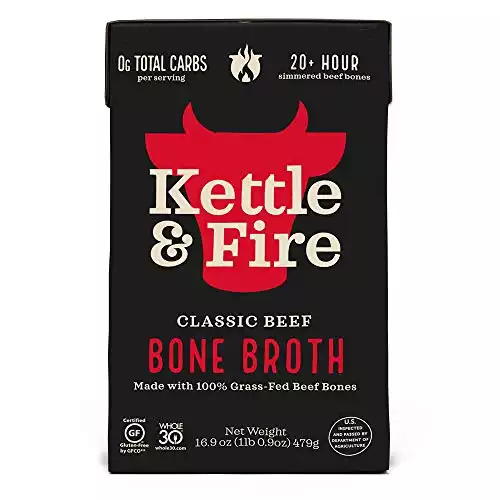 Bone Broth's Health Benefits and Why You Should Drink It
According to specialists, bone broth is a product that offers significant health benefits to its consumers:
Lowers body inflammation and relieves joint pain – with this product, you will feel better without spending a lot of money on more expensive supplements. This is due to the fact that Kettle and Fire contains chondroitin sulfates and glucosamine, both of which are created in a natural way in bone broth.
Promotes joint health – bones as well as bone marrow are made from a high amount of protein. Boiling these compounds helps us obtain certain extracts like gelatin, glycine, collagen, glucosamine, proline, and others. All these support joint health.
Boosts your immune system – as long as you fuel your organism with healthy nutrients, your natural immunity will receive a significant boost which makes it a lot easier for the body to protect itself from infections.
Aids your digestive system – due to bone broth's amino acids (especially glutamine and glycine) the function of your digestive system will be improved. Moreover, this prevents leaky gut syndrome and helps you control your allergies or food intolerances.
Alleviates the symptoms of certain chronic conditions – both allergies and asthma can be overcome a lot easier with bone broth thanks to this product's massive amount of amino acids and protein.
Reduces cellulite – I'm sure all women out there will be happy to know that bone broth can reduce cellulite because it contains high quantities of minerals, proteins, and other essential nutrients. Calcium, phosphorus, and magnesium don't just improve your digestive system; they can also lead to a better-looking skin.
Who Can Consume This Product?
What is great about bone broth is the fact that it can be enjoyed by almost all those who want to benefit from this product's health advantages. It is good for people who suffer from a leaky gut, painful joints, or arthritis. Even if you're a healthy individual, I recommend you to use add bone broth to your daily diet because it will make your skin look better.
Dieters will be pleased to know that bone broth is suitable for people who follow certain diets like ketogenic, paleo, or any other low-carb or gluten-free eating plan.
How Much Does Kettle and Fire Bone Broth Cost?
You can purchase Kettle and Fire bone broth from the brand's official website here (my preferred option), or on Amazon. If you choose to order this product directly from the manufacturer, you will receive, as a first-time buyer, a discount of 20%. All you have to do is to use a code that they provide on the Home Page.
Kettle and Fire Official Website
Amazon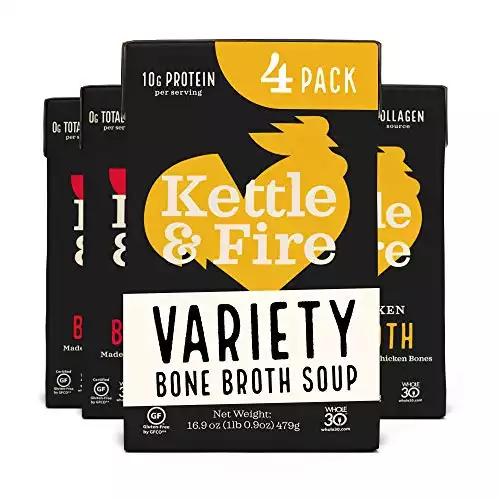 iHerb.com
This seller markets one 16.2-ounce container of Kettle and Fire bone broth for $8.99 each. Clients will receive a 25% discount. If you purchase three packs, you will pay $8.54 for each container.
What Consumers Think about It
Most users are happy with this product, saying it has a delicious taste and it is a very convenient alternative to the home-cooked bone broth that won't turn into gel even if you keep it at room temperature.
All in all, I can say that this product has made a positive impression on all those who have tried it. What else should I think when there are over 407 different reviews on the company's official website and their bone broth has received a rating of 5 stars on average?!
Final Verdict: Is Kettle and Fire Worth it?
I must say that, at first, I was quite skeptical about Kettle and Fire, thinking that it isn't very different than all the other bone broths on the market. Even more, I thought that the company's claims about its potential health benefits were exaggerated. Still, now, I must confess I was wrong.
Bottom Line: Kettle and Fire is a unique bone broth full of natural organic ingredients. Besides this aspect, I also love their smart packaging as well as the level of effectiveness that this product offers. Remember: If you order directly via their site, you can save 20% off on your first order.
Recommended Reads: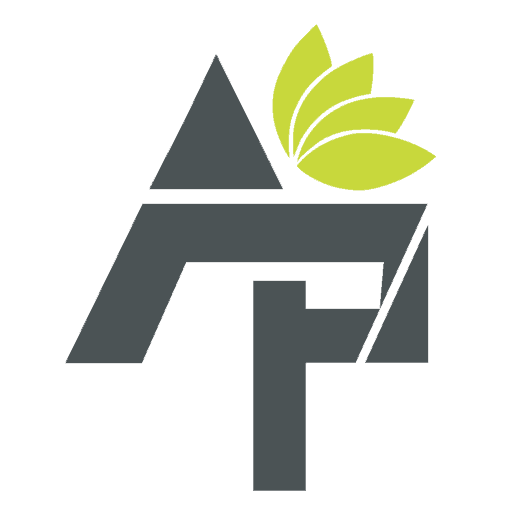 Alt Protein Team is a team of professionals and enthusiasts committed to bringing you the most up-to-date information on alternative protein, health and wellness, workouts, and all things health-related. We've reviewed a lot of products and services so you don't have to guess when you spend your hard-earned money on them. Whether you want to shed some pounds, build lean muscle or bulk, we can help you figure out what you need to do and what you need to have to achieve your goals.