Masticating juicers are an excellent option for those who want to produce fresh juice that is as rich in nutrients as possible and as it makes a good addition to every diet plan. The fact that they're slower means they take longer to juice your fruits and veggies, but they preserve the antioxidants, vitamins, and minerals in the raw foods. If you don't mind a slightly longer wait for your juice, slow juicers are definitely the way to go.
The HU-100 is one of the best of the Hurom juicers and an excellent option for those who want masticating juicers. Read on to find out everything you need to know about this appliance.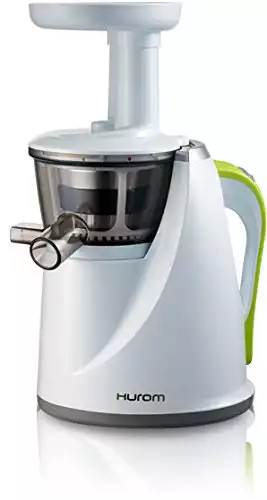 About the Hurom HU-100 Slow Juicer
The Hurom HU-100 has the classic look of a regular centrifugal juicer, but it's actually a masticating juicer. That means the blades spin at much slower speeds—just 80 RPM—and extracts the juice without generating a lot of friction or heat that could degrade the antioxidants and nutrients in your juice.
The juicer is able to turn just about any raw food into fresh juice: soft produce, citrus fruits, hard produce, beans, leafy greens, and the list goes on. It can even be used to make nut milk—almond milk, peanut milk, cashew milk, etc. You'll find that it's durable enough to power through just about anything you throw at it.
Key Features
Uses only 150 watts of energy
80 RPM
2.25-inch thick feeder chute
Made with BPA-free plastic
Comes with 1-year warranty on parts, 5-year warranty on motor
Price: $448.99 (For the latest prices and discounts.)
Specifications
The beauty of the Hurom HU-100 is the fact that it produces juice with such a long shelf life. The juice can last for up to 72 hours in the fridge. This is due to the slow-juicing process, which extracts the juice without generating heat that speeds up oxidation and spoilage.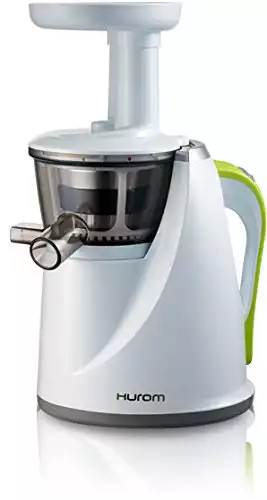 The machine runs fairly silently, so you won't have to worry about excess noise as you juice. The appliance weighs over 13 pounds, but it's compact enough that it won't occupy too much counter space. The silver exterior is durable and beautiful, despite the fact that it's plastic.
You'll love the automatic clean-up system built into the juicer, which will reduce the amount of time and effort you have to spend cleaning the juicer after every use. The controls are intuitive and user-friendly, and you will find it easy to juice without risking jams or blockages. The Ultem Auger is designed to handle a lot of wear and tear, delivering quality juice for years to come.
Pros of Hurom HU-100 Slow Juicer
Here are a few of the positive things users have had to say about the Hurom HU-100:
Maximum juice extraction – Compared to many other juicers (masticating and centrifugal) on the market, this is one of the best in terms of juice extraction. You'll get up to 35% more juice from the Hurom HU-100. That means you waste less fruit, and there is less fiber to clean up as you juice.
Easy to clean – The beauty of this juicer is that it's self-cleaning, so you don't have to take it apart to wash it between different types of juices. All you have to do is run a few cups of water through the juicer, and it will be ready to produce a fresh batch of juice. By mixing produce (alternating between hard and soft), you can make multiple cups of juice without needing to wash or clean the juicer. Once you're done, it is a cinch to take the juicer apart, rinse it, and it's clean!
No jams – The Ultem Auger built into the juicer is durable and capable of A LOT of heavy use. You'll find that it can crush most high-fiber produce, including wheatgrass, lemon grass, celery, and carrots. The slow-juicing process reduces the risk of jams and obstructions, so you won't have to worry about your produce getting stuck as it goes through the grinder.
Good quality at a high price – If you're willing to pay a bit more for a juicer ($450), this is the one for you. It's good quality, durable, and can handle a lot of use. You'll love its user-friendly design and operation!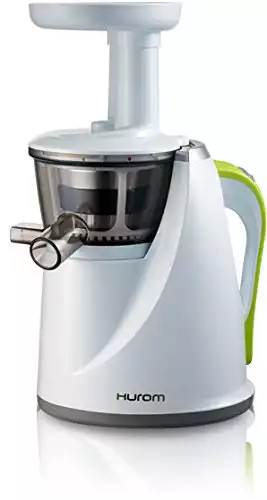 Cons of Hurom HU-100 Slow Juicer
As with any product, there are a few drawbacks of using the Hurom HU-100:
Narrow feeder chute – The feeder chute is used to feed the fruits and veggies into the juicer. It's only 2.25 inches wide, which means you have to chop your produce into smaller pieces in order to juice it. That means it takes more time and effort to make juice than with other juicers that have a wider chute.
Doesn't eliminate pulp completely – If you're hoping for a juice that has ZERO pulp, you'll be disappointed. A bit of pulp leaks into your juice, so you end up with a bit of fiber in every swallow. (Note: That could actually be a good thing, as fiber is what makes fruits and veggies healthy. However, for people who want NO pulp, it's a "con" for this juicer.)
Pricey – No matter who you are, $450 is a pretty high price to pay for a juicer. The best-rated Omega juicers will cost less. However, the Hurom HU-100 is good quality, so it may be worth considering the higher price tag.
Other Options to Consider
Not sure the Hurom HU-100 is the juicer for you? Here are a few other options to consider:
Omega J8006– This is one of the highest-rated masticating juicers on the market! It has the same RPMs (80) as the Hurom HU-100, but it has a wider feeder chute, a more powerful and durable motor, and a longer warranty. It's designed to handle a lot of hard and high-fiber produce with ease. Best of all, it's $150 cheaper than the Hurom HU-100.
SKG New Generation Wide Chute Anti-Oxidation Slow Masticating Juicer – This juicer has a motor that spins the auger blades at a stately 60 RPMs, reducing oxidation even further and producing juice that lasts a long time. With its wide-mouthed chute, you can spend less time chopping fruit before juicing.
The juicer has a very high extraction rate, so you get more juice with every cup. Plus, it's also significantly cheaper than the Hurom-HU 100.
Breville JE98XL Juice Fountain Plus 850-Watt Juice Extractor – If you want something very affordable and don't mind a change of style, this $120 centrifugal juicer is the one for you. It can turn your fruit into juice in half the time.
Though you won't be able to store the juice as long, it's just as good when consumed fresh. You'll find that it can cut your juicing time in half, and it's a beautifully durable machine on par with any Hurom juicer.
Final Thoughts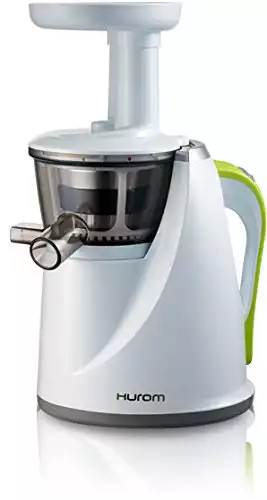 The Hurom HU-100 is a high-priced appliance, but one that has proven its worth to the thousands of users who have purchased it. It produces quality juice with a long shelf-life, and it's designed to be as user-friendly as possible.
If you're looking for a masticating juicer and don't mind paying a bit more, it's worth considering. There are a lot of "pros" to this juicer that far outweigh any "cons" it may have.
Recommended Reads: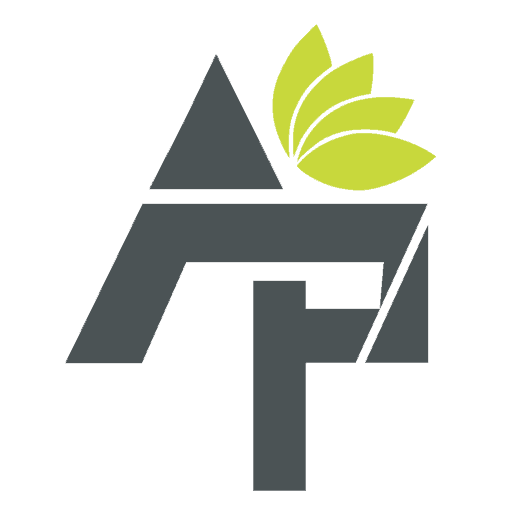 Alt Protein Team is a team of professionals and enthusiasts committed to bringing you the most up-to-date information on alternative protein, health and wellness, workouts, and all things health-related. We've reviewed a lot of products and services so you don't have to guess when you spend your hard-earned money on them. Whether you want to shed some pounds, build lean muscle or bulk, we can help you figure out what you need to do and what you need to have to achieve your goals.