Amazing Grass Protein Superfood is a popular plant-based protein powder made for anyone who wants to enjoy a tasty and nutritious morning smoothie or energizing beverage before a workout. It doesn't really matter if you're training for a marathon or if you simply want to increase your protein intake. This product could be the one you were looking for.
So, if you want to find out more about it such as its ingredients, benefits, costs, and side effects, give me only a couple of minutes of your time. I know there are literally hundreds of reviews out there. Therefore, I have summarized the most important details in order for you to receive the information you truly need in my brief amazing grass protein superfood review.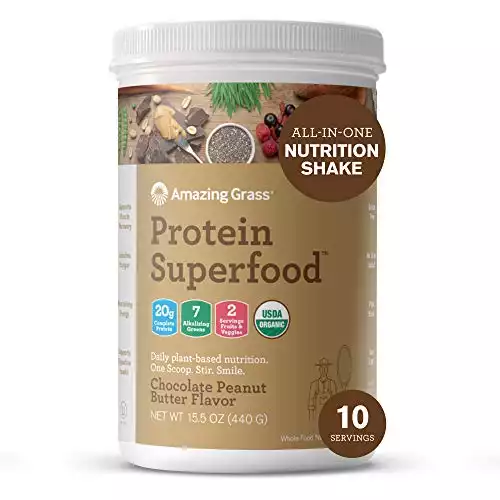 What Is Amazing Grass Protein Superfood?
Amazing Grass Protein Superfood is a dietary supplement made from organic ingredients and only plant-based protein sources. It can be easily turned into a delicious beverage by combining it with water or any other liquid of your choice.
One serving of this product will fuel your organism with nutrient-dense calories. In the last couple of years, the health supplement industry has known an increase in its popularity and visibility and so did Amazing Grass with this flagship product.
This powder is preferred by lots of people who want to lose weight and live a healthier life but who are also lactose intolerant and a regular protein powder will do them more harm than good. Plant-based supplements are usually recommended to those with milk-related allergies or who experience bloating caused by dairy products.
Not only is Amazing Grass a satiating meal replacement shake but it can also be used to prepare some of your personal dessert recipes. So, get creative with it and remember that this is a versatile, safe, and organic supplement.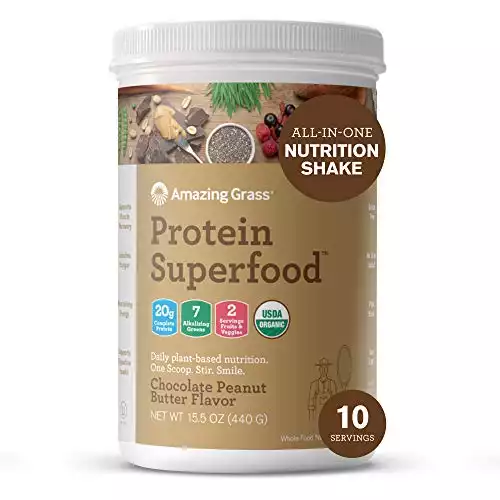 How It Is Made
Amazing Grass has an original formula that has been first launched on the market back in 2002. The secret behind it lies in the whole-food harvesting and farming concept. The food items selected to create this product are rich in antioxidants, amylase, edible grasses, and essential fatty acids. So, now you know why Amazing Grass Protein Superfood represents such a distinctive mixture.
The formula base is made from nutritious greens that are freshly harvested right before the manufacturing process. Then, the plants are carefully dehydrated without losing their qualities and finally transformed into a powder. Until it is bottled, the final product is kept frozen.
According to the manufacturer, one serving of Amazing Grass powder can provide approximately the same nutritional value as whole leafy greens.
Amazing Grass Protein Superfood Review –

Ingredient Profile
This supplement's ingredients are all organic and the mix of blends has powerful antioxidant properties. Also, they provide a significant nutritional boost that will positively impact your general health:
Protein blend – pea protein, chia, hemp protein, peanut flour, quinoa;
Green food blend – Alfalfa, barley grass, wheat grass, spirulina, spinach, chlorella, broccoli;
Fruit and veggie blend – banana, goji, carrot, sweet potato, raspberry, rose hips, pineapple, acai, beet;
Digestive enzymes – lipase, cellulase, protease, lactase, etc.;
Vitamins and minerals – vitamins A, C, K, iron, and calcium;
Additional ingredients – Dutch cocoa, peanut flavor, salt, natural flavors, organic stevia, and xanthan gum.
Most of these elements offer a wide range of health benefits. For example, barley grass is a whole grain that lowers cholesterol due to its high fiber content. Another example is given by Alfalfa which treats blood disorders and prostate conditions.
Spirulina and chlorella are two green algae that are excellent sources of iron, vitamins, and proteins with amazing antioxidant effects. Two more ingredients found in this protein powder that fight free radicals are spinach and broccoli. They have a huge potential when it comes to disease prevention. Beet and pineapple lower body inflammation while raspberry promotes a well-balanced weight loss.
Nutritional Values
Nutritional Facts – Amazing Grass Protein Superfood – per one serving (31-43 g)
Calories
110-190
Protein
20 g
Dietary fiber
3-7 g
Total fat
3-7 g
Carbohydrates
11 g
Cholesterol
0 mg
Sugars
1-4 g
Potassium
420 mg
Sodium
340 mg
Taste and Mixability
According to most consumers, this supplement has a pleasant taste. Still, if you're a green supplement newbie, you might want to mix this powder with juices, fruits, or yogurt in order to enhance its taste.
People who are already accustomed to this type of products will easily overcome the somewhat grassy flavor and the slightly gritty texture. Despite all of these potential issues, the powder mixes well with almost any liquid, from smoothies to natural juices and even water.
There are four available flavors of Amazing Grass protein powder:
The Original;
Rich Chocolate;
Pure Vanilla;
Chocolate Peanut Butter.
The best part about Amazing Grass protein powder is the fact that it can be added to any of your favorite desserts or treats such as pancakes and smoothies. The most popular flavors are vanilla and chocolate peanut butter. I must confess that the second variety is my favorite guilty pleasure.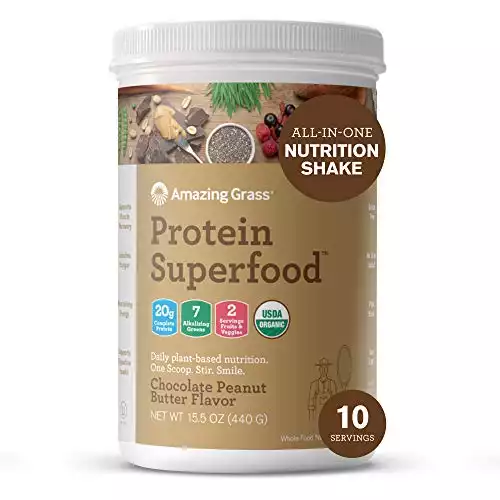 Pros and Cons
Advantages
It is a nutritious green superfood powder;
All flavors have a delicious taste;
The ingredients are organic and non-GMO so this is a safe and healthy product;
One serving provides a whopping 20 grams of plant-based protein;
Its formula contains vegetables, fruits, and alkalizing greens all of which are incredibly healthy;
Instead of regular sugar, the manufacturer opted for stevia which is a natural sweetener;
Provides a low of health benefits due to its green food blend and high-quality protein sources (pea, quinoa, chia, hemp);
Aids digestion due to its fiber content;
It is easily absorbed and digested by your body;
It is highly versatile. You can add it to all your favorite snacks, beverages, or desserts.
Disadvantages
According to some reviewers, the taste, although good, is not very strong. Still, this is a highly subjective aspect that might also be considered an advantage by some people;
It is not as healthy as a diet based solely on whole foods.
How Does It Work?
Most sellers recommend combining one scoop or serving of this protein powder with approximately eight ounces of plain water, natural organic juice, smoothie, or any other beverage you like. It works best when consumed in the morning, as a breakfast replacement. This supplement contains probiotics so you must always store it in the refrigerator.
The Amazing Grass Protein Superfood is rich in both fat-burning and weight-loss ingredients although the manufacturer doesn't market it as a weight-loss solution. Whenever you feel hungry, you can substitute one of your main meals with one serving of this product. Another thing that shows Amazing Grass might contribute to losing weight is its low-calorie content.
Besides the chance of helping you shed those extra pounds you want to get rid of, the supplement also provides plenty of health benefits like improved digestion and flushing out toxins from your body. All these are due to its mix of probiotics, digestive enzymes, and powerful antioxidants.
All in all, Amazing Grass can be used as a detoxifying supplement, superfood energy drink, alkaline beverage, etc. Still, there are many other studies left to be conducted in order to really see whether or not all these claims are completely verifiable.
Possible Side Effects
For healthy adults, Amazing Grass Protein Superfood is perfectly safe. On the other hand, some people, especially those suffering from certain health conditions, should consider some potential side effects that might appear when consuming this protein powder.
First and foremost, Amazing Grass contains a lot of chlorophyll which is a safe ingredient but it can become an issue for those who have sensitive stomachs or who are already dealing with specific diseases like kidney stones and ulcers. Secondly, alfalfa has a significant amount of uric acid. This can lead to bowel problems.
Finally, if you have barley or wheat allergies, you should steer clear of this type of product. In any case, you should always discuss your concerns with a doctor or health professional before actually consuming any dietary supplement.
Health Benefits
You might get confused by how many options the market offers when it comes to green protein supplements. However, not many of them are truly viable alternatives to the one reviewed in this article. Amazing Grass is an effective, safe, organic, and healthy option although it should never completely replace fruits, vegetables, and other whole foods.
The entire product philosophy behind the manufacturer's design idea is based on whole-food farming. This means that consumers can feel reassured due to the commendation seal that was given by CCOF (California Certified Organic Farmers) to the Amazing Grass' producer.
Some of the organic fruits added to the formula are sourced from Sambazon which is one of the best suppliers of this particular plant on the market, with an excellent reputation. So, we're talking about a kosher, organic, vegan, and cholesterol-free product.
Here are some of the main health benefits that this powder provides:
Satisfies hunger and acts as an appetite suppressant;
Promotes lean muscle mass;
Fuels your body with a nourishing energy;
Aids your digestive system.
How Much Does It Cost?
The cost varies depending on the seller, the size of the container as well as your chosen flavor.
On Amazing Grass Official Website
10 packets, any flavor – $39.99;
12 servings, the original variety – $34.99;
10 servings, Rich Chocolate and Chocolate Peanut Butter – $34.99;
18 servings, Rich Chocolate and Chocolate Peanut Butter – $56.99;
11 servings, Pure Vanilla – $34.99;
20 servings, Pure Vanilla – $56.99.
The more packets or servings you buy the higher the discount will be. For example, if you purchase two containers, you will receive a 5% discount while for a quantity of over nine containers, the discount reaches 25%. Also, if you decide to become a subscription member, you will benefit from a 20% discount.
If you become a subscriber, you will receive a 5% discount on any order you make.
Final Thoughts on my

Amazing Grass Protein Superfood Review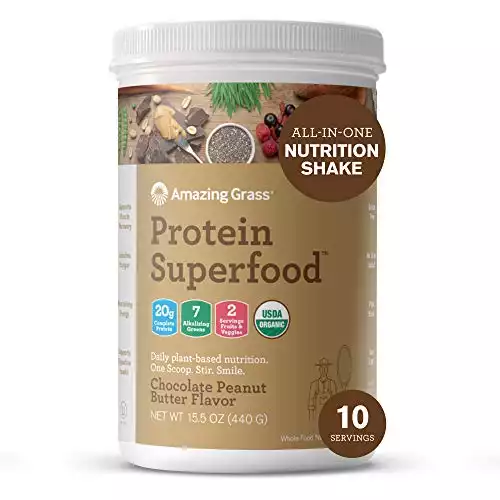 The entire concept that surrounds the Amazing Grass Protein Superfood is very promising and it seems to be quite healthy and safe for your organism. Nevertheless, there are certain possibly concerning aspects that one should take into consideration:
At the moment, there is no independent research that has confirmed if the manufacturing company's marketing claims are all entirely true and accurate;
Many organic ingredients contained by this product are indeed healthy. Nonetheless, individuals with sensitive stomachs might experience some adverse effects;
Might not be a viable weight-loss meal replacement for some people and it is definitely not a long-term healthy-eating solution.
There are, however, many strengths and advantages offered by this supplement:
It is a nutrient-dense beverage;
Some of its ingredients are backed up by science and there is proof they work.
To conclude with, the final purchasing decision is all yours which should be much simpler now that you found out everything there is to know about Amazing Grass Protein Superfood.
Recommended Reads: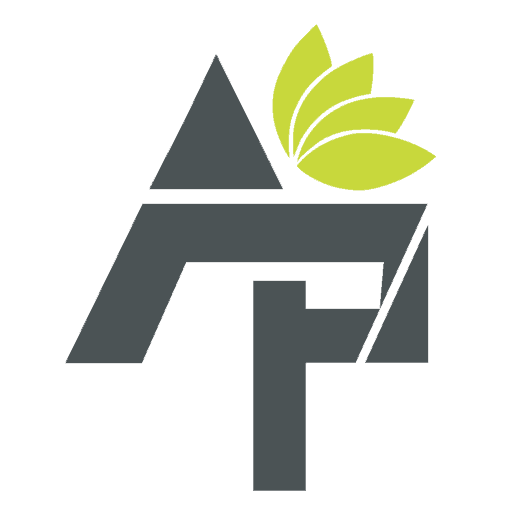 Alt Protein Team is a team of professionals and enthusiasts committed to bringing you the most up-to-date information on alternative protein, health and wellness, workouts, and all things health-related. We've reviewed a lot of products and services so you don't have to guess when you spend your hard-earned money on them. Whether you want to shed some pounds, build lean muscle or bulk, we can help you figure out what you need to do and what you need to have to achieve your goals.