Juicing is one of the best ways to include more fruits and veggies in your diet plan the easy way! It's always easier to drink a cup of green juice than it is to eat a heaping plate of your least favorite veggies. For people who want to increase their raw food consumption, juicers can be a godsend. After all, you can turn pretty much any veggie into a delicious cup of fresh juice.
Types of Juicers to Consider
There are two types of juicers to choose from:
Centrifugal juicers spin at very high speeds, shredding the fruit and squeezing the juice through a wire mesh.
Masticating juicers use a system of grinders to crush and "chew" the fruits and veggies to a pulp, squeezing the juice as they do so.
For the first-time juicer, centrifugal juicers are usually the first choice. They're cheap, easy to use, and produce a lot of juice in a very short amount of time. You'll find that centrifugal juicers are a good choice for you if you just want to make juice at home.
Why Go With a Masticating Juicer?
But for smart consumers, it's worth investing a bit more into a masticating juicer. Why?
Higher quality juice — The juicer crushes the fruit rather than shreds it, meaning there is less friction. Friction generates heat, and heat degrades the nutrients and enzymes in the fruit. In essence, masticating juicers produce higher quality juices.
Longer juice longevity — The more you heat the juice, the faster it degrades and spoils. Juice produced in centrifugal juicers only last a day or so, while juice produced in masticating juicers can last up to a week. This is thanks to the reduction of friction resulting from the slow press juicer.
Longer appliance longevity — High-speed machines always break down more quickly than slow and steady ones. Less RPMs means a lesser chance of the juicer breaking down.
Yes, a masticating juicer will be more costly, and it will take more time to juice your fruits and veggies. But, if you are looking for a high quality investment, you'd do well to consider a masticating juicer as your first choice!
We've compiled a list of the Top 3 Masticating Juicers on the market. Check out these appliances and see which suits your needs best:
#1 Pick: Omega J8006 Nutrition Center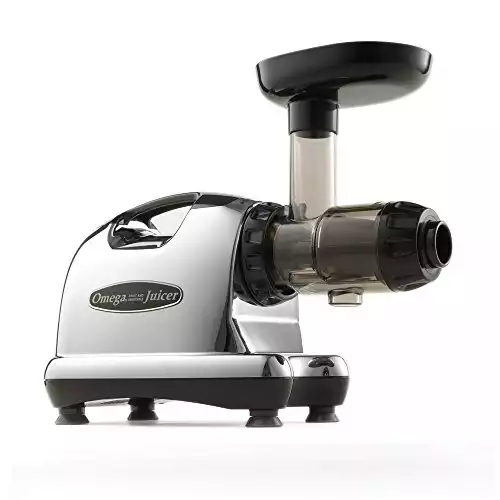 The Omega J8006 is more than just a best-selling appliance–it's also one of the top-rated commercial masticating juicers on the market. If you are looking for quality and reliability, you'll find that there are few juicers better than this bad boy.
Features: The juicer spins at a stately 80 RPM, meaning it will produce juice at a slow and steady pace. There is minimal foam and no heat build-up with this juicer, and you'll find that the juice will last for a long time (up to 72 hours) thanks to the low speed of the appliance.
The metal casing is beautiful and looks good with any modern kitchen décor, but it's also incredibly durable. It's an appliance built to last!
Performance: The juicer does more than just turn fruits and veggies into delicious juice! It can also produce nut butters, grind spices and coffee, mince garlic and herbs, turn fresh produce into baby food, and more. The GE-designed auger is durable and long-lasting compared to most other appliances on the market. With this bad boy, there's no need to replace parts for years to come.
The dual-stage design ensures that you get the maximum amount of juice from your fruits and veggies. Few juicers produce pulp as dry as this bad boy, and you'll get the most vitamins, minerals, enzymes, and antioxidants from your fruits and veggies. With the "Reverse" function, you can drastically reduce the risks of clogs and blockages.
Price: This is one of the sticking points of the Omega J8006! The juicer will run you close to $300–a pretty hefty price to pay for a simple appliance, right? However, for those who want to make their own fresh, healthy juices at home, it's a sound investment in a quality product.
#2 Pick: Hurom HU-100 Masticating Slow Juicer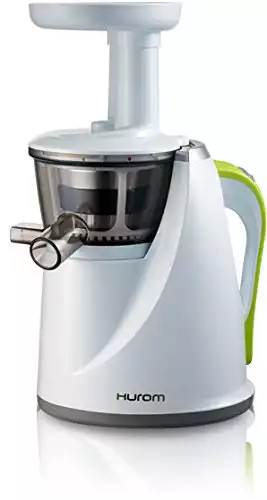 While not on par with the Omega juicer at the top of our list, this Hurom juicer is a slightly more affordable option to consider. It's durable, built to last, and will produce high quality juices–but don't expect too many bells and whistles.
Features: The juicer spins the auger at a sedate 80 RPM, ensuring the maximum juice yield with minimal friction and heat build-up. The juicer uses just 150 watts of energy, making it a good appliance for energy-saving, eco-conscious households.
The juicer is designed for more than just juice, but can also handle nut butters, marinades, sauces, baby food, wheatgrass, soy products, and nuts.
Performance: The juicer claims to handle wheatgrass, carrots, and other hard-to-juice produce well, though user reviews indicate that it's better to stick with softer produce. The heavy-duty auger is able to handle a good deal of wear and tear, and the strainer will eliminate the majority of the fiber from your drink. The motor runs well, and has a 10 year warranty to back it up.
The Slow Squeezing Technology of this bad boy ensures that the juice contains maximum nutrients per cup. For thick, dark, rich-colored juice, this is a good choice.
Price: At about $265, this is still a pricey appliance, but one worth considering if you don't want to spend $300+ on a juicer. However, be warned, it does have a few problems: leaking ejection spout, excess pulp, and difficulty with leafy greens.
#3 Pick: Tribest SW-2000-B Slowstar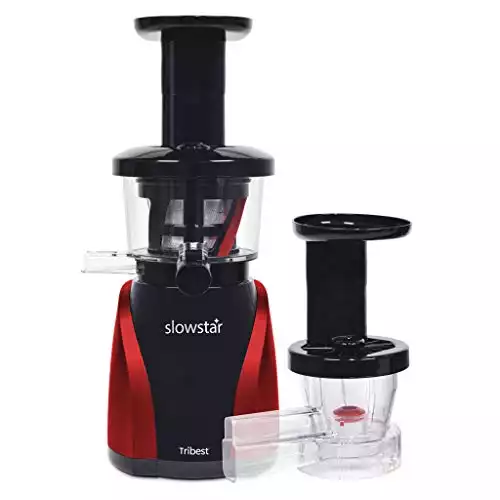 For a good-looking juicer, it doesn't get better than this! It may be a pricey appliance, but it's a good investment to consider if you want quality and reliability.
Features: The dual-edged Ultem auger will squeeze and crush your veggies at twice the speed, churning out juice more quickly than other masticating juicers. However, the motor only spins the blades at 47 RPM, reducing heat and friction–ensuring high quality juice.
There is a mincing attachment that allows you to make sorbets, nut butters, soy and nut milks, and baby food. All of the plastic parts are 100% BPA-free! Best of all, it's a compact juicer that can fit in any kitchen of any size.
Performance: This bad boy comes with a durable 200-Watt motor, and a 3-Stage speed reduction setting that will give you total control over the juicing process. The fact that the blades spin so slowly means that the juicer is very quiet, perfect for homes with a sleeping baby or for people who juice in the early morning.
The beauty of this juicer is that it can handle leafy greens well. You can juice kale, carrots, celery, and even wheatgrass efficiently, though you'll need to chop the veggies before feeding them into the juicer. It's a bit difficult to clean, but it's worth the effort to ensure your juicer is in tip-top shape. Despite a problem with a faulty housing that can leak, the juicer is a very good purchase.
Price: At around $380-400, this is the priciest of our three picks. Compared to the $300 Omega J8006, it's not a MUCH better option despite the higher price. However, if you have tried the Omega juicer and are dissatisfied, this is a good alternative to consider.
Find it on Amazon…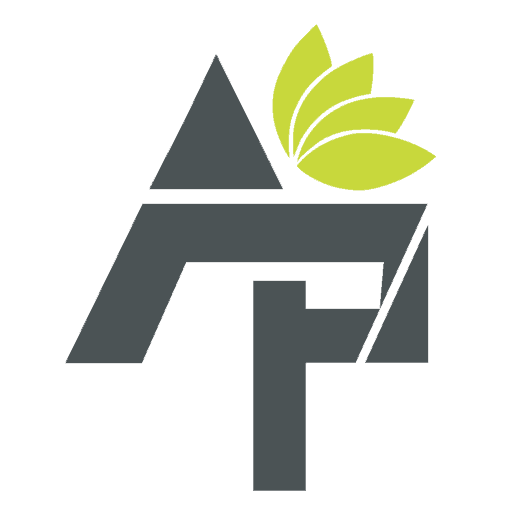 Alt Protein Team is a team of professionals and enthusiasts committed to bringing you the most up-to-date information on alternative protein, health and wellness, workouts, and all things health-related. We've reviewed a lot of products and services so you don't have to guess when you spend your hard-earned money on them. Whether you want to shed some pounds, build lean muscle or bulk, we can help you figure out what you need to do and what you need to have to achieve your goals.